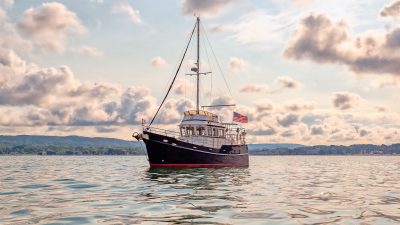 Diesel Duck 382 – Jubilee – Sold in Northport, MI
Well, I'm not sure if this was an unprecedented transaction but it sure was unconventional and it would not have come through were it not for the stellar assistance of the JMYS Team!  Due to a complex set of circumstances, I had to put Jubilee on the market over the winter months, while she was in winter storage in Michigan and with me still stuck in Japan due to the pandemic travel restrictions. I had no doubt that it would be impossible to conduct such a sale remotely by myself, hence my turning to Jeff Merrill in order to put the winter months to good use and start marketing the boat.
Jeff is intimately familiar with the Diesel Duck brand and it showed. In no time was he able to mount an effective and credible marketing campaign that resulted in a rapid succession of inquiries from interested parties. Jeff also provided invaluable advice as this was my first broker sale, patiently answering my many troublesome queries through a virtual dialogue that continued across the Pacific throughout the winter. And, as he promised, buyers were lined up just in time for the scheduled launch of the boat in the spring. The reach of JMYS was particularly evident when one potential buyer who had already committed in writing had to suddenly withdraw due to a precipitous change in his personal circumstances, and yet Jeff and his team had another buyer lined up within days.
As critical to the successful completion of this journey was the professional assistance provided by JMYS Listing Broker Lawrence Friedman. Although not based in Michigan, Larry took on the challenge of travelling to Northport several times in the dead of the winter to get acquainted with Jubilee and ensure that all was in place for viewings in the spring. Luckily, serious buyers were already lined up by the time of the launch, so Larry was on hand to assist with out of- and in-water surveys, initial viewings, sea trials, etc. He piloted the complex transition to another buyer when the previous one had to withdraw, facilitated all aspects of the transaction between the final buyer, based in California, and I who remained stuck in Japan. Larry proved his worth not only in navigating this complex transaction but also by looking after several issues that the seller would usually be handling, especially minor repairs and faulty equipment that unavoidably come to the fore when launching a trawler after spending the long winter months in storage.
Now renamed Shiplet by a lovely couple who will look after this Diesel Duck with great care as they prepare to take her across the Atlantic to Scandinavia, I use this opportunity to express my sincerest gratitude to Jeff and Larry, whose professional approach and expert advice made such a difference during quite a stressful period. Their brokerage services proved of the highest standard and I would recommend JMYS without hesitation to any trawler buyer and seller. I wish you both the best and do not hesitate to put prospective clients in touch with me if they want to talk about your services or anything to do with Diesel Duck as my wife and I refocus our attention on our other DD 382, Shirayuri, currently moored in Malaysia.
Fair winds and following seas,
Hugues Canuel – Diesel Duck 382 – Jubilee
Tokyo, Japan