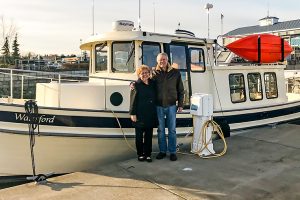 Hello All,
Just a note to let you know how happy we are that we bought our boat from Kelly Libby and Greg Mustari.
After our offer, they orchestrated ALL the niggling details……hull and mechanical surveys, haul out for inspection, sea trial, and suggestions for whom we should have work on our 32 Nordic Tug.
They made the whole process painless for us and have continued to offer support and information for us well after the sale. Meanwhile, they became our very good friends.
If we ever buy another boat, we will choose them to represent us.
Eric and Paula Youngstrom – Nordic Tug 32 – Tug Time