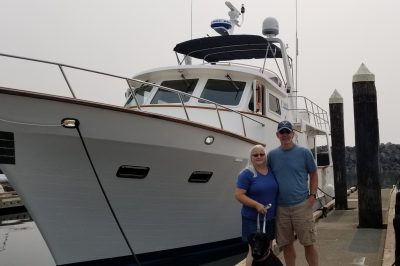 Hey Jeff!
We see you just listed another DeFever 49, the same layout and engines. Enjoyed your video interview with Wilson Lin. It was interesting to hear so much of the history of how and where DeFever's were built. Looks like you are keeping busy matching people with the right boat for them.
We just finished the third year of cruising in S.E. Alaska with Ethos, the DeFever 49 RPH that you helped us buy, and we want to thank you again for your efforts to help us make this possible. The cruising lifestyle in Alaska is seasonal, of course, but the scenery and wildlife are breathtaking, we enjoy every minute of every day when we are aboard. This year we had four sets of relatives and friends join us cruising from Petersburg to Juneau and then to Skagway, back to Petersburg then going to Sitka, staying in the area for almost a month before returning to Petersburg to winterize and head back to Fairbanks.
Fun to think back about our driving together around Seattle and Anacortes looking for a boat and then finding it and buying it in Canada. We really enjoyed the time spent with you and Pam during the search. This was so much easier to do in the pre-pandemic world.
Anyway, we hope to stay in touch and thank you again for helping to make this possible.
George and Debbie Grovhoug – DeFever 49 – Ethos