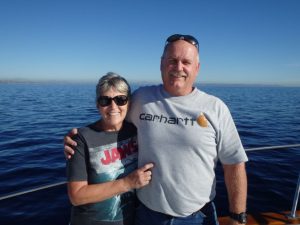 My wife and I had been preparing for the boating life after retirement when we first met Jeff. He was teaching a class on "How to Purchase a Trawler" at the Trawler Fest and we found his information very useful and appreciated his relationship approach to matching the right boat with the right owners.
We contacted Jeff when it was time to search for our "right" boat and began a very stress-free process. He patiently listened to our needs and concerns and was a great resource for us without ever adding pressure. We worked together to consider several options and he set up many appointments for us to view several brands and sizes which was incredibly important to help us evaluate and understand what would work best for us.
Through Jeff's many contacts, we did find the "right" trawler and along with his team of specialists, purchased our retirement dream boat. Jeff helped with the arrangements for the survey and trial run and had a very organized approach to the whole process, it was very clear he was committed to making this enjoyable. We had a short window to get everything done and Jeff's organizational skills showed a lot of experience working with couples like us who really like working with a professional.
Jeff's expertise extended beyond the sale, as he assisted us with the delivery of our boat to our home port, as well as providing boating advice and direction as needed. He gave us a binder full of check lists and really helped us become familiar with both our new boat and the trawler lifestyle. His availability to answer questions and provide resources continues today and we appreciate an ongoing friendship with him.
We are very happy to recommend Jeff to anyone considering buying a trawler. Thanks Jeff!
Jim and Leslee O'Camb and Lilee – DeFever 49 – Mi Amor