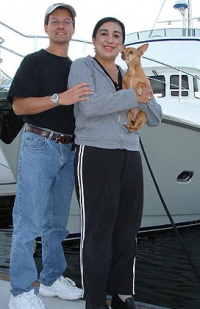 A look back at 15 years of friendship with Jeff Merrill
When Jeff first told me of his decision to leave PAE and start his own business my first thought was "you can't leave, you are PAE". After 15 years, three Nordhavn's and more phone calls than any sales representative should ever have to deal with Jeff has become family and hearing of his departure just didn't feel right.  After the initial shock we quickly realized that our Nordhavn days didn't need to end since our next boat would likely be a used boat and possibly another make and who best to assist us in these unchartered waters than Jeff?
We first met Jeff in 2001 at the Long Beach, CA Trawler Fest and have driven him crazy ever since. His patience and no pressure approach resulted in us building our first boat (Nordhavn 40 hull #50) on a tight budget in 2005.  Jeff was instrumental in helping us make the proper equipment selection while staying within budget. When we decided it was time to sell the boat Jeff guided us through the process and found us a buyer within a few weeks of listing her (proof that his equipment selection recommendations not only provided us the right boat, but also a boat that was appealing to others).  It didn't take long for us to realize we made a mistake selling N4050 so we called Jeff and told him it was time to start the process over.  Once again Jeff helped us build a boat configured for us (Nordhavn 40 hull #61) and we couldn't have been happier.
Just when we were starting to enjoy the boat one of life's unexpected events hit us and we needed to sell her. Unfortunately timing was not on our side as the economic recession had set in and boat buying wasn't at the top of everyone's agenda.  Jeff remained positive as he worked his magic and found us a buyer who we became friends with and allowed us access to the boat for another year.
After a few years away from boating we decided it was time to get back on the water. We asked Jeff if he could find us a clean, late model Nordhavn 35 for us to test the waters.  Jeff, working with the sales team at PAE, went the extra mile (again) by reaching out to N35 owners he knew and just asked the question "Any chance you might be ready to sell your N35?"  As if faith was listening, Jeff found a very clean boat in southern California and we closed a private sale deal in 30 days.  It's likely no surprise by now that when we were ready to sell the N35 (last year) we enlisted the support of Jeff to help us with list and market our boat – one of the first deals closed for his new brokerage.
The past 15 years have gone by quickly and as we look back at all the great times we have enjoyed living aboard and cruising along the coast we owe it all to Jeff.  He is trustworthy, reliable, knowledgeable and most of all a good friend.  Now that we are settled in our new beach house it is time to start looking for our next boat to stay on the water until retirement and possibly another trawler. Regardless of the boat, Jeff will be part of the process and helping us stay clear of rough waters.
John & Maria Torelli – Nordhavn 40#50 – La Maria Elena, Nordhavn 40#61 – Maria Elena, Nordhavn 35#22 – La Tempestad