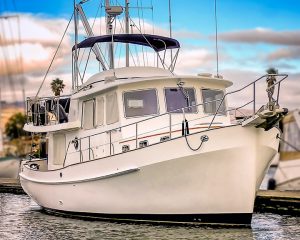 1998 Kadey-Krogen 39 – Lady Di – Sold in Vallejo, CA
There is a saying amongst boaters: "The happiest times in your life are when you buy a boat, and when you sell a boat". Sometimes that is not the case.
I purchased a vessel from Jeff Merrill the owner/broker of JMYS about 2 years ago. Yes, it was one of the happiest times of my life. Jeff went above and beyond what you would expect from a broker.
Unfortunately, I developed some serious medical issues and had no choice other than to sell the boat that my wife and I had become very attached to. I again used JMYS, this time as a seller.
Jeff did his magic with a new member of his elite team, Rob Piwowarczyk. My medical issues worsened shortly after listing the boat leaving me pretty much homebound. Rob treated me with dignity and understanding. He made the 14-hour round trip for every showing. Rob was well organized, has excellent communication skills, and relieved me from the heavy lifting. He was present at the haul out, survey, and sea trial which I was unable to attend. Jeff is fortunate to have this new addition to his team. Selling the boat was not the happiest time of my life as the saying suggests, but Rob certainly took the sting out of it.
Brent Vaughan