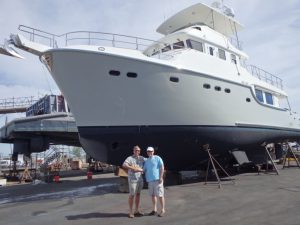 Paradise Found, you can too!
If you are in the market for a trawler, I whole-heartedly recommend that you speak to Jeff Merrill.  Jeff is extremely knowledgeable about trawlers and was a pleasure to work with through the process of purchasing our Nordhavn.  We asked Jeff to find us a particular Nordhavn model, age, equipment, etc.  He found exactly what we were looking for and we cannot be more delighted with our Nordhavn 60.  Jeff was beyond diligent through the entire process providing us with more information than we could possibly digest.
After finding a boat he had built originally and arranging the potential for a private sale, Jeff traveled with us to view the boat in Mexico and pointed out all the great features, but was also honest and pointed out a few minor flaws.  Even though we were previous trawler owners, Jeff provided us with a plethora of information regarding cruising, safety equipment, maintenance suggestions, etc.  Jeff was also very helpful in assisting us with the complete purchase process including recommending and arranging the marine and engine surveys, a captain to help relocate the boat, attorney to process the paperwork, etc.
After the purchase was complete, Jeff came out on the boat with us and pointed out many things with our new Nordhavn that would have taken us much longer to discover on our own.  Jeff is extremely competent and knowledgeable, but more importantly is also now a friend and a pleasure to know.
Leo Bannon – Nordhavn 60 #49 – Paradise Found