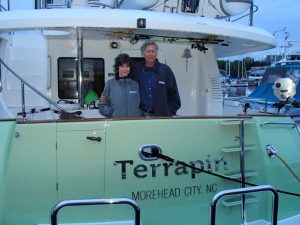 September 22, 2014
Dear Jeff,
It's been going on two years now since you helped us find and purchase what has become our beloved Nordhavn 55 "Terrapin". I've not stopped to really say thank you for taking such good care of us on our boat buying journey.
You did such a nice job of understanding what we wanted and being sure we both got the boat that was right for us. Not only did you find us just the boat we were looking for, but you made sure we knew how to operate it. Your knowledge of Trawlers in general and the Nordhavn line in particular was invaluable for us.
Anytime I'm talking with a friend who's thinking about a boat purchase I recount our experience in our first phone call with you. I'm sure you recall. It was an introductory call that ended up being a 3 hour in depth discussion of our ideal boat. Toward the end of the conversation you very gently said you weren't trying to push us but there was a boat that met all of our criteria sitting in Seattle looking for a new owner. We agreed that night to start the buying process. We had given ourselves two years for the boat buying, or building, process which thanks to you ended up taking not much more than 2 months! We've now put 5,000 miles under the keel, been places we'd never planned on and enjoyed every minute of it.
Thank you for being the consummate professional and our good friend on the water.
I hope your new venture as an independent broker is everything you wanted it to be. I've no doubt it will be successful.
Cheers,
Mason
Mason and Catherine Williams – Nordhavn 55 – Terrapin