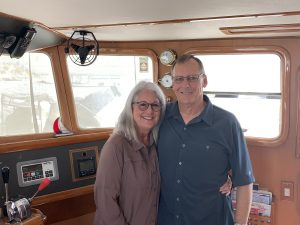 When we decided that retiring early and living on a boat was a dream for both of us, we started looking for the perfect boat. We had owned a Carver 396 for years and loved spending the weekends on her, but we wanted an ocean vessel, not just a coastal cruiser.
Several spreadsheets full of options and boat visits later, we lucked on finding a Nordhavn 46, offered by Jeff Merrill. It was love at first sight for Mike, but he did wait to let Elaine see it before actually purchasing!
We did buy her and named her "Partida," which means 'departure.' We thought that was the perfect name since we were departing from working, owning a home, and leaving friends and family behind.
The entire purchasing experience was stress free, due to Jeff. Jeff is one of those people who loves his job, loves his boats, and truly cares about his buyers and the sellers.
His boat knowledge is extensive and never once did we feel pressured. We highly recommend him as a yacht broker.
We also got a bonus when we purchased Partida; we became very good friends with her previous owners, who moved up to a Nordhavn 57 (also through Jeff). It is rare to be involved with the owners during the buying process, but we are so glad it happened!
So, Jeff not only matched us with the boat of our dreams, he matched us with new life-long friends!
Thank you, Jeff!
Mike and Elaine Bremmer – Nordhavn 46 – Partida