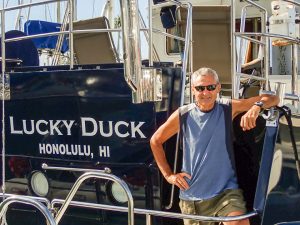 Aloha Jeff!
Thank you for coming to see me in Honolulu, I enjoyed meeting your wife Pam and spending time with both of you.
It is very satisfying to have Lucky Duck over in the islands now and this would not have happened without your help.  It has been a very unique journey working with you and I trace the beginning back to seeing your video of the Diesel Duck 382 Jubilee and giving you a call. I could tell when we first spoke that you were a broker who I could trust and someone who had the experience to help me find the right boat.
I have always preferred steel boats (and you got to see my Tahitian Roamer steel sailboat now for sale during your visit in Hawaii), so when I missed out on Jubilee it was disappointing.  But you listened and knew what I was looking for and then you found the larger 462 Lucky Duck for me to consider.  It all happened pretty quickly and after we met in person for the first time in WA to inspect her, I knew she was the boat and you helped negotiate a fair deal.
Our second trip to Port Townsend, WA for the survey, sea trial, haul out, etc. was very well organized and I could always tell that you were protecting my interests and focused on me understanding not only what I was getting in to, but also explaining many of the features and equipment so that I would be at ease when it was my turn to take command.
After closing and fixing the items found during the survey, I was ready to get underway locally in the Northwest waters for some practice runs which included a trip up to Canada to visit my cousin.  When we had everything ready for the homecoming passage to Oahu, my cousin and one other person joined me for our Pacific crossing.
19 days later we arrived in Hawaii and as we discussed during your visit, there were quite a few exciting episodes during the adventure.  I always felt safe and secure aboard Lucky Duck, she is very well built and I now know she can handle anything the ocean offers.  After getting her settled in her new marina, I am now having a great time with detail projects and thinking about some trips to the neighboring islands.
Jeff, you are now a good friend and I appreciate everything you have done to help me make this all happen. You and Pam are welcome to join me on Lucky Duck any time – please come back soon.
Mahalo,
Mike
Mike Pizl – Diesel Duck 462 – Lucky Duck