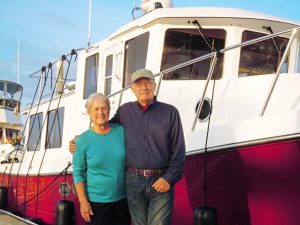 During Jeff's first year as an independent yacht broker we asked Jeff if he would be interested in helping us find and purchase an American Tug 34. We knew this was on the small size of the trawler range where he usually deals, but it was no surprise that Jeff accepted—or that he offered terrific guidance and support right from the get-go.
We first considered an AT34 in Michigan, but the seller decided to keep her and took her off the market before we could make an offer. We collaborated to work through a detailed analysis of several AT34's on the east coast so we could compare our choices. Our goal was to find a nice, clean boat that we could base at our home in Fort Lauderdale, a boat to be used mainly for cruising the Florida Keys.
Jeff found a great candidate at the Baltimore Trawler Fest where he was giving some talks and meeting with clients. He toured the boat (red boat) extensively and then emailed us a couple hundred photos along with a thorough report summary of his impressions. Conveniently we were southbound from Maine on our way home to Florida and were able to swing by the TrawlerFest for a firsthand look. We liked what we saw—in fact we were really impressed with the red boat. But by them we'd made an offer, sight-unseen, on another AT34 in North Carolina (yellow boat).
The yellow boat offer was accepted and Jeff flew out from CA for the survey, haul out and sea trial, but during the survey we learned some things that caused us to pause, and we withdrew the offer. Jeff flew back home and we continued the hunt. We considered another boat briefly (green boat), then decided to look more closely again at the Trawler Fest red boat. We joked that we were conducting "Operation Traffic Light" with the red, yellow and green boat mix.
Our research included a lot of online study and speaking with American Tug owners and representatives from the factory. By then we were convinced that an AT34 was the right boat for us, we just needed to find the right AT34.
After the haul out, survey and sea trial on the yellow boat, we felt better equipped to take a closer look at the red boat. Jeff and the seller's broker had several conversations and we learned the seller side was even more motivated since they did not sell her at the Trawler Fest. We had hundreds of photos to draw from and our own recollections from being on board. One of our concerns was that the red boat had been neglected and needed a thorough cleaning, especially the engine room. We wrote up an offer and requested that the dirty engine room be detailed–this was one of the things that had put us off originally. The idea was to get the boat in a more acceptable condition for review.
Jeff helped us put together a good offer and was instrumental in guiding us through difficult negotiations on the red boat that finally lead to a deal. He then flew back east to Maryland for our survey, haul out and sea trial with Milt, while Judy stayed in Florida with our dog, Katy. This time it was meant to be, and we closed the deal and are thrilled with our purchase. We took possession of the boat in the Annapolis area just before Thanksgiving, spent a week moving aboard, learning her systems, and preparing her to go south. And we had an enjoyable 1,000-mile run down the ICW to the red boat's new home in Fort Lauderdale
Working with Jeff was like consulting with a trusted friend. We'd first met Jeff more than a decade ago during his Nordhavn days and enjoyed his company well before we started looking at American Tugs. We continue to touch base on a regular basis. There was never any pressure during Operation Traffic Light, and Jeff was 100% focused on helping us find the best total package, always putting our best interests first and foremost.
When it comes to helping find you the right boat, then following through on every detail to get to closing, then supporting you waaaay beyond the closing of the sale, Jeff Merrill simply cannot be beat. If we hadn't used Jeff as our buyer's broker, we seriously believe the sale would never have closed. In our estimation he is the best of the best! And we were the true beneficiaries of his deep knowledge, his attention to detail, and his ability to negotiate a deal that's fair to everyone.
If you are looking for a trawler, any size or brand, we recommend contacting Jeff to see if he can help you as much as he helped us.
Milt and Judy Baker – American Tug 34 – Bluewater IV, Nordhavn 47 – Bluewater