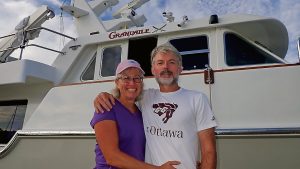 We first met Jeff about 4 years ago, in Stuart, FL at our first Trawlerfest. Neil had researched boat brokers and had reached out to Jeff via email. This was the beginning of what has become a wonderful friendship. Deciding to purchase a motor yacht is a huge decision, one that evolved for us over the past 15 years. After much deliberation and discussion, we decided to go "all in" and live aboard the boat that we would one day buy. Jeff was with us every step of the way.
From the first greeting, he made us feel comfortable and at ease. His experience was obvious from his industry reputation, but he always has a joke ready and a friendly smile on his face. It's hard to put into words what having Jeff with us on this journey has meant. Having never owned a boat before, we were a bit apprehensive about this undertaking, but also excited to learn everything we could about cruising and living aboard. We looked at so many boats together, on both coasts. Jeff's patience with our innumerable questions and "what about" requests as well as his knowledge of the boats we were researching and contacts within the industry made everything so much easier. With Jeff's encouragement, we chartered a boat one summer to get basic certification, as well as attended seminars at Trawlerfests and took on-line courses.
When we did finally find our boat, a Nordhavn 50, Jeff not only helped us navigate the road to purchase, but also helped us find necessary experts for survey, being ever-available for more and more questions, and even helped the boat owner, who did not have a broker, become comfortable with the process. We moved aboard November 6, 2019.
This life has been everything we have wanted it to be and more. Although our voyages have been tempered by the global pandemic, we were able to make plans to move from our home marina in Vero Beach, FL through the ocean and the ICW north to the Chesapeake Bay for hurricane season in 2020. We were so happy and grateful that Jeff was able to join us on the first leg of that journey, something that he offers as part of his buyer-broker program to provide onboard training post-purchase. Having Jeff with us gave us the confidence to undertake our first overnight cruising in what turned out to be rather rough seas. His expertise and calm demeanor definitely encouraged us and gave us renewed faith in ourselves and our Granuaile.
Jeff's greatest asset and strength is his honesty and moral compass. Our original broker contract was sealed with a handshake. We've never questioned his motives and have always felt that he was working for us and with us. He's forgotten more than we will ever know about cruising and boats, but for us the greatest gift was gaining him and Pam as our friends. We cannot recommend him highly enough if you are looking for a broker. We feel incredibly lucky to have worked with him and are thankful for all he has done for us.
Neil and Kathleen Donohoe – Nordhavn 50 – Granuaile