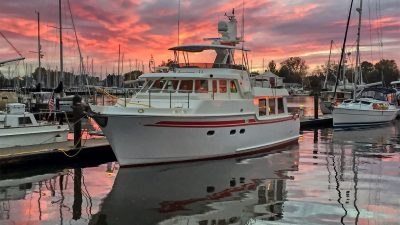 2002 Nordhavn 50 – Wild Rumpus – Sold in Chesapeake, VA
Well done! Jeff thank you for helping me sell my Nordhavn 50.
A fellow Nordhavn owner suggested that I reach out to you based on his experience buying with you and your reputation in the world of trawlers.  Having met you briefly while attending one of your classes at TrawlerFest a few years ago you were already on my list of potential brokers to consider.  After several calls and emails including a review of the market and your brand analysis, it was clear to me that we were a good fit and you were the best choice.  Now, only a few weeks later, I've gone from listing to SOLD.
I have been in sales my entire life and I know it's not easy to work with a fellow sales person.  From my experience of decades in the automobile industry, where I have literally met hundreds of car sales people, I would rank you in the top tier of professional sales people. Car sales is a crowded industry with a different method for results, but you have the right style and approach to market yachts and good regular communications were a big part of why this sale was quick and successful.
Wasn't sure how Covid travel would work with you being in California and the boat in Virginia, but I appreciate you flying across the country to meet me and Wild Rumpus.   In person you had a better understanding of my situation and the vessel particulars.  Your detailed write up was truly the best I have ever read and your video is outstanding and a great way to showcase my trawler.
To any other trawler owner looking for representation I would highlight your confidence, product knowledge, calm negotiating skills and exceptional understanding of the brokerage process. One example, we could have had a delay in closing if you hadn't noticed the state created registration glitch on the tender.  Your systematic check-list-organization kept everything on track and really helped connect all the dots.
All of that aside, and more importantly to me, I really enjoyed working with you.  You are a high energy person, a patient listener, and an articulate communicator. The process of working with you was better than I expected and I'm going to miss our regular chats, but don't worry, I'll still bug you now and then to remain in touch.
I am more than happy to endorse you and your company. Here's to your continued success!
Tom Kline – Nordhavn 50 – Wild Rumpus