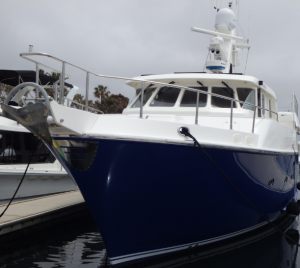 1999 Nordhavn 50 Twins – Sold in San Diego, CA
Dear Jeff:
Now that the transaction is over I wanted to write you a referral letter in the hopes that others will know how you work above and beyond what I have seen other brokers provide. As you know, I had "Twins" listed with a major house for two years, and the only time I would hear from my broker was when it was time to renew the listing.
I have known about you for years through your reputation in the Nordhavn community and looking back, sending you an email to ask about listing our boat for sale was the first step in creating a successful sales strategy.
Offering a boat for sale in Puerto Vallarta, Mexico did have some challenges, but my first "wow" was when you flew down for two days to understand the boat, take photos and shoot the video (which still blows me away that were over 12,000 views by the time we closed).
Once you completed your very thorough write up you did a great job of keeping me informed, even when there were no inquiries.
After we agreed to move the boat up to San Diego I appreciate that you drove the 200 mile round trip from your office to make several showings and when the eventual buyers did show up you were there for the survey, trial run and a few weeks later the offshore delivery.
Jeff, Alicia and I are very thankful that you took us on and you did make a huge difference in helping us sell our boat. Your product knowledge is amazing, you had some nice suggestions to improve our presentation and you were always available by phone or email when we needed to get in touch.
If any potential sellers are considering JMYS to market a cruising boat for sale, but before they sign up want to talk first hand to a successful seller, please know that I would be happy to speak with them about you and your service. Hope to see you again soon.
Warm regards,
Scott Case – former owner of Nordhavn 50 Twins