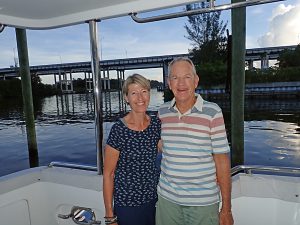 2015 Nordhavn 63 – Kokomo – Sold in Stuart, FL
Dear Jeff:
With the sale of our Nordhavn 63 Kokomo completed, we have now closed another chapter with you in the Nordhavn world. Ruth and I are very grateful for your guidance and support over many years and truly value your friendship.
After selling the Nordhavn 55 Starfish for us in California several years ago, you helped us create the detailed specifications and equipment selections to order our beautiful Nordhavn 63 Kokomo which is the best boat we have ever owned.
When it came time to sell, we knew you would be the best person to help us. We want to thank you for your marketing efforts to sell Kokomo. Very impressive – so many methods with photos, a custom website, social media, video and more all contributed to this result. There was a lot of competition in the market with so many Nordhavn 63's for sale and you clearly made us stand out in the crowd and found a buyer in a very fast time frame.
Of course, your secret tool in Stuart, FL is John Hoffman and we want to add John to our thanks for making this all happen. Thank you both for handling the survey for us in Florida so we did not have to come over from Switzerland until the boat was accepted and we could complete the hand over.
From day one through the end, your management of this project was very smooth, organized and with great communication.
Jeff, we wish you, John, and JMYS continued success. Please come visit us in Switzerland some time and we hope to see everyone again in person one day soon.
With appreciation,
Jurg and Ruth Beeli