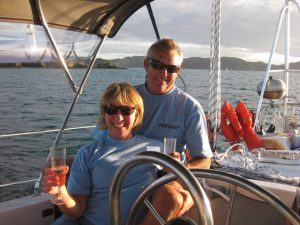 1989 Offshore 40 cruising sailboat Defiant – Sold in Opua, New Zealand
My wife (Jenny) and I live in New Zealand. We saw our first Nordhavn, here over 5 years ago and the Nordhavn dream began for us.Not long after our first Nordhavn inspection, we met with Jeff Merrill in California. Jeff made us feel very welcome. His knowledge of all things Nordhavn is encyclopedic. Jeff showed us over all of the Nordhavn models that were in Southern California, despite knowing that we were still 'only looking.' Over the years we have continued to stay in touch with Jeff.
One of the must-do steps before we could purchase a Nordhavn was to sell our Offshore 40 sailboat. We tried to sell her locally, but did not have much success so we contacted Jeff. Even though we were located half a world away, Jeff listed and helped us sell our yacht here in New Zealand. The exposure of 'Defiant' on JMYS.com and other international websites made selling her here in NZ much easier.
Jenny and I are now onto our newest adventure; we are purchasing a Nordhavn 47.
Jeff's guidance and knowledge has helped us along the way, and we are truly grateful for his support.
We continue to stay in touch with Jeff, and highly recommend him when it is time to fulfill your dreams.