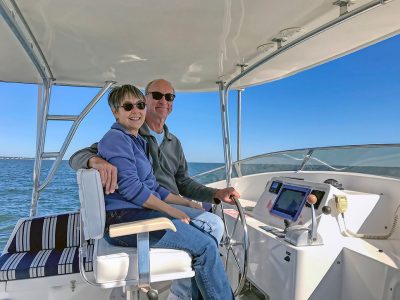 After many years cruising on our sailboat and loving the cruising lifestyle, we decided on a change to cruising on trawlers. Through researching potential brokers, we kept coming across Jeff Merrill and his JMYS brokerage in both buyer recommendations and in his presentations and publications. Conversations with Jeff helped narrow our focus on a few trawler models.
During our cruising we had met Rob Piwowarczyk, an active trawler cruiser and broker with JMYS. He answered many more questions and was ready when the right trawler became available. The purchase process from afar was much easier as Jeff was familiar with this particular trawler, and Rob was able to zoom tour the boat with us. Provided schedules and recommendations kept us organized and moving forward. It was so reassuring to have Rob with us for the survey and sea trial, and again with systems and helm training after the purchase.
We highly recommend JMYS and Rob Piwowarczyk for assistance and handling of your trawler purchase. They set the bar high for service, integrity, and enjoyment of the buying process.
Paul and Sharon Rupple – Kadey-Krogen 48 – Summertime