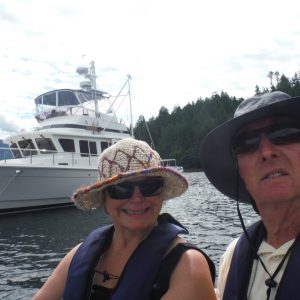 Dear Jeff:
Your impeccable ethics will have won you many loyal customers over the years, Penny & I are fortunate to be included. We also consider you and your family as friends – the ultimate in a business relationship! We wish you the ultimate success in your new venture & we will continue to refer potential clients to you.
We met Jeff Merrill through an advertisement for a Nordhavn boat when we were exploring the possibility of moving from our blue water sailboat to a passage maker / trawler. One of the many excellent suggestions that Jeff put forth was to view as many different boats as possible and to attend boat shows and workshops. Because of that suggestion, we met Jeff face-to-face at the 2012 Anacortes Trawlerfest. Jeff assisted us with developing matrices to narrow our selection of potential vessels. Although our sights were set on a smaller style vessel, Jeff always made us feel that we were a very important customer.
We have  now attended two trawlerfests and several of Jeff's seminars and other boat shows. We have met him in Seattle WA and Dana Point CA and have from the start considered him to be not only a wise, astute business adviser but a personal friend. Although last year our search with Jeff's close surveillance lead to a non-Nordhavn vessel (another story) we are back again working with Jeff on sourcing our next vessel, a 40 or 50 something Nordhavn. Jeff's professional approach to the trawler brokerage business is impeccable. For this reason, we do not hesitate to recommend him to anyone looking to buy or sell a trawler.
Sincerely
Paul and Penn Vroom – Selene 43 – Tahoma