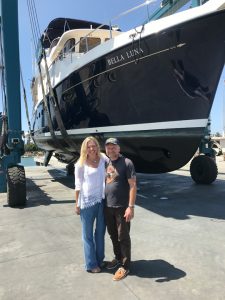 My wife and I had a 3 to 4 year plan to buy a trawler and move onboard. I called Jeff about his Selene 55 listing and I told him that we were quite a way out. He was still willing to work with us saying that it takes time to figure out what is best. From our experience, most sales guys would just blow you off and move on to the next quick sale instead.
After seeing Bella Luna things have suddenly changed. Stars started to line up for us and our long-term plan turned into a 3 – 4 month plan instead.  We told Jeff that we had fallen in love with Bella Luna, but he told us that we weren't allowed to fall in love with the first trawler we saw. So, he sent us off to Seattle (he couldn't attend) and made appointments for us to look at more trawlers.  Again, what sales guy does that? Most would say great, lets write up an offer now.
Jeff coordinated with the other brokers as our representative (almost all of them know Jeff – he's well connected). After spending time aboard a dozen or so trawlers, debriefing with Jeff to share what we learned, we were very certain that yes, the first boat, the Selene 55, was in fact the right boat.
Deanna even set up a charter with the seller to see what it is like to be on a Selene 55 underway and that was the clincher!  Another interesting aspect of buying Bella Luna is that we also purchased the charter business which remains very popular and keeps us busy!
Jeff is not your typical sales guy.  His reputation means more than anything to him.  Bella Luna is the very first boat or trawler that we have ever owned so making one of the biggest financial decisions in our life was a huge thing. Jeff's low-pressure approach put us at ease. Always approachable, always available to talk and always a wealth of information on anything about trawlers.
As the listing broker he represented both us and the seller, not an easy task, but one he did with professionalism working hard with everyone's best interests in mind.
At closing, Jeff told us to jump right in and enjoy the boat and to call or email if we ever have a question. He also suggested that after a couple of weeks or months we set aside some time for him to come spend time aboard to provide training on any topic we wanted to improve.  We finally set that up four months after the purchase. Jeff came and spent a weekend with us anchored out at the islands. Training, going over all the systems on board and making sure that we felt comfortable with everything. It felt good that my wife and I could handle it all by ourselves.
If you are buying or selling a trawler Jeff Merrill is your guy. His expertise and his character make all the difference. You will not be disappointed!
Rob and Deanna Piwowarczyk – Selene 55 –  Bella Luna