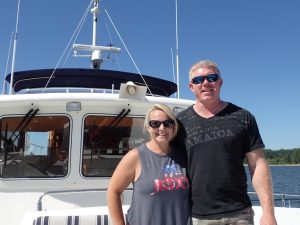 It all started with a dream of cruising in our very own Trawler Yacht. When we decided to make it a reality we soon realized that this would be a very complex process and we needed someone with extensive knowledge and experience to help guide us through the process. We met up with a few brokers and expressed our desire to have someone act on our behalf as a "buyers broker" and after each meeting we left feeling as though they did not listen to what we wanted or were more interested in selling us something before we were ready. Upon more research, we kept seeing the name "Jeff Merrill". He was even mentioned positively on someone's blog so we decided to take a look at his website and see what he was about. We were very impressed with what we saw and the honesty of what boat ownership and the search for the right one is all about. We were going to be in Jeff's home area on a Business trip so we set up a lunch meeting on relatively short notice and Jeff was able to oblige. We ended up talking for nearly three hours receiving more helpful guidance and information in that meeting than we had received anywhere else. We were impressed and relieved feeling that we had finally found someone who understood what we needed and where we were in the process. Needless to say, we "hired" Jeff that day.
Jeff went to work right away. He contacted past clients in our area and arranged for us to meet with them and learn from their experiences in the process. He encouraged us to look at as many trawlers as possible before becoming too attached to a style and would set up meetings with listing brokers to see boats that interested us. Although he was extremely busy, he was very responsive and took the time to talk nearly every day and coach us. Jeff was our voice of reason when we thought the second boat we toured was the perfect one. He never wanted us to lose out on the perfect boat, but wanted to be sure we had done all our homework and could feel absolutely confident that we were choosing the right boat for us.
After looking at quite a few boats, we finally found the one! A 53' Selene Trawler. Jeff looked after us and our best interest the whole way. There were several hitches in the purchase process once we had made an offer (none created by Jeff!) however Jeff was able to easily navigate those situations and counsel us on what course of action to take. It was very important to him to make sure we were happy with our decision during and after the sale. He was there every step of the way!
After everything had settled and we had our boat delivered to her home port Jeff scheduled a 3-day trip with his wife Pam to our home marina. This visit was to provide additional training on the use and care of our trawler, and was very valuable to us providing a great deal on how to operate her more smoothly and safely. We also had a lot of fun that weekend just hanging out with Jeff and Pam, what a great couple!
On a personal note, we began this looking for a boat and someone to help us figure it out. What we ended up with was new friends in Jeff and Pam. They are genuinely just great people to be around and we plan keep that relationship going. Jeff Merrill is truly a 5-star Broker (and friend!)
Russ and Missie low – Selene 53 – Melissa Lynn