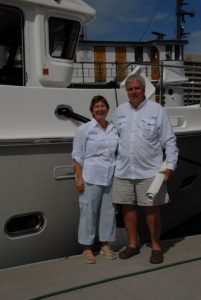 To Whom it May Concern:
I'd like to take a moment and chronicle my experience with Jeff Merrill over the last 15 years.  I've been a boater much of my life, making the transition to diesel trawlers with the purchase of a 31' Camano in 2003.  After establishing a love for the cruising lifestyle my wife and I made the decision to purchase a Nordhavn.  We contacted the company and were assigned a sales person.  After an initial assessment the sales person had us sign a purchase and sale agreement with no price, no delivery schedule and no commitment of any kind.  After 3 months of continued confusion about exactly what I was getting I decided to disengage from the purchase process.
A year later I got a call from Jeff Merrill.  Jeff had been handed my folder and told I was a difficult customer, that maybe he could work better with me.  As I came to meet and know Jeff I become convinced he was the person I wanted to assist me in purchasing our Nordhavn.  Within 3 months we found and purchased our boat, a 40' slightly used Nordhavn moored in Dana Point at the corporate docks.  You should have seen the look on the other salesman's face when he saw me arrive to complete the purchase, he would have bet $1,000 I would never come through with a purchase.
I tell this story because it so perfectly captures Jeff's value proposition as a salesman.  Jeff doesn't "push" you into buying any boat, rather he leads you through the path of becoming educated enough to make the decision that is right for you.  Jeff never failed to answer a phone call or email and never failed to provide factual, accurate and complete information.  Jeff even introduced us to the couple selling the boat before the transaction was complete, because he wanted the boat owners to know the boat was going to a couple that would appreciate the heart and soul they had poured into her.
Jeff's support didn't end with the completion of a sale.  Jeff was a constant companion in answering questions and providing additional support for years.  As my wife and I departed for a trans Panama Canal journey to the East Coast he arranged a parts pickup in Dana Point, including wheeling a 100 lb. box of zincs to the boat on a hand truck.
What you get by doing business with Jeff is a complete feeling of confidence and trust.  Jeff is the kind of person you cherish meeting in life.  He is the kind of person you want as your wing man or co-captain.  It would be almost impossible to overstate how competent and capable he is, but mostly, he has integrity.  In the world of boat buying, he is indeed a rare find.  In summary, I have complete confidence providing a total and complete recommendation for Jeff, with no reservations or caveats.  If/when I go to buy another Trawler; there is simply no one else I would consider having on my side of the transaction.
Sincerely,
Scott Bulger – former owner Nordhavn 40 # 39 – Alanui