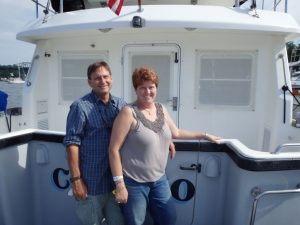 Dear Jeff:
We wanted to write a short letter of thanks for your guidance and support in helping us find our mistress! Hopefully you can share this letter with other clients and potential buyers to show how you helped us through this process. We are still very much in love, and poorer…but happy!!
The experience we had with you from first email contact at midnight, followed by many long phone conversations helping us work out what we really wanted vs. what we needed, to looking at boats in Maryland and finding our boat in Rhode Island, to the cigar after purchase phase, to training, to cheerleading support, to kicking us out of the nest to embark on our 700+ mile delivery adventure, to finally a vast friendship, Jeff you wore every hat with distinction! Great communications (phone, email and text) throughout and you really know trawlers. We picked the right broker and we have no regrets or complaints! Amazing how it all worked with you based in California and us living in Florida.
We are blessed with great new habits in our 30+ point engine room check list you created, educational handouts from your articles and talks, and extensive product knowledge from a professional.
Thank you Jeff!
Scott and Glenda O'Connor – Nordhavn 40 – Cocamo