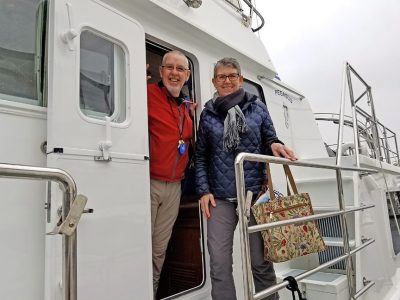 2007 Seahorse Marine 52 – Pegasus – Sold in Jacksonville, FL
When we decided to sell our trawler Pegasus, a Seahorse Marine 52, we asked friends and Internet trawler groups for recommendations for a broker. We had seen JMYS online but thought that they dealt mostly with Nordhavns. However, cruising friends of ours with a Nordhavn personally recommended Jeff and said he handled all makes of trawler so we gave him a call.
We are so glad we did. Despite our boat being in Florida, us in Scotland and him in California, we got first class, responsive service. Because of a series of unexpected problems on our end, not his, we never met Jeff until the Sea trial and Survey in Florida. Throughout this time, from talking about listing until we met aboard, his communication skills, minute attention to detail and excellent advice fostered a relationship that completely mitigated the lack of meeting in person.
His website is first class and his associate, Don Allen, helped make Pegasus look her best.
The sea trial and survey is always fraught with tension, but Jeff was a calming influence. His suggestion that, against conventional wisdom, we were present through both days, was a good idea. We were able to answer the prospective buyers questions in more detail than any broker or surveyor could have done.
Jeff has so much experience with trawlers, his specialty, that we were able to trust his judgement on selling price, preparatory repairs and how to present Pegasus in the best way. He negotiated well on our behalf, with realistic and satisfactory outcomes for all. With JMYS we sold our boat within 3 months of listing, and at what is traditionally a sub-optimal time of year.
We can unreservedly recommend him. He made us and our boat feel the most important thing to him at all times. He always responds immediately to emails and texts and we see why he is so successful. Thank you Jeff.
James & Charlotte Caldwell