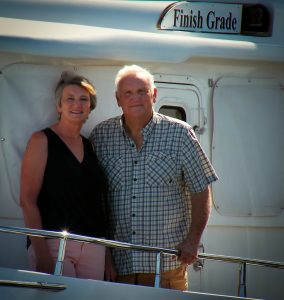 Dear Jeff,
We wanted to take a moment and express our utmost appreciation to you and the team at JMYS.
The process of purchasing our Selene 55 during this crazy market exemplified the philosophy of your company and all staff involved.
As we looked at many trawlers across the US, you or your staff were always there to guide us through all aspects of each potential purchase, with files of photos previously taken of a vessel and/or their personal knowledge from previously being aboard. Your many contacts throughout the industry, due to your experience and work ethic, also played an important guiding role throughout. We remember our first contact with you in reminding us life is truly about what you do with your QTR (Quality Time Remaining) and why our decision to do it on a trawler was a good one.
So that leads us to our acronym of what we found in working with JMYS. TEAM – Trustworthy, Educators, Advocates and Mentors
JMYS has been our TEAM from our first contact with you and seamlessly continued through our search and culminating with John Hoffman on a zoom call to view the vessel, our multiple phone calls with you and John to schedule all the next steps, the survey, closing and now ownership. With a multitude of questions answered and help received from you and John throughout , we know you both will always be a phone call away if needed. And finally we graciously thank Pam for her role and support of getting you across the country as you spend so much time helping others find their perfect boat.
Thank you for your company's values so we could put our trust in you, for educating us through the entire process (as we had a lot to learn), advising us how to find the perfect trawler for us, and continuing to guide us in making sound decisions as new owners.
We could not have found a better TEAM than JMYS of whom we now consider all to be part of the family!
Terry and Lynn Moren – Selene 55 – Finish Grade