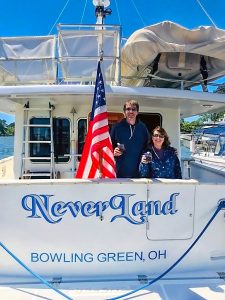 If you are looking for your dream boat, contact Jeff Merrill or Larry Friedman at JMYS!
Although we were sailors, we decided we couldn't wait any longer to make our dream of doing the Great Loop in a trawler come true.
We contacted Larry to schedule a tour of the beautiful Selene 43 trawler after watching (dozens of times) a captivating YouTube video that featured Jeff Merrill.
Larry helped us navigate the challenges of touring a boat in another state, coordinating the sea trial and survey, and the subsequent purchase of NeverLand, formerly named Misty Pearl.
Jeff represented the sellers and Larry represented the purchasers; however, both were equally accommodating, responsive, and friendly.
As promised, Larry accompanied us on a portion of our trip back to our home port.  We had a great time, learned a lot, and laughed a lot.
Although the purchase was final in November 2020, we have stayed in contact with Larry and Jeff, and plan to do so in the future.  Jeff and Larry are now part of our boating family.
Don't hesitate, life is too short! Give them a call.
Todd and Kelly Glick – Selene 43 – NeverLand