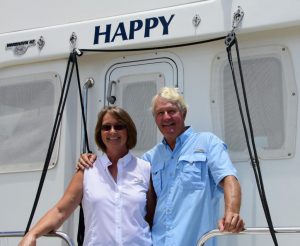 Jeff represented us for the purchase of our Nordhavn 47 in 2012.
He is very knowledgeable and has a wealth of information that he shares with his clients.
His attention to detail is excellent, both in regard to the vessel being purchased and the transaction documents.
While he is based on the west coast, we have frequently seen him working on the east coast, and that is where our transaction took place.
In the over-crowded field of boat brokers, Jeff stands out as a true professional, and someone you will call a friend after the deal is done.
Wytie and Sally Cable – Nordhavn 47 – Happy