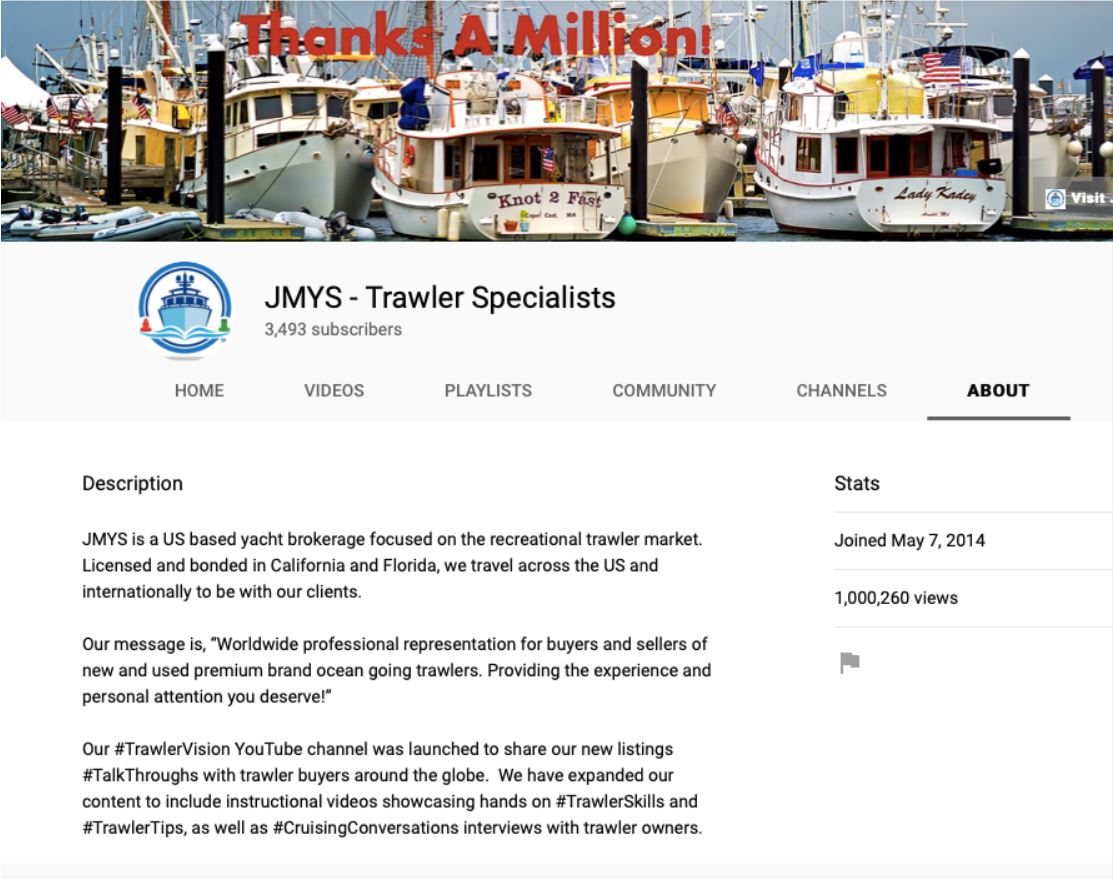 Thanks a MILLION!
We know you enjoy watching videos on YouTube just as much as we love putting them together. The JMYS YouTube channel was started in May of 2014 showcasing the Nordhavn 43 Earl R (which quickly sold) and we now have over thirty different videos uploaded.
We truly appreciate everyone who spends time on our channel to learn about trawlers.
After we launch each new video, we eagerly monitor its reach and success by tracking the number of views and are continually amazed as they magically count upwards.
A handful of JMYS videos have achieved the 100,000-view milestone and these numbers continue to increase each day.
The ABOUT button on our YouTube tool bar (near the magnifying glass search icon) keeps a running tally of accumulated views, and in the last week of 2018, during the year end celebrations and gift giving season, we got the best present of all – our one millionth view!
Our subscriber base also continues to grow. As a subscriber, you can click on the Bell icon 

which will automatically send you a notification when a new video is uploaded.
We are extremely gratified by so many Thumbs Up, so here's a Thumbs Up back at you!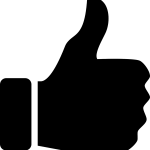 and some applause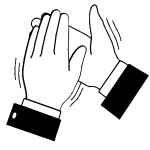 We highlight a JMYS video each Thursday on Social Media in our series called #TrawlerVision so you can easily keep informed by following us on Facebook, Twitter and Instagram.
In addition to our #TalkThroughs (trawlers for sale videos) we publish #TrawlerSkills and #TrawlerTips (hands on educational episodes) and we will be introducing a new series of #CruisingConversations (interviews) with clients aboard their trawlers and trawler industry friends who will be sharing their experiences and insights.
We have comments open on our TrawlerSkills videos, so you can interact. If you have a trawler topic you would like to see us cover please send us a note or give us a ring.
JMYS has many more trawler videos in production that we will release in 2019. Thank you for watching and please subscribe to our channel if you haven't done so already.  Stay tuned!