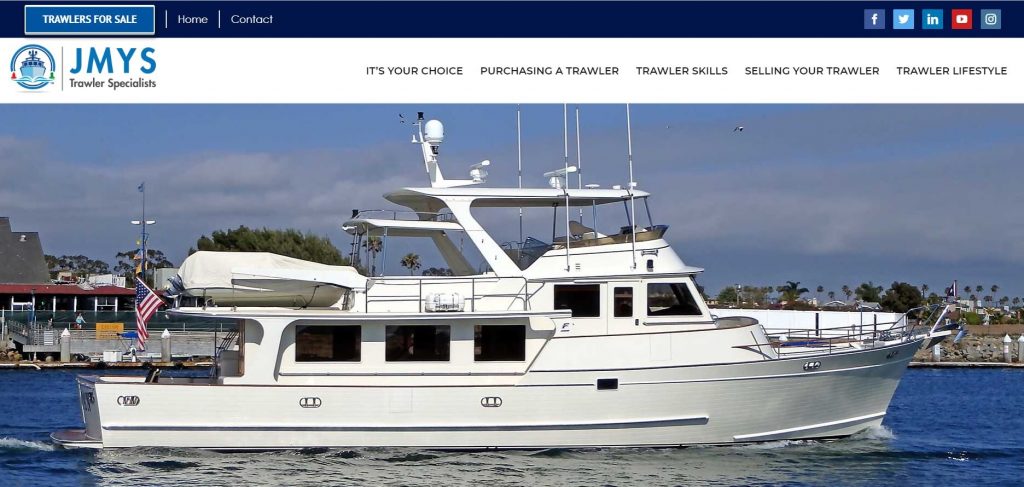 Happy New Year and thanks for joining us!
At JMYS, we are starting the New Year happy to share our newly refreshed website.  2018 was a busy and active time for all of us and we look forward to positive change and the potential for great things in 2019. Our website is content rich and we truly appreciate all of  the encouraging feedback from our readers.  The old site was not as easy to use on tablets and smart phones, so we believe we have reached our goal of creating a simple yet informational platform for everyone to learn about trawler buying and selling while also reveling in the whole trawler experience.
Some things you will notice about our new website format include new photos, links, and articles. Our desire is to help answer your questions and the updated layout makes it simpler to find what you want to look for.  We have included information for people looking to acquire a trawler as well as for those owners who are now ready to sell their beloved trawler.
Our upper tool bar provides easy navigation to allow readers to study the following:
What type of trawler is best for you and how to select your broker (It's Your Choice),
Advice about the process of buying a new or used trawler (Purchasing a Trawler),
Recommended procedures while operating your trawler (Trawler Skills),
What to consider when marketing your trawler (Selling Your Trawler), and
Content on all the great things about owning a trawler (Trawler Lifestyle).
From our Home Page you can access each of these five sections and also click to review our current listings of trawlers for sale.  You can easily view our latest YouTube video, follow us on Social Media, and read our news articles about events and activities.
We are very pleased with the monumental work done by uVisualize to complete all of the website updates.  They also produce our popular video content for YouTube.  You can learn more about them by going to their site, www.uvisualize.com.
We are ramped up and ready to charge into the New Year and hope you will enjoy the new JMYS.com and find it a helpful resource for all things relating to trawlers.  The JMYS team hopes your 2019 will be filled with great adventures both on and off the water.
Please reach out to any of our team to discuss your plans and aspirations.