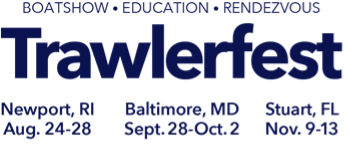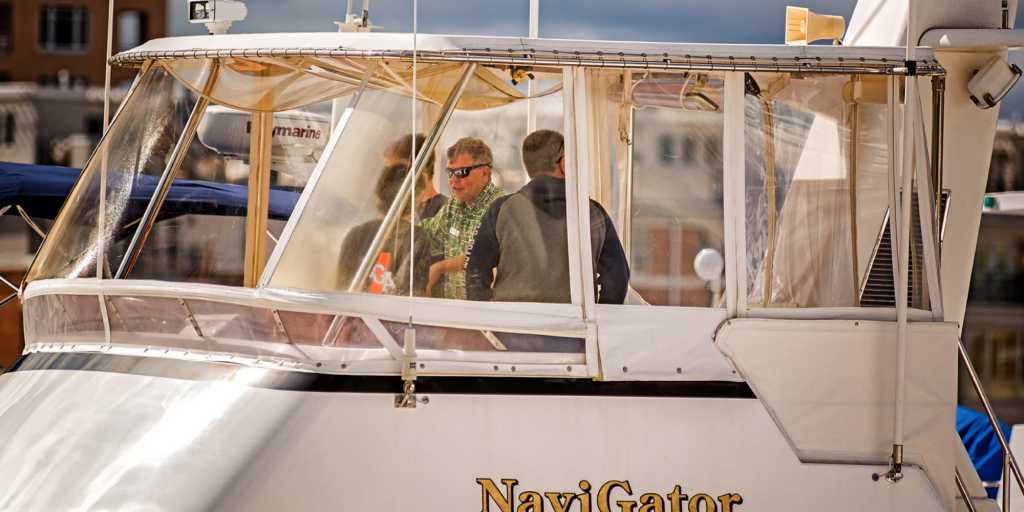 As July quickly approaches, we have just under two months until we are walking the docks of TrawlerFest in Newport, Rhode Island. This should be exciting, as it is the first TrawlerFest held in over 15 months.  We expect jam packed educational seminars, round table discussions, seasoned professionals, product vendors, trawler owners and want to be owners all immersed in trawler talk and you guessed it – trawlers of all shapes and sizes!
You will be able to find Jeff on the docks catching up with clients and friends, filming a new Dock, Walk and Talk YouTube video, and in the classroom teaching, participating in and/or moderating the following seminars:
Offshore Essentials
Wednesday, August 25. 3pm – 5pm
"Offshore Essentials" was developed to review the necessary preparations required for trawler owners (and want-to-be owners) interested in transiting between sea ports for extended trips including overnight passages. This course is designed to be both an introduction and a refresher for owner operators and their crew. You will be reviewing important knowledge and fundamental skills needed to understand what to expect and how be organized in order to ensure a safe trip. Jeff Merrill is an active yacht broker who has logged nearly 20,000 miles offshore on trawlers and has spent the majority of that time training with clients on systems and teaching them how to manage and run their boats safely offshore. Merrill will touch on key topics such as safety, weather, pre-departure preparation, captain responsibilities, crew orientation, watch standing, engine-room checks, pilothouse navigation/electronics operations, and more. This talk will also include examples of important checklists Merrill has created and refined over many years of traveling out of sight of land. Certificate of completion.
Boat Buyers Survival Guide
Thursday, Aug 26. 9 am – 12 pm
Even when it goes well, buying a boat can be a stressful process. The idea behind this seminar is to arm buyers with the information they need to minimize frustration and unnecessary expense. There are several "team teach" instructors, with individual presentations and a group panel session at the end. The seminar will review what boat is the best fit for you, insurance, finance, survey to name a few topics. The seminar leads off with the first decision a prospective buyer of a cruising boat must make. That is, what kind of cruiser you plan to be and therefore which hull design, because, as boatbuilder Steve Zimmerman will argue, hull form matters. Metal boat builders explain metal boat construction and its advantages and disadvantages and address custom boat building in general. For those buying a boat for the first time, thinking about it or need a refresher on best practices this seminar is for you.
Ask the Experts: A Town Hall Meeting
Friday, August 27. 3pm – 5pm
In this "town hall" event, our panel of veteran cruisers will field audience questions on a wide-range of topics, sea stories always resulting. Rudy Sechez built is own "sail assisted troller" and co-authored an anchoring guide. Jeff Merrill, the moderator, is a yacht broker, author and trawler specialist with thousands of cruising miles with clients. Surveyor. Steve Zimmerman can discuss repairs and boatyards from the point of view of both a cruiser and boatyard owner. Chris Parker, a veteran marine weather router, spent more than 20 years cruising the East Coast and the islands. To name a few.
Dial-In Your Trawler
Saturday, August 28th. 9am – 11am
Over thirty years working with cruising clients and through his experiences on hundreds of trawlers, yacht broker Jeff Merrill has amassed a collection of good ideas that will help take some of the guesswork out of tracking various systems and equipment onboard your trawler. These are effective techniques that trawler owners are using to better monitor their vessels and they apply to most power cruising boats. It helps your awareness if you are observant and use quick reference reminders. Simple tips, like marking lines on your engine mounts, lines for tracking needles on analog gauges, color coding your anchor chain and many other common-sense tips make this an engaging and informative session.