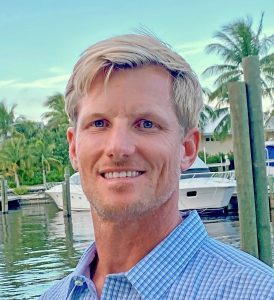 Niels Gregory is an avid seafarer with a unique background. He was born in Nassau, Bahamas and by the time he turned eight, he and his brother were sailing a Sunfish from Nassau to Athol Island, swimming, laughing and spearfishing.  Niels lived most of his first fourteen years between Costa Rica, Guatemala and Mexico City.  Spanish is his first language, and he feels very much at home in Latin America and the Bahamas, especially near the coast.  The Gregory family has owned a retreat in Nassau for over 70 years, and Niels was fortunate to spend most of his early age summers swimming, sailing and spearfishing.  It was not until his mid-teens that the family moved to the United States.
An early love of the sea blossomed into a career on the water. He has always loved the ocean and found himself working on motor yachts by the time he turned 20. Things progressed quickly and after a few years of traveling throughout New England, the Caribbean, Central America, transiting the Panama Canal, and crossing the Pacific, he became the captain aboard a 126' Trinity motor yacht at age 25.
This began a nearly two decade long marine industry career involving boats of all sizes, primarily on very large power yachts.  Realizing this was his calling, he turned his love of boating into his profession, earning his 3000 ton "all oceans" masters license.  As a private captain, Niels has had the enviable experience of running some of the most incredible yachts in the world; most of which were between 205 and 290 feet and has thousands of miles offshore.
Shortly after the youngest of his three children was born, Niels realized he needed to stay closer to shore and settle down.  This led to the creation of a successful yacht management company based in Vero Beach. The many faceted skills Niels learned as a captain; from preparation to maintenance, operations and repairs created a great demand for his services. Niels' company has evolved throughout the years, naturally overlapping into brokerage; helping owners prepare their boats for sale and helping buyers improve the boats they acquired.
A mutual client introduced Niels to Jeff Merrill on the docks in Vero Beach.  From the very first meeting the two developed an instant bond with mutual respect and quickly realized their similarities, especially when it comes to working with clients and helping them fulfill their boating needs.   Niels considered switching his career direction to full time brokerage, but it is always difficult to change tacks, especially when you have created a thriving business. Jeff and Niels remained in touch and reconnected late in 2020 to discuss brokerage.  A less predictable service workload made it more difficult for Niels to look after his dedicated employees and the dynamic shift in the boating world, with travel restrictions and other significant changes caused Niels to reevaluate his priorities. Niels reached out to Jeff to discuss becoming a yacht broker for JMYS and Jeff offered him a job on the spot.
JMYS has become a larger player in the world trawler market and the need to include talented, boating smart and people friendly brokers has become essential for growth.  Jeff had this to say about Niels,
"Sometimes you just know when something is going to work, it just feels right. I have been impressed with Niels from the moment I met him. We have a lot in common and he is personable, articulate and a good listener.  His clients rave about his conscientious attention and his boating product knowledge is comparable to anyone else in the business. Niels is a customer first, get the job done right kind of guy and I'm very excited to have him join the JMYS team."
Niels lives in Stuart, Florida, is a licensed Florida yacht salesperson.  A quick learner, he has already become very active with JMYS. He is versatile and mobile – able to travel to be with clients all over the country.
From Niels:
"I'm eager to get started and looking forward to not only helping clients and building relationships, but learning from the incredibly diverse and experienced team at JMYS."
Please join us in welcoming Niels.
To reach Niels please call or text his phone: + 1 772.341.6085 or send an email to Niels@JMYS.com