YATCO – "The Official MLS of Yachting" is a true MLS (multiple-listing service) and JMYS is proud to offer our trawlers and tugs for sale on this platform.  YATCO has been steadily growing over the last 20 years and was primarily focused on larger Yachts, but they now offer a MLS for US West Coast and US East Coast brokers that is in collaboration with the various yacht broker associations on those two coasts.
Jeff Merrill was showcased in their February 27th email blasts as their "Broker Spotlight" and we thought we would share that with the JMYS.com audience.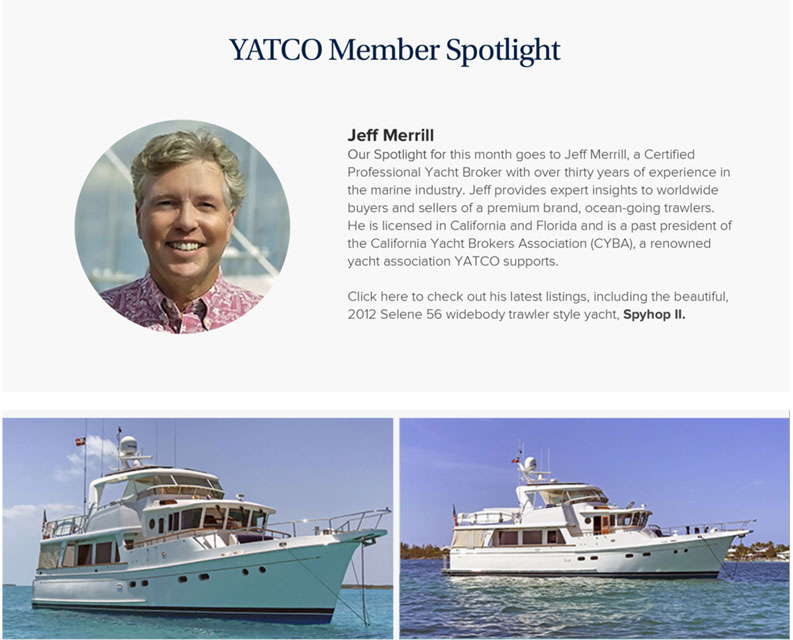 If you are looking for a yacht broker association supported and true MLS (no for sale by owner or Open listings), then please visit and book mark these sites:
www.YATCO.com (US and international market)
www.YachtsForSaleEast.com (US east coast market-YBAA)
www.YachtsforSaleWest.com (US west coast market – CYBA and BCYBA)
JMYS is proud to support YATCO (we are on the record multiple times as strong opponents to the "other guys" who have undermined brokers and misled consumers).
Thank you YATCO for offering a superior platform and for growing into a viable alternative to Yachtworld.  We encourage other brokerages to sign up for YATCO as they not only support yacht brokers who present boats for sale, but also treat boaters with respect. YATCO does not allow distracting pop up ads or deceptive privacy data accumulation.
We encourage you to use YATCO as your primary resource.  Brokers are scaling back their promotion on YachtWorld and it is just a matter of time before YATCO surpasses YachtWorld, but we certainly believe that that is what it's going to happen in the future.