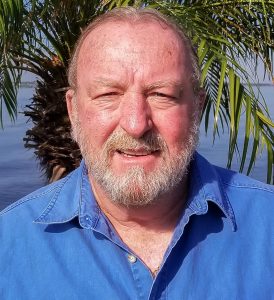 John Hoffman grew up in Clark, NJ.  From age 11 through 18 he spent his summers on a private island 3 miles off of Milbridge, ME – 30 miles north of Southwest Harbor. This is where he learned the basics of living on and around the ocean. Summers were spent fishing, hunting, boating, and operating the diesel tractor and other heavy machinery that his family used to take care of business on this isolated island.
John attended the Franklin Institute in Boston and studied Mechanical Engineering. He moved to Stuart Fl. in 1972 and after a short while got a job with Stuart Angler. Together, they built semi-custom balsa cored fiberglass boats that were downsize designed from PT boats. John also enjoyed a short stint at Salerno Boat Works and an additional 8 year run with Stuart Yacht. His trade skills were mostly mechanical fabrication and welding, but included some electrical and lofting which he enjoyed the most.
In 1989 John started his own boat service company, Palm City Marine. He did a lot of repairs and upgrades to all different makes of boats and subcontracted to some local yards and builders.
In 2003 he was hired as a subcontractor with PAE/Nordhavn which was still new in Florida and growing quickly.  They liked his work ethic and systems knowledge so much that John was hired as the Nordhavn Commissioning Manager shortly thereafter. While at PAE, John was involved in the commissioning of new Nordhavns and service work for Nordhavns that came through Florida during their travels. He has worked from stem to stern, from anchor light to bilges and is intimately familiar with just about every trawler system installed.  John met Jeff Merrill back in 2003 and they have remained close friends ever since including a two-day delivery of a new Nordhavn 68 over to the Bahamas and back during a December cold snap.
In January of 2015 he retired from Nordhavn and rekindled Palm City Marine back into business doing repairs and custom installs at the former Nordhavn Stuart long dock and pier.  John's product knowledge, systems skills and friendly, helpful attitude have prepared him for the next phase of his career, being a yacht broker for JMYS.  John has his yacht salesman license in Florida and is eager to work with many current clients and also looking forward to helping new buyers and sellers.
You can reach John directly via:
Email:  John@JMYS.com
Mobile Phone:  +1 772.215.3720
Testimonials
Terry and Lynn Moren – Selene 55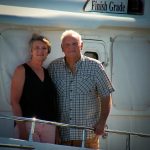 We wanted to take a moment and express our utmost appreciation to you and the team at JMYS. The process of purchasing our Selene 55 during this crazy market exemplified the philosophy of your company and all staff involved...
Read More
Nordhavn 50 – Chesapeake, VA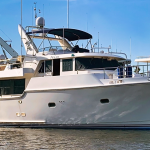 Jeff, I wanted to tell you personally how much we have appreciated having John Hoffman being part of both of our yacht transactions with JMYS.