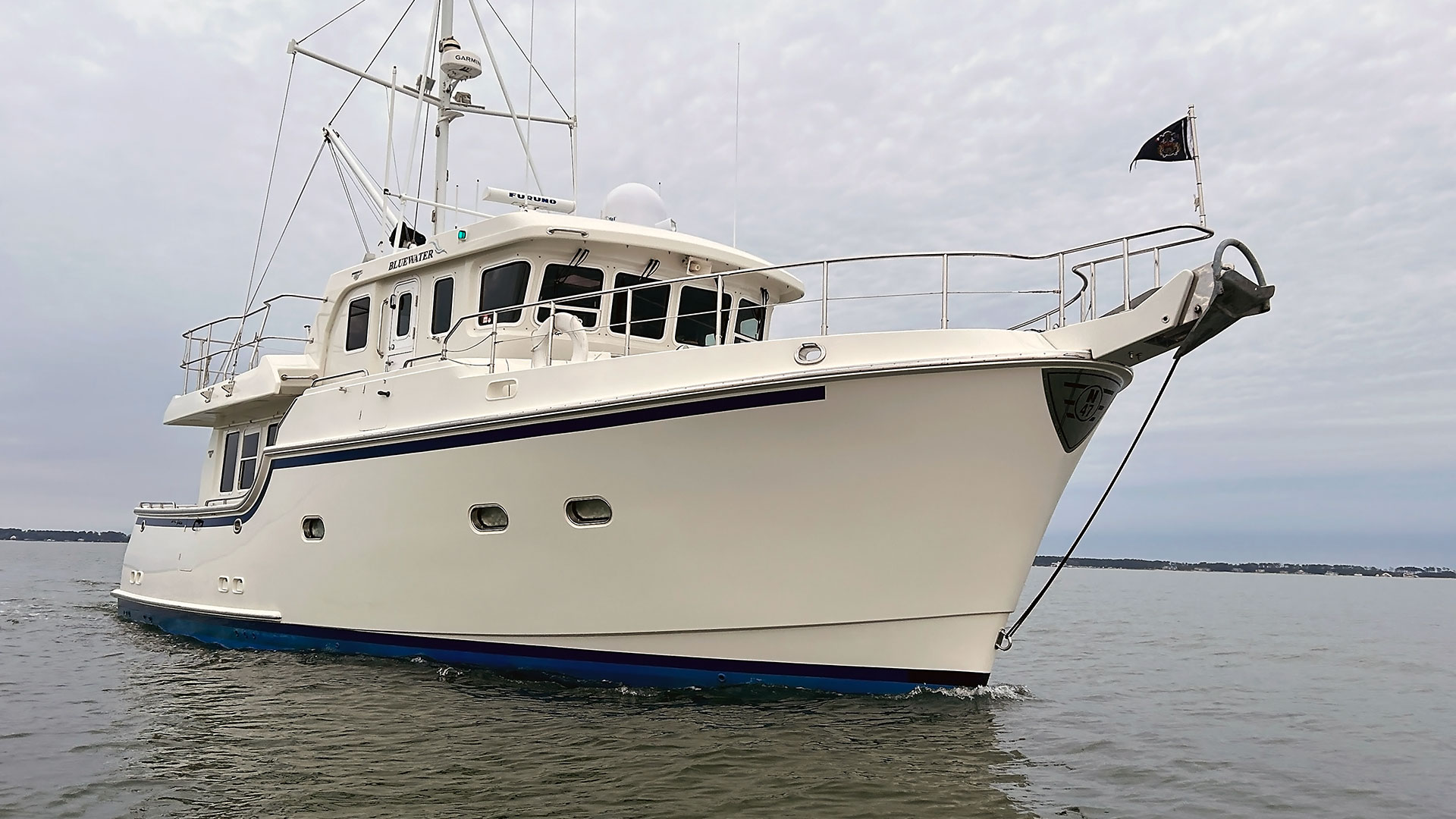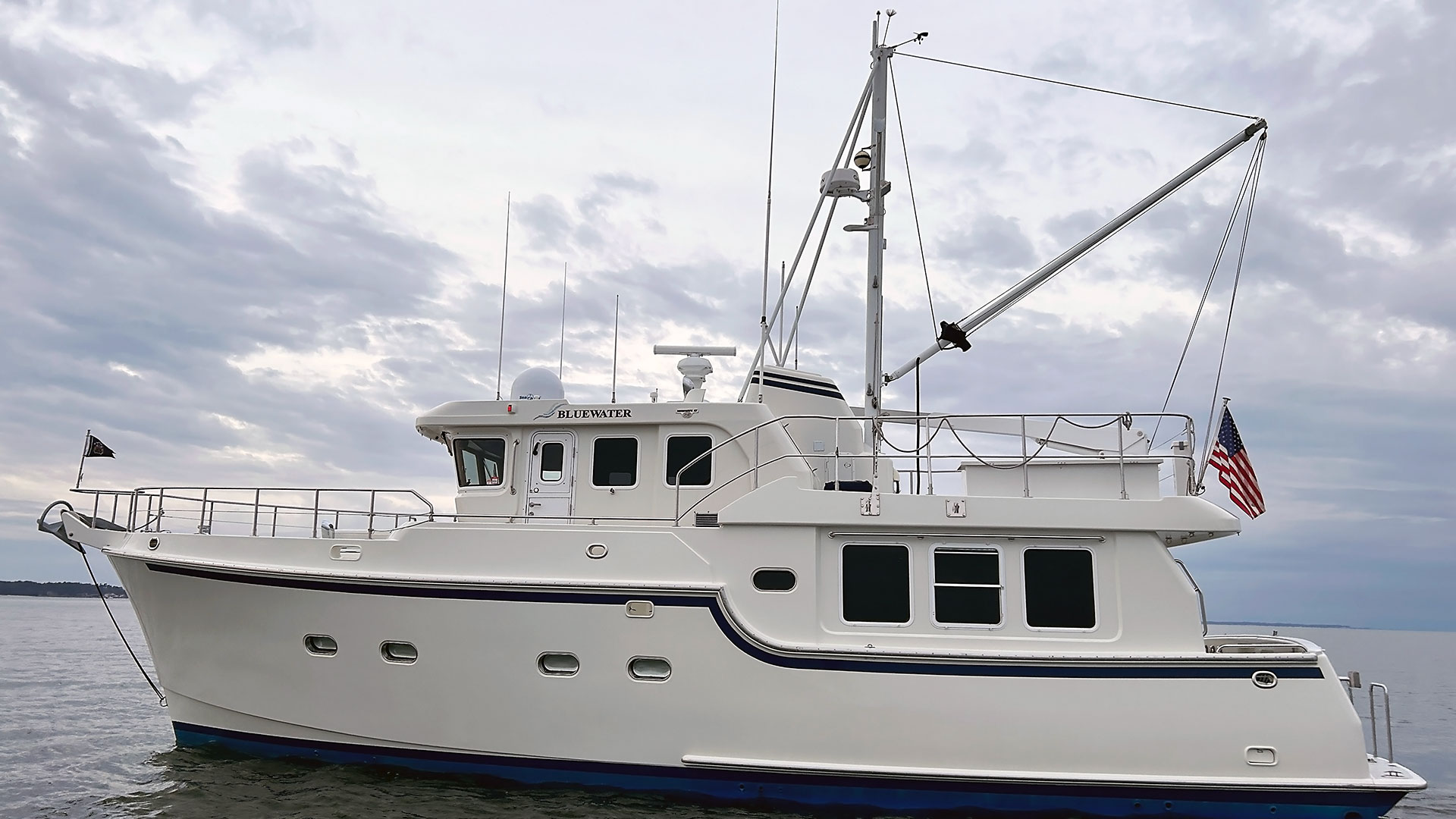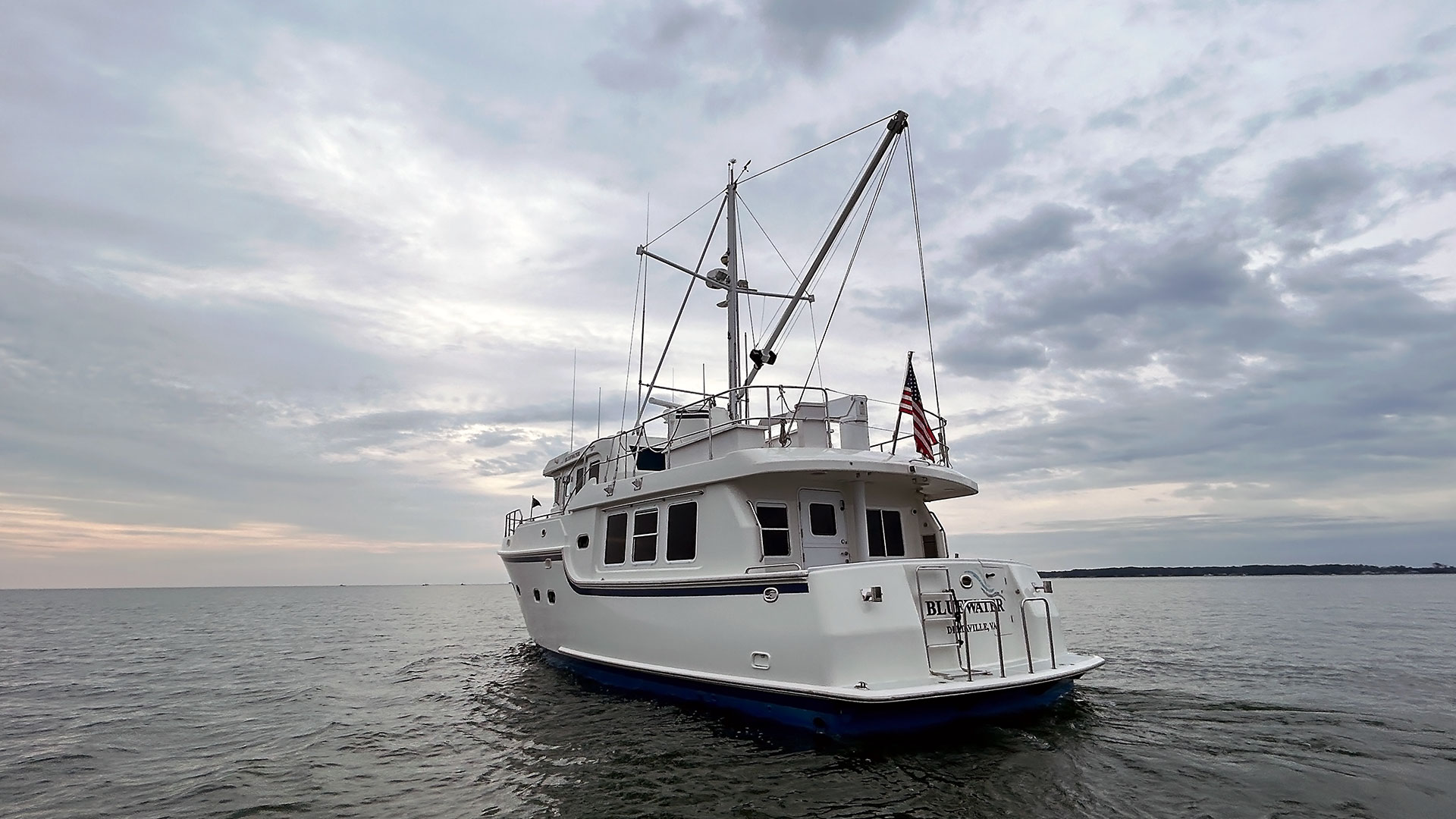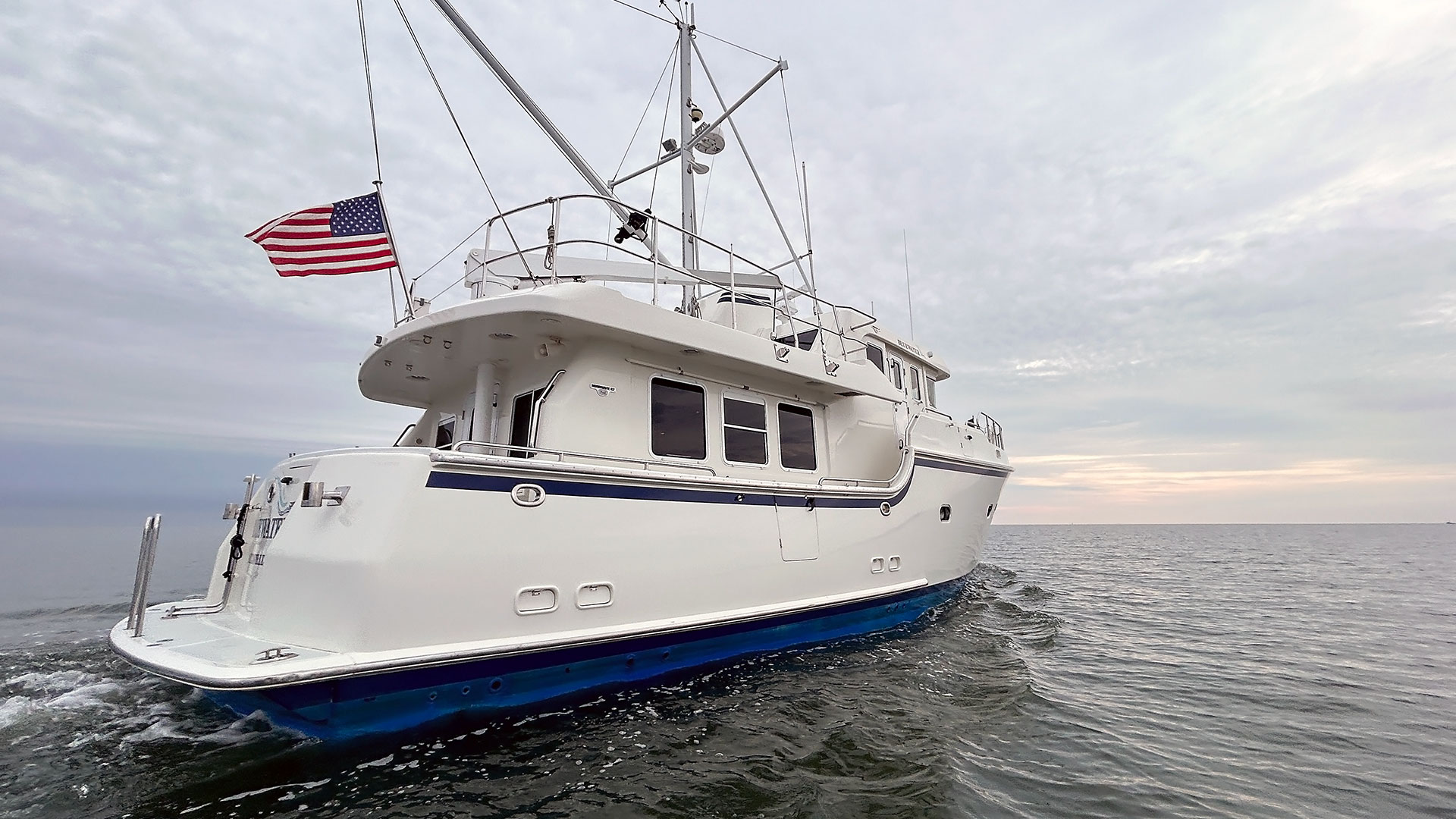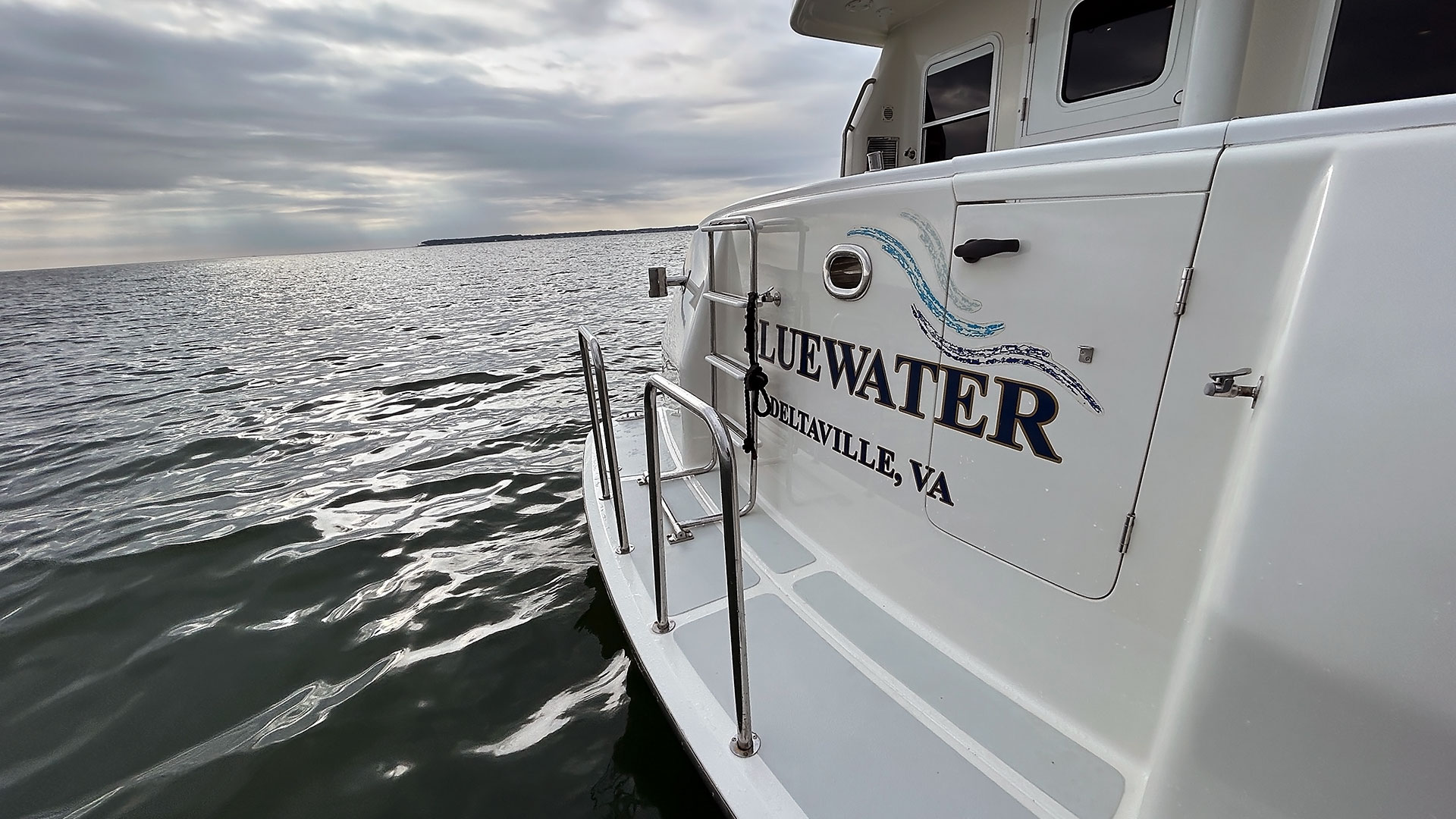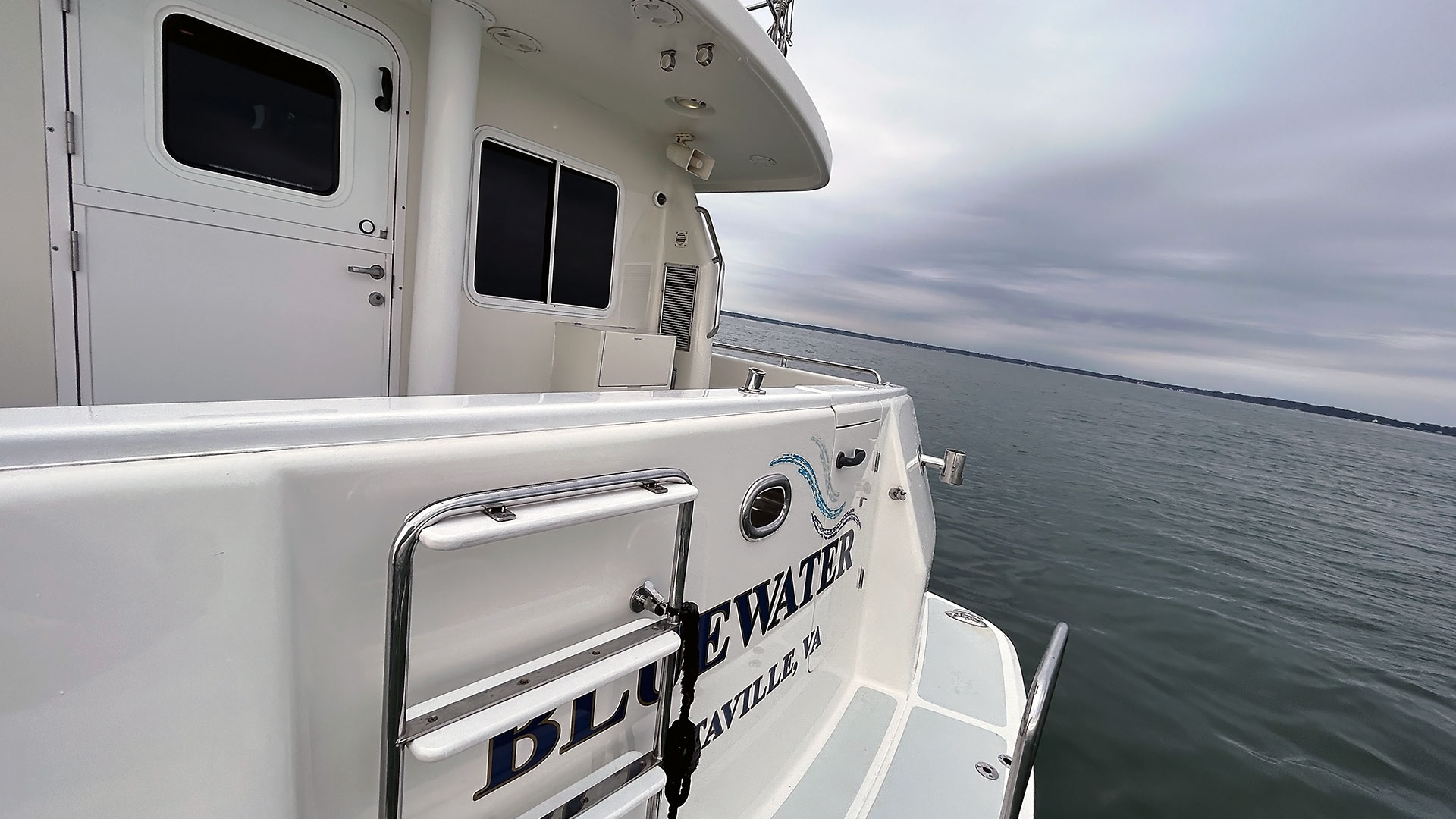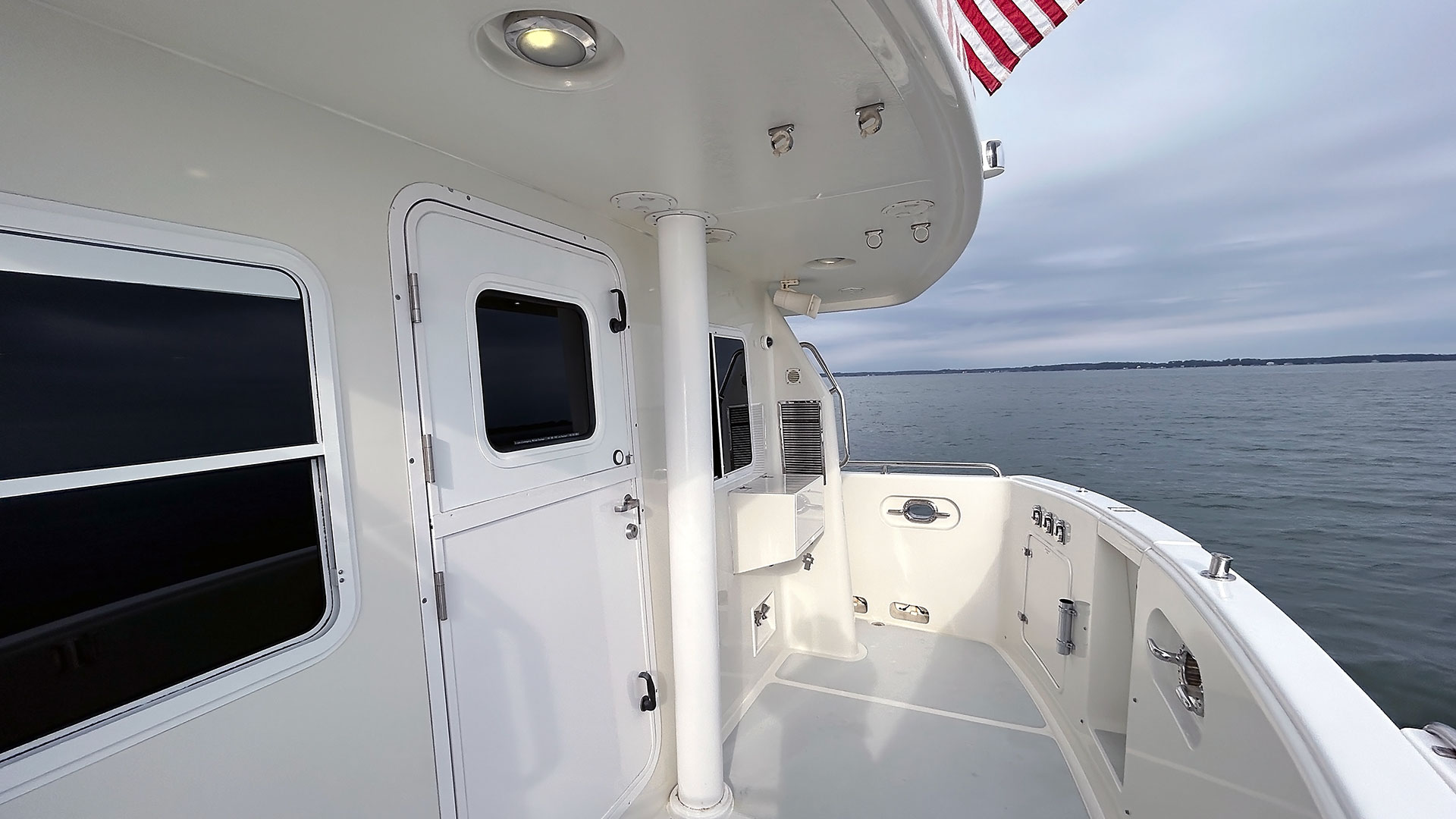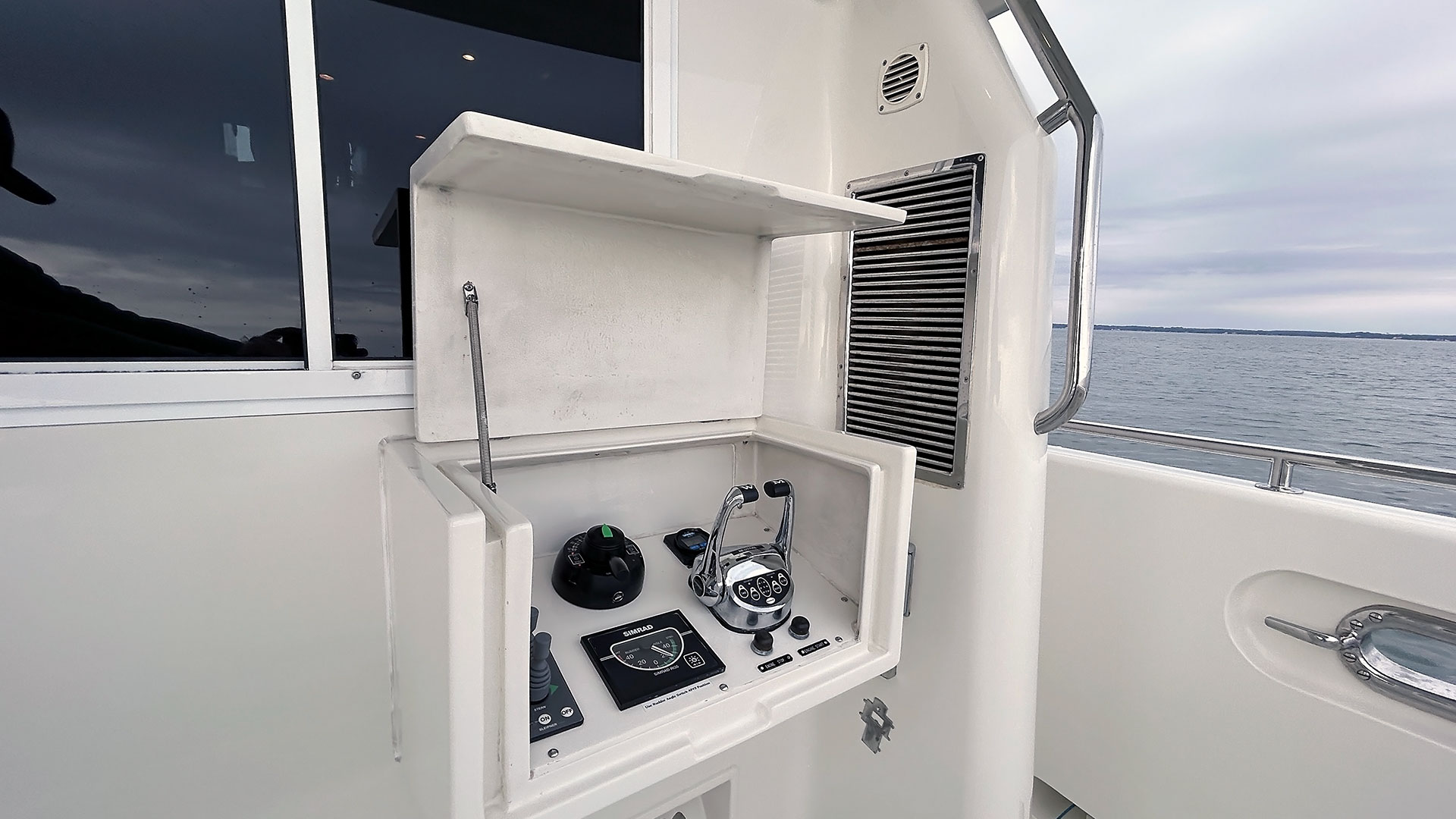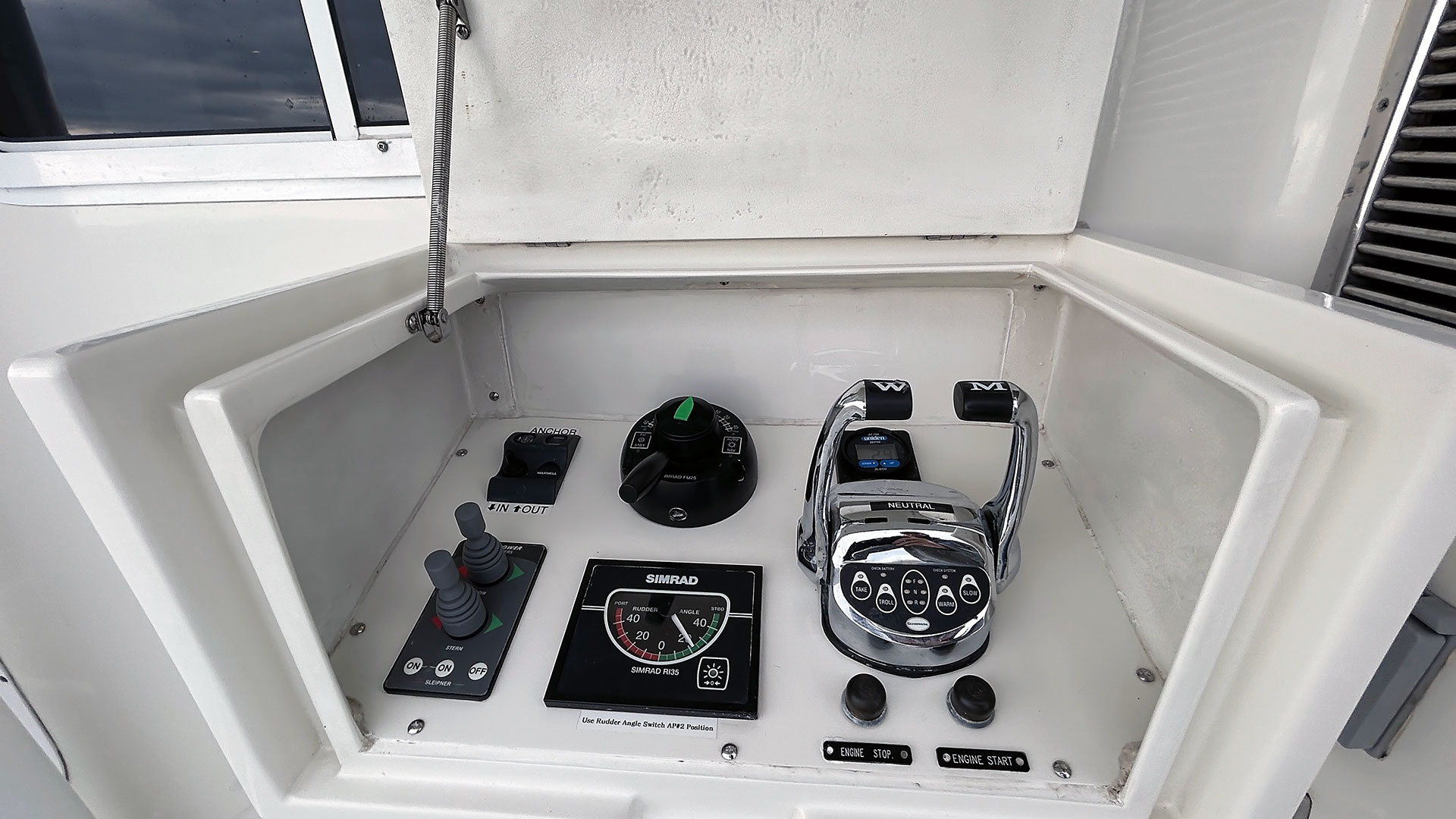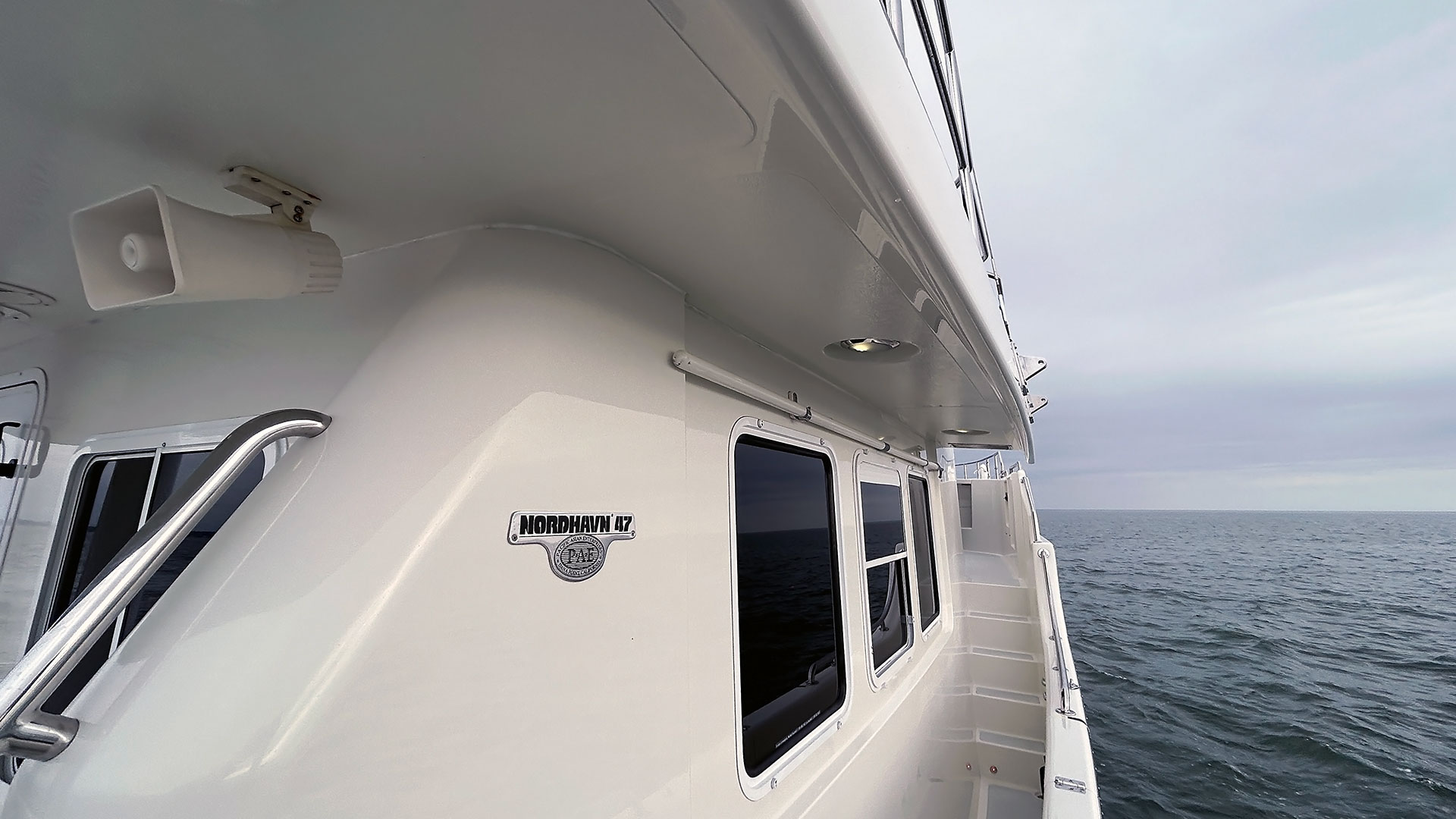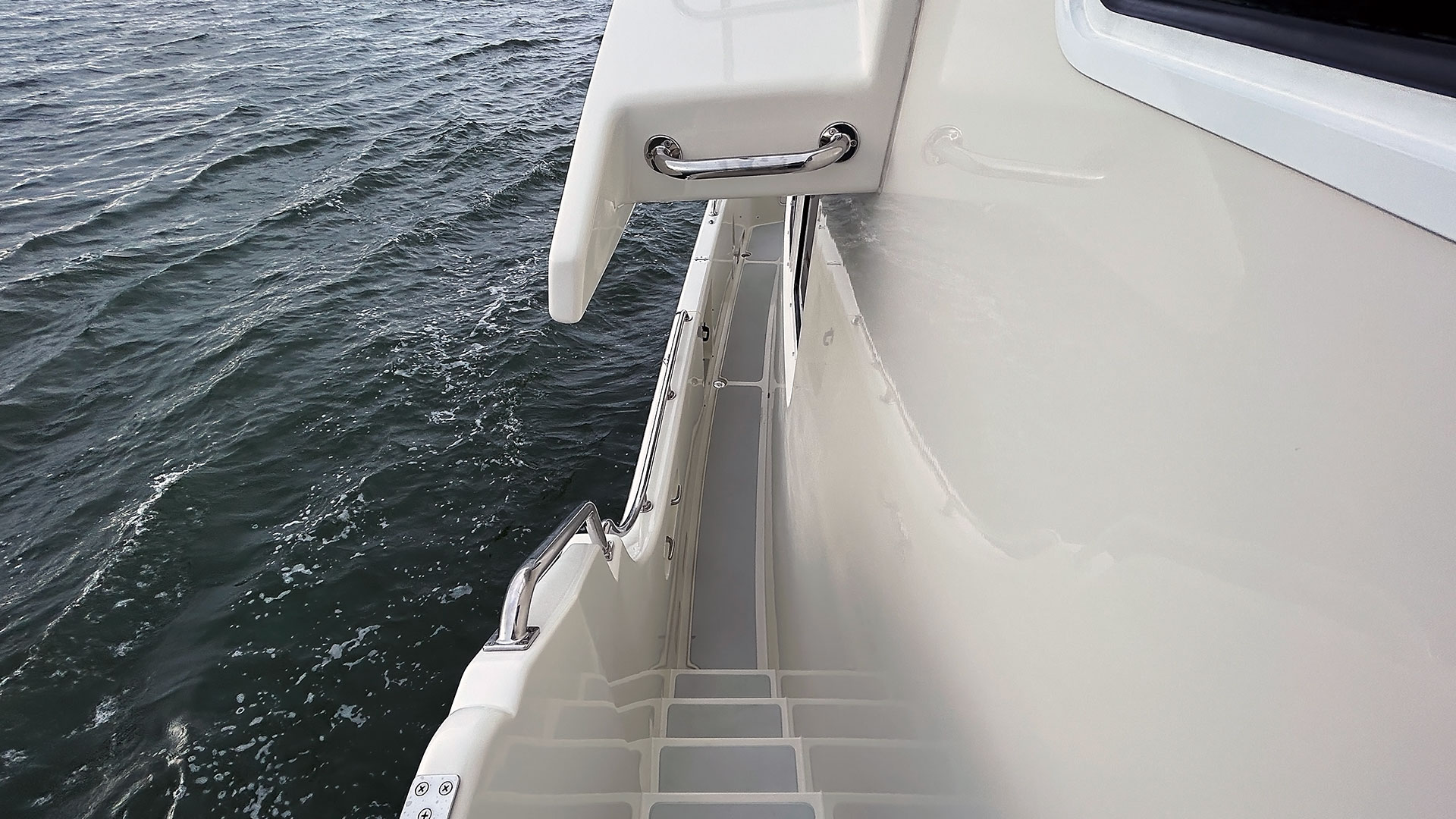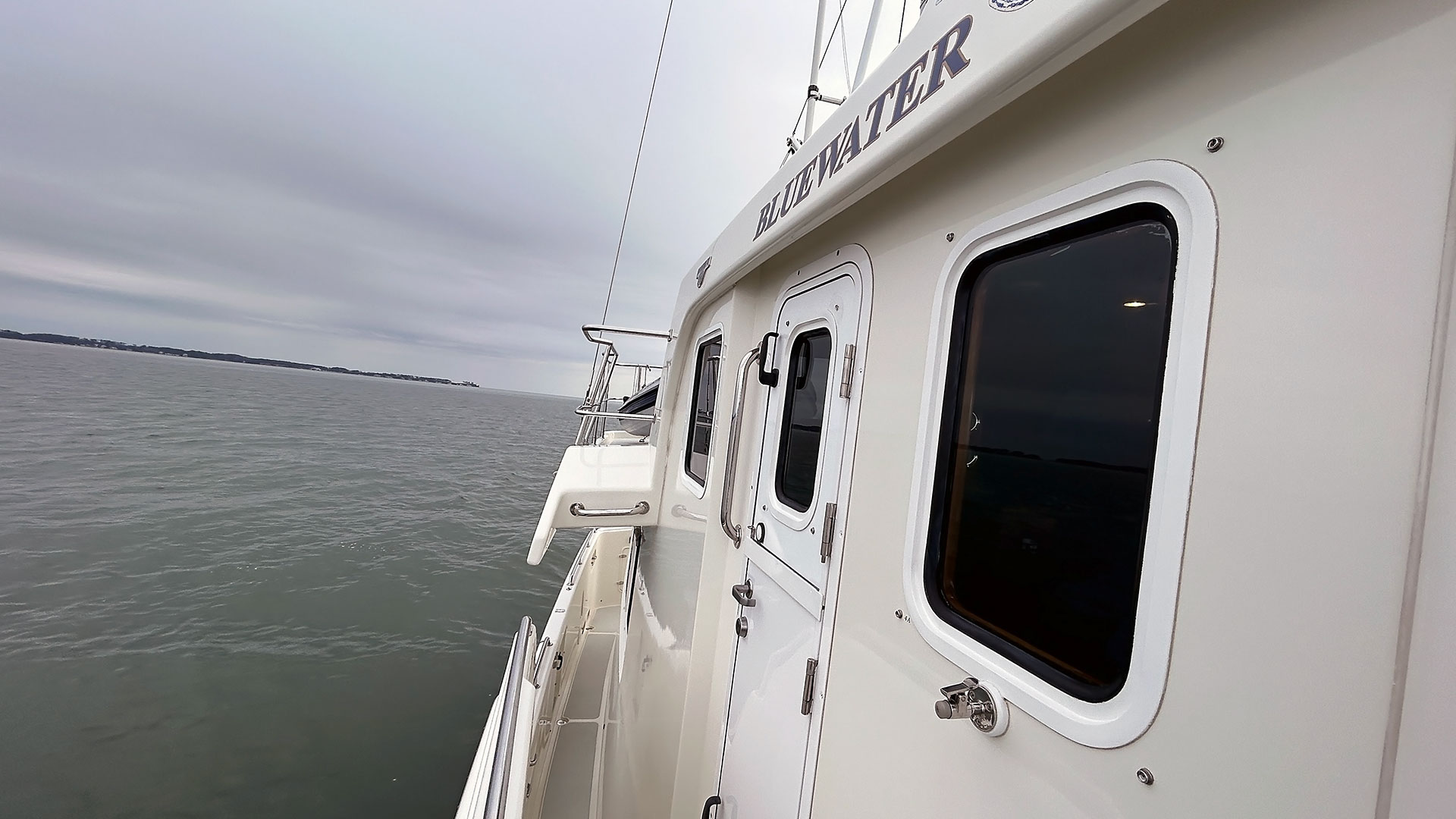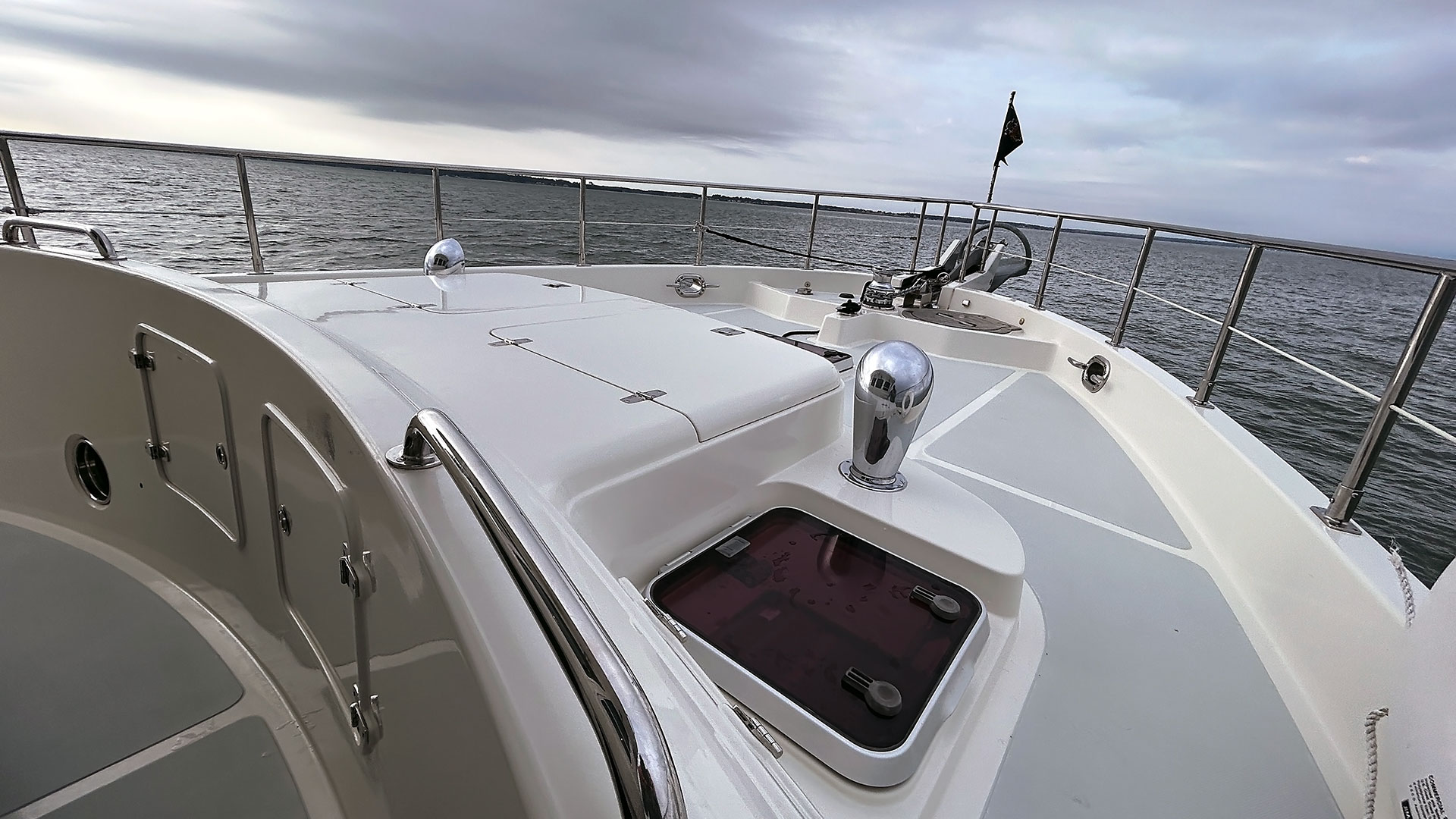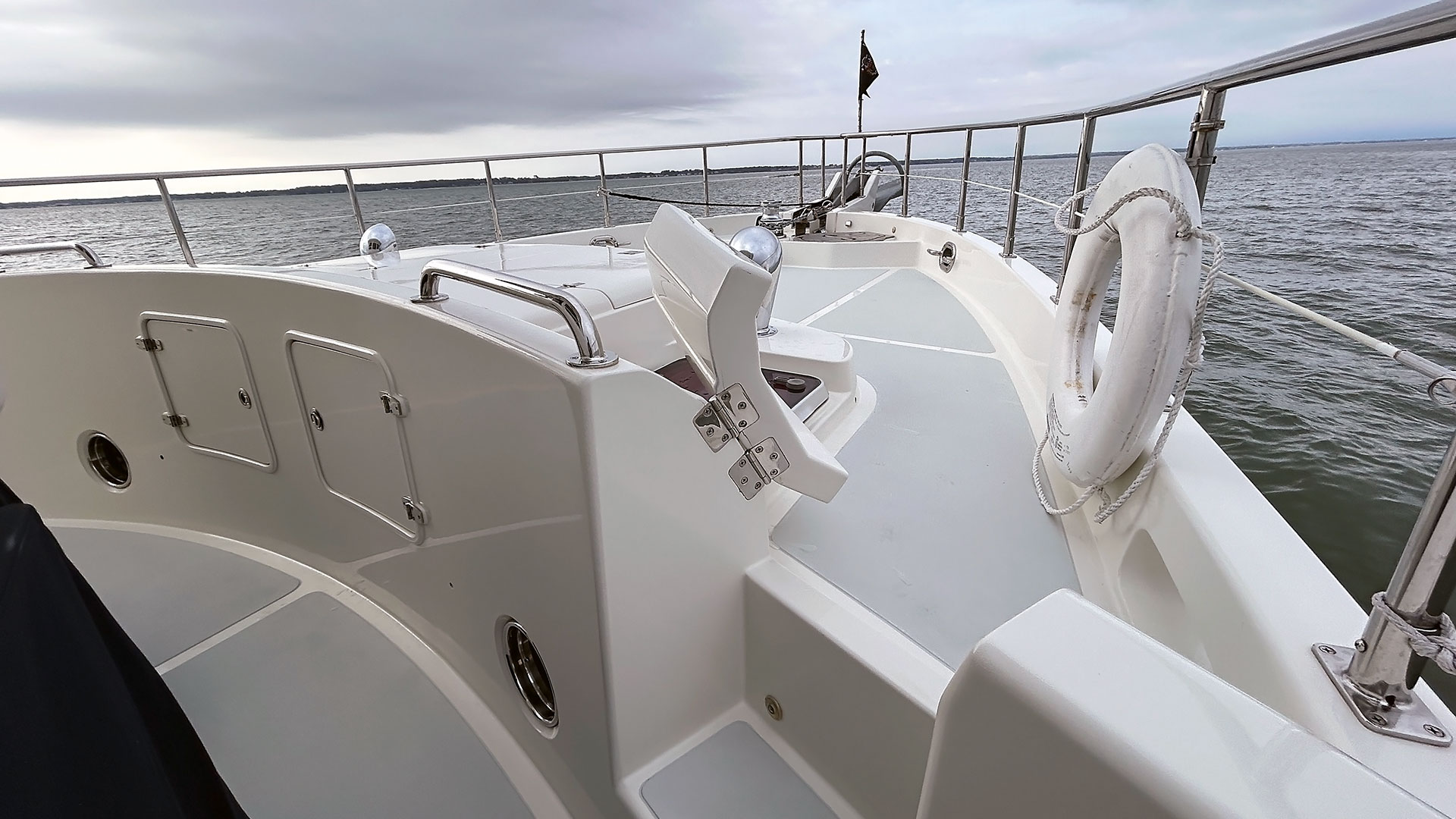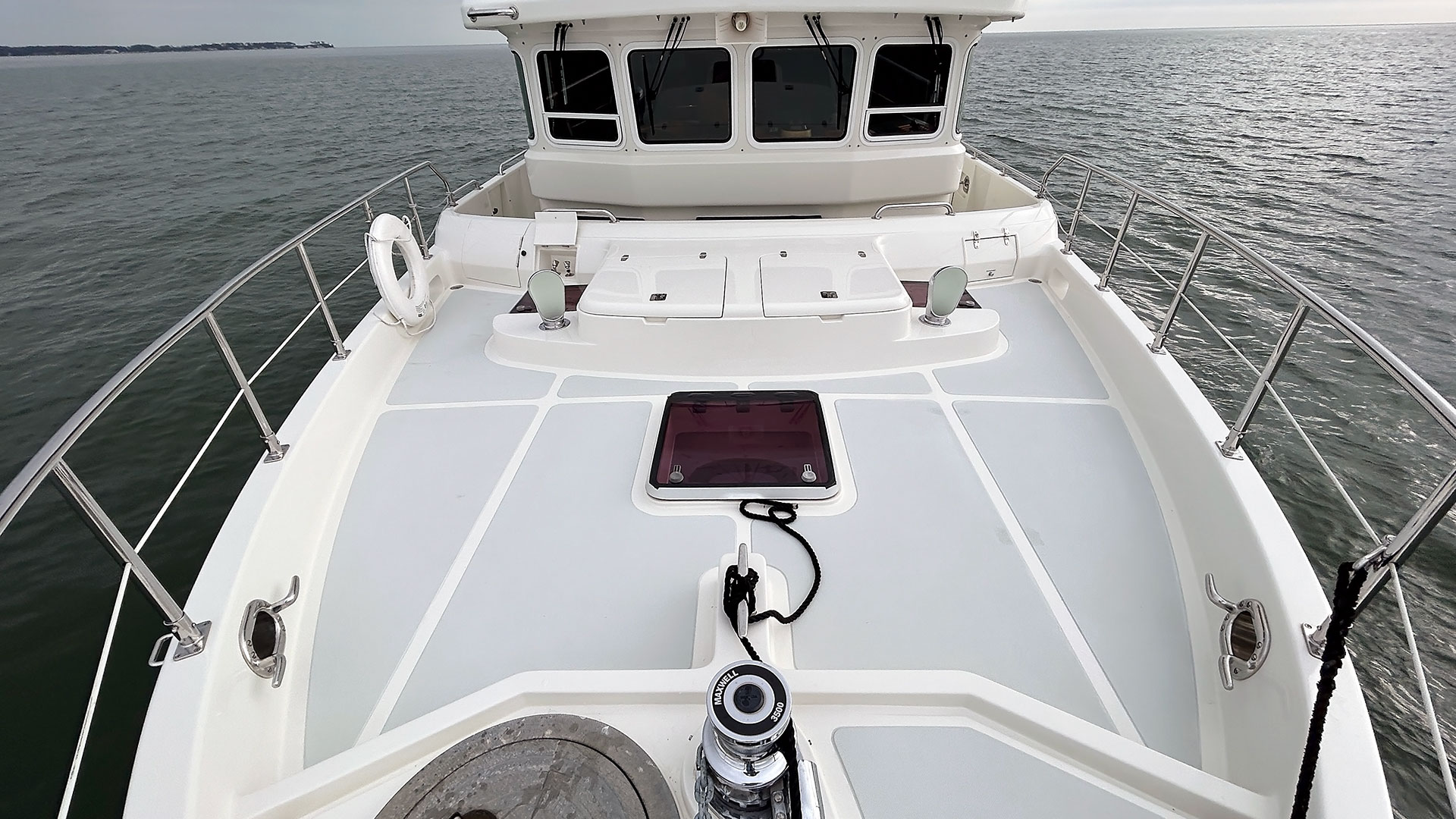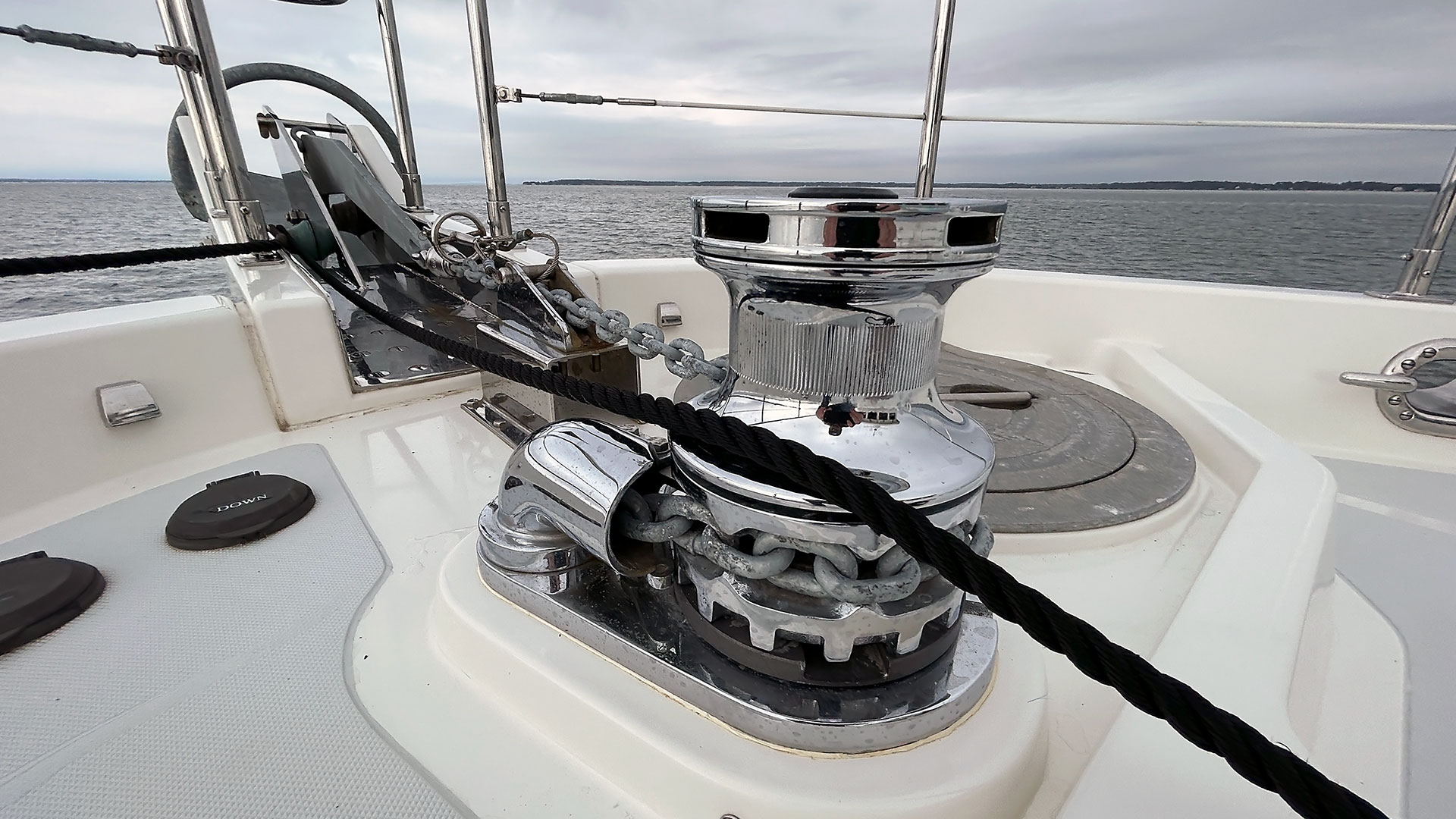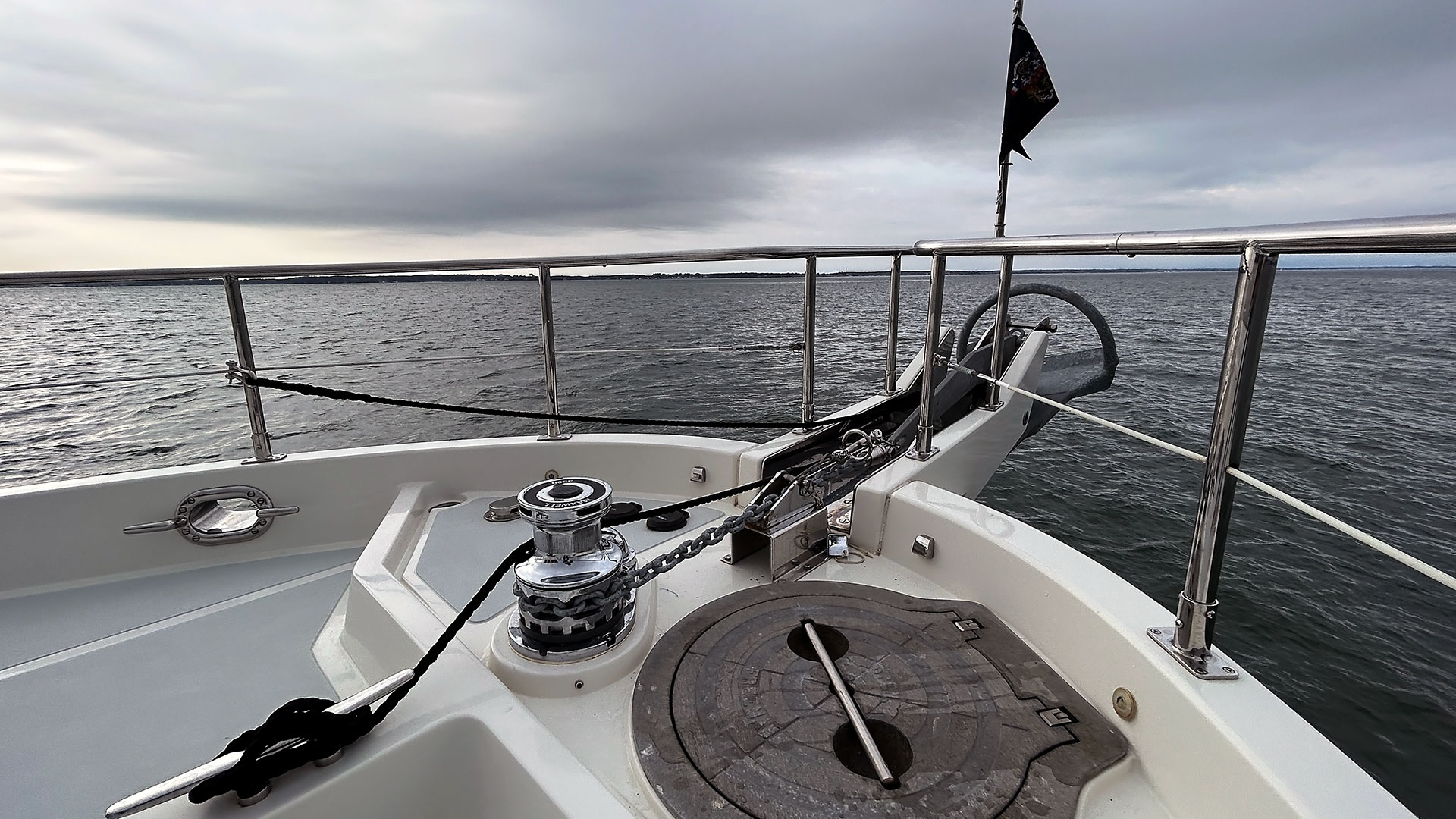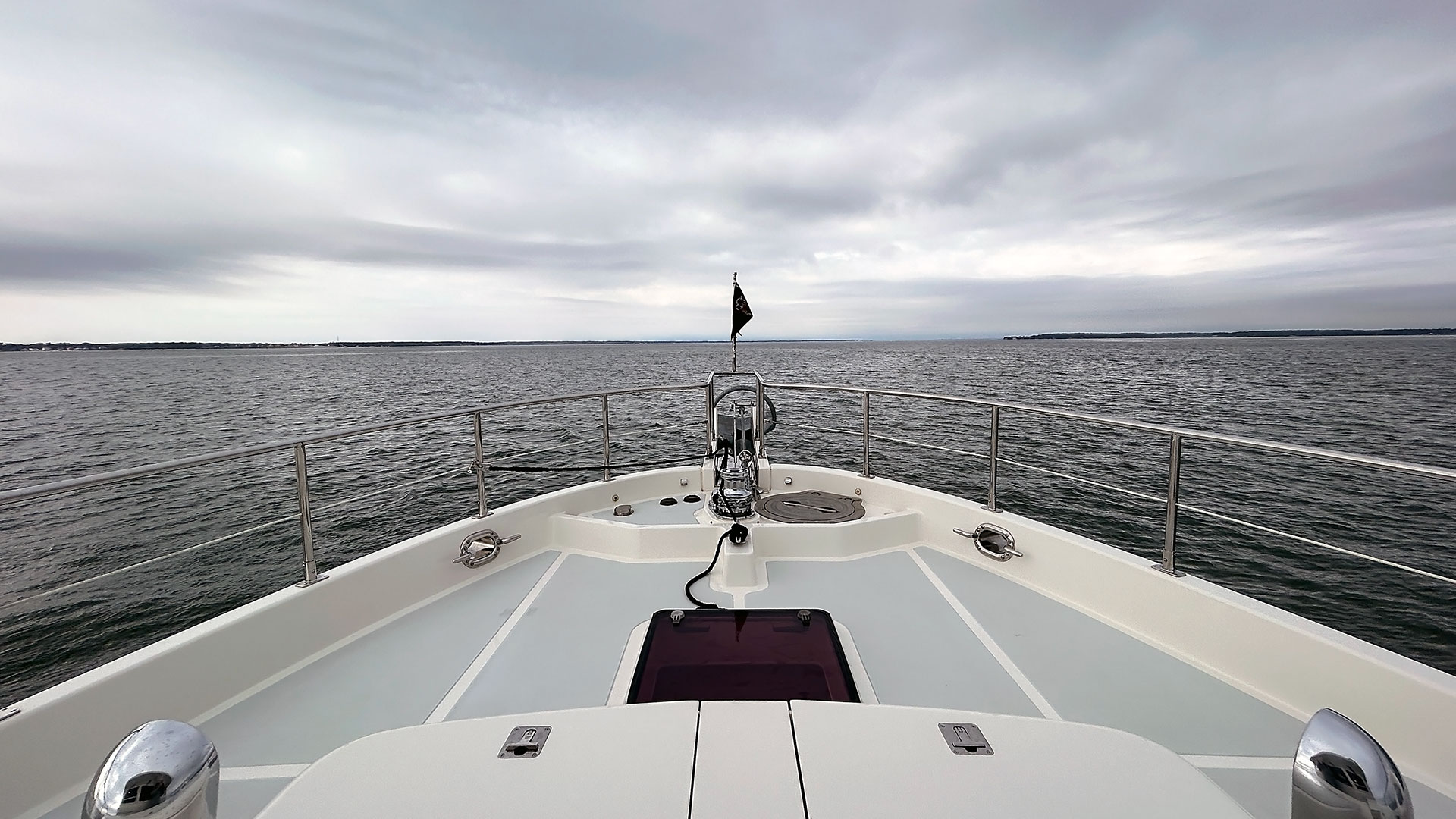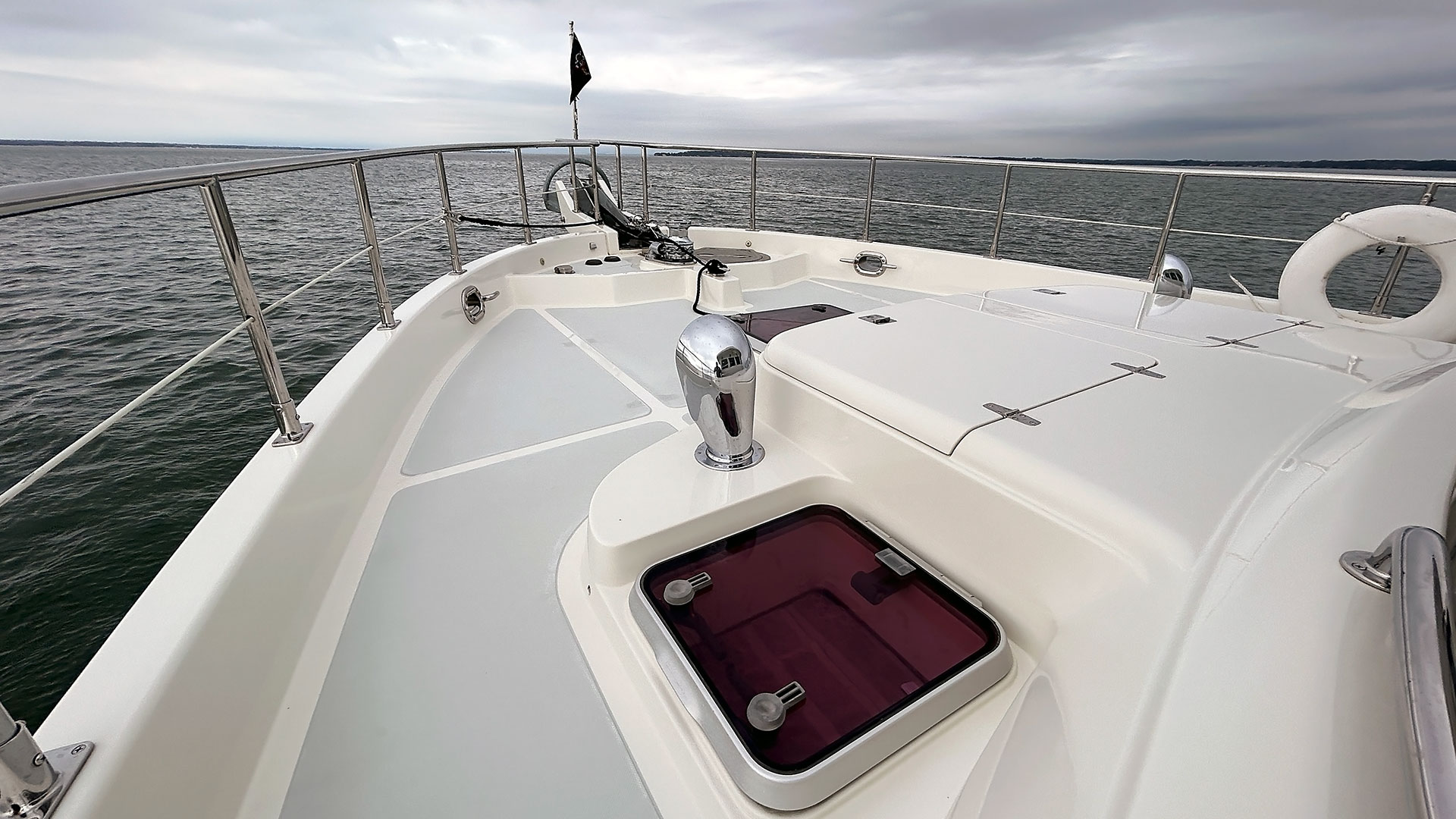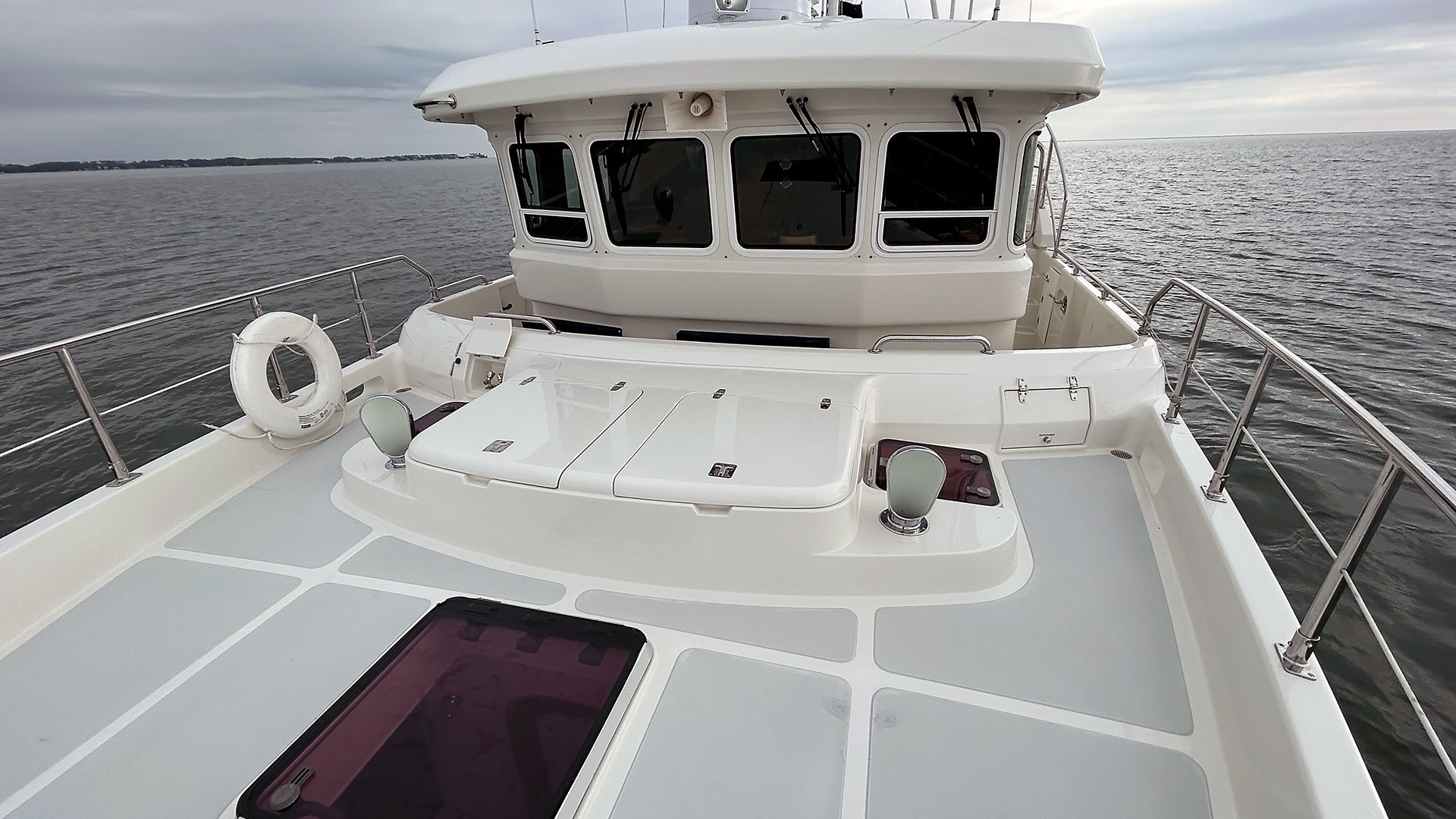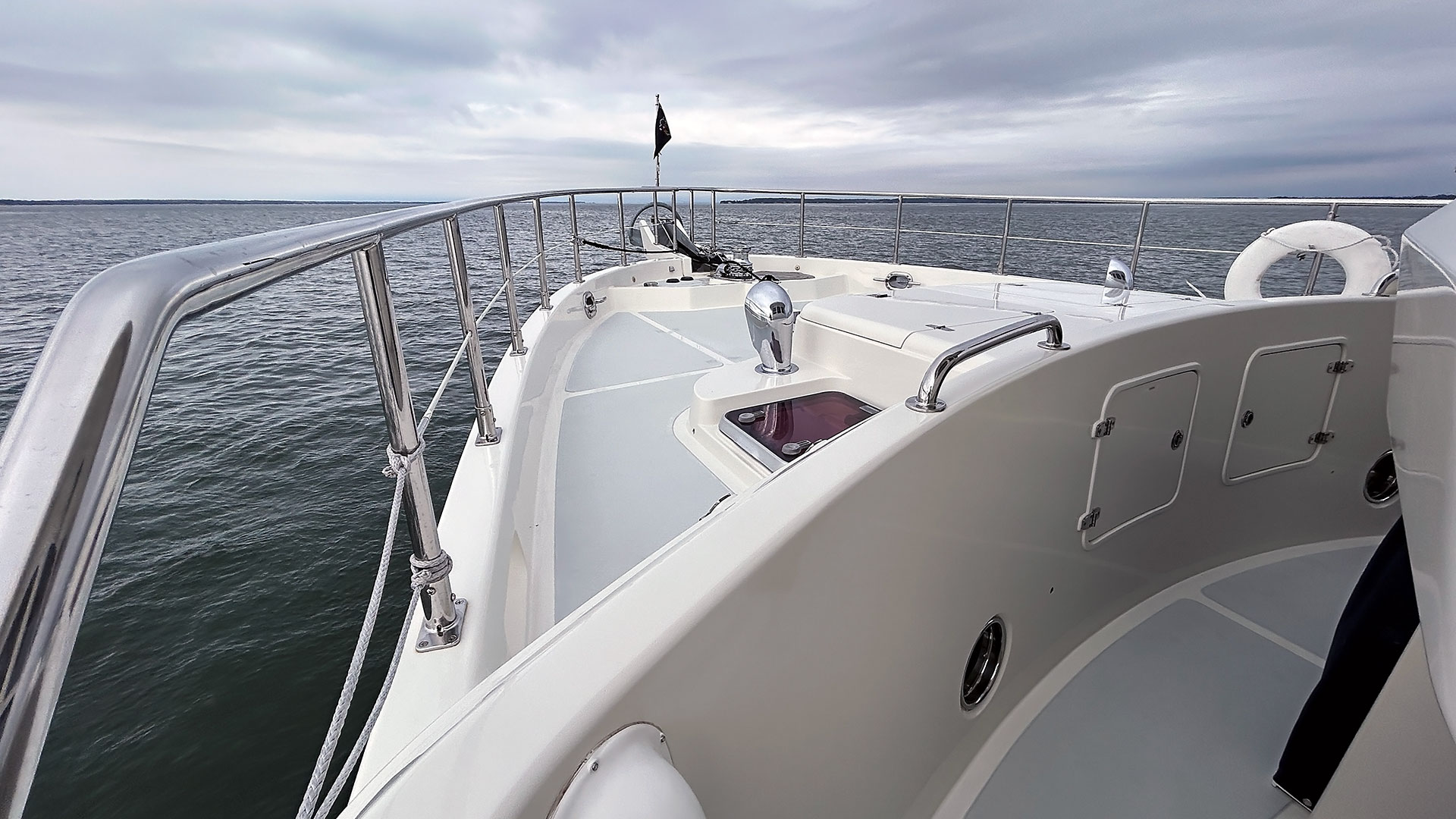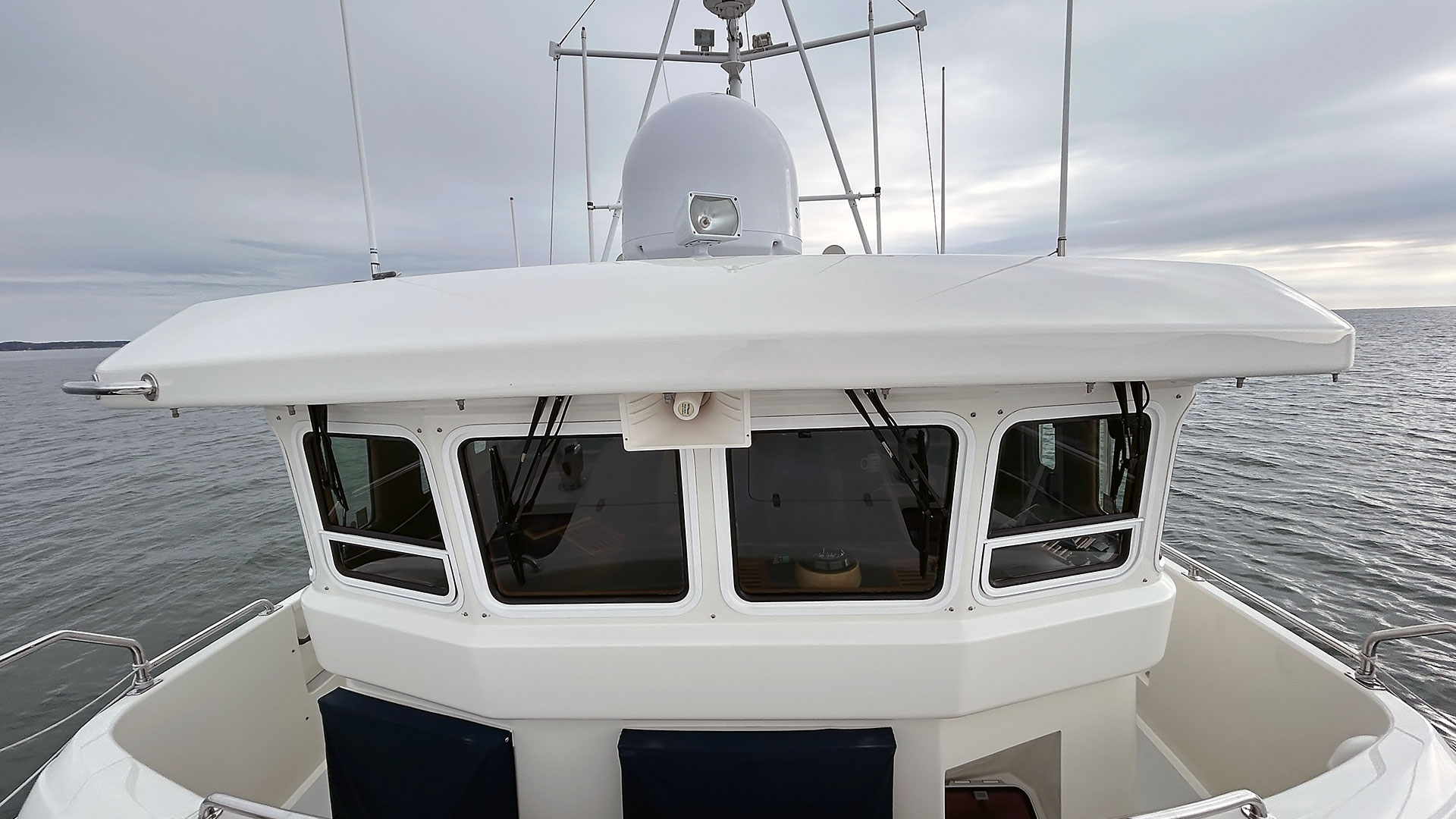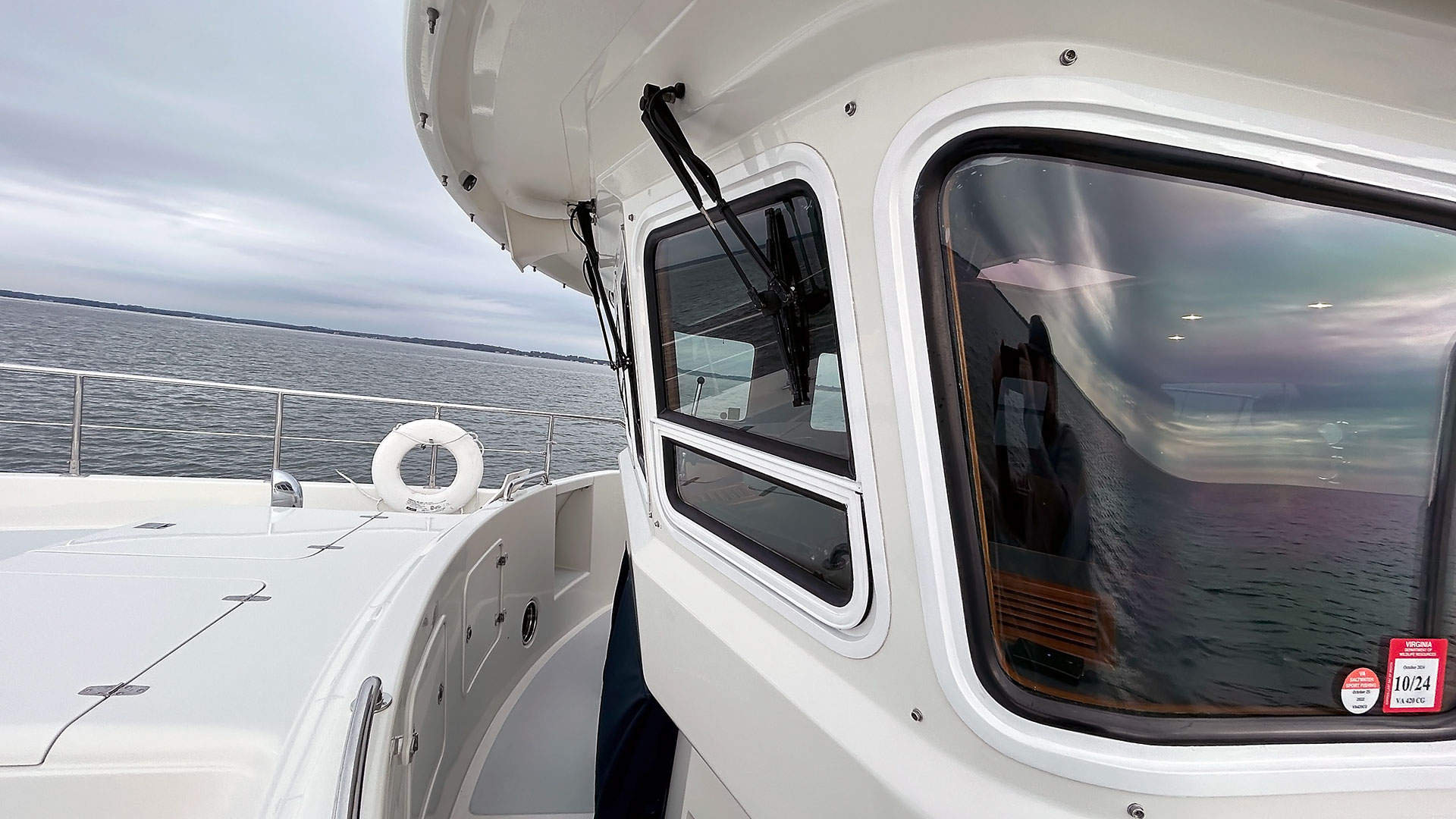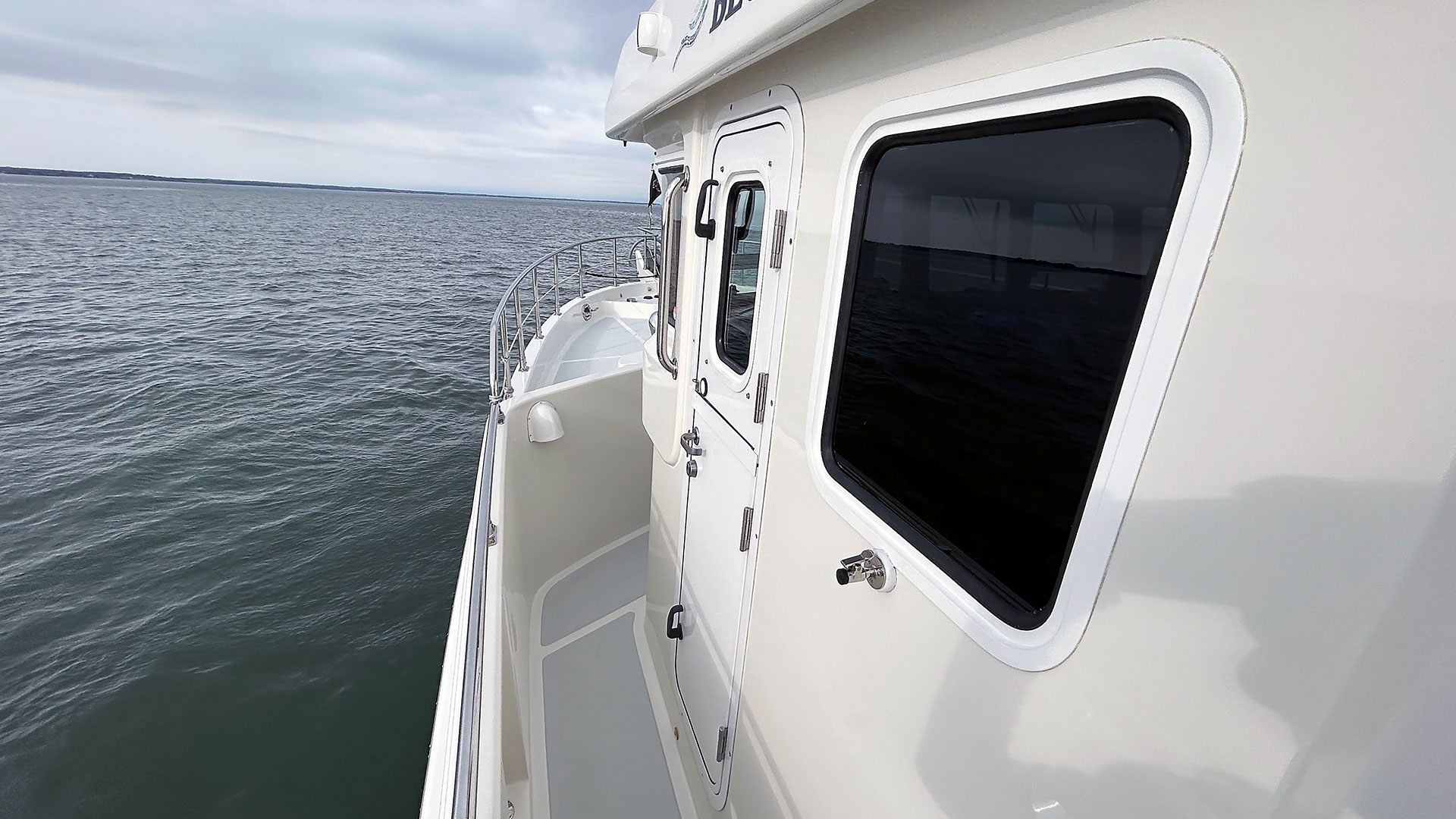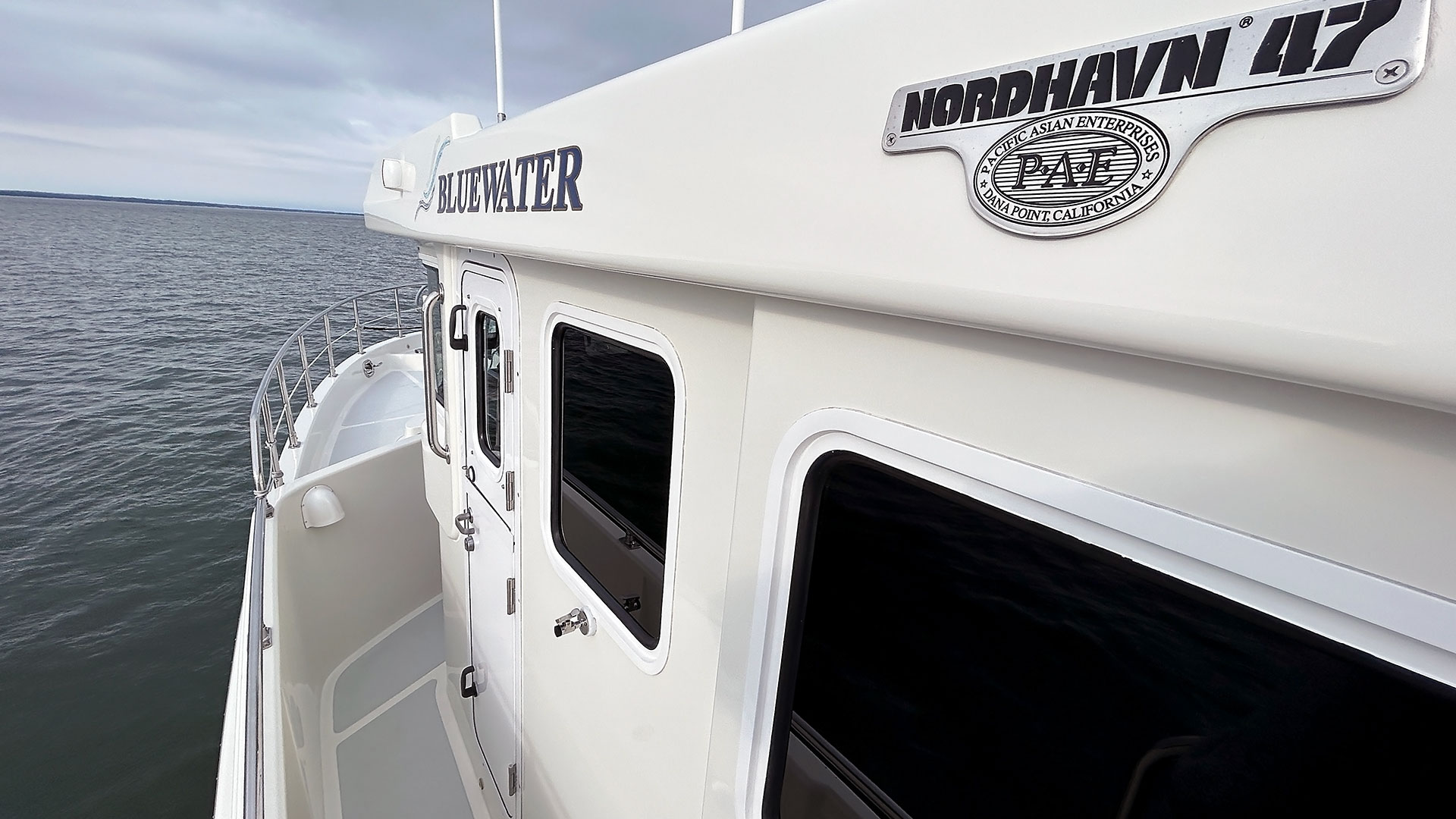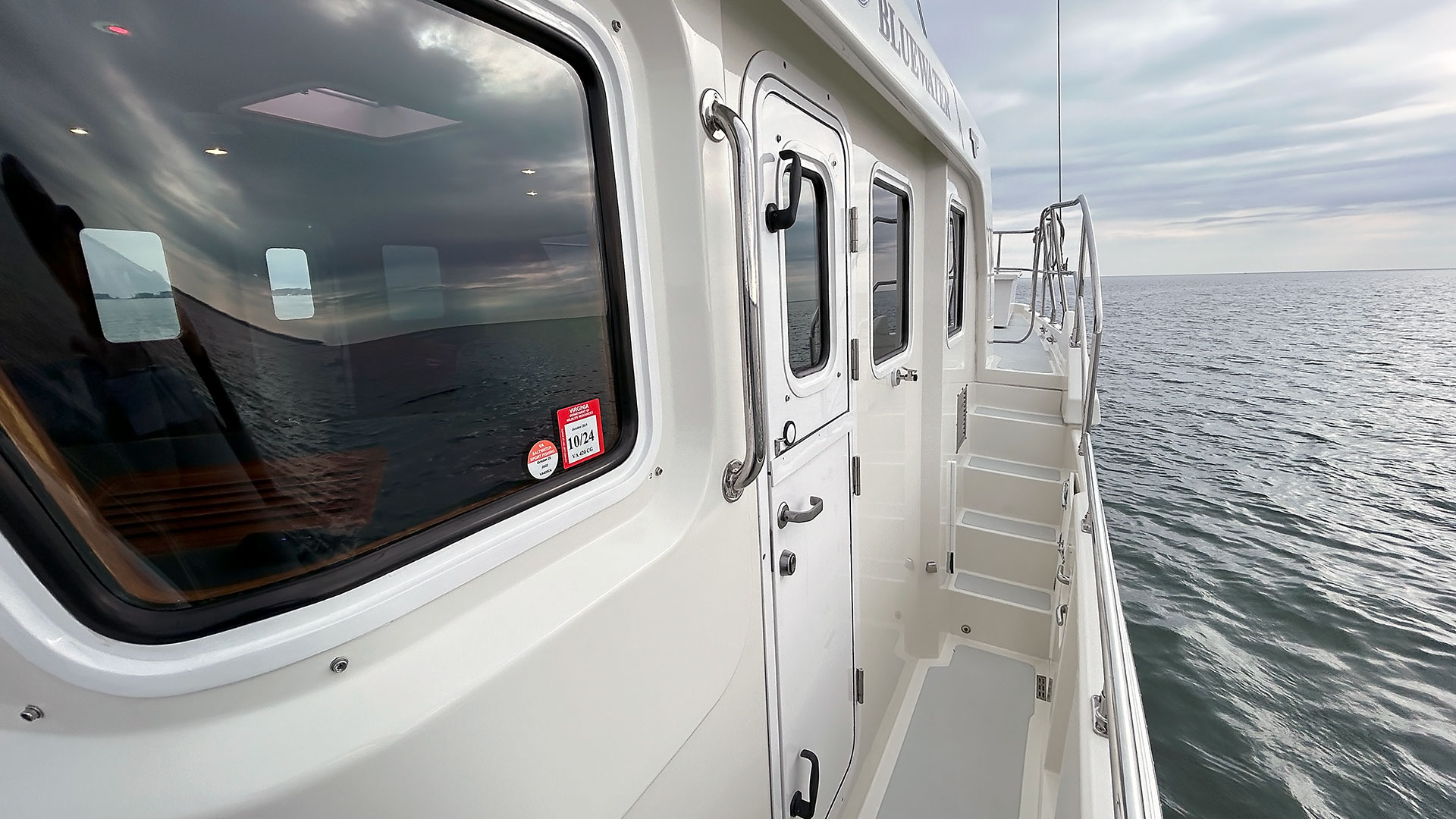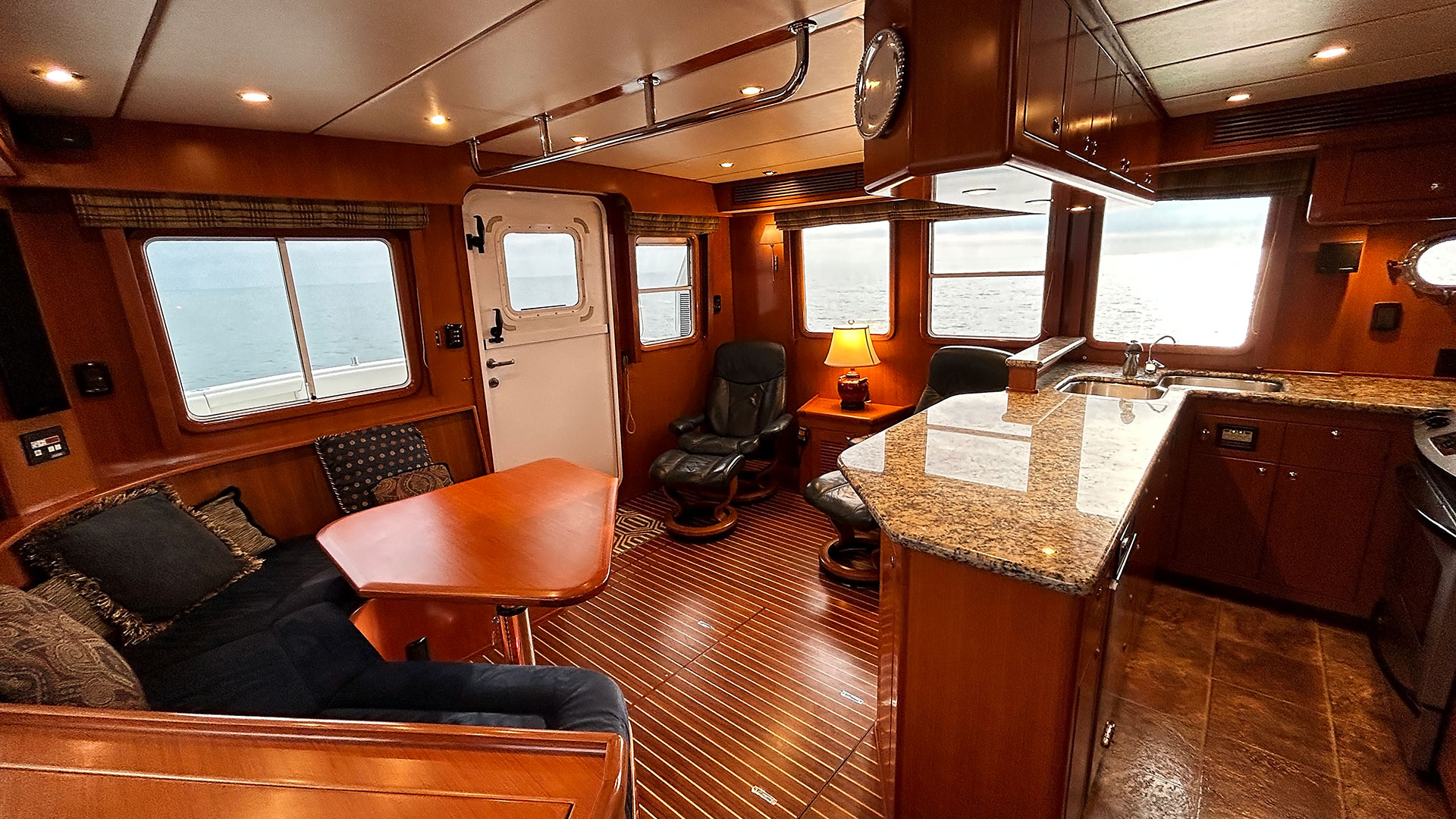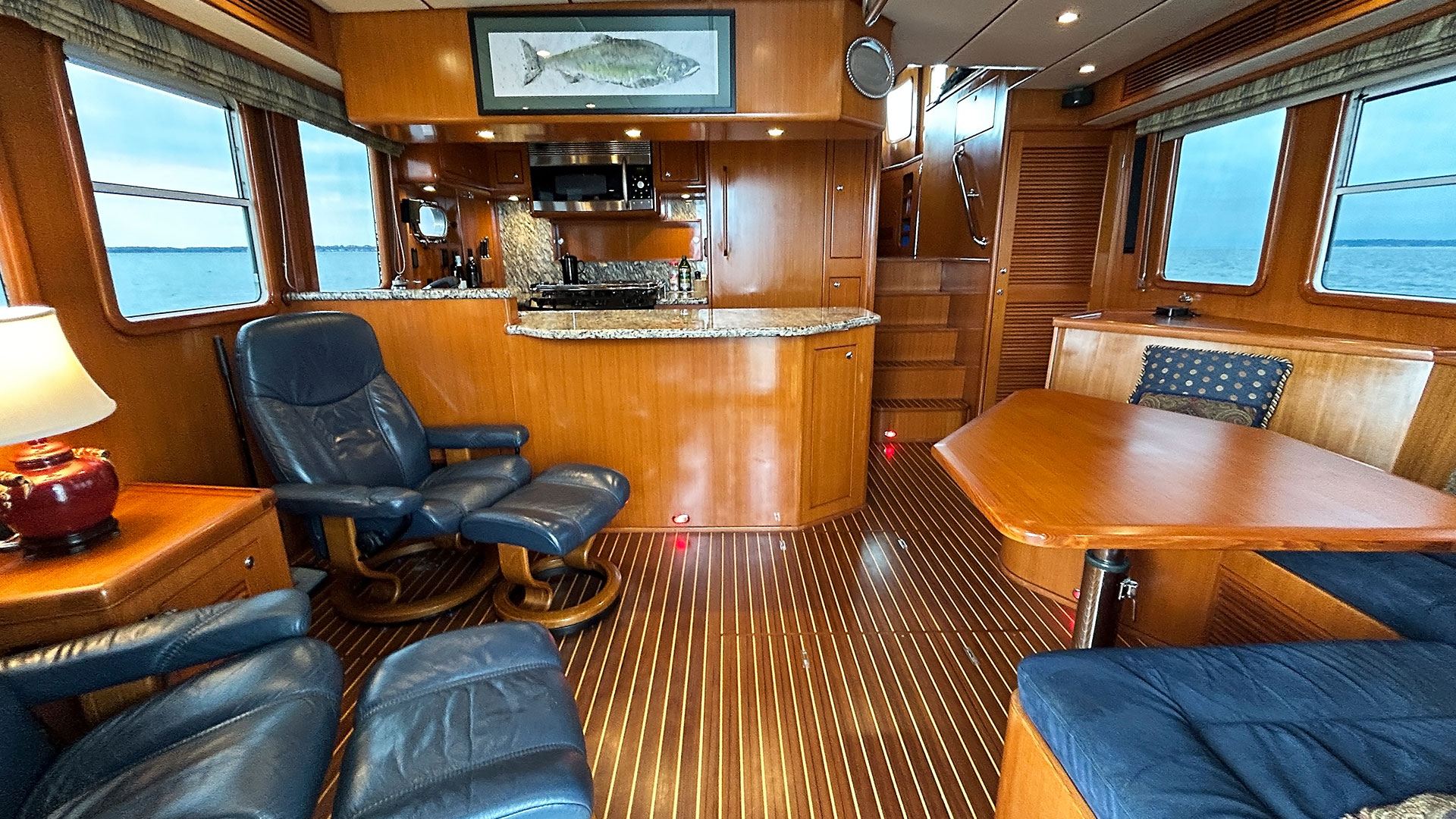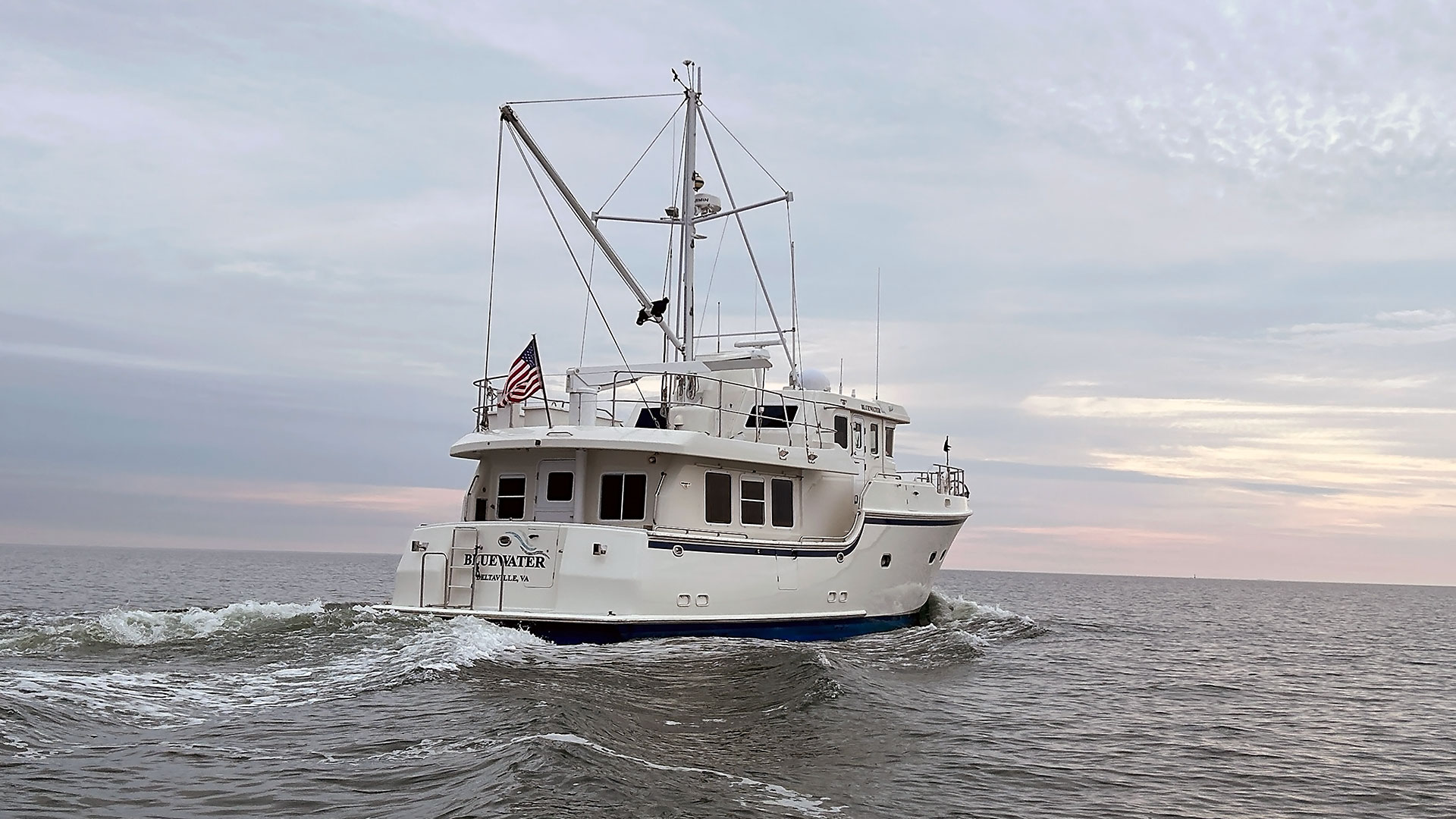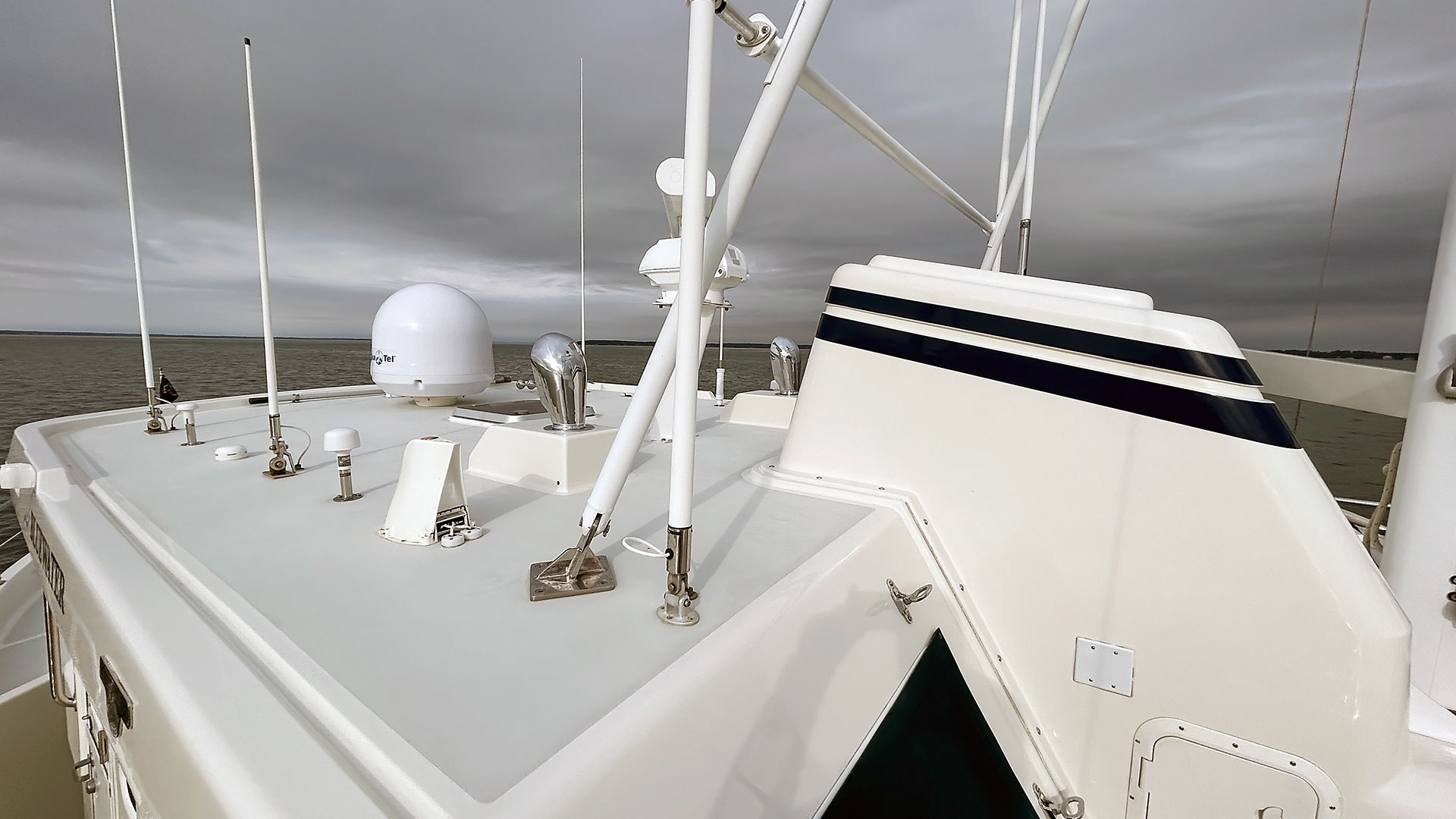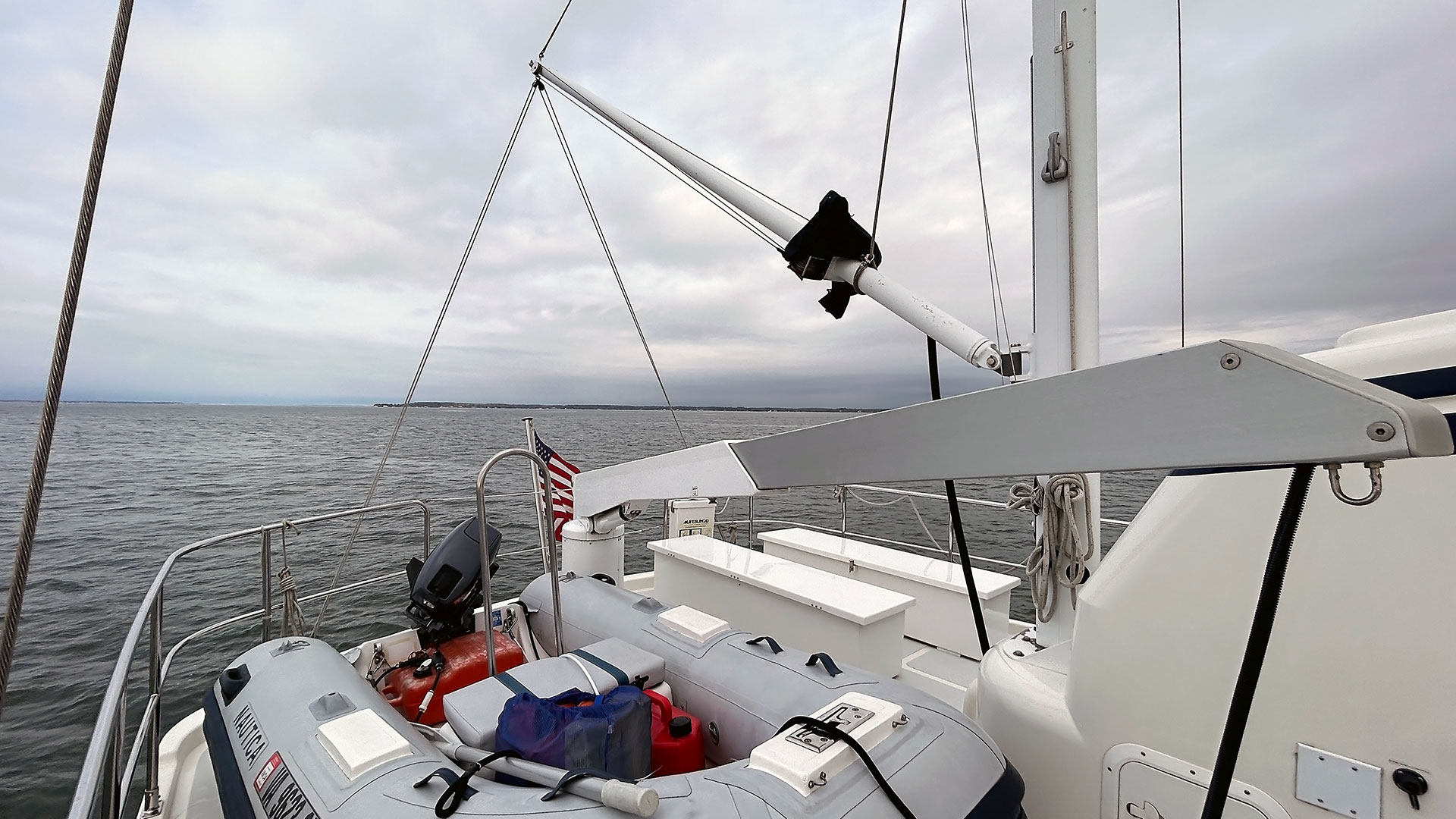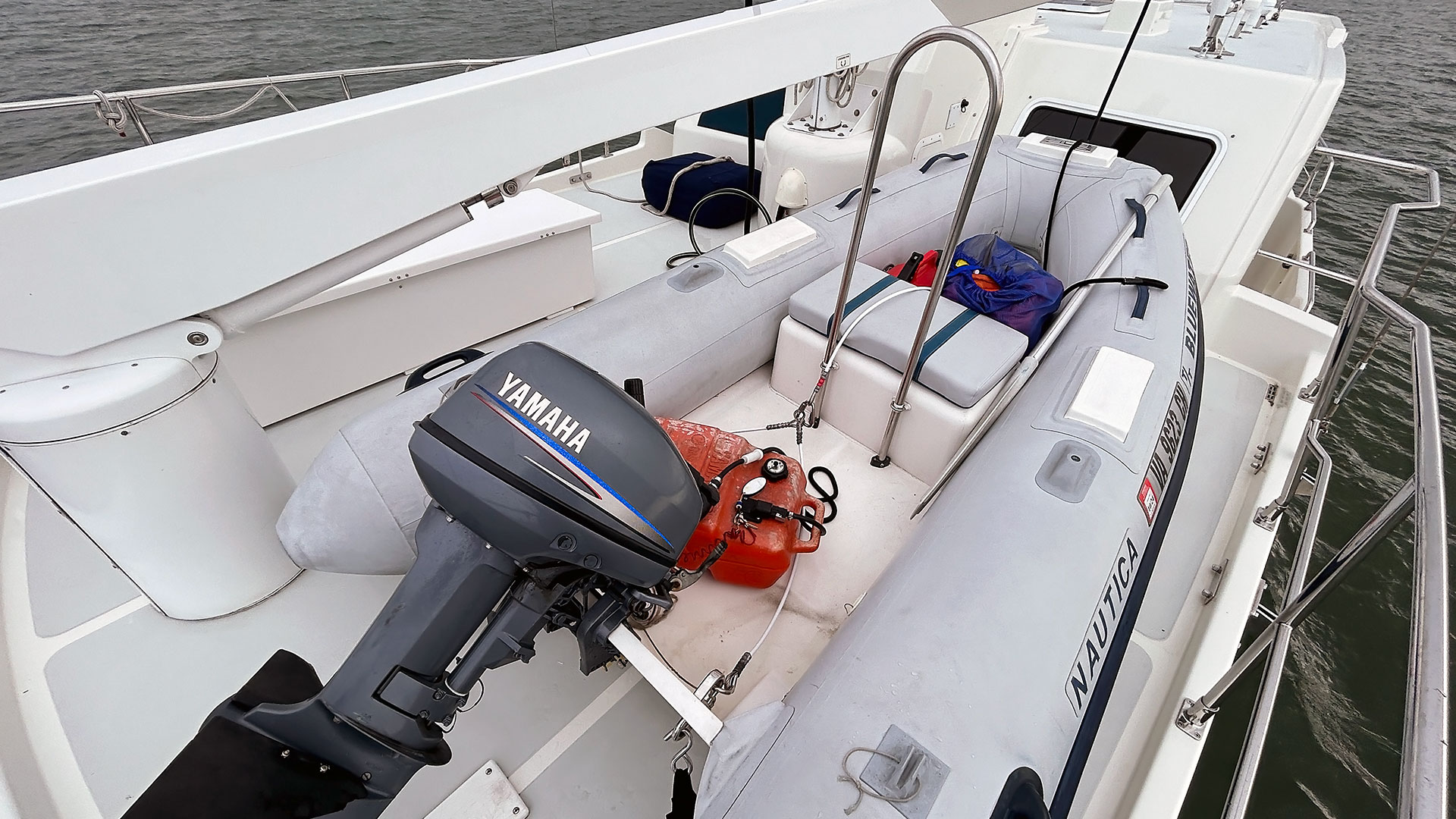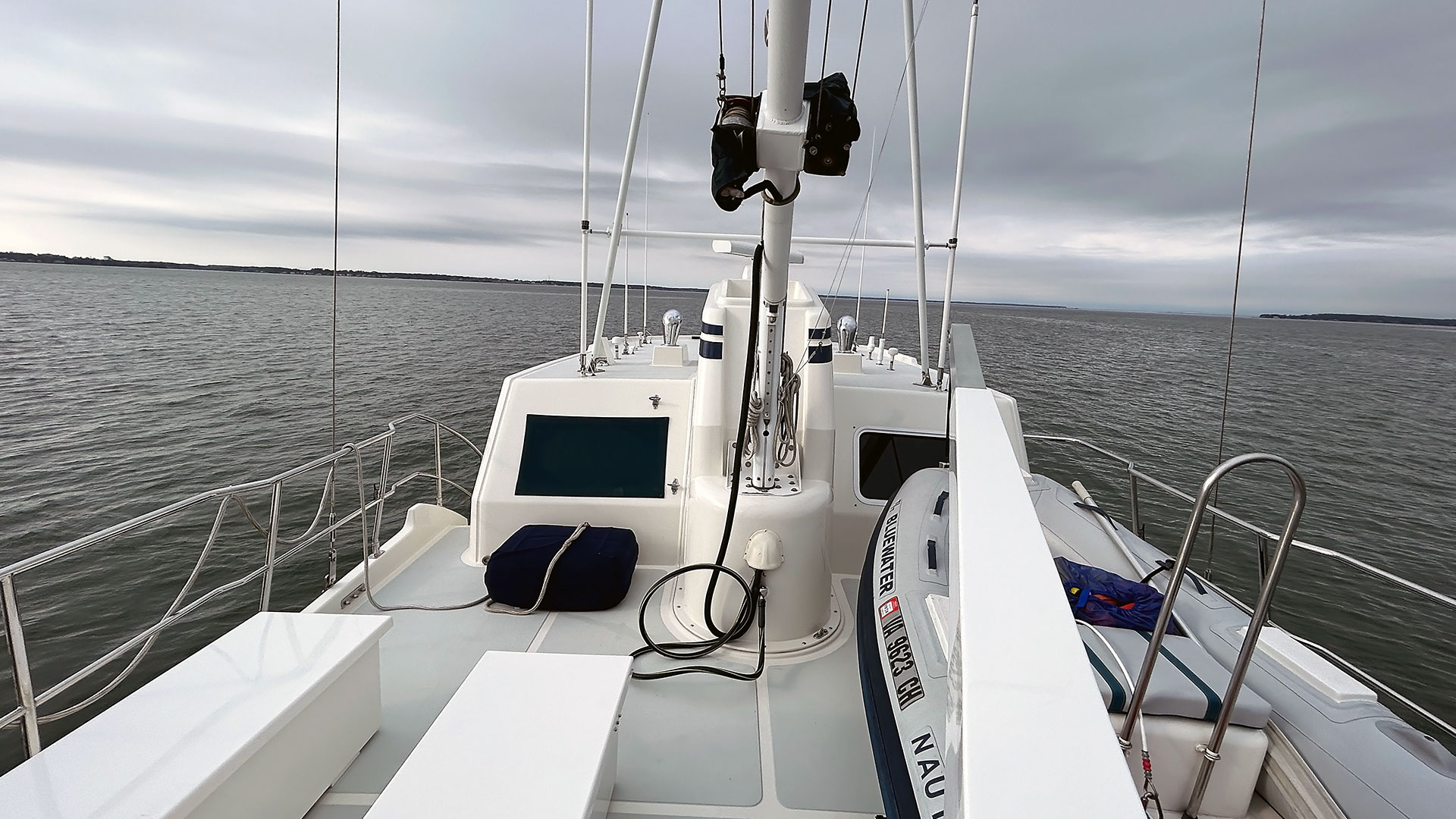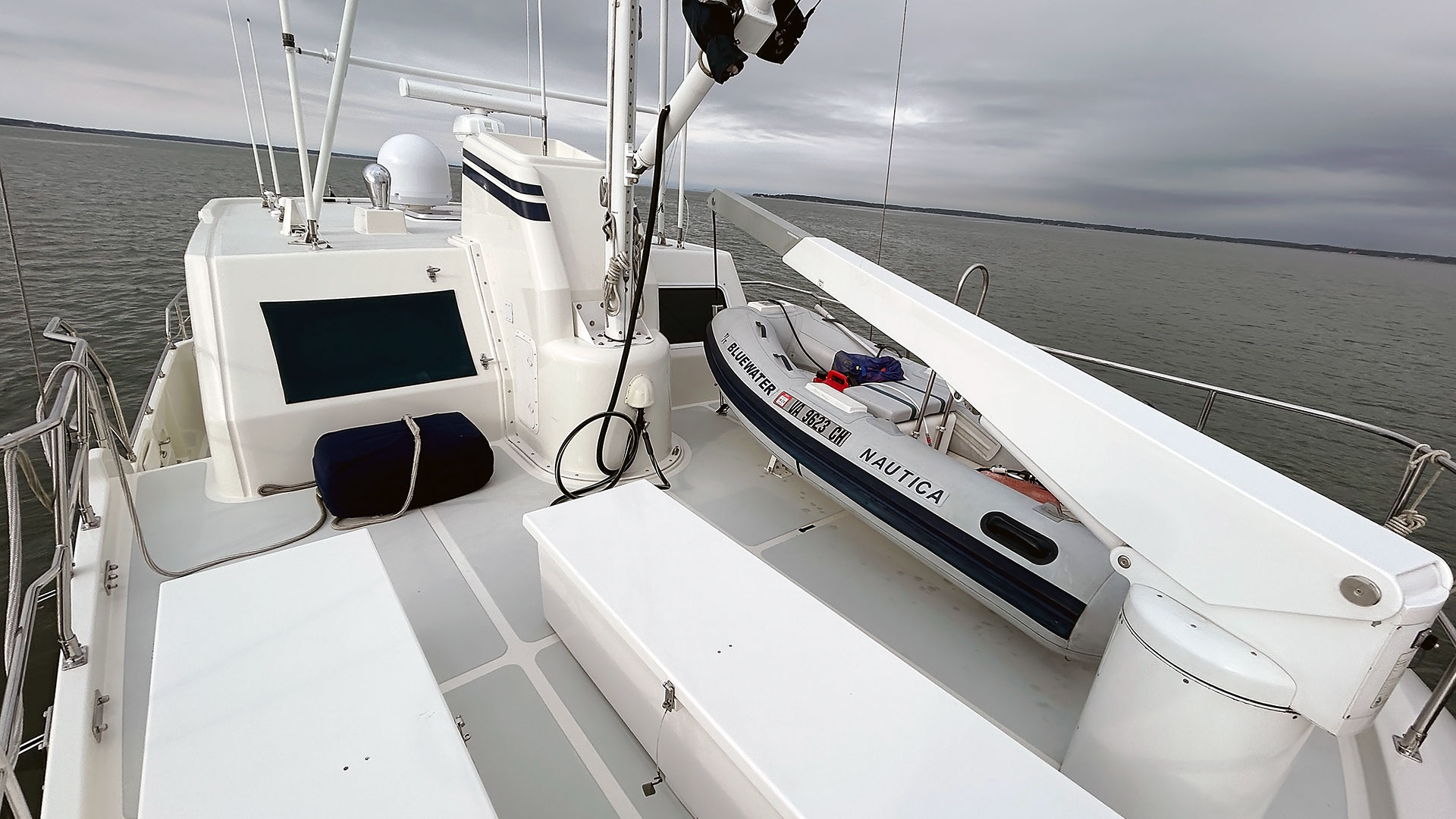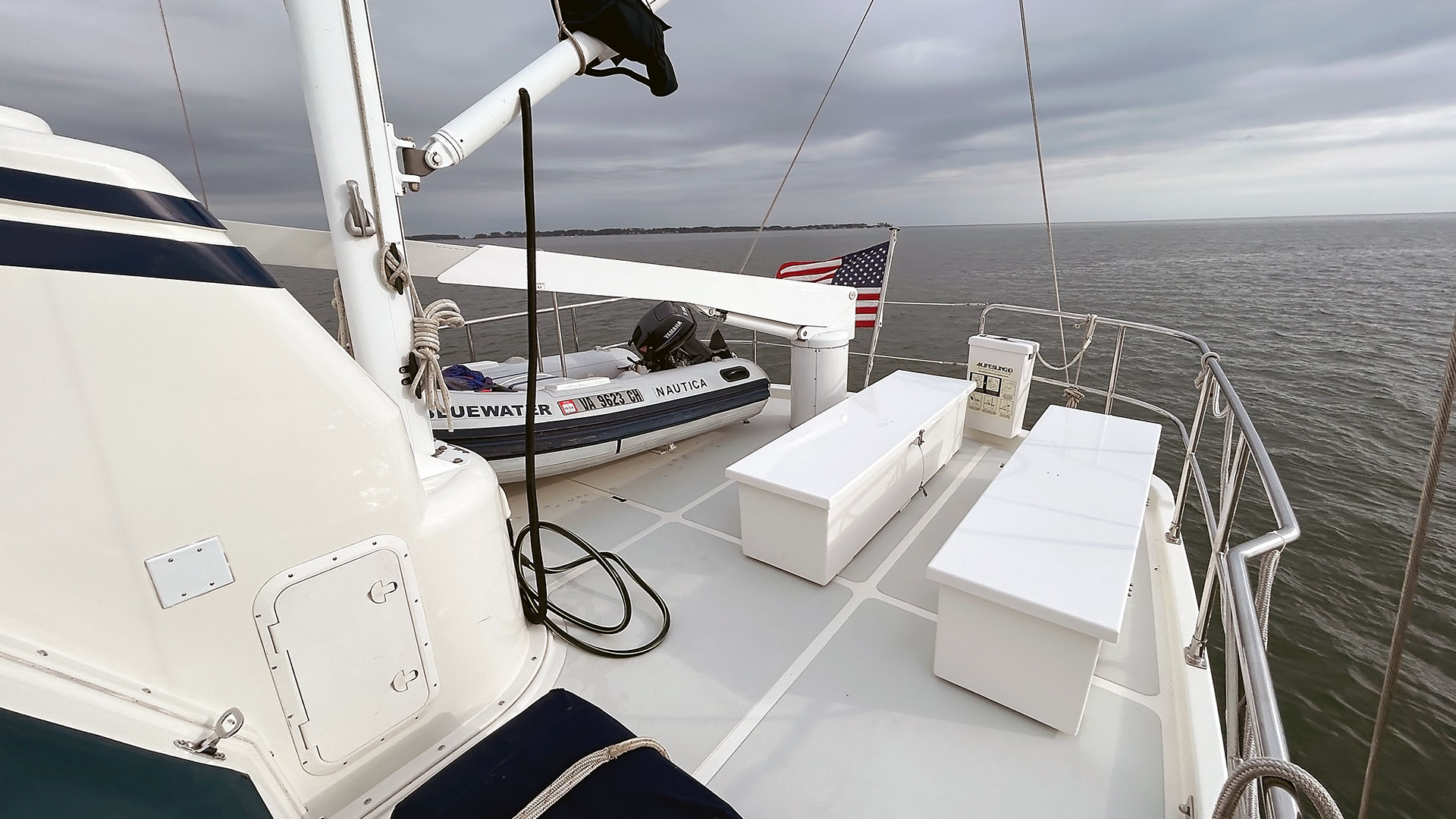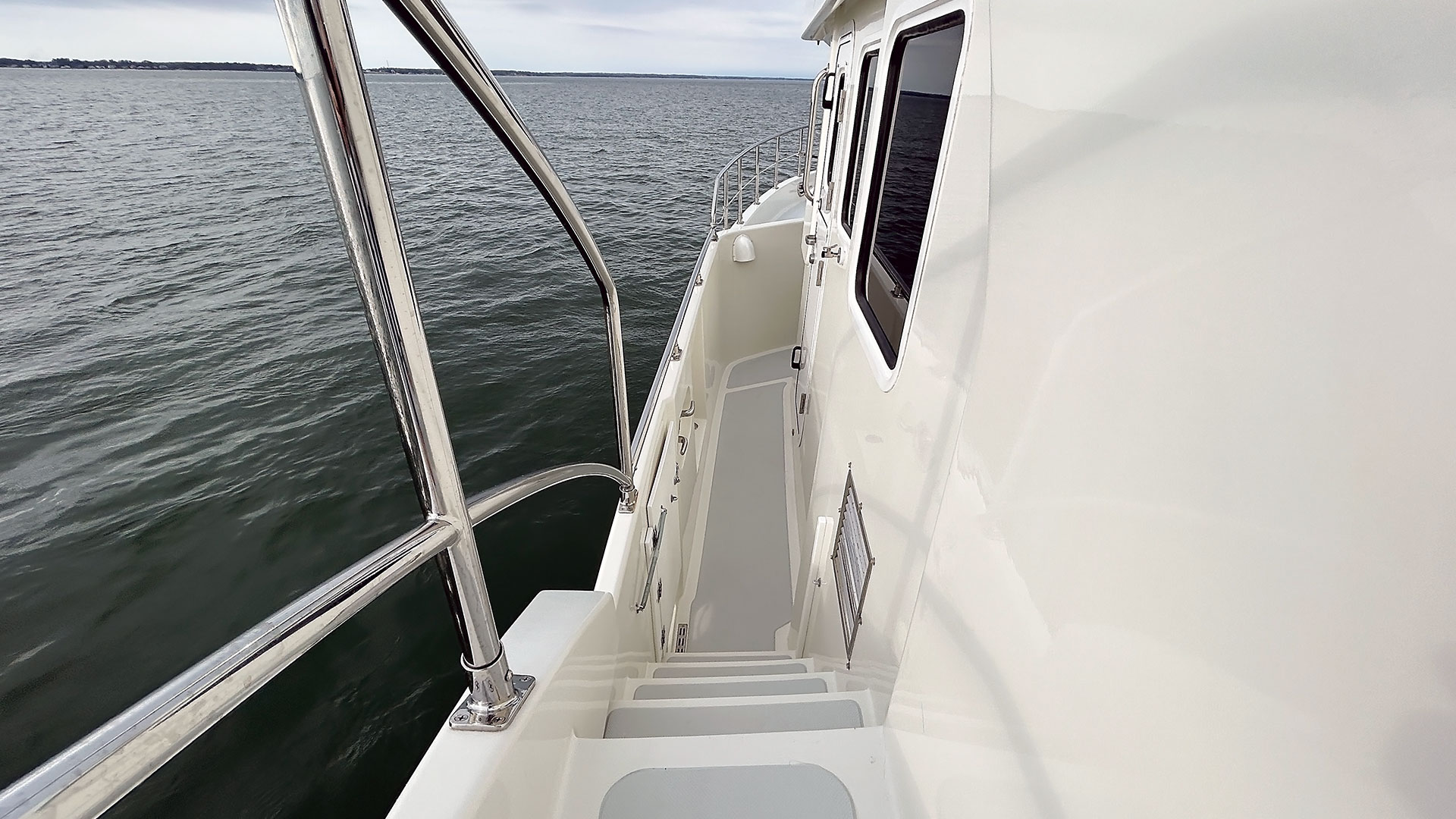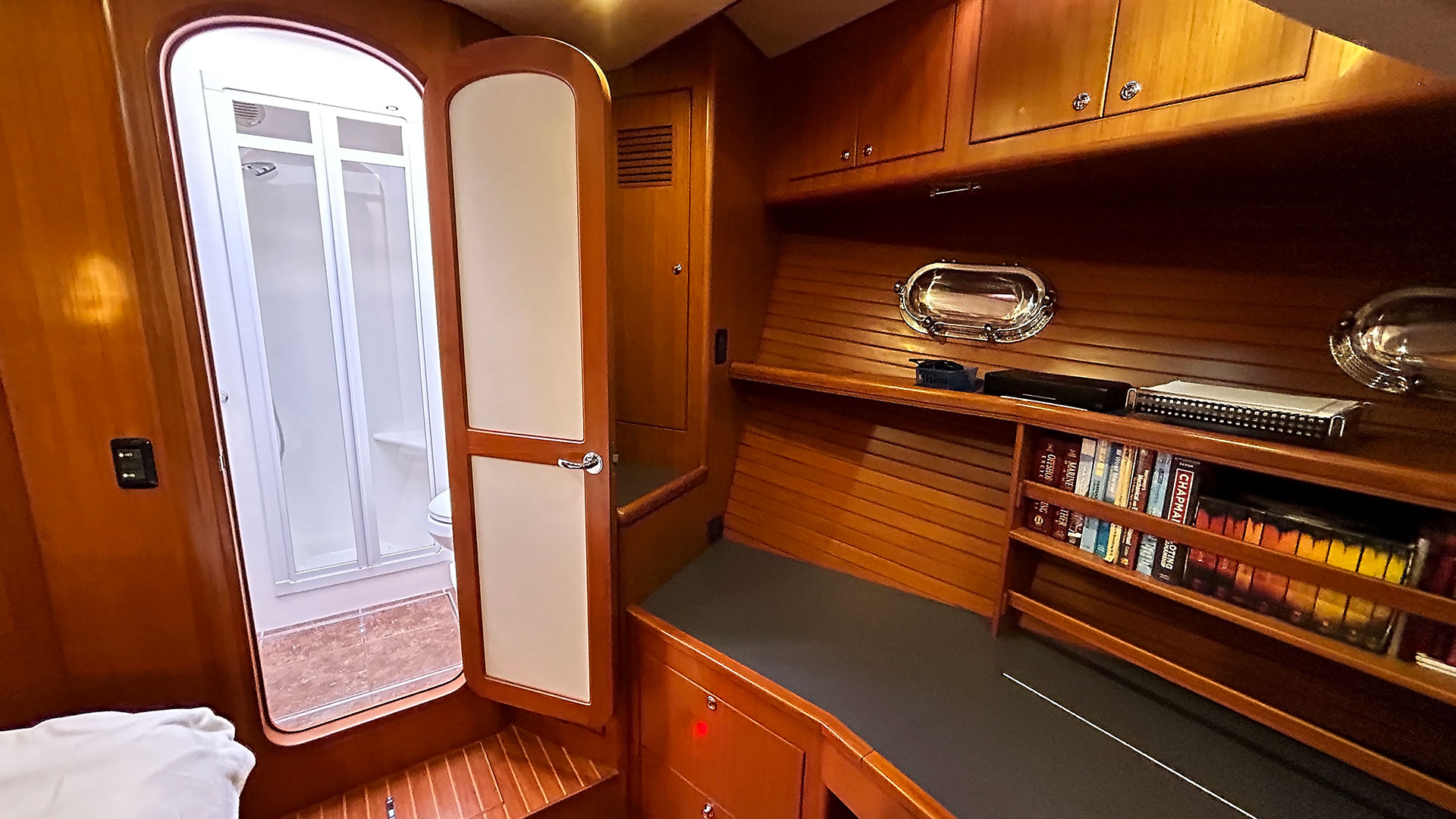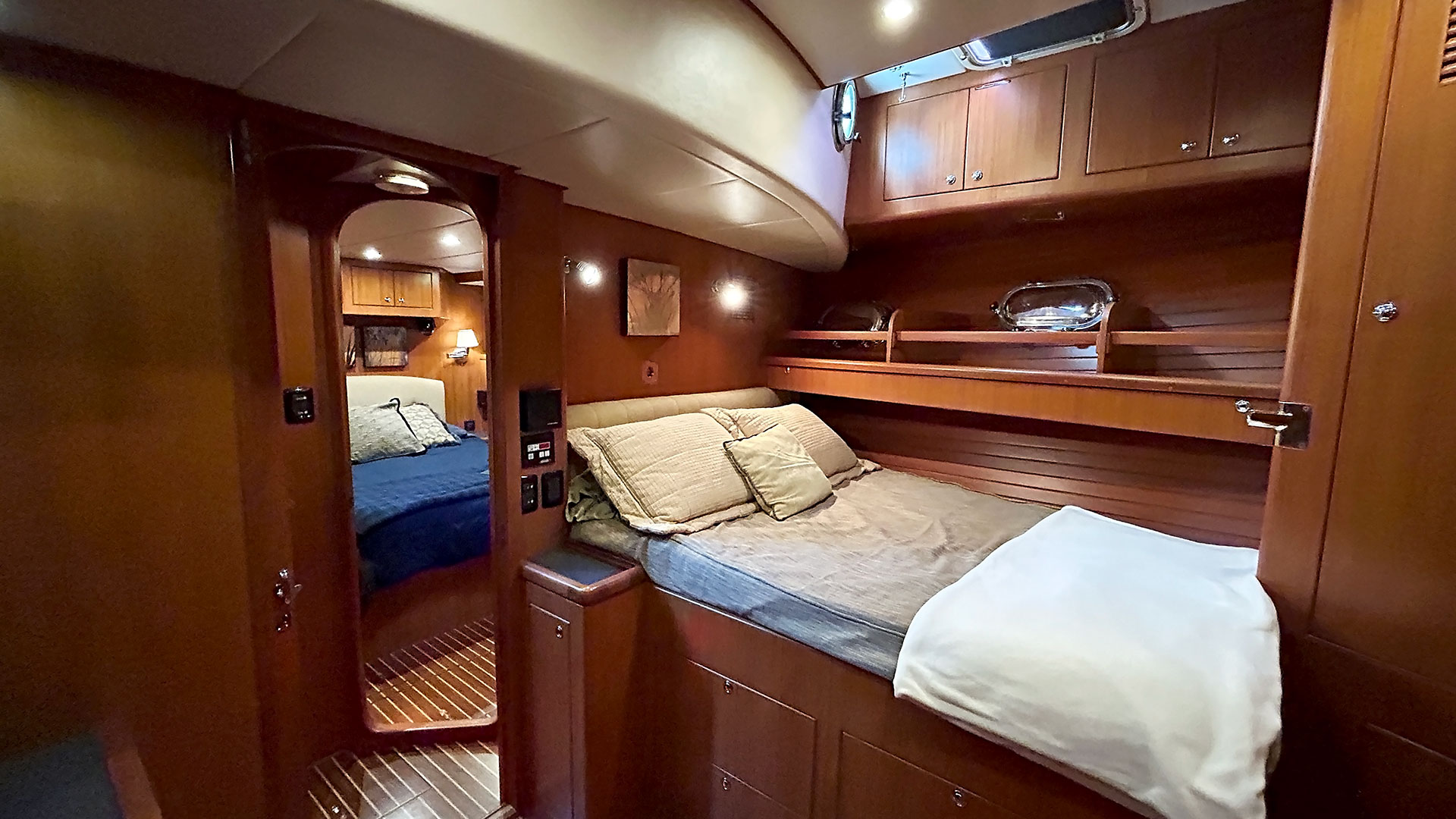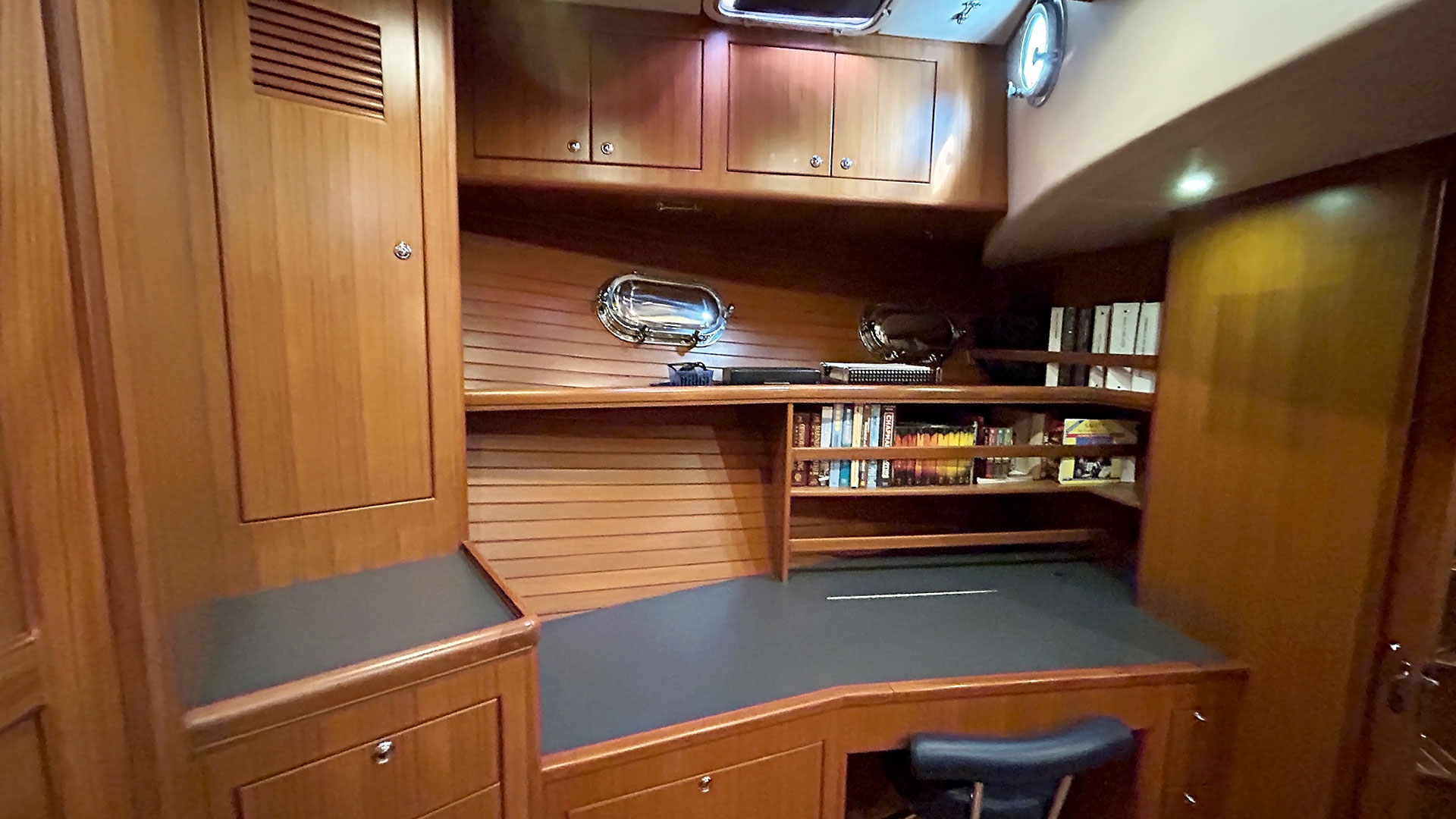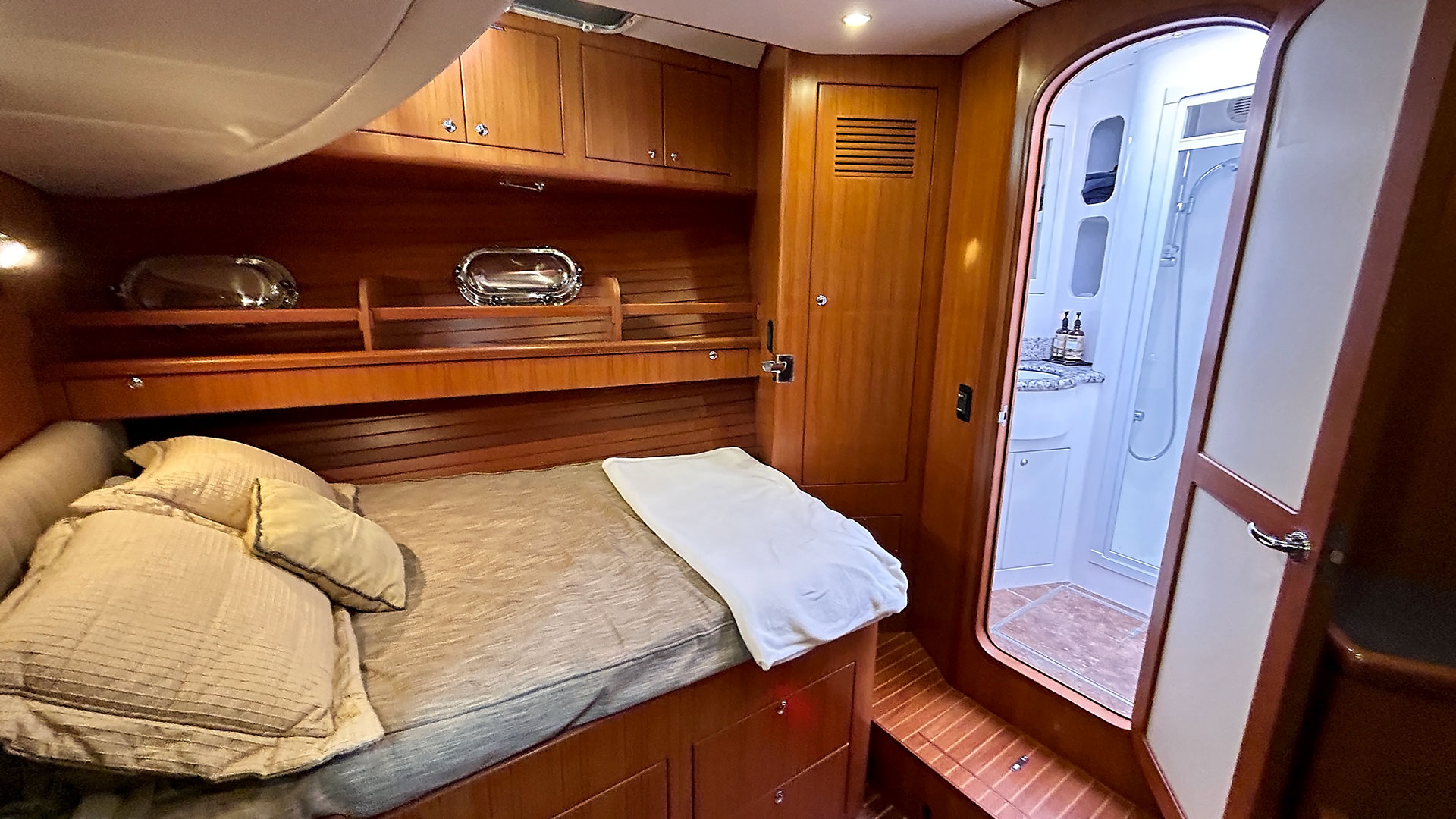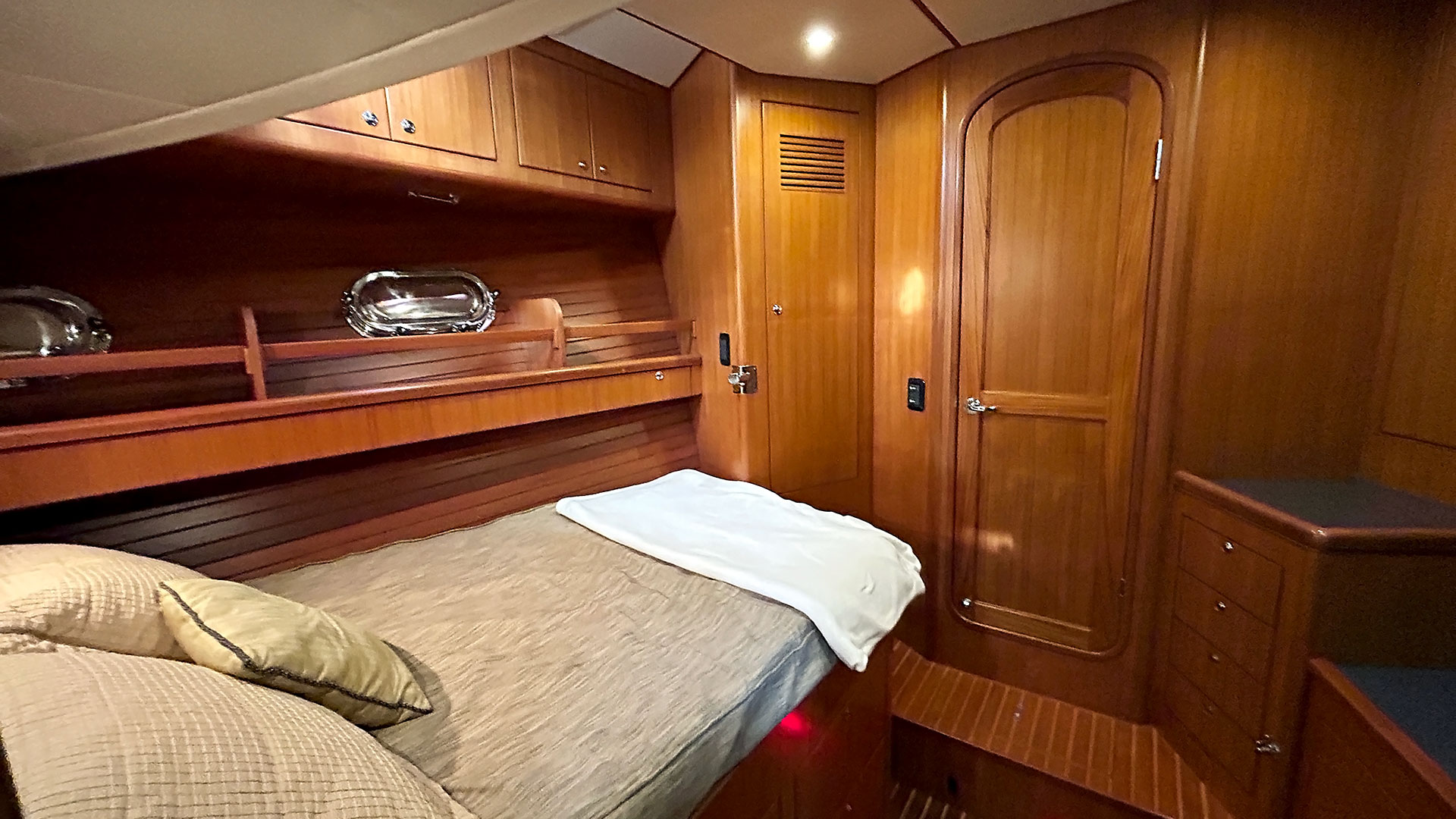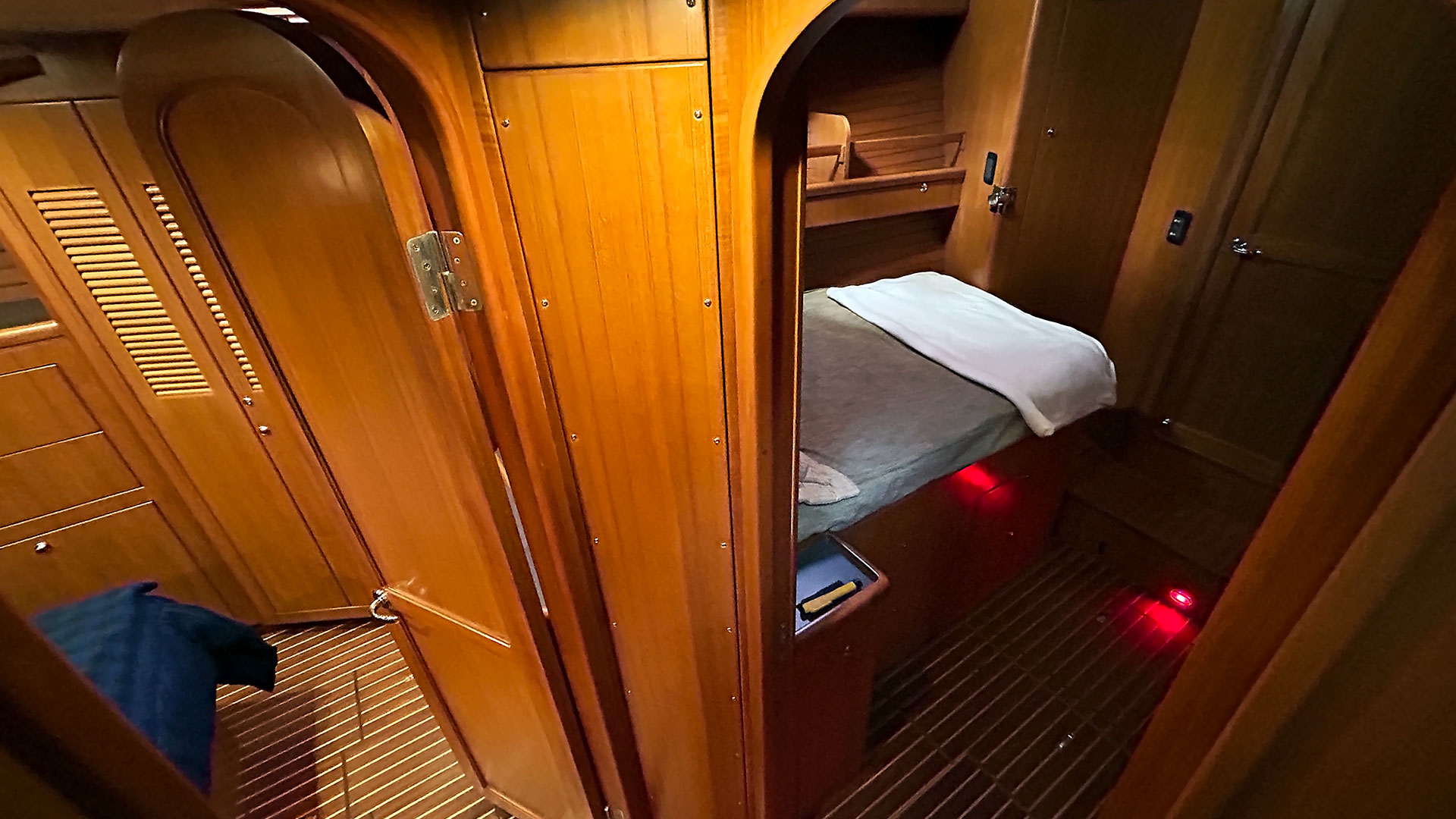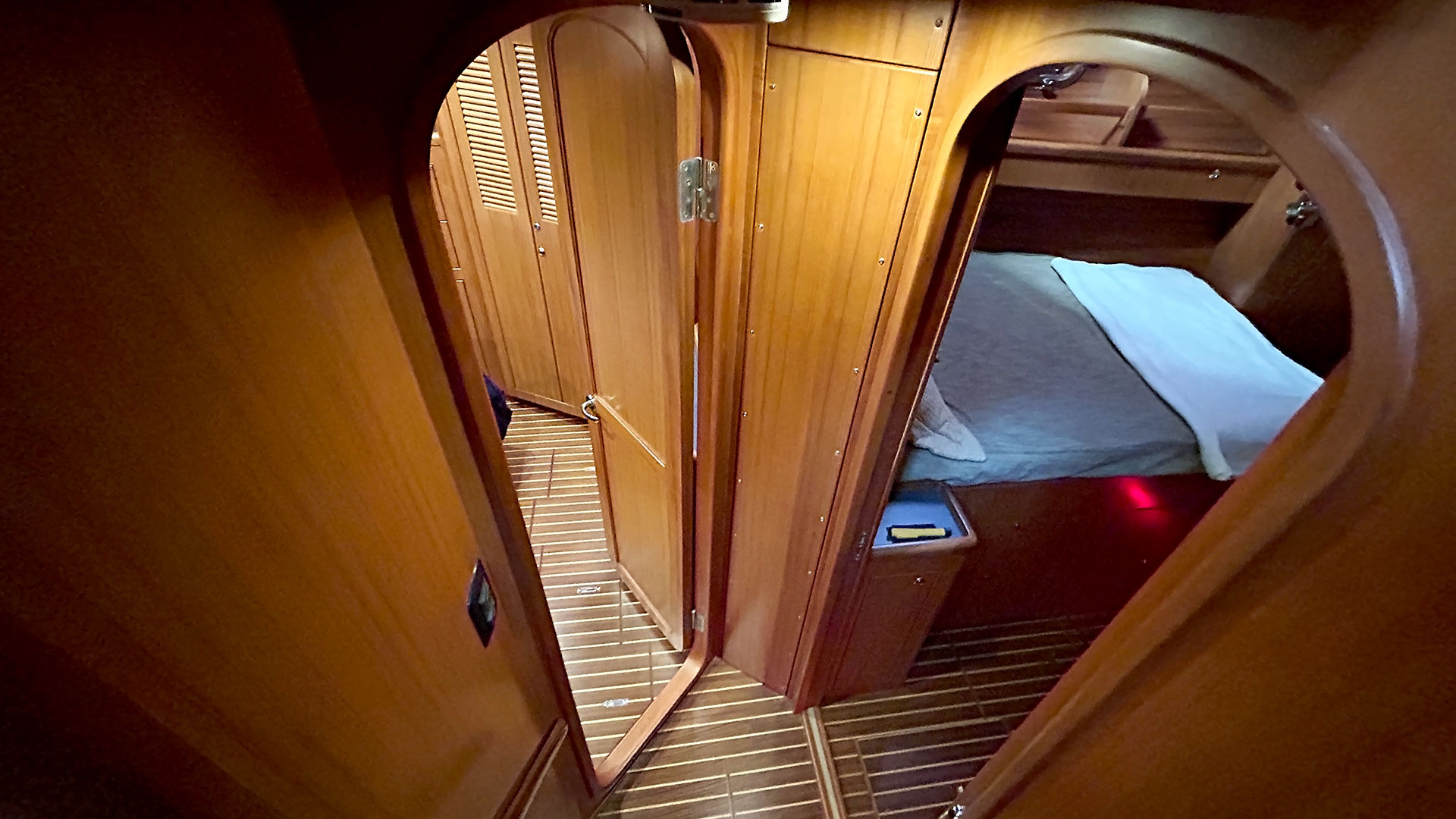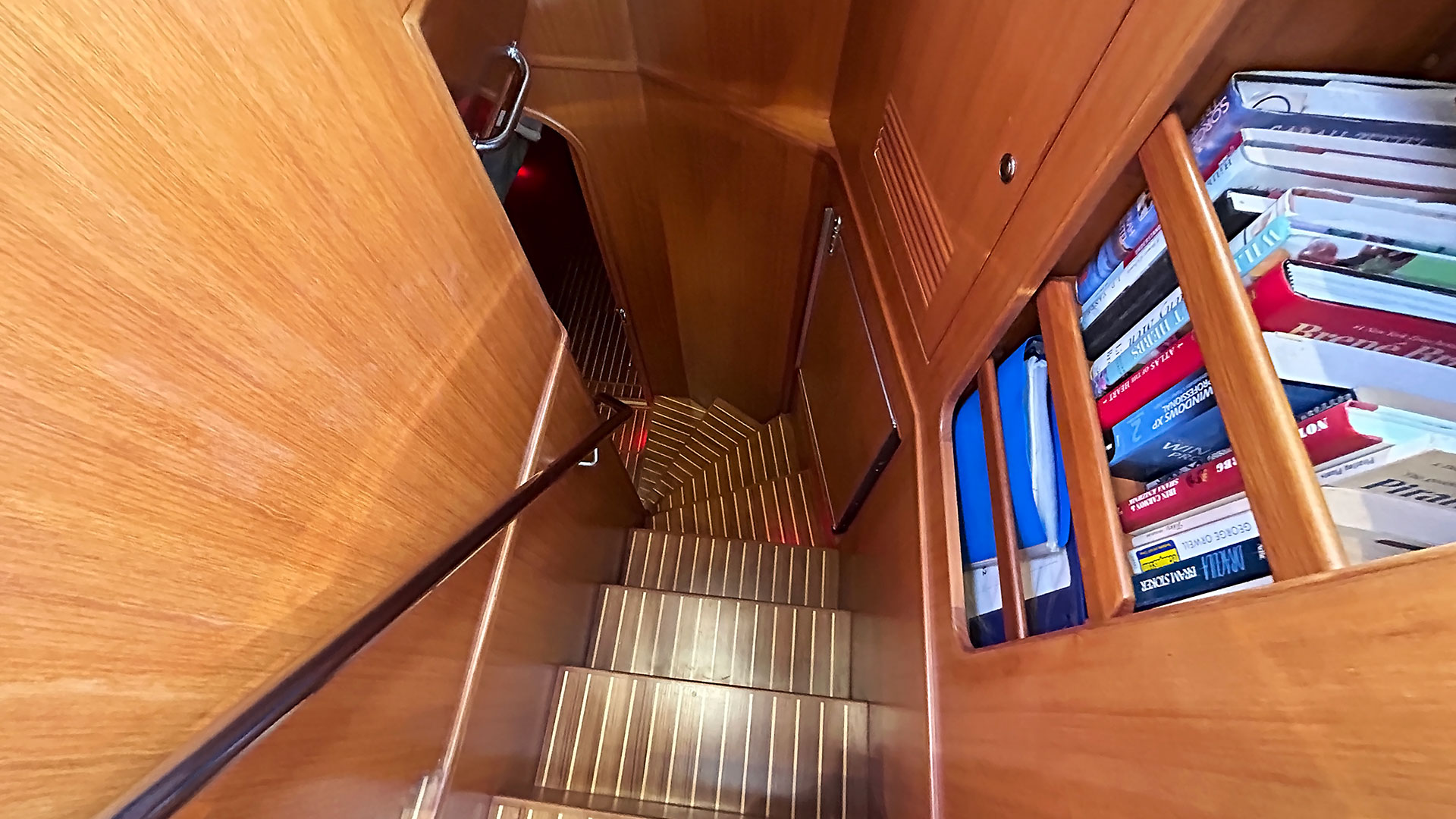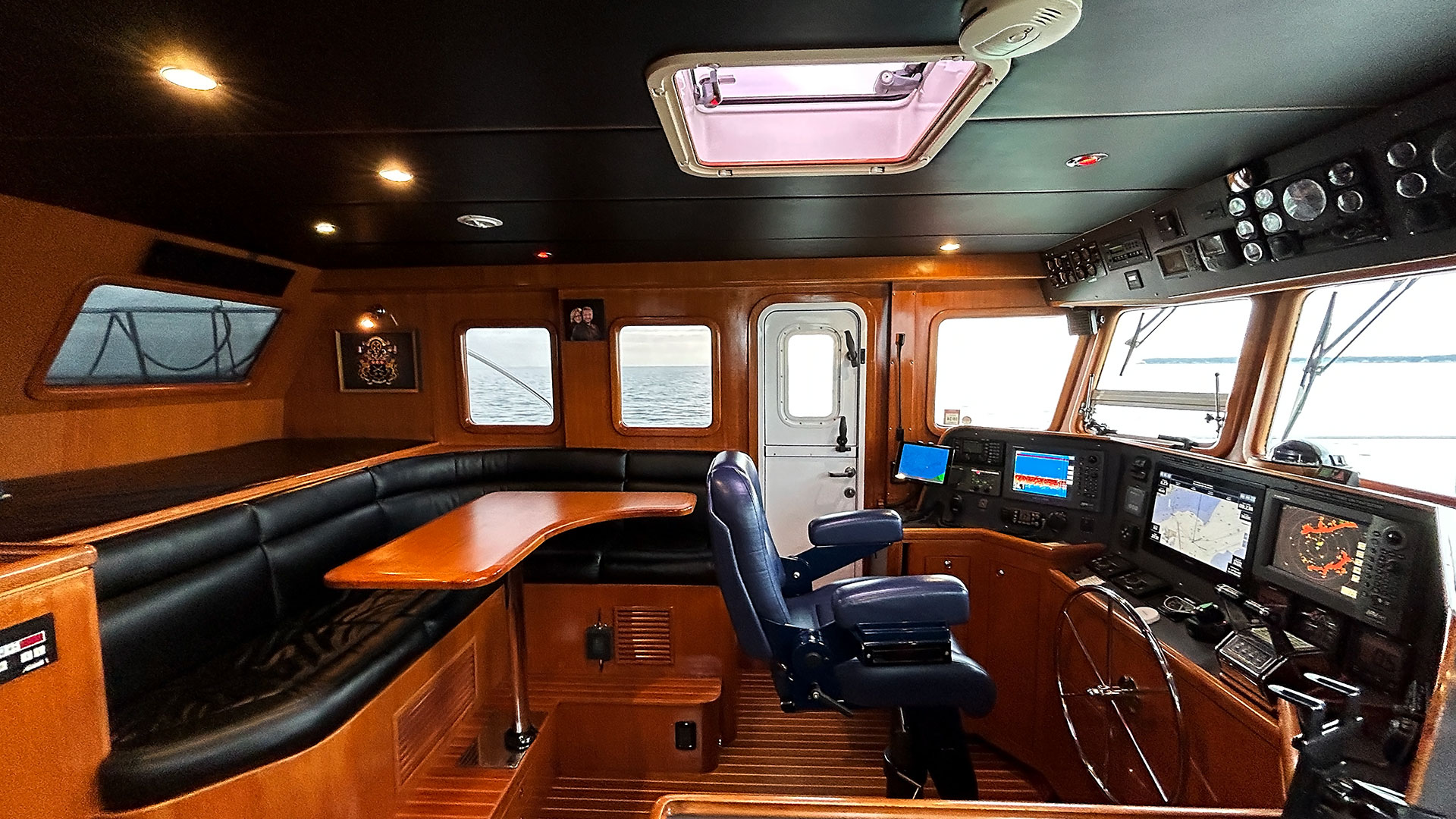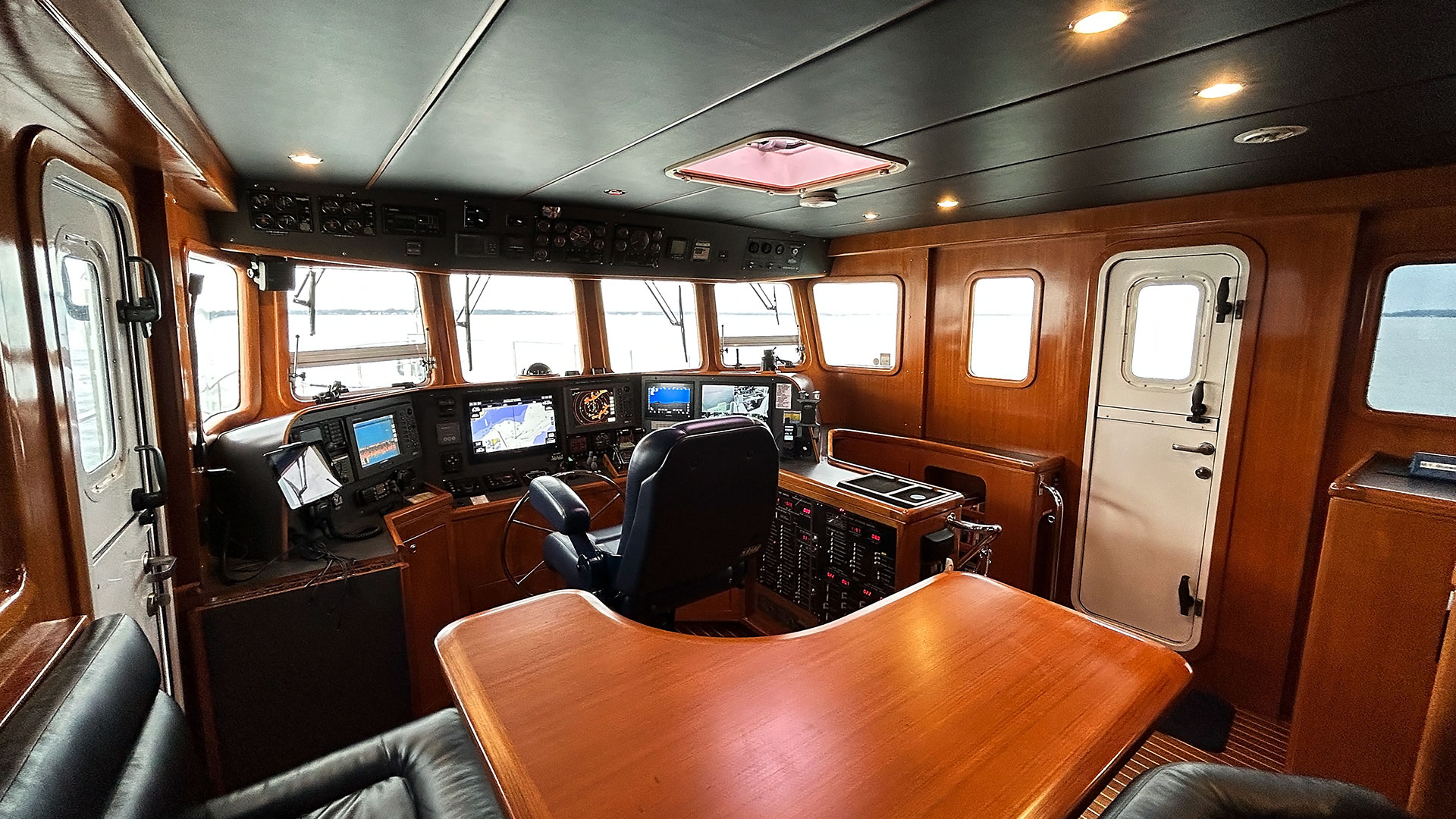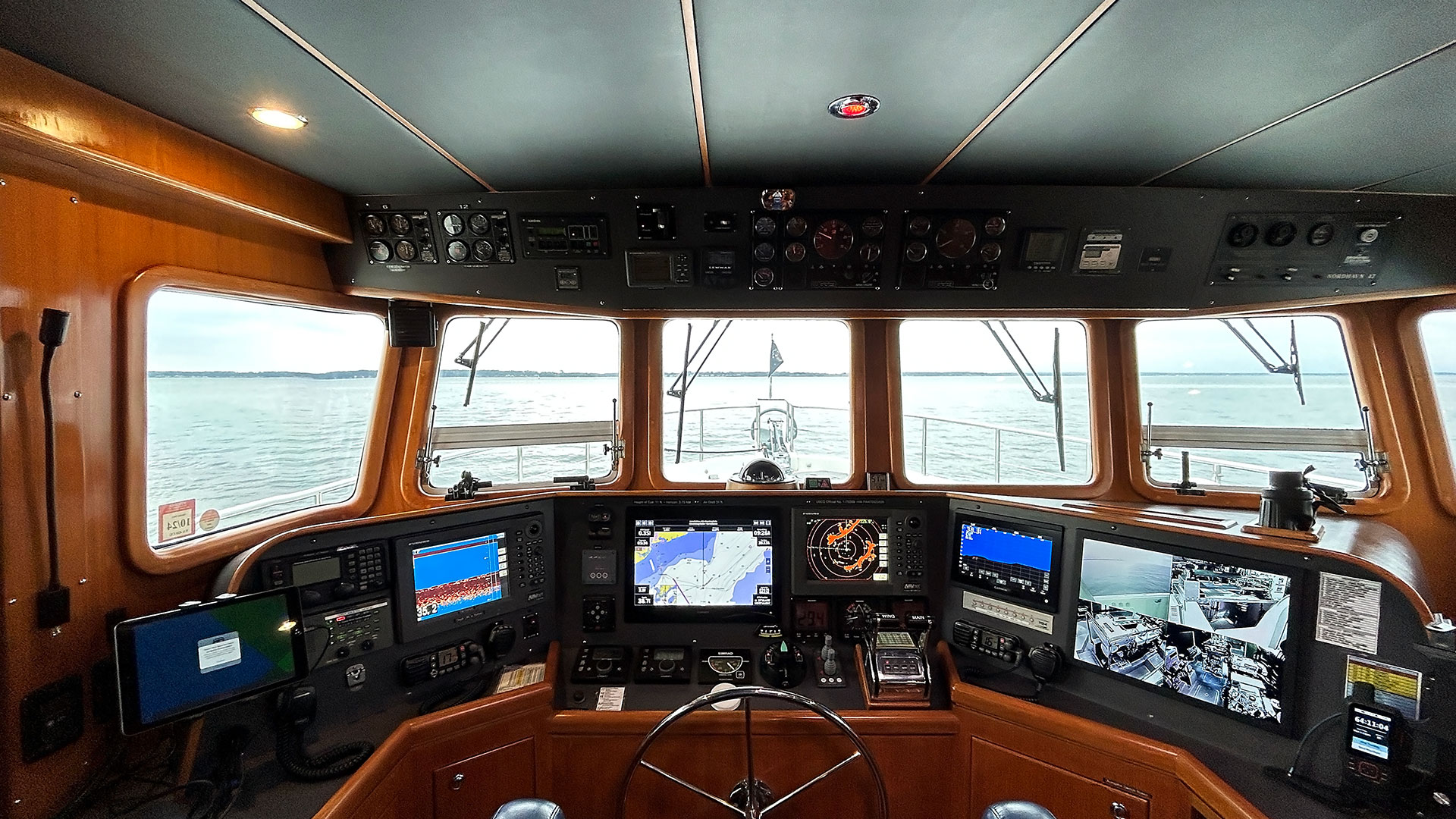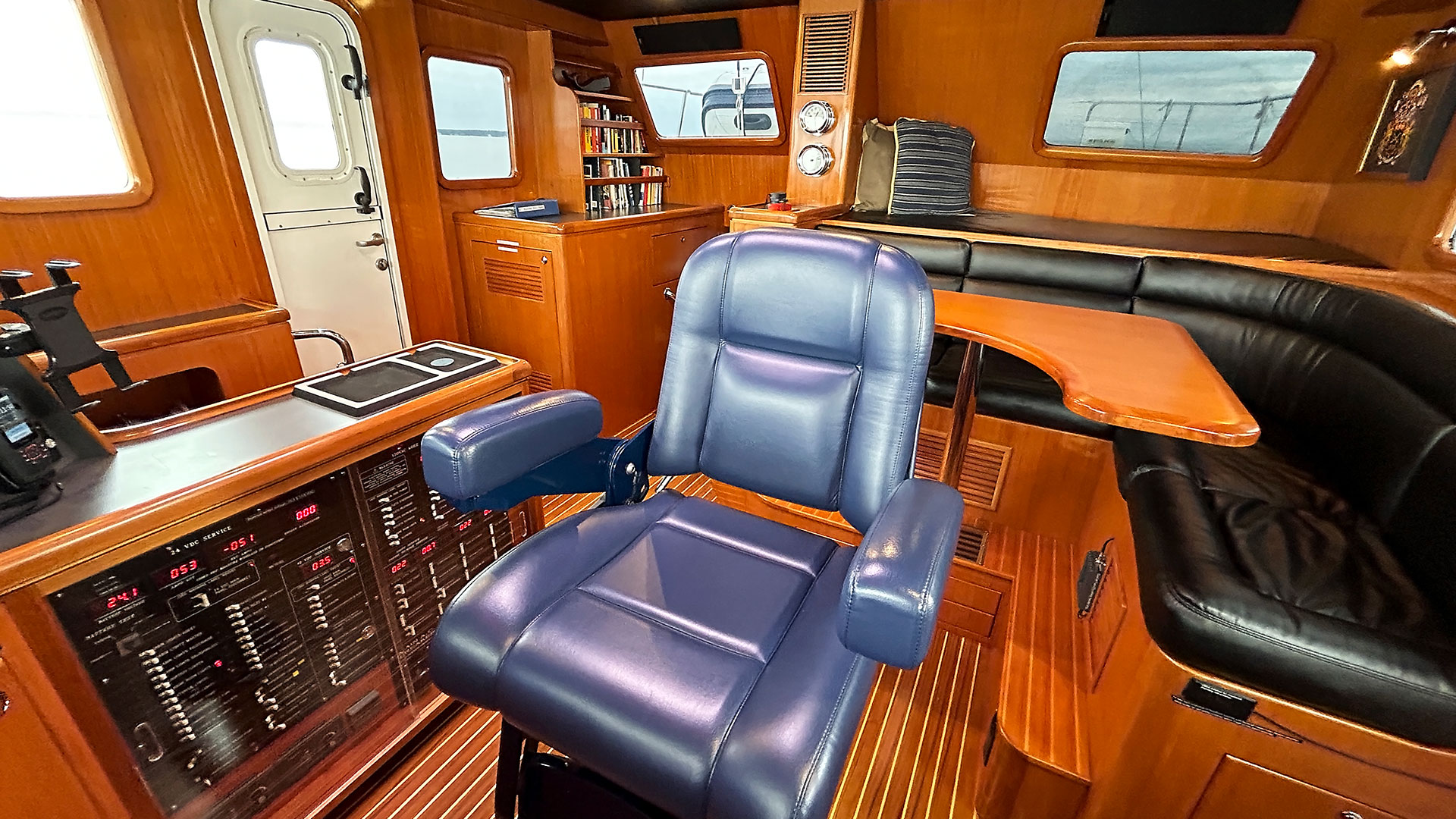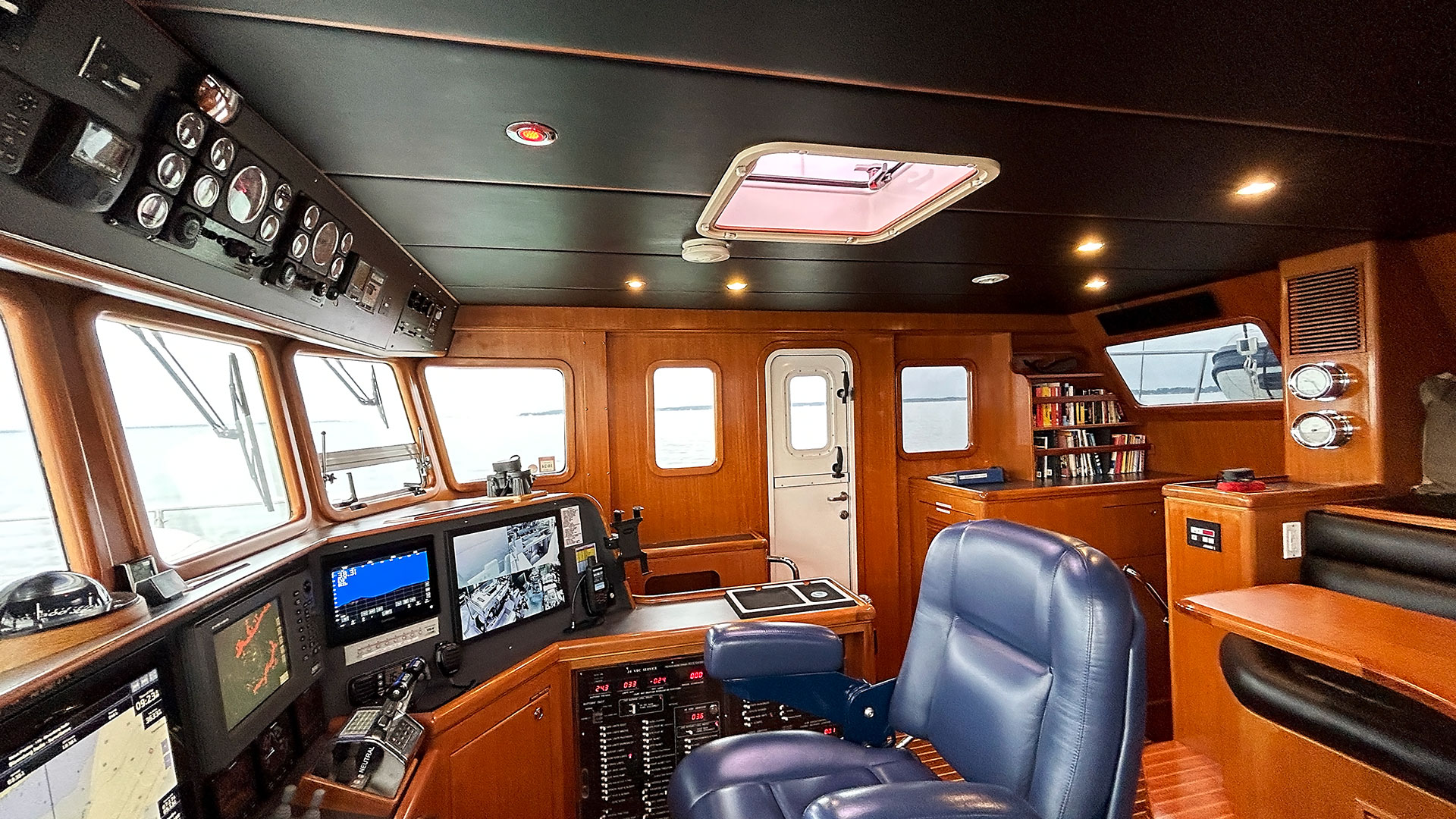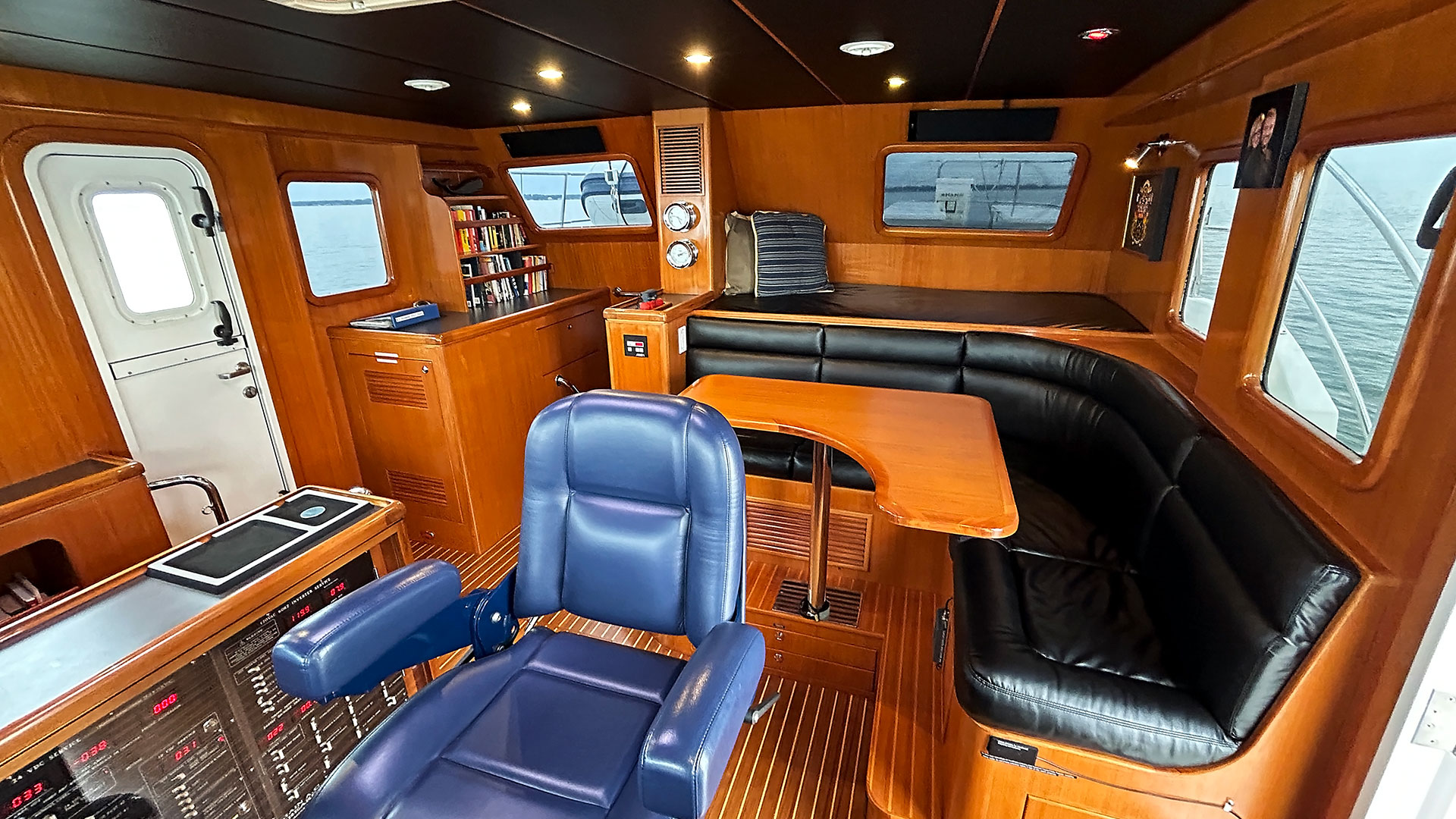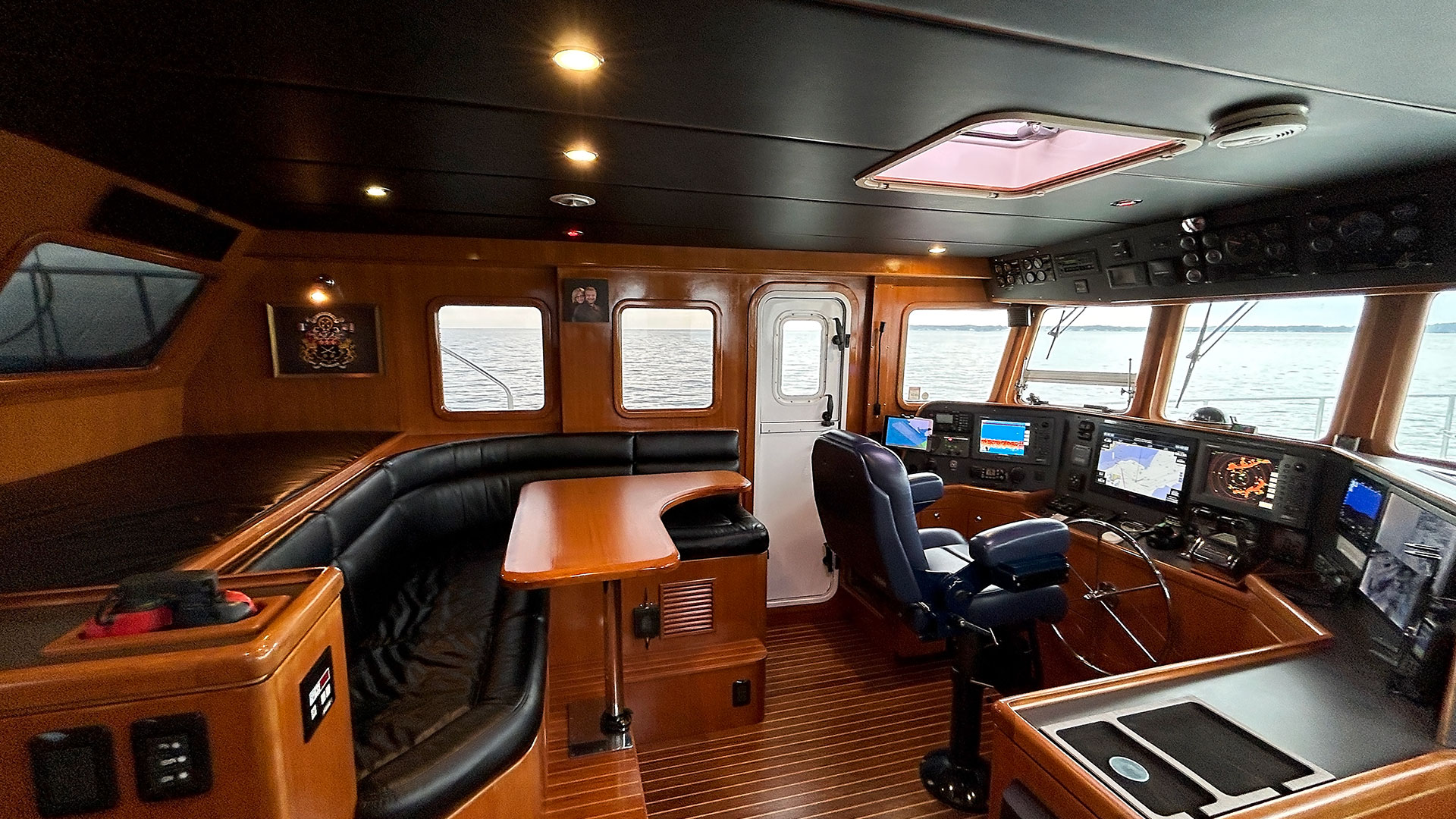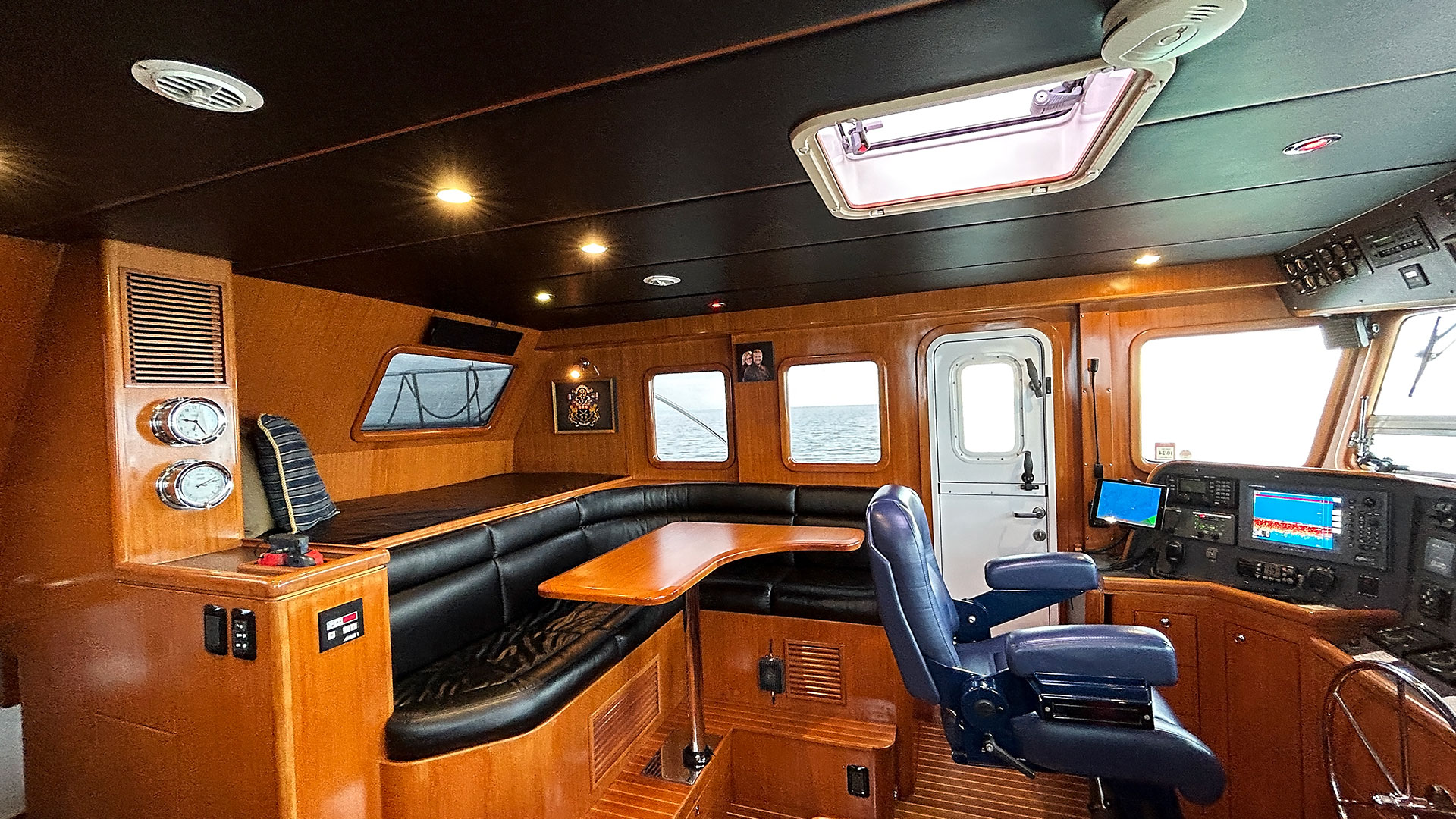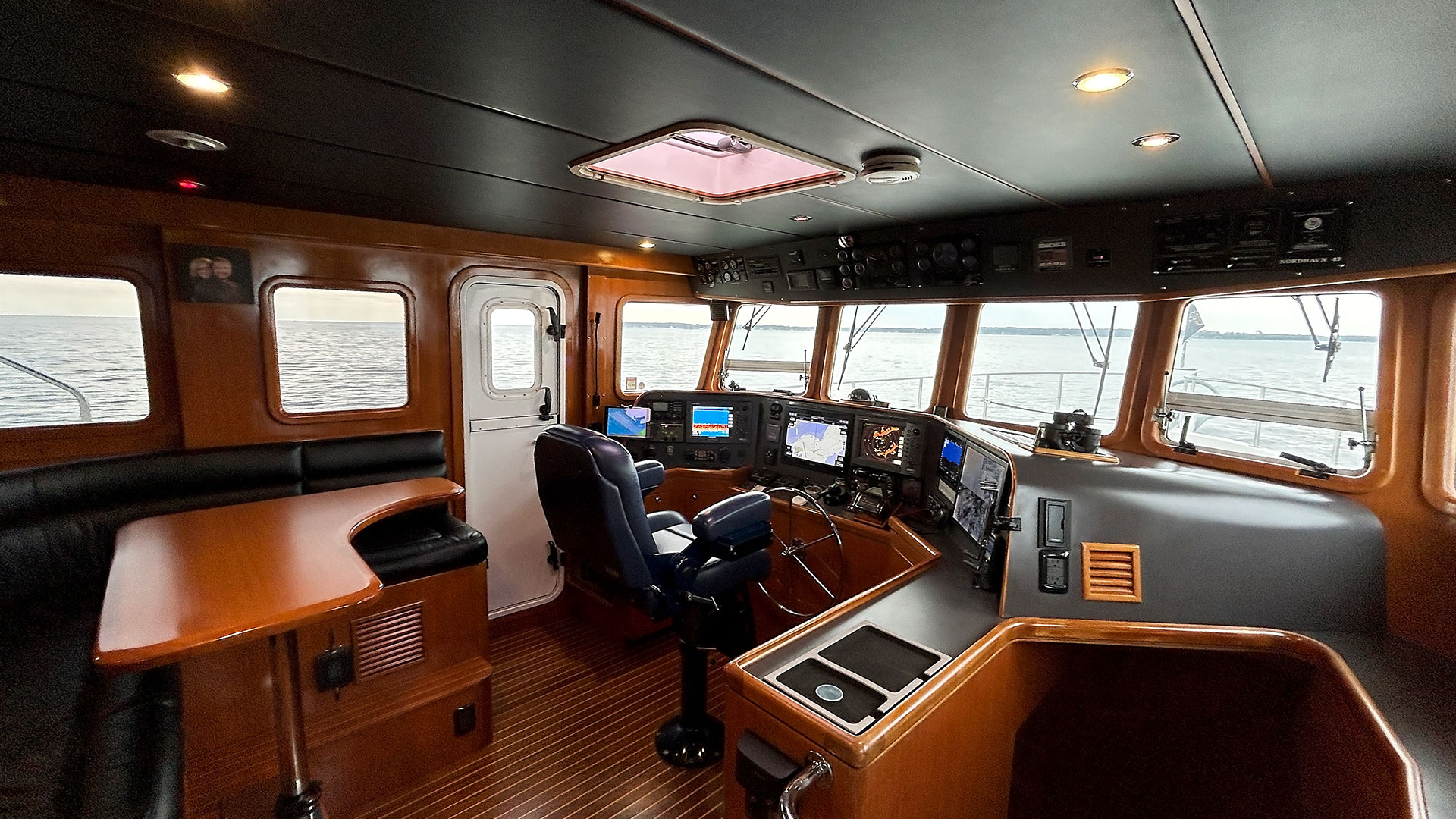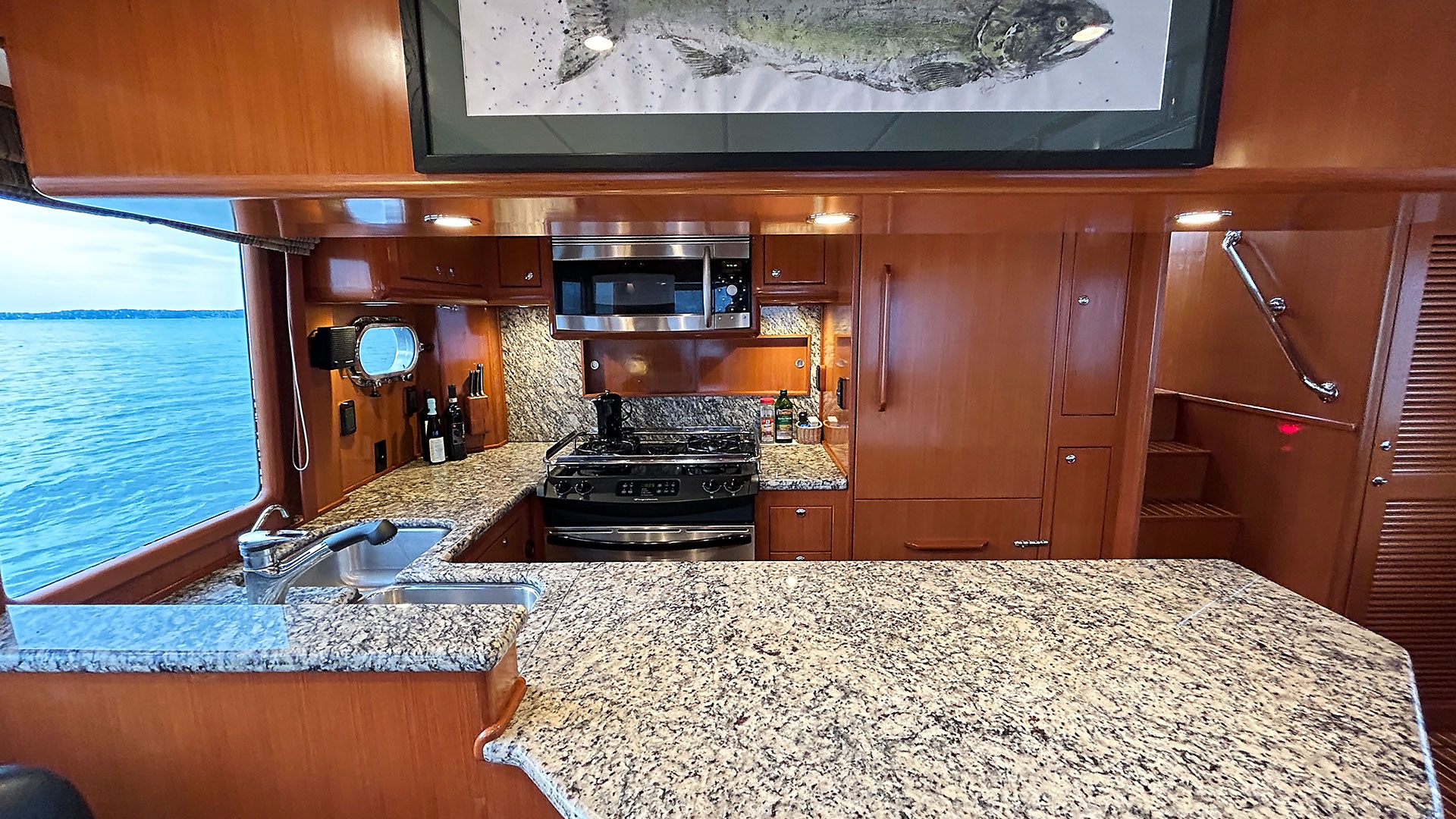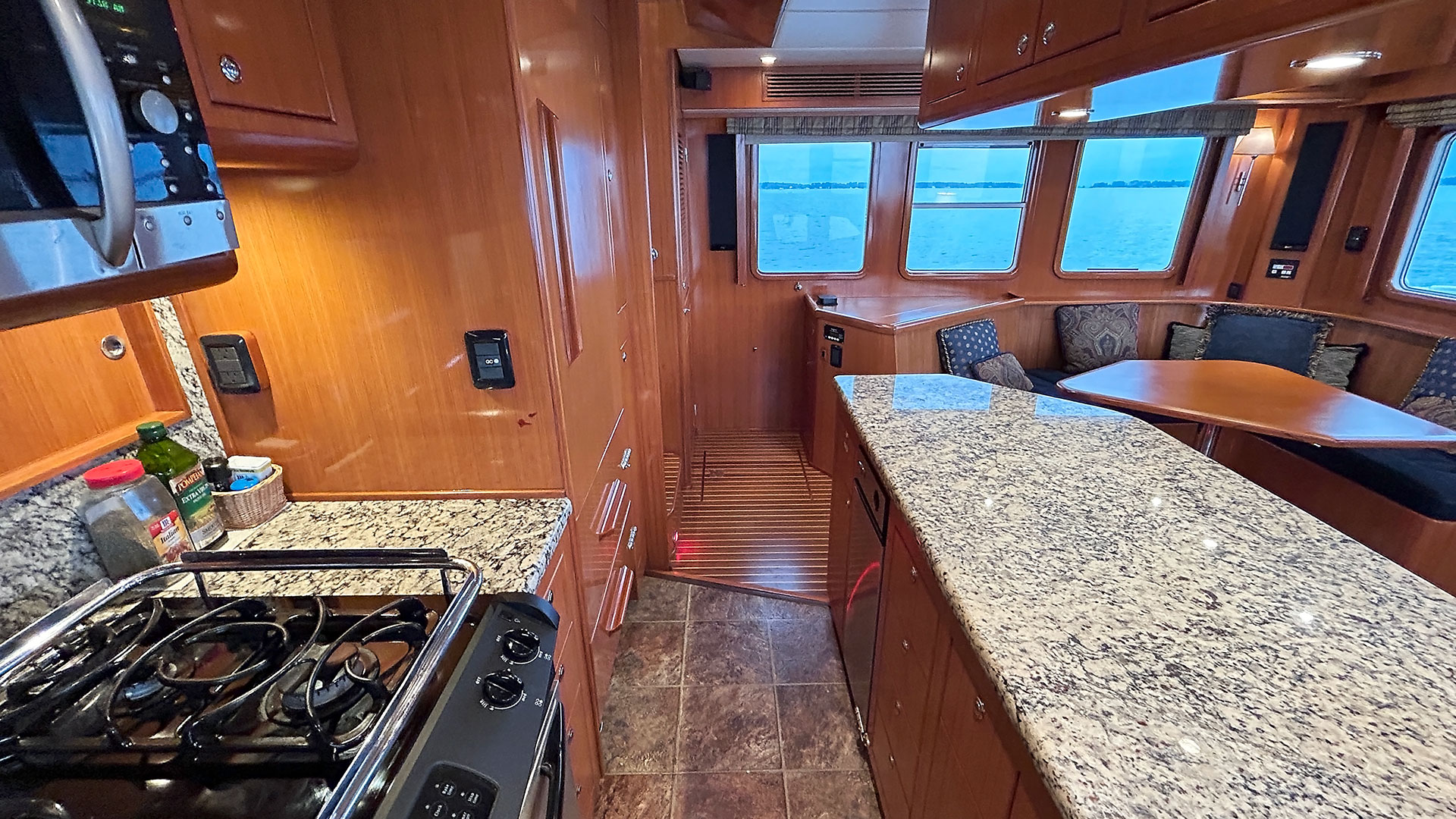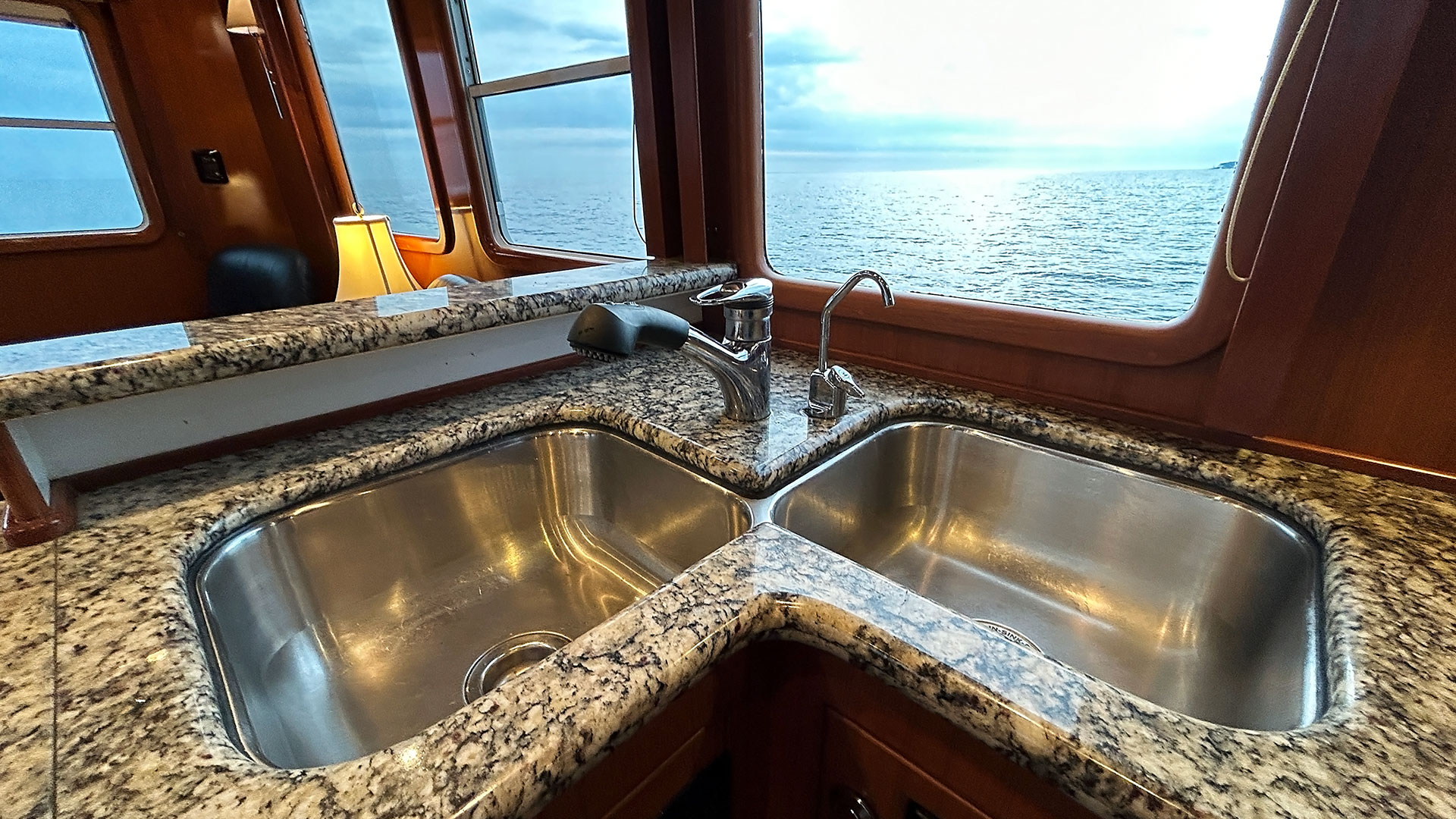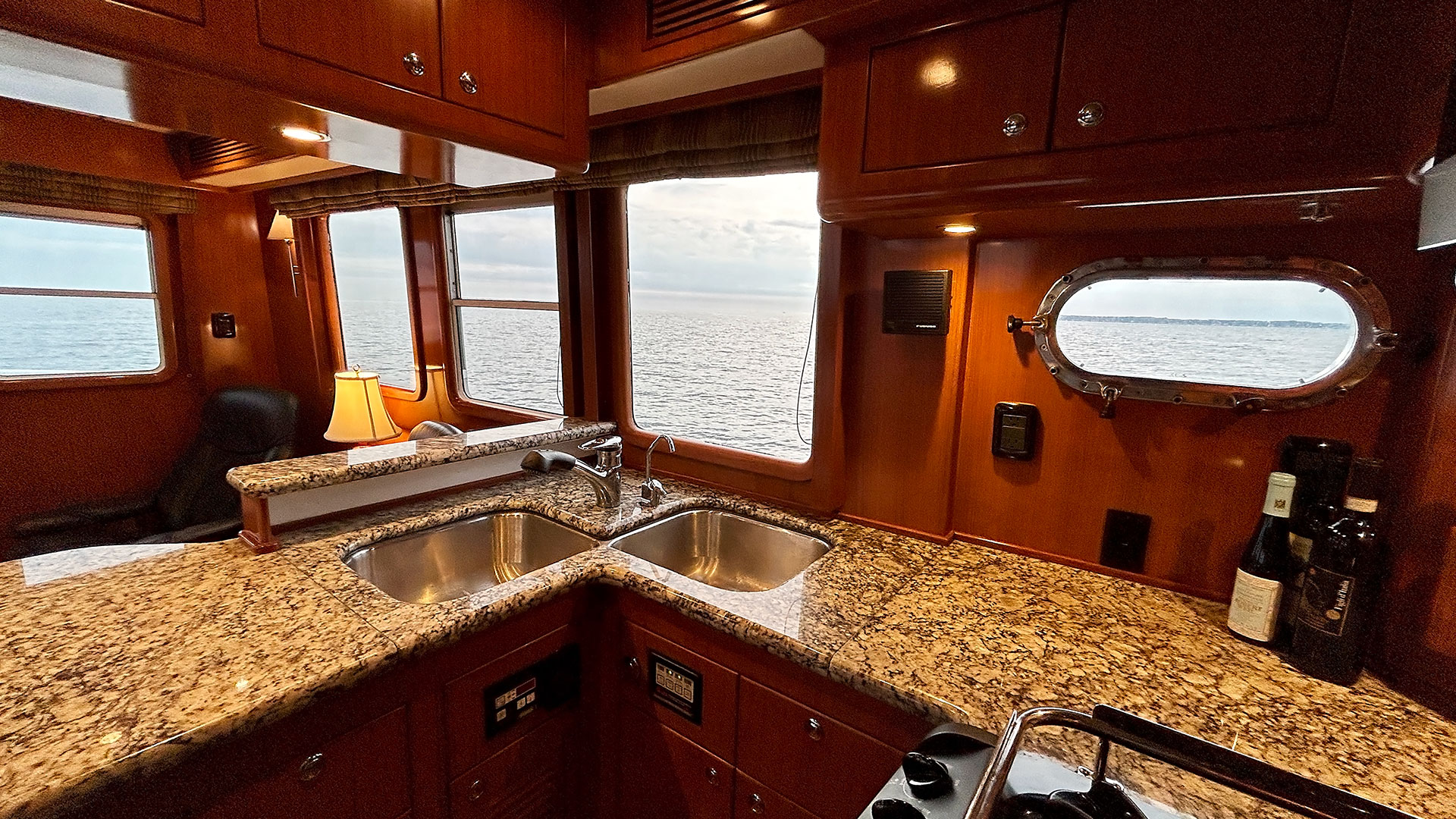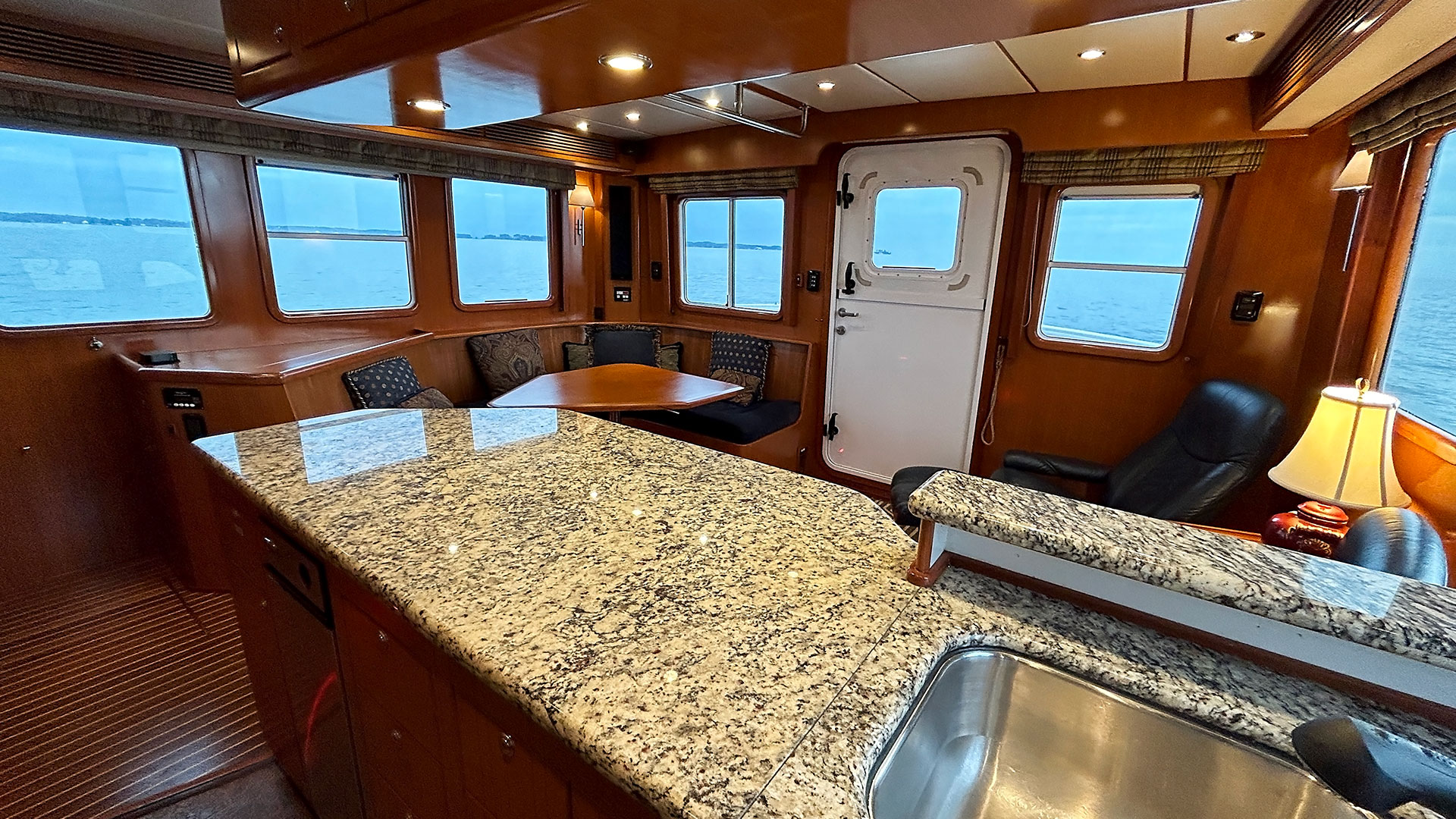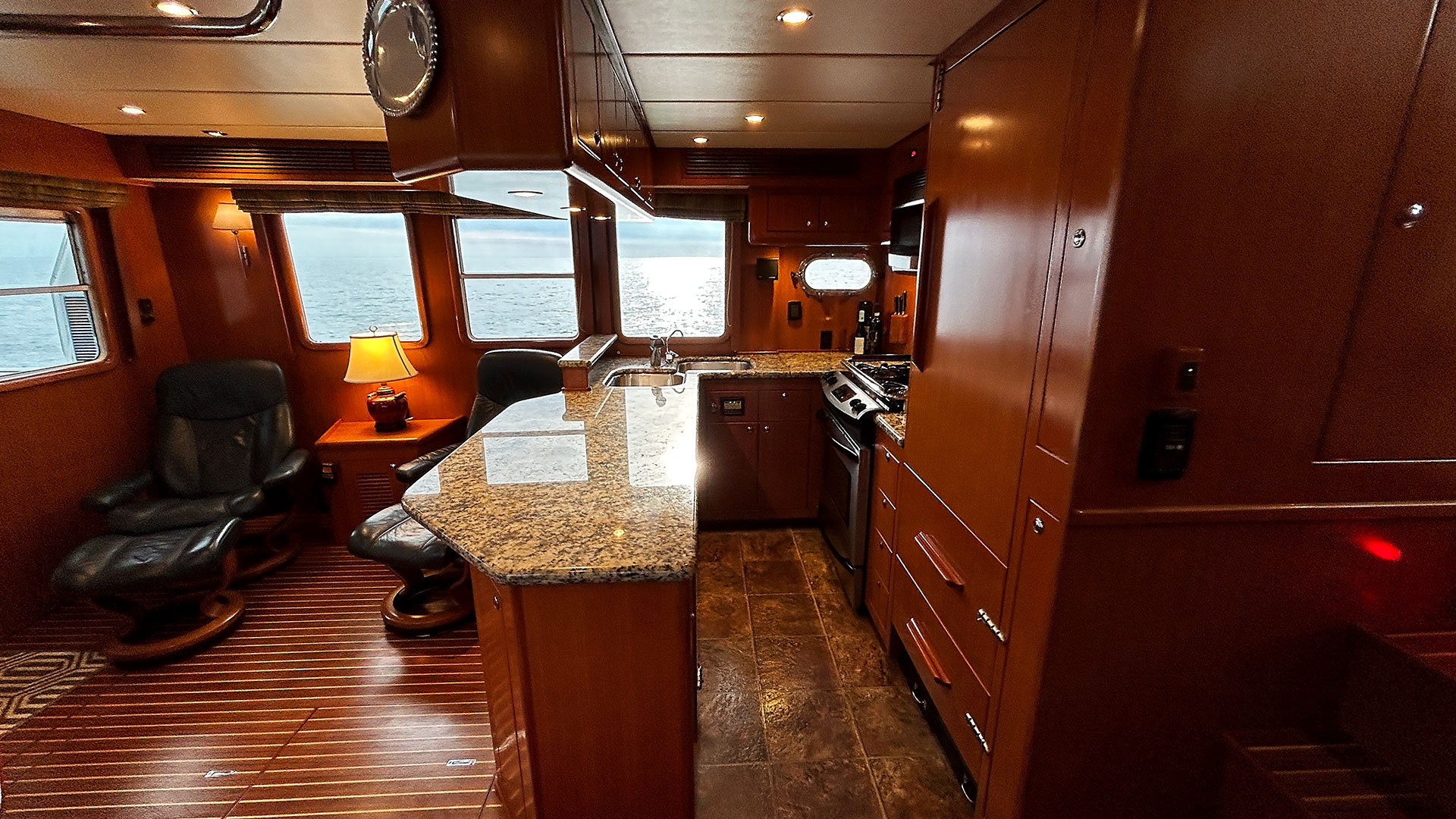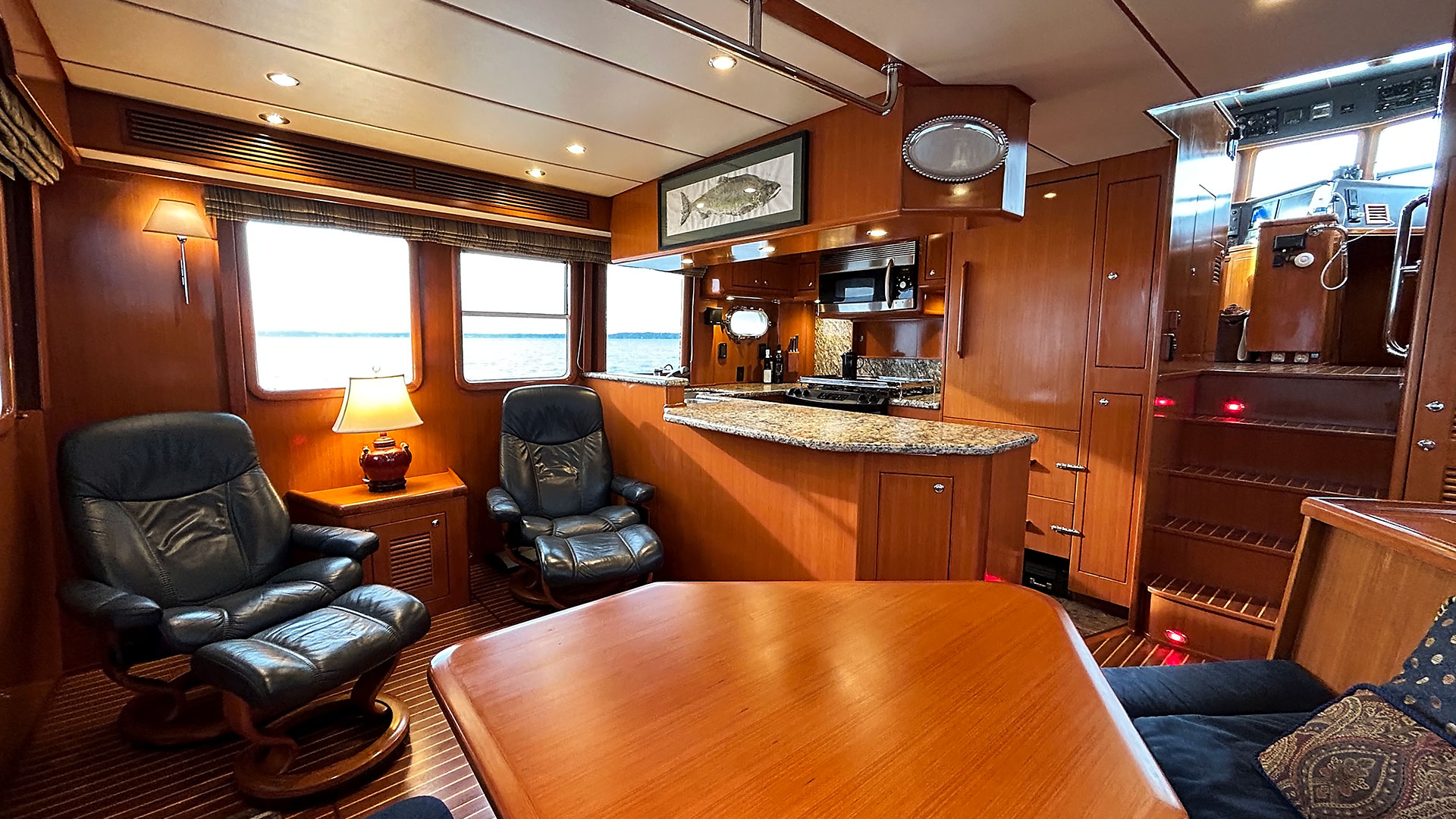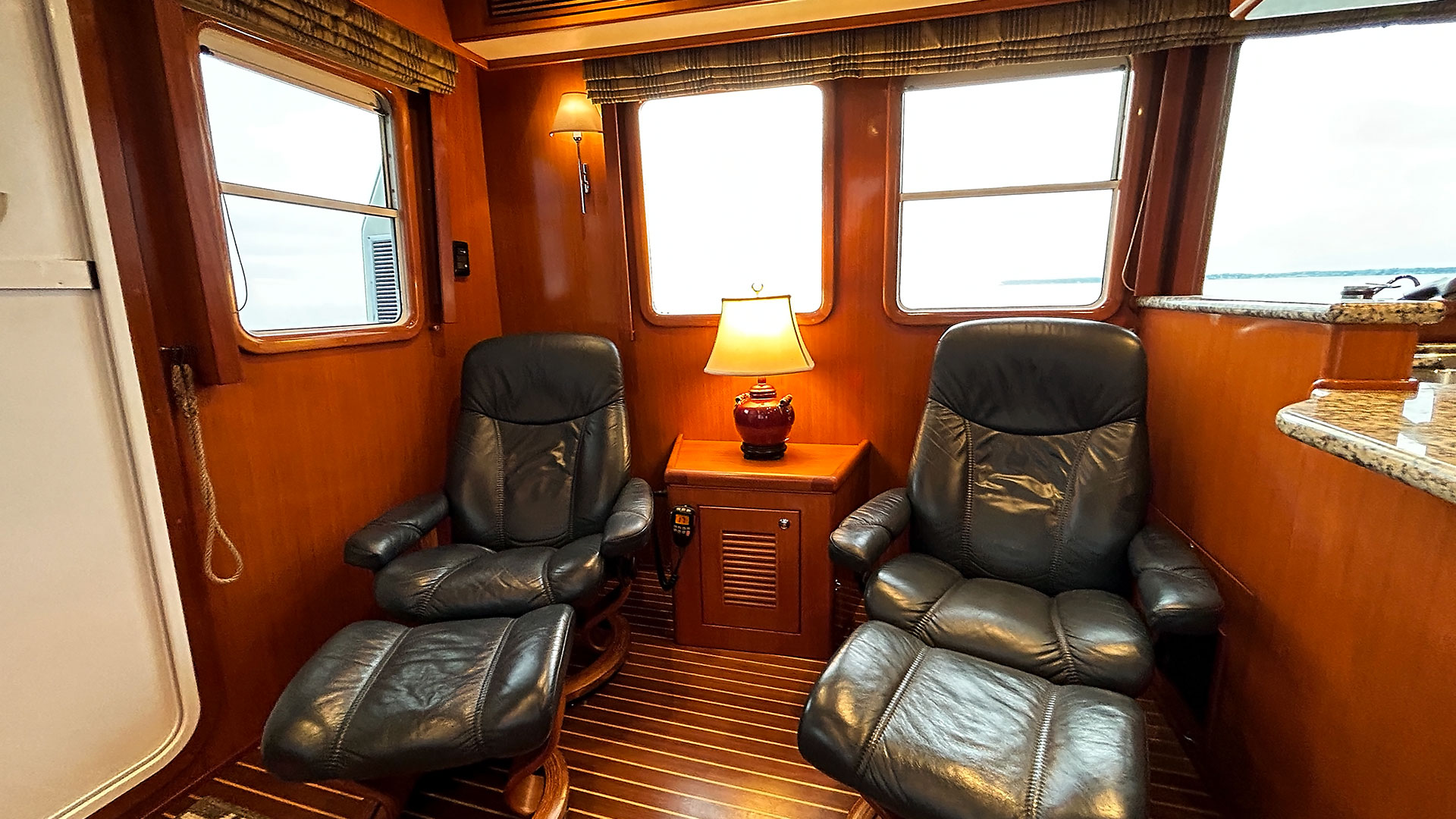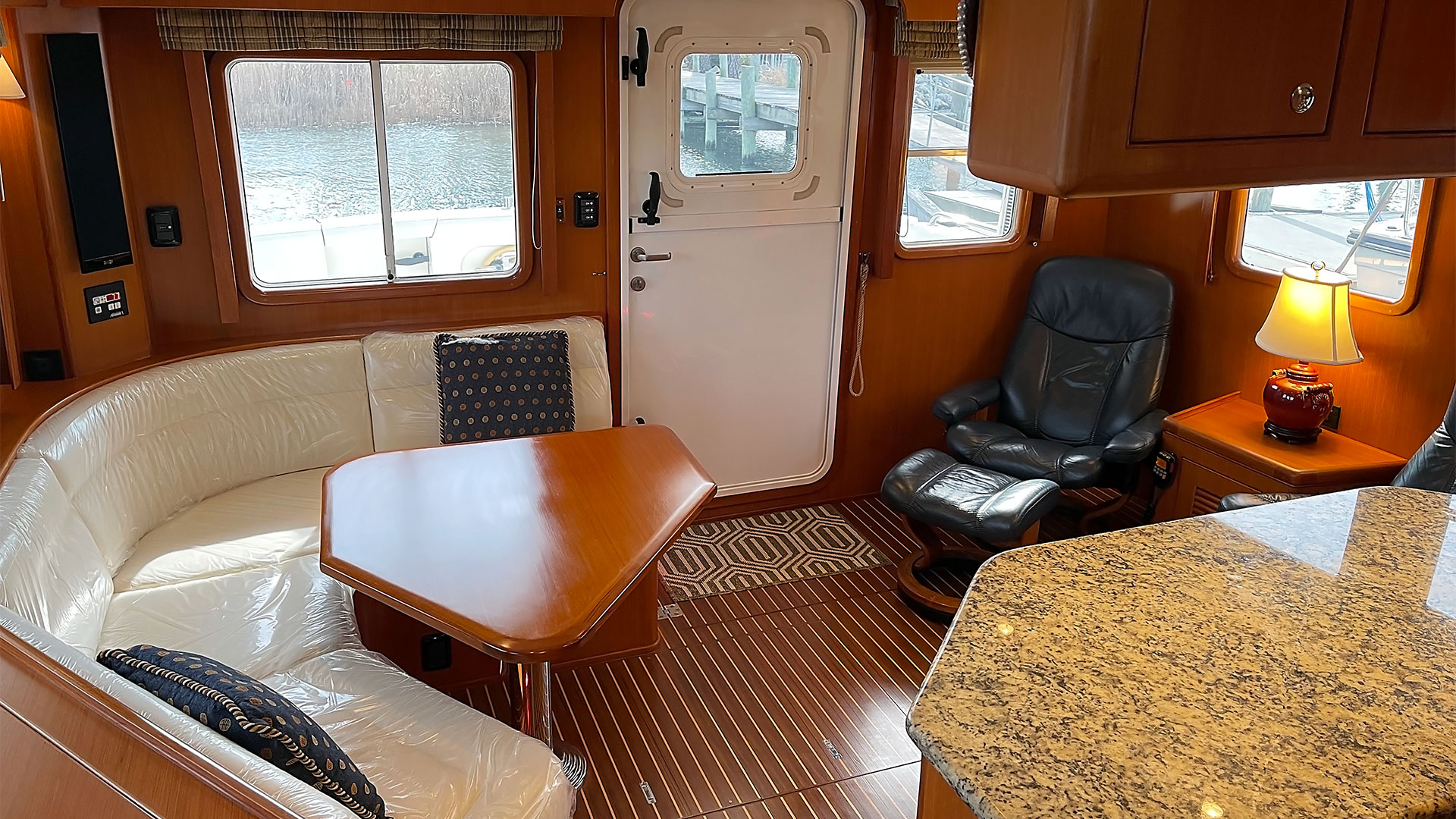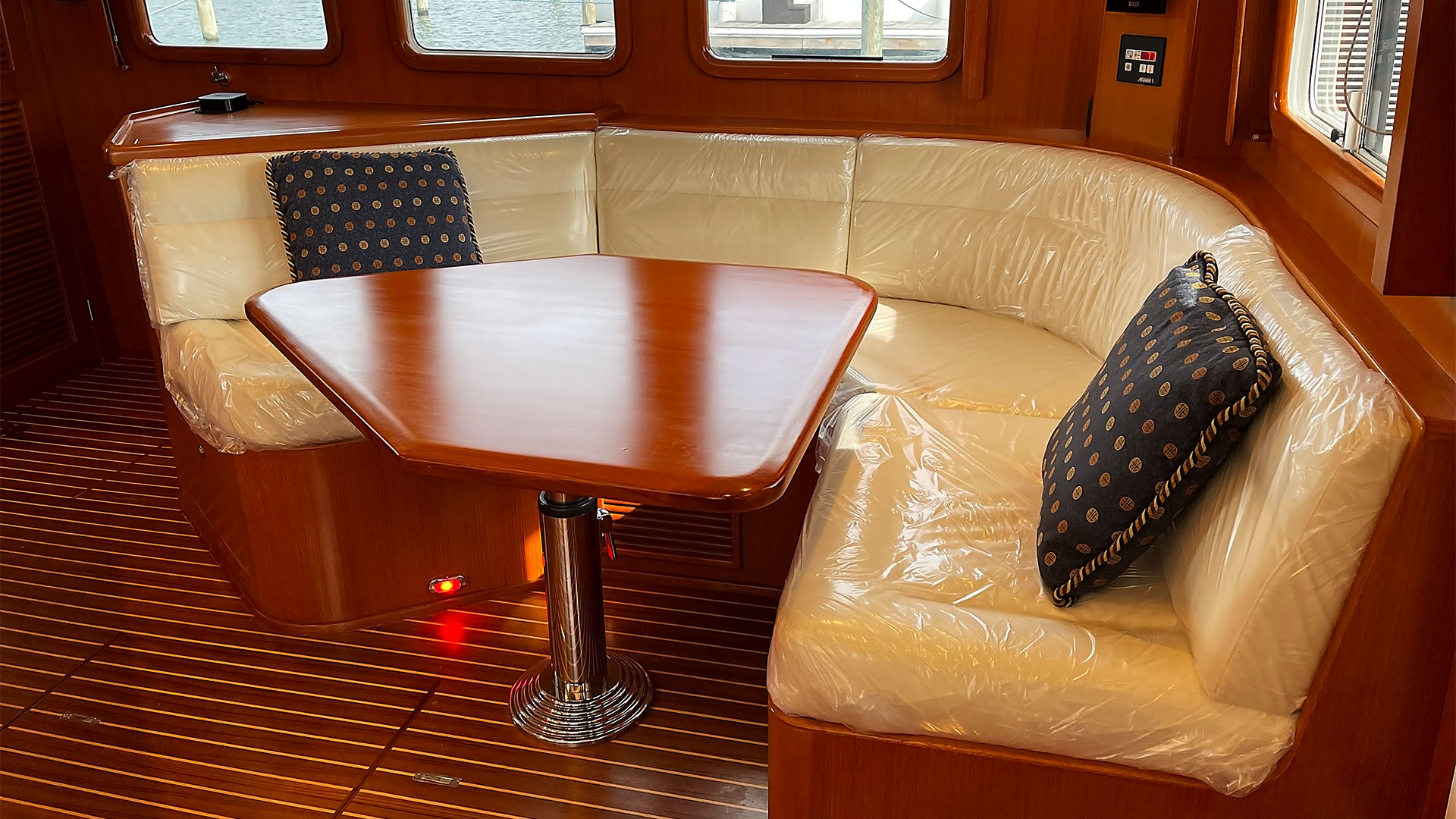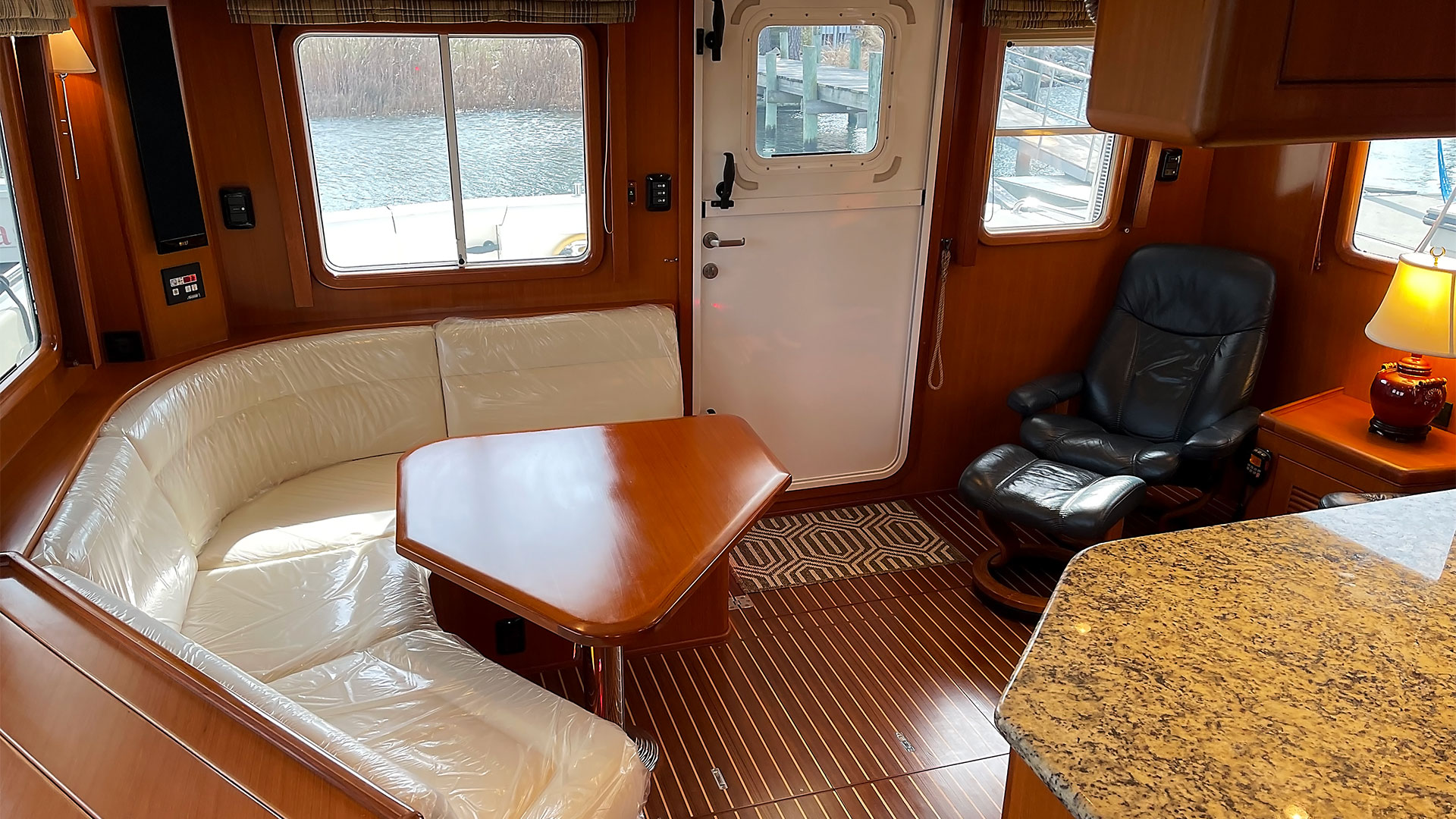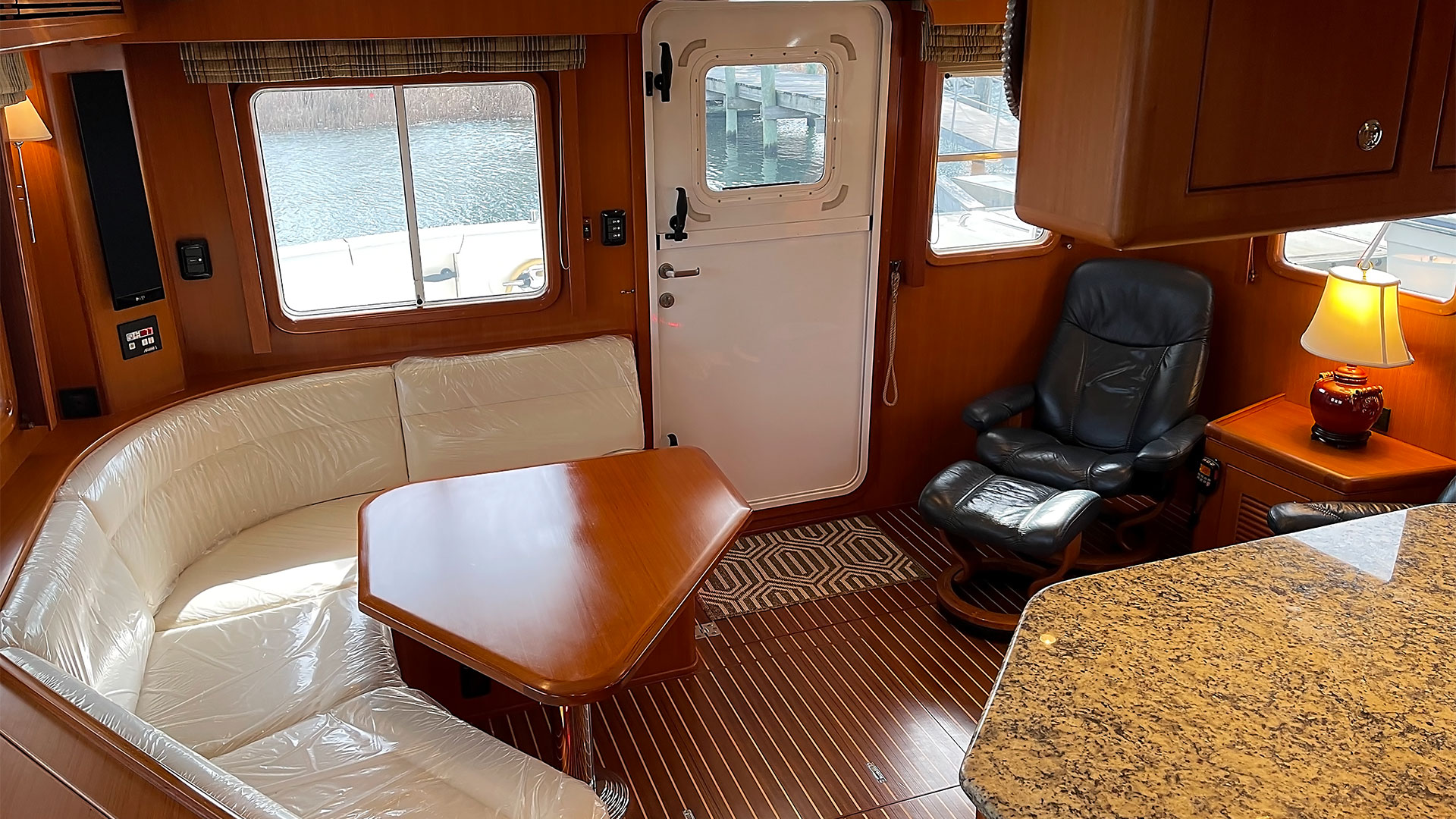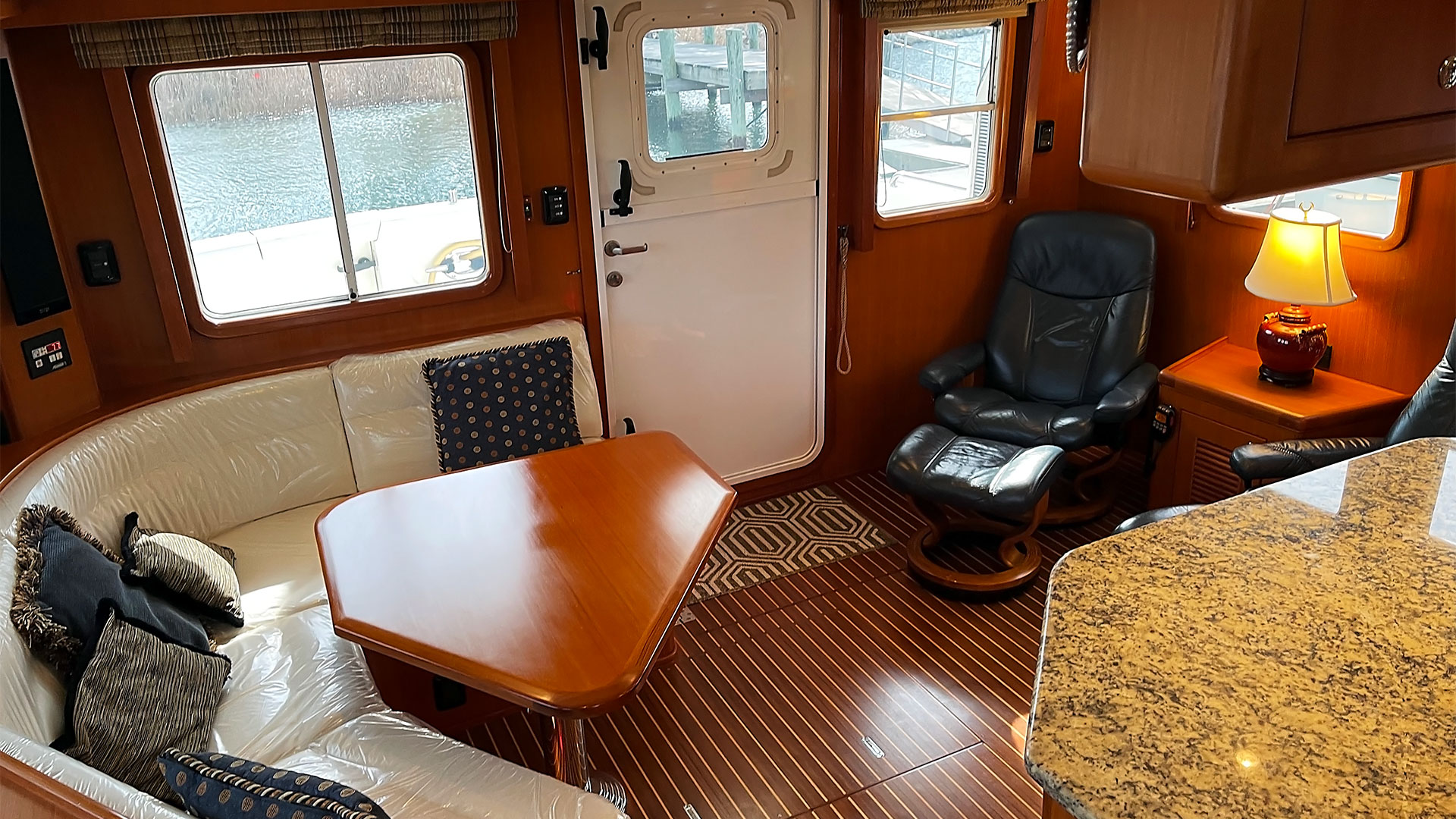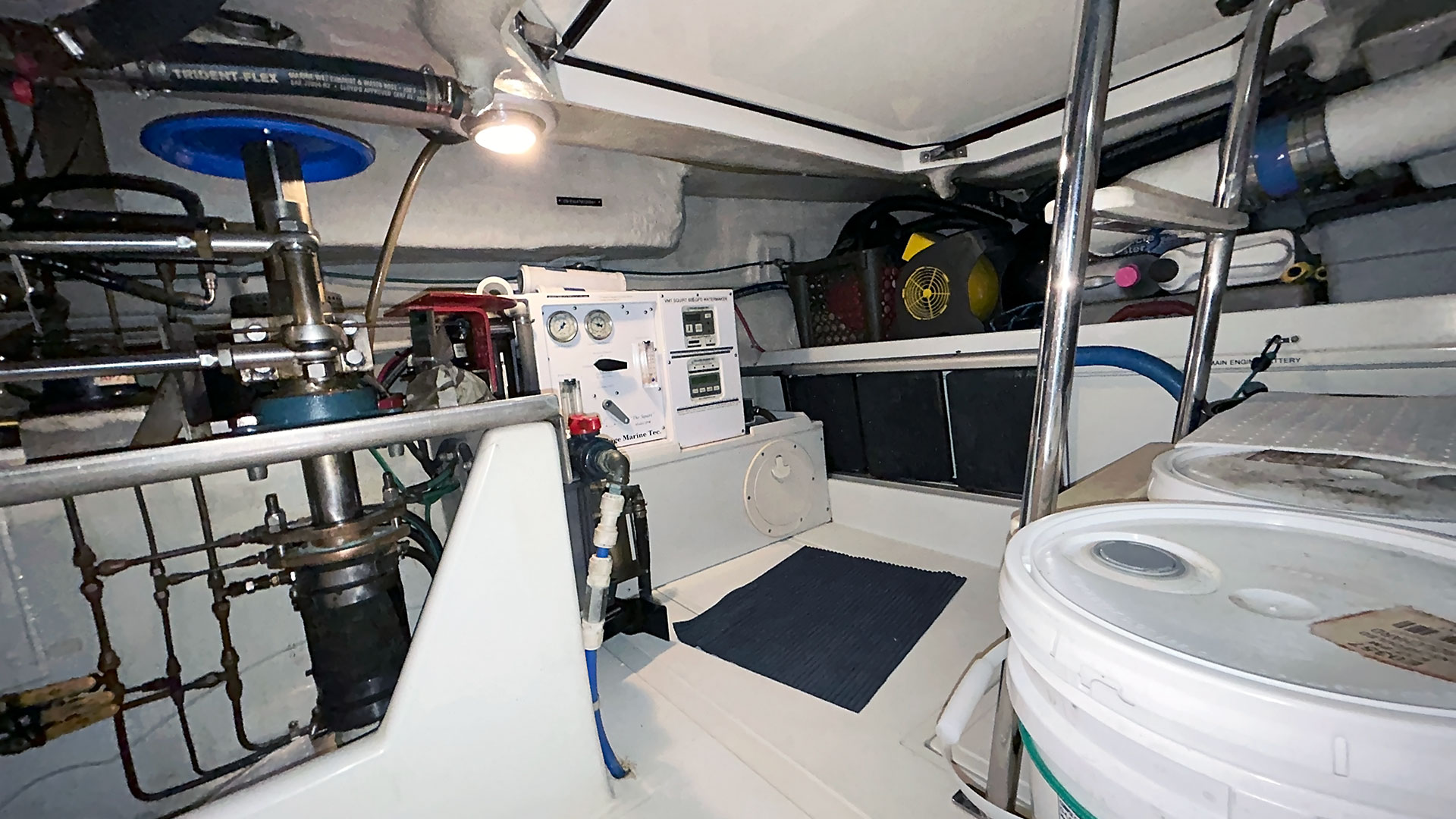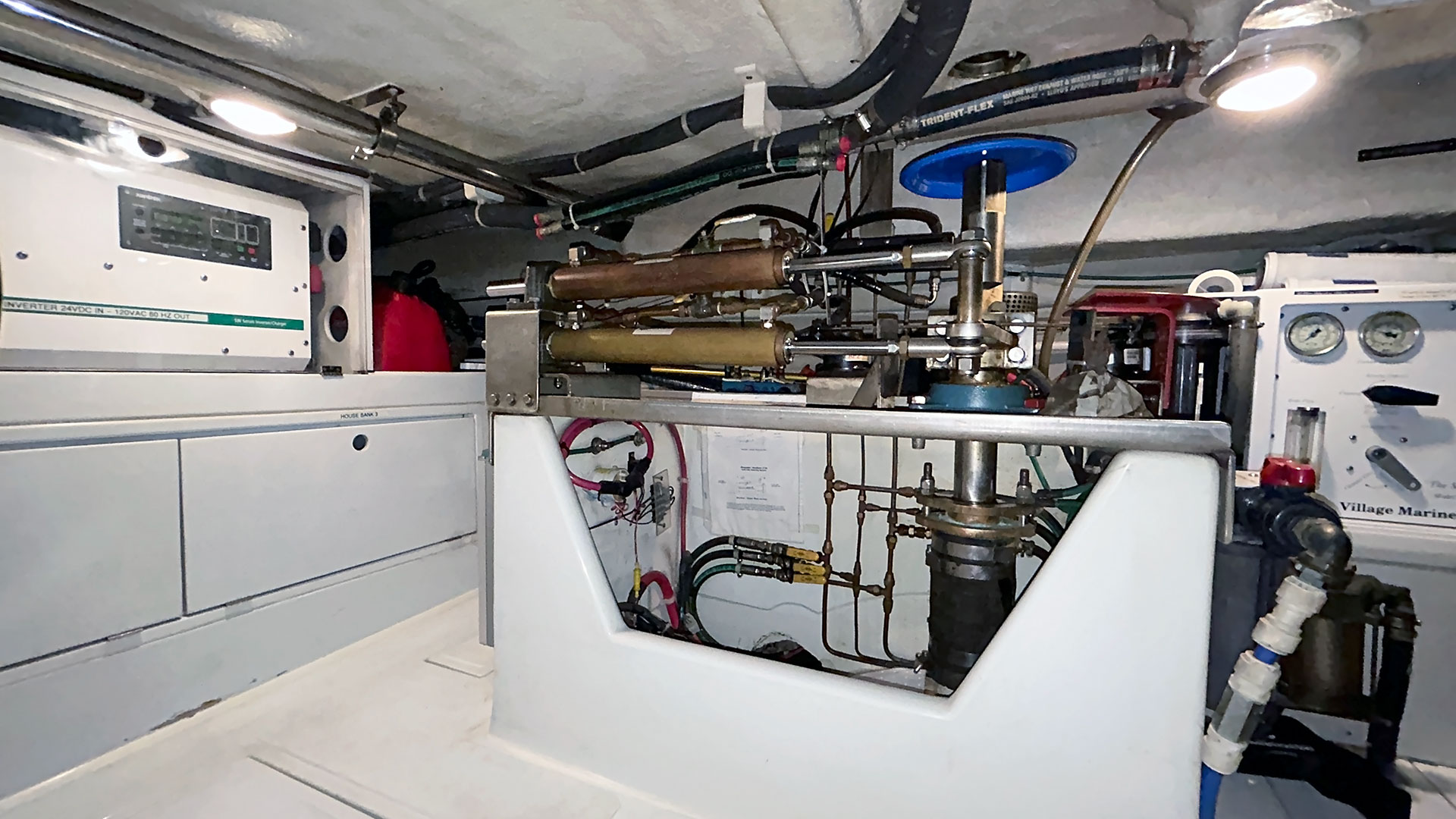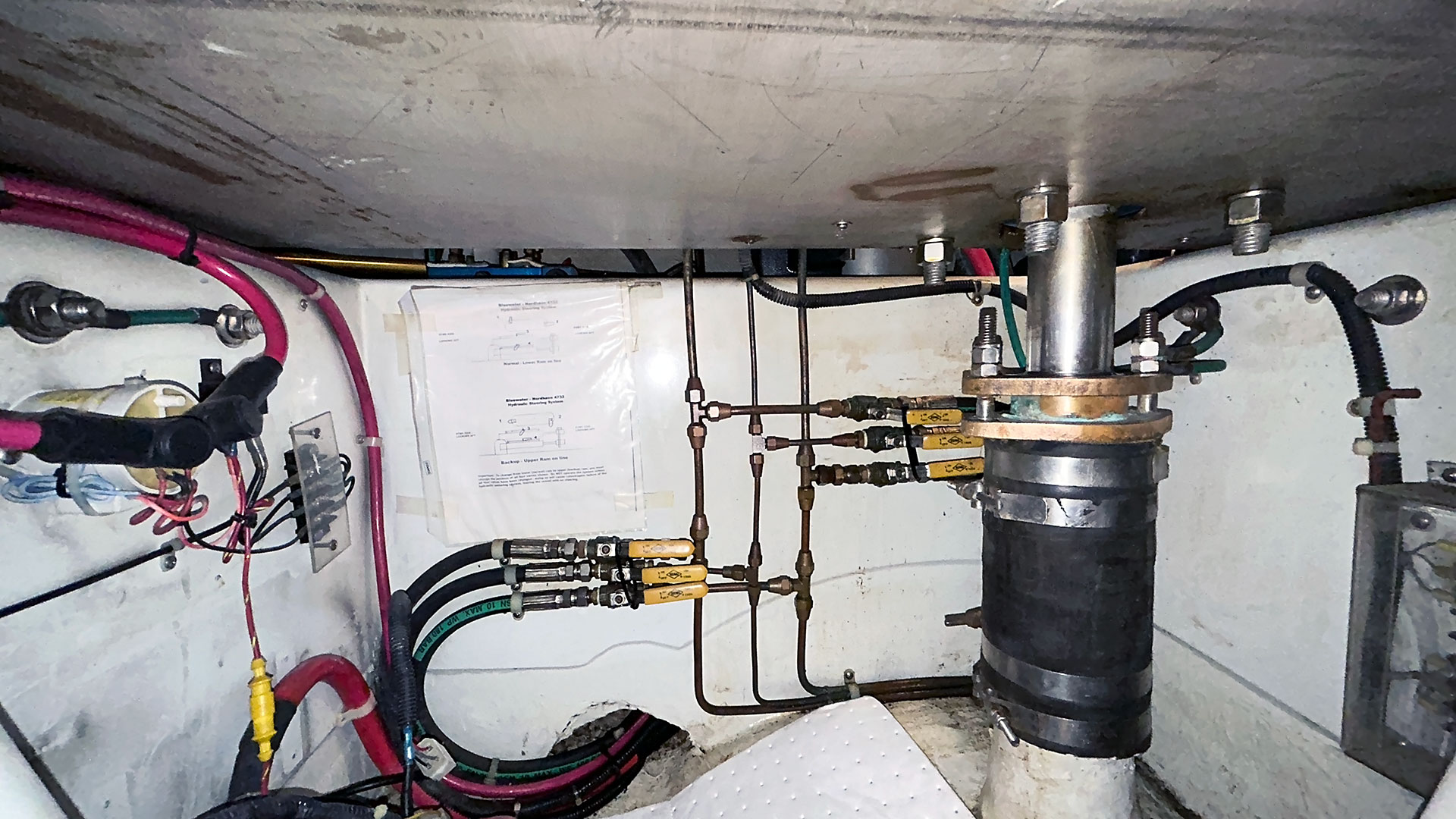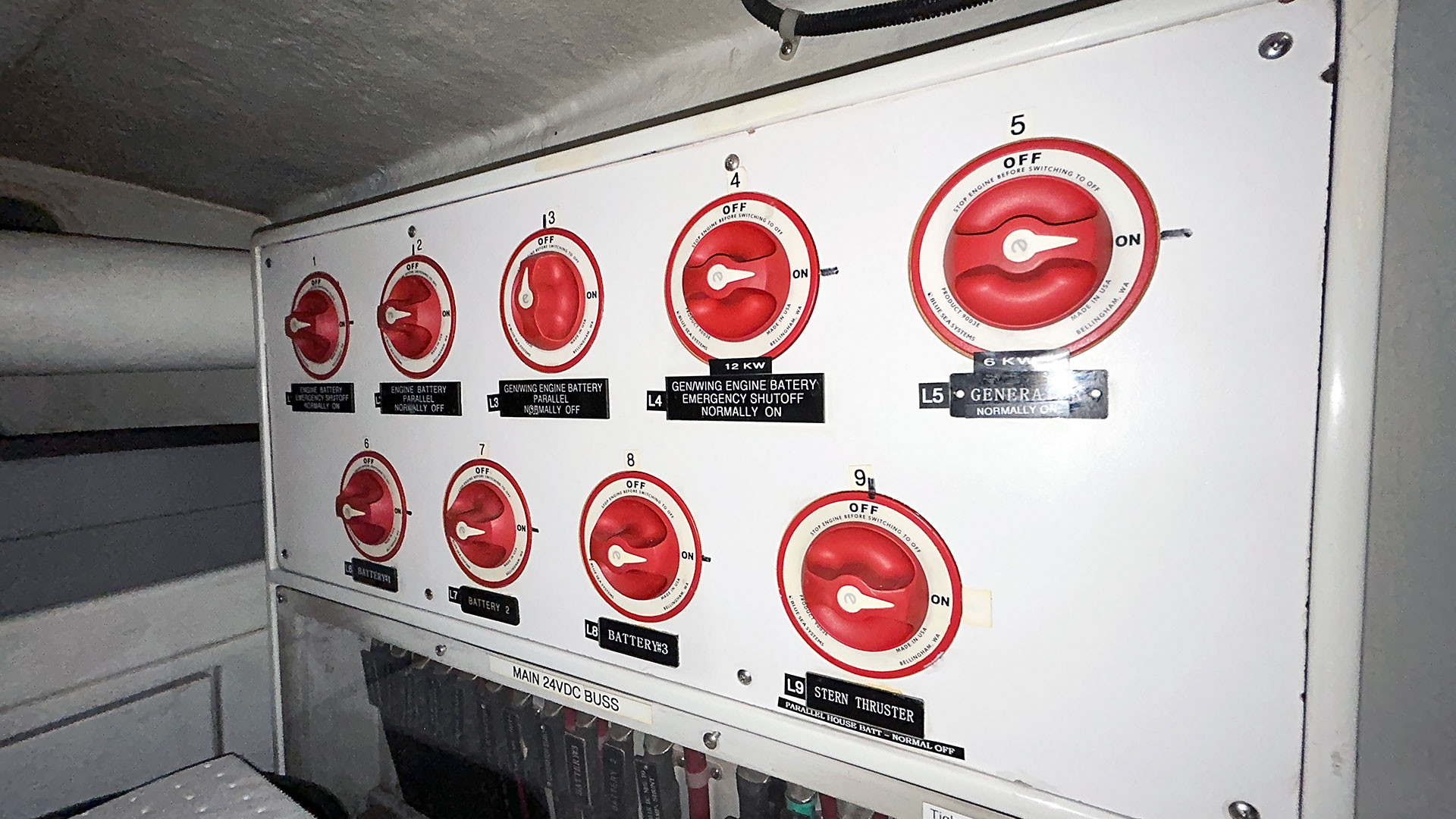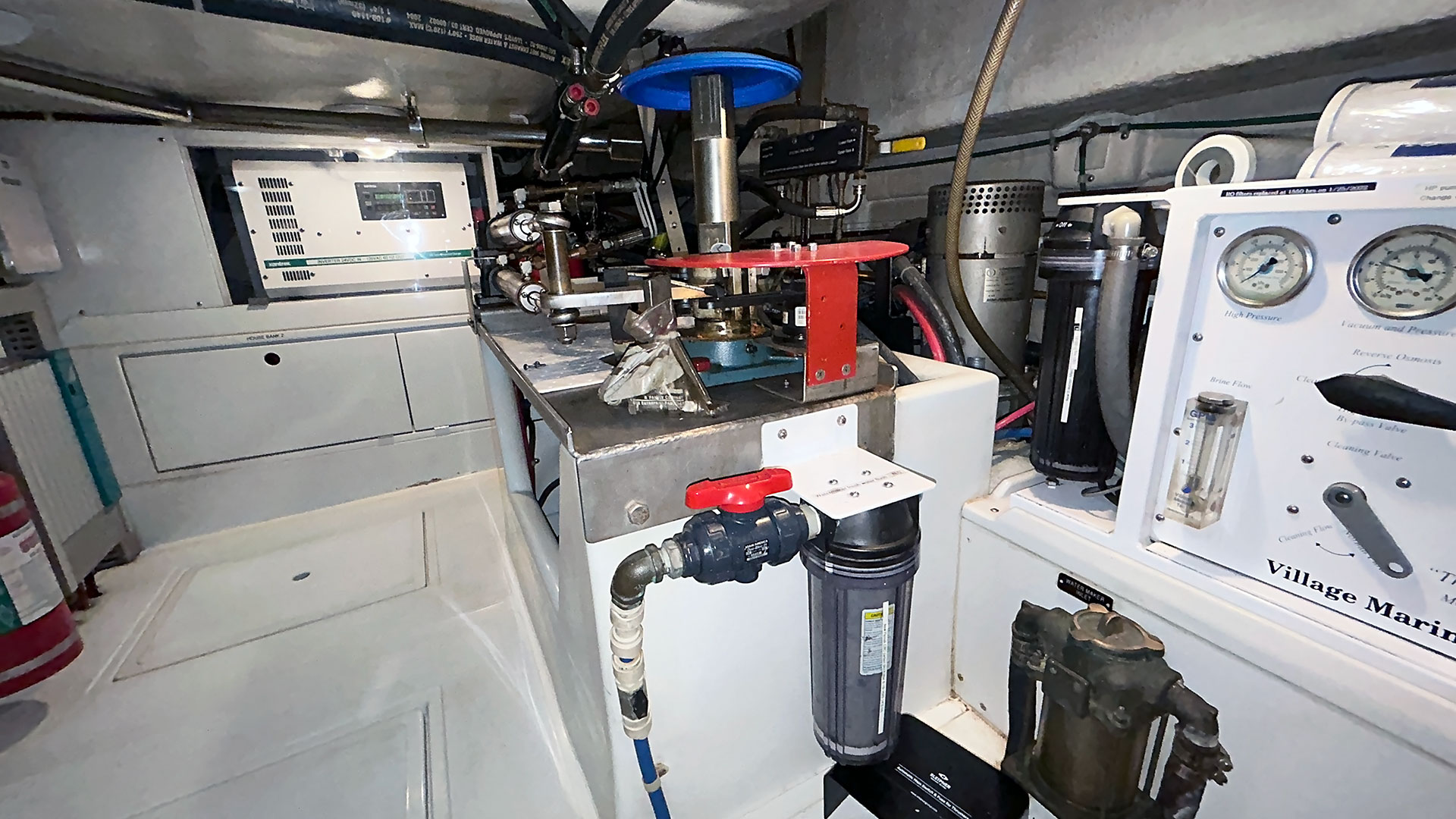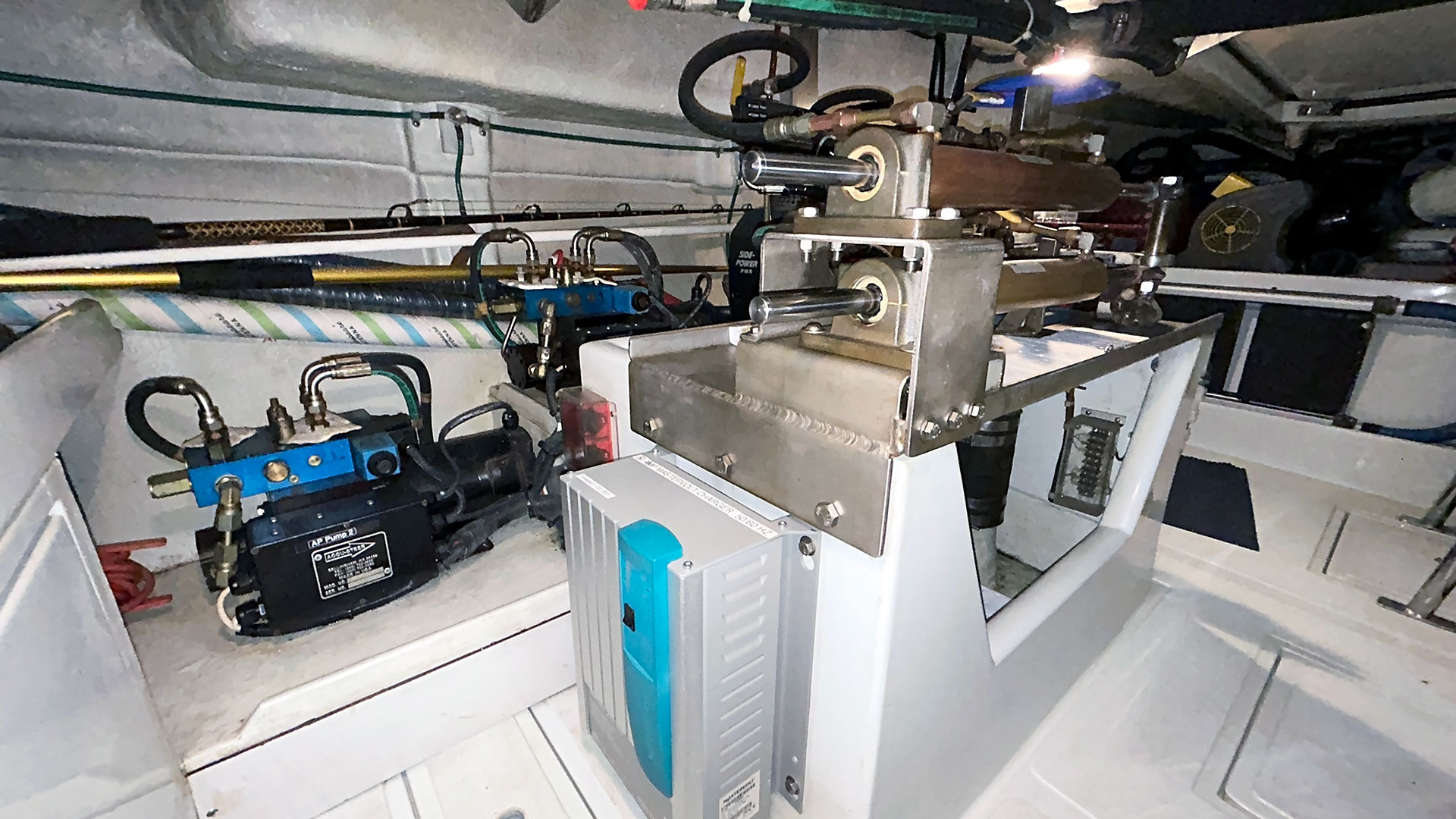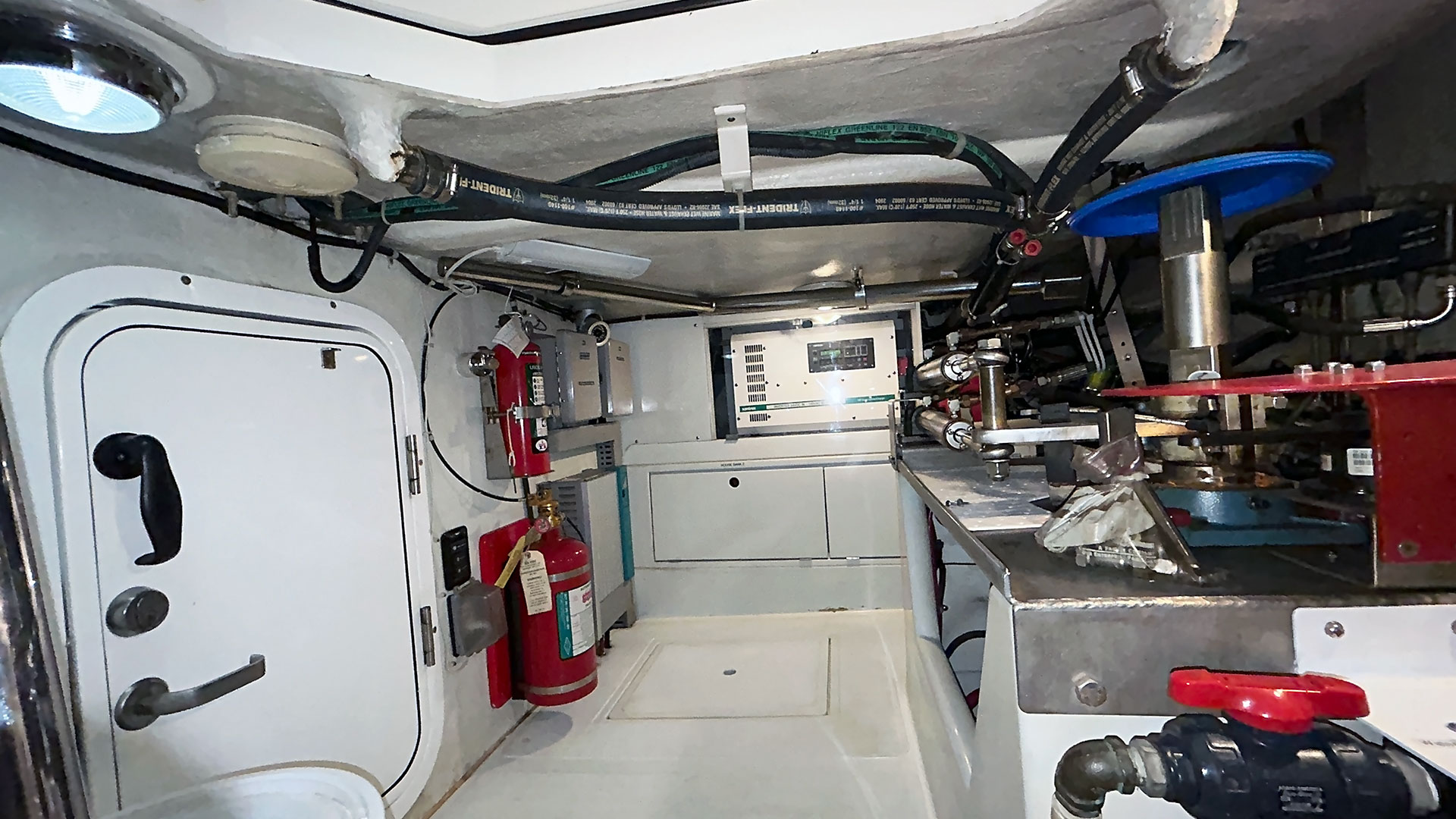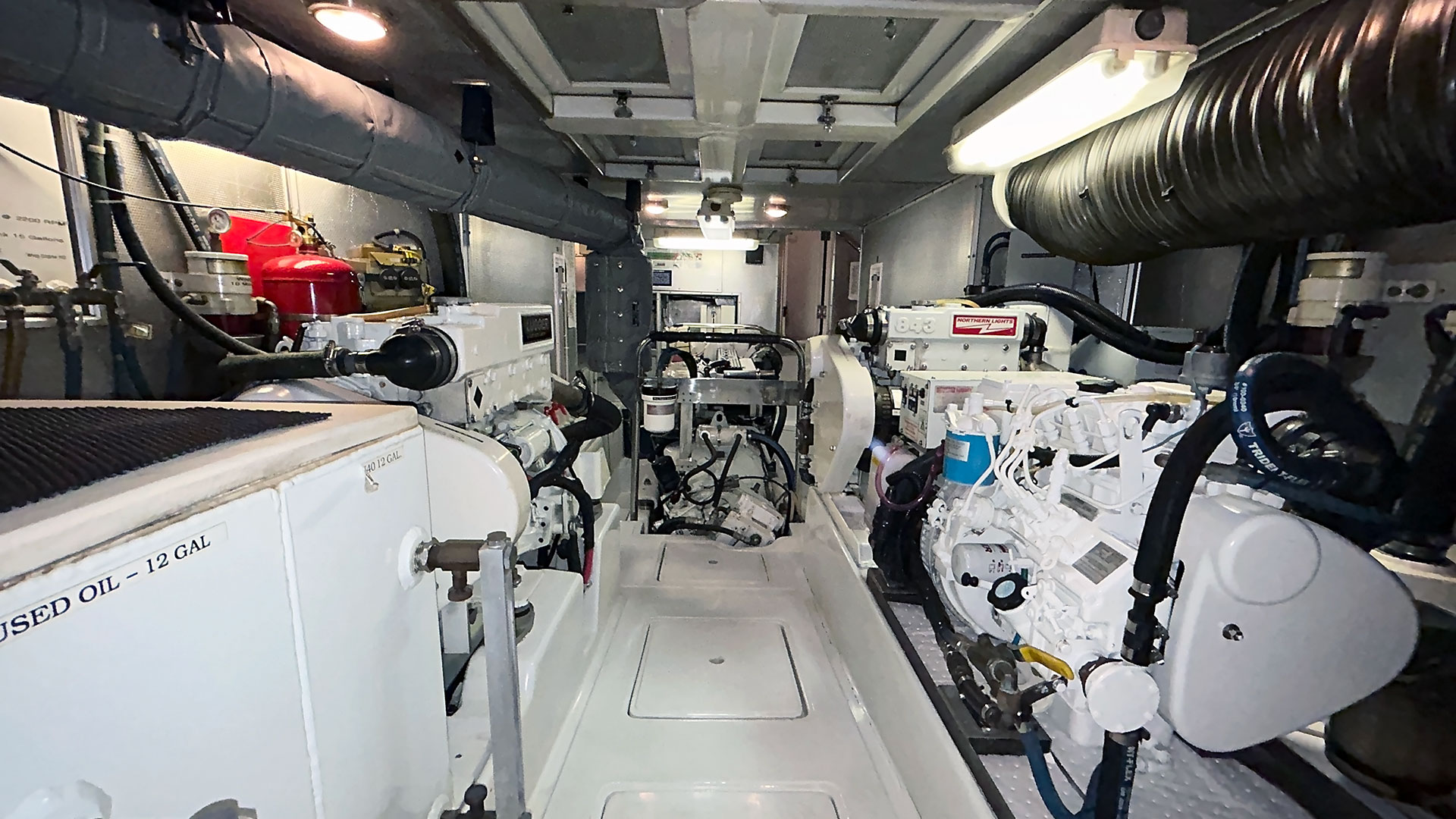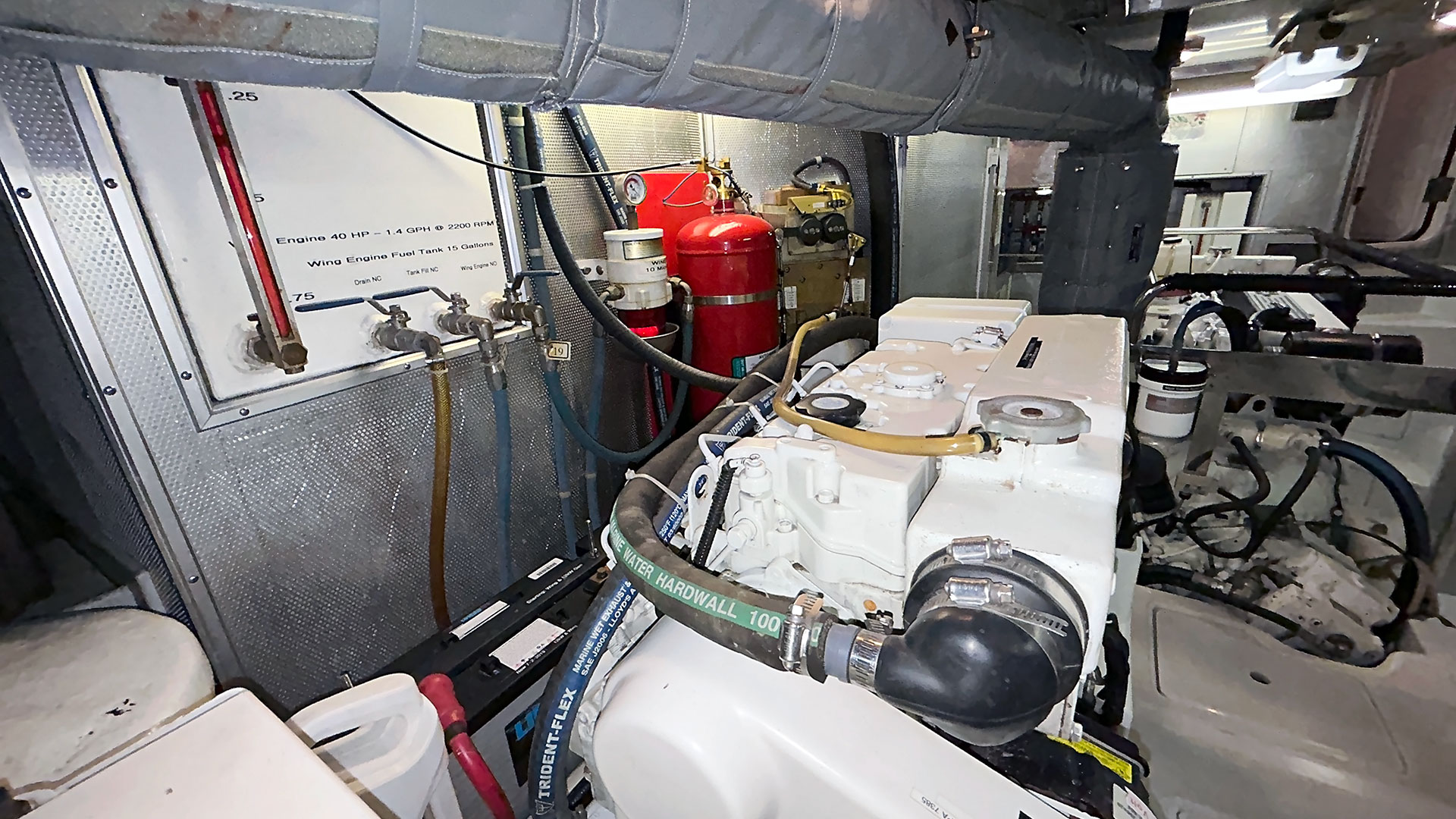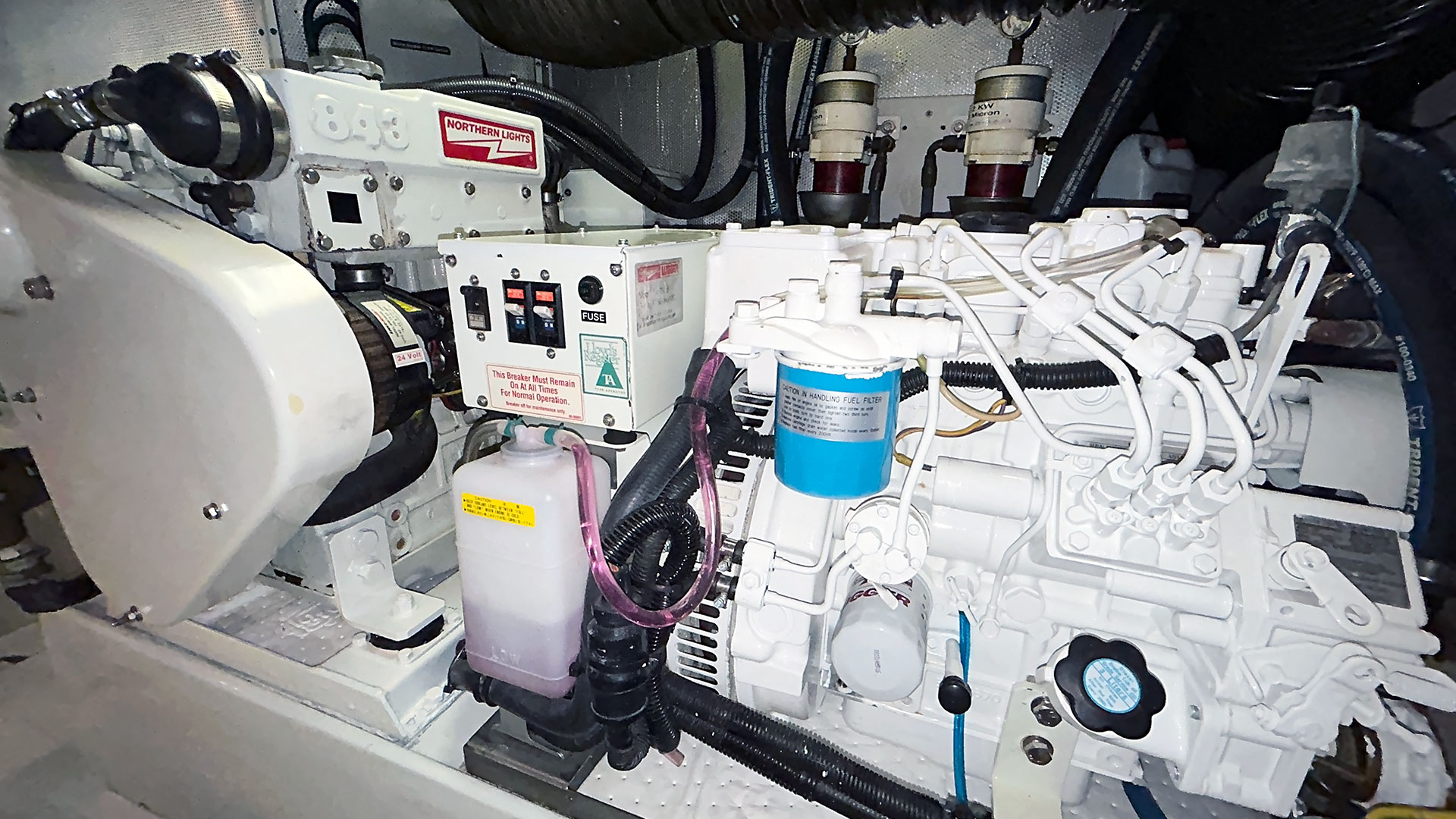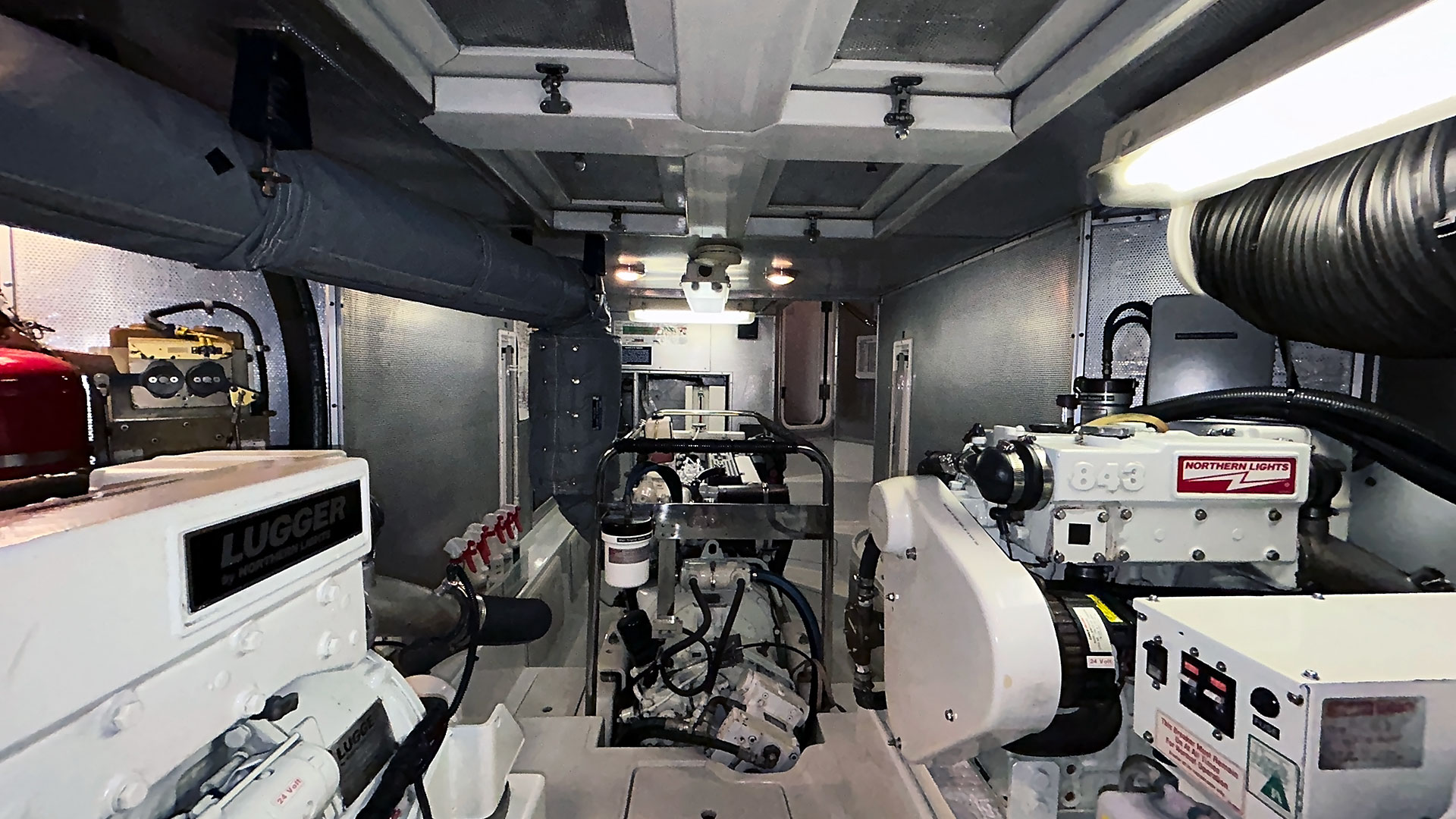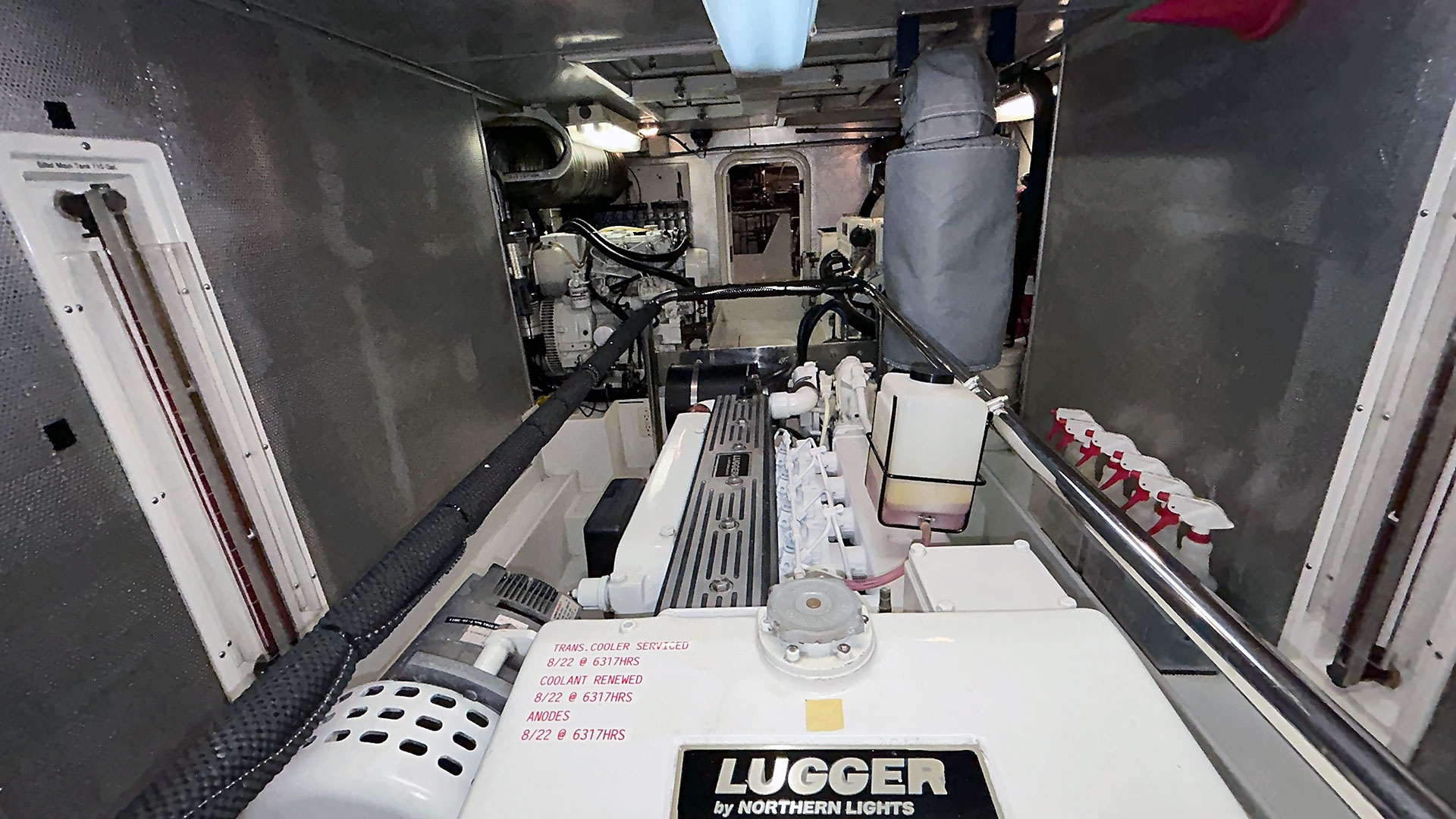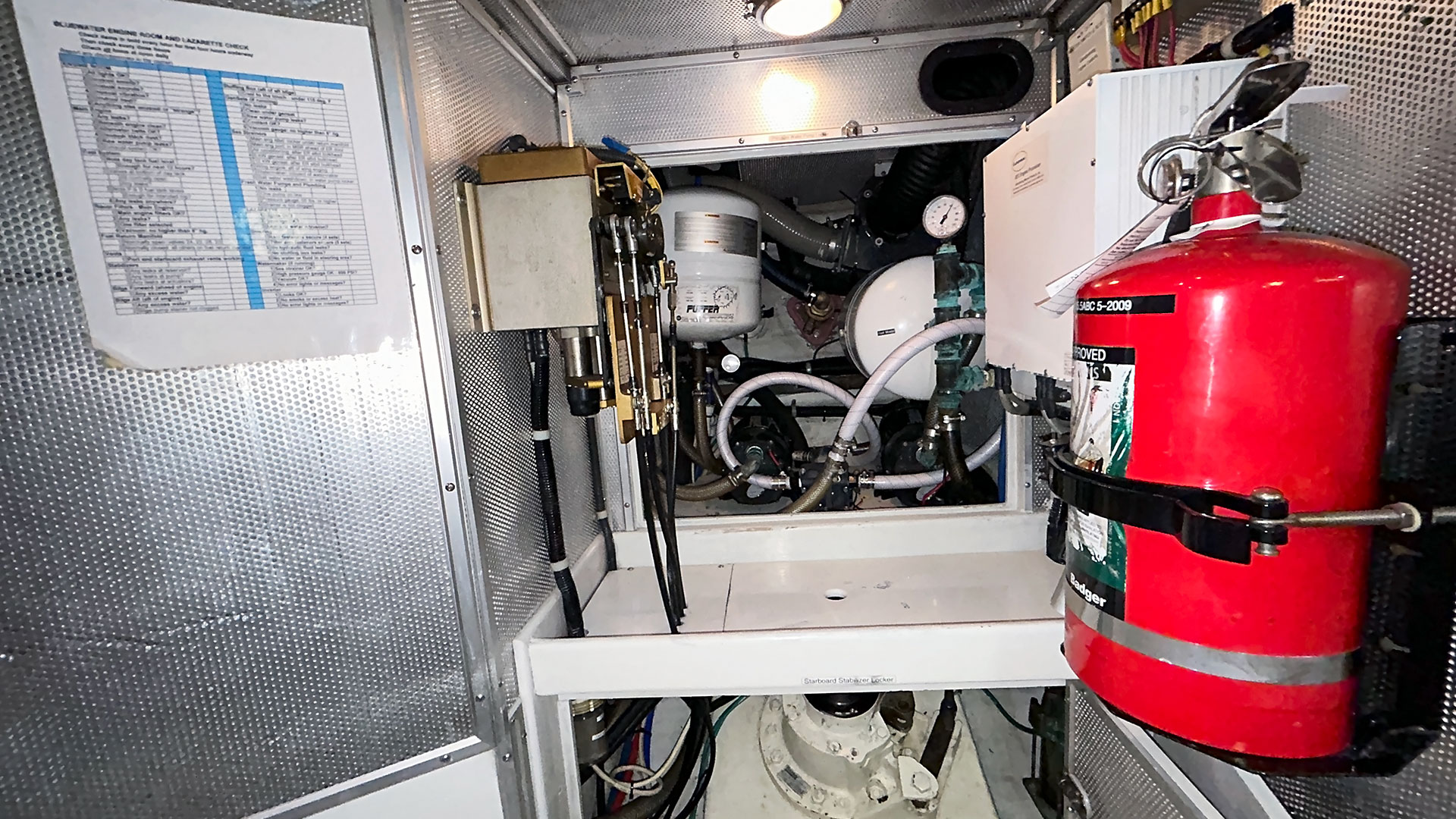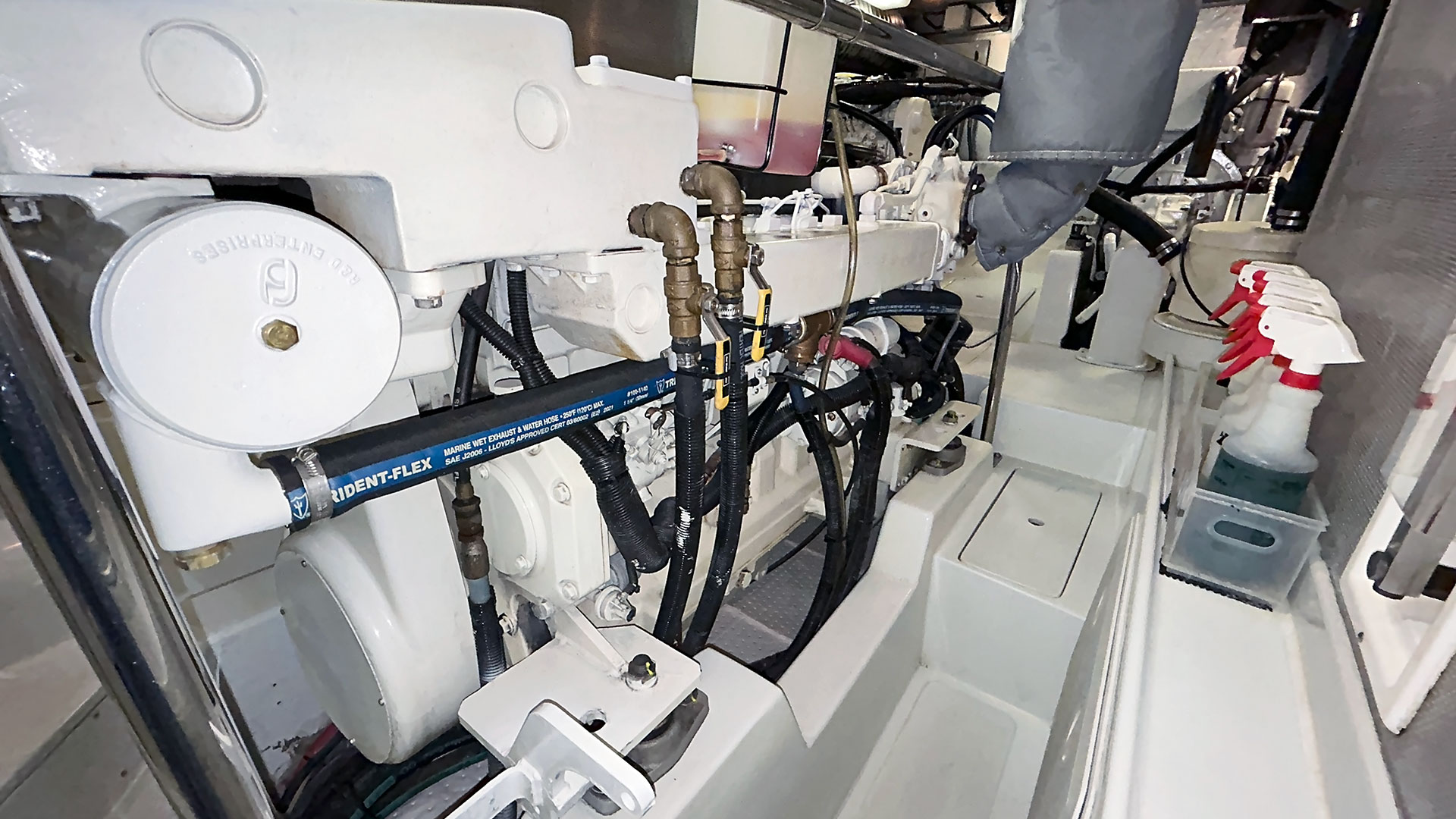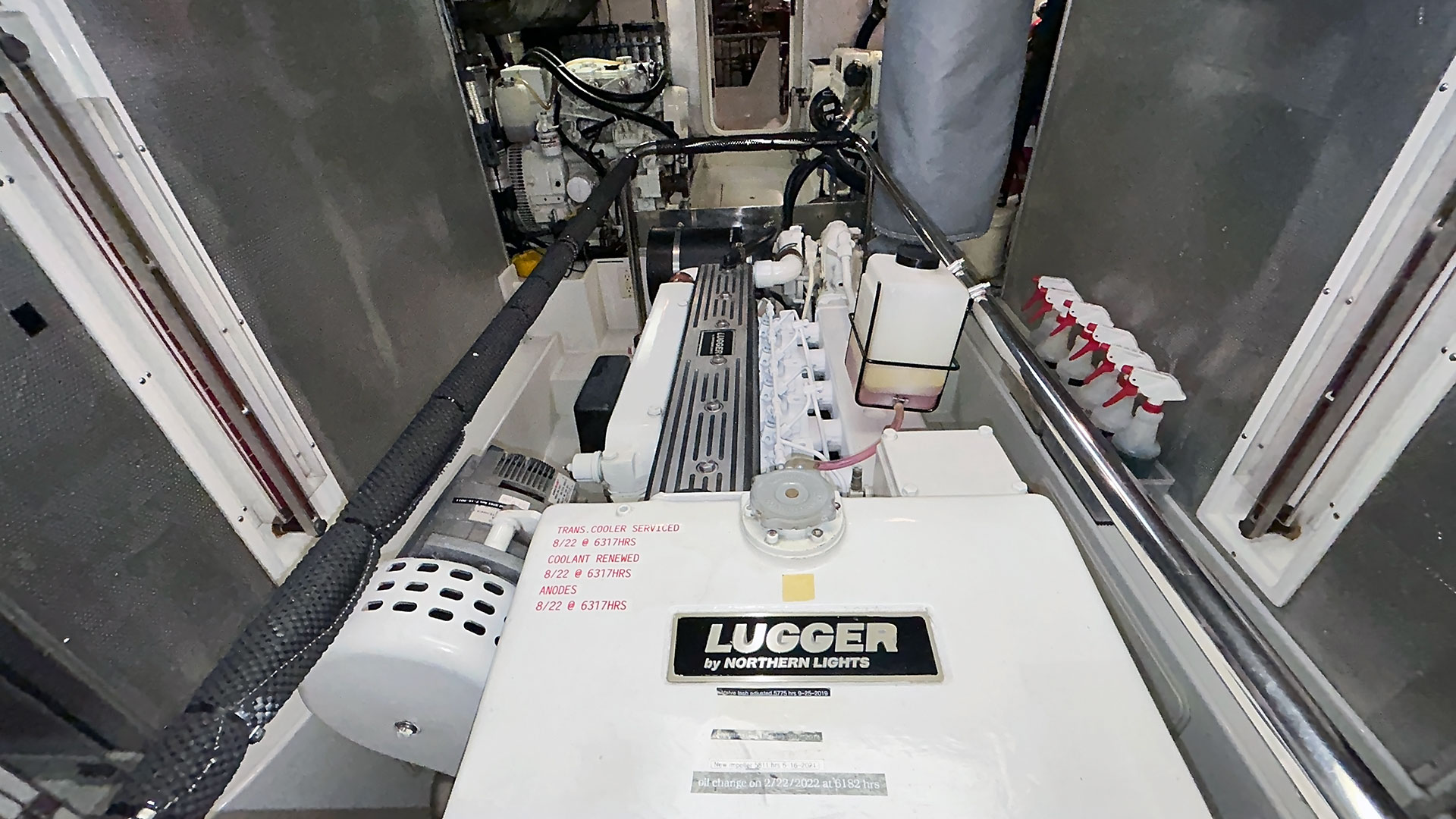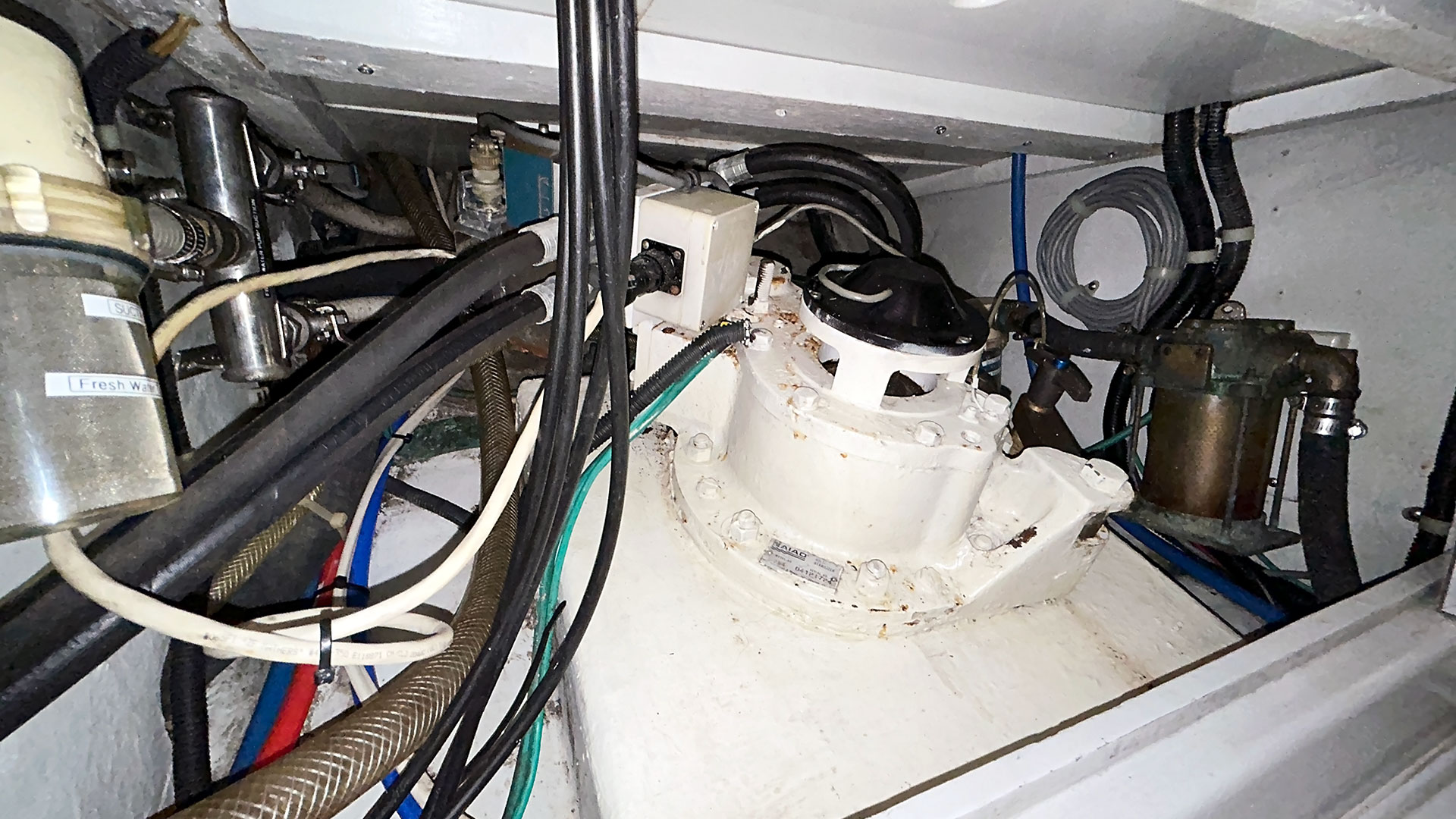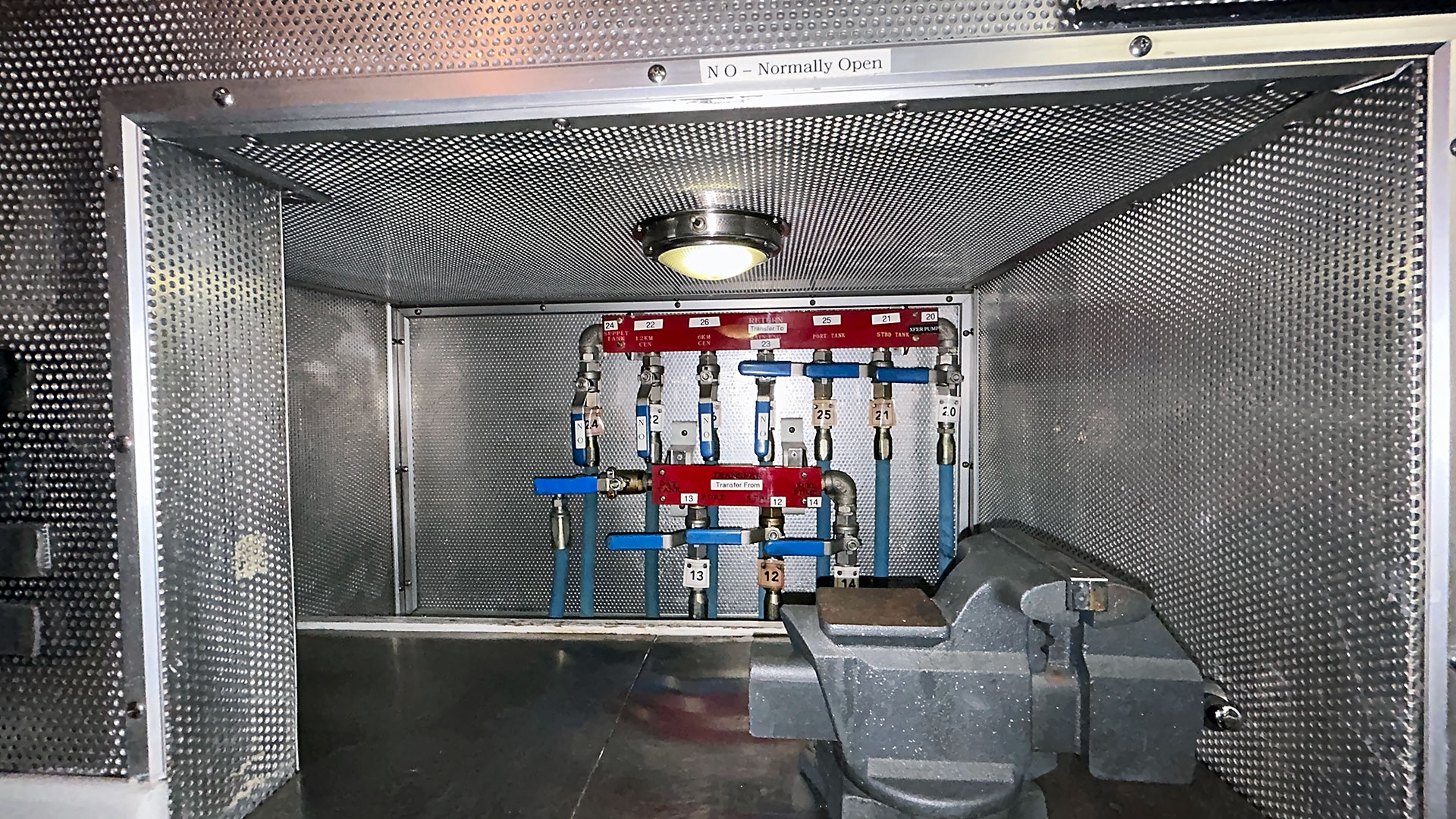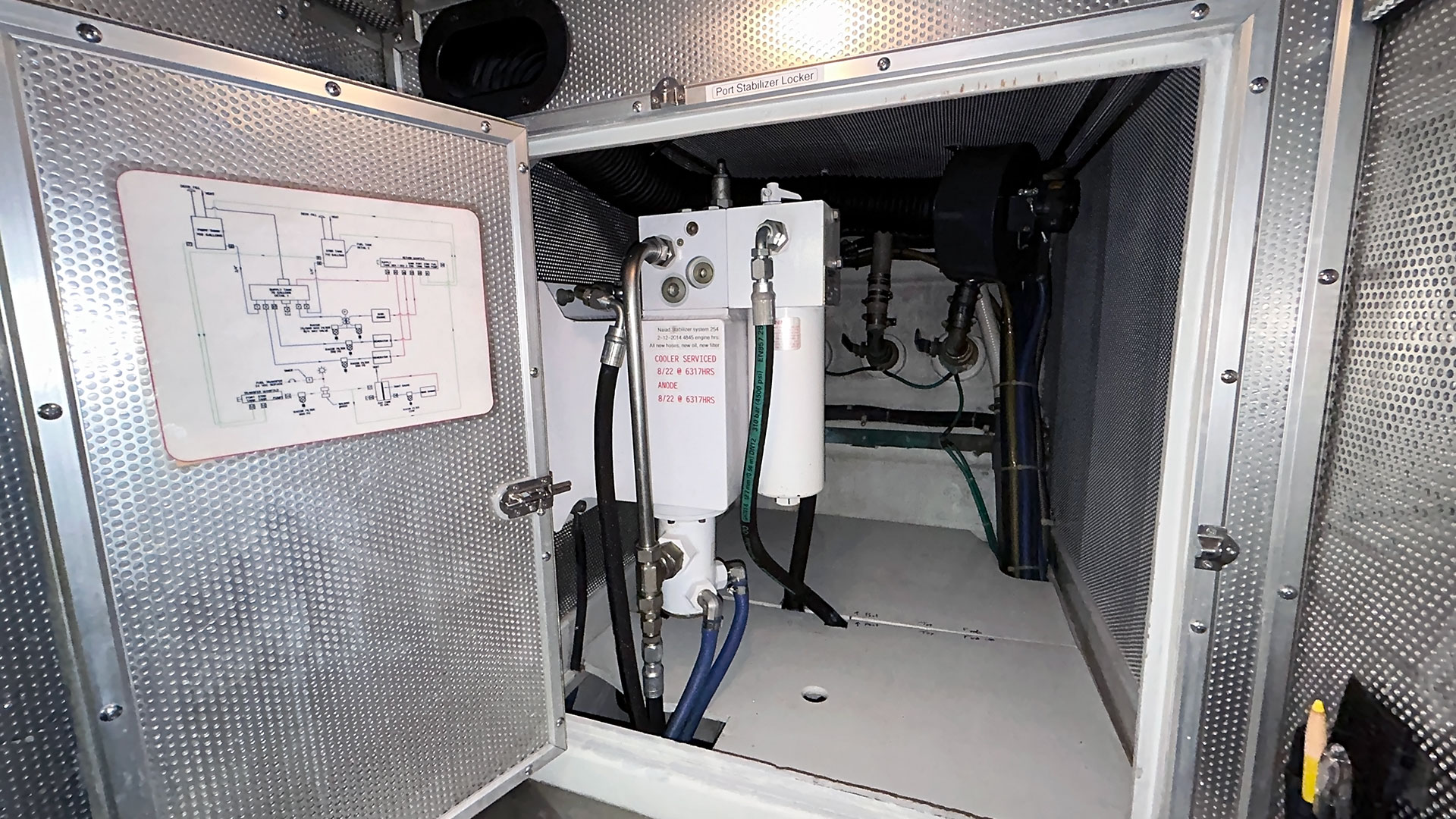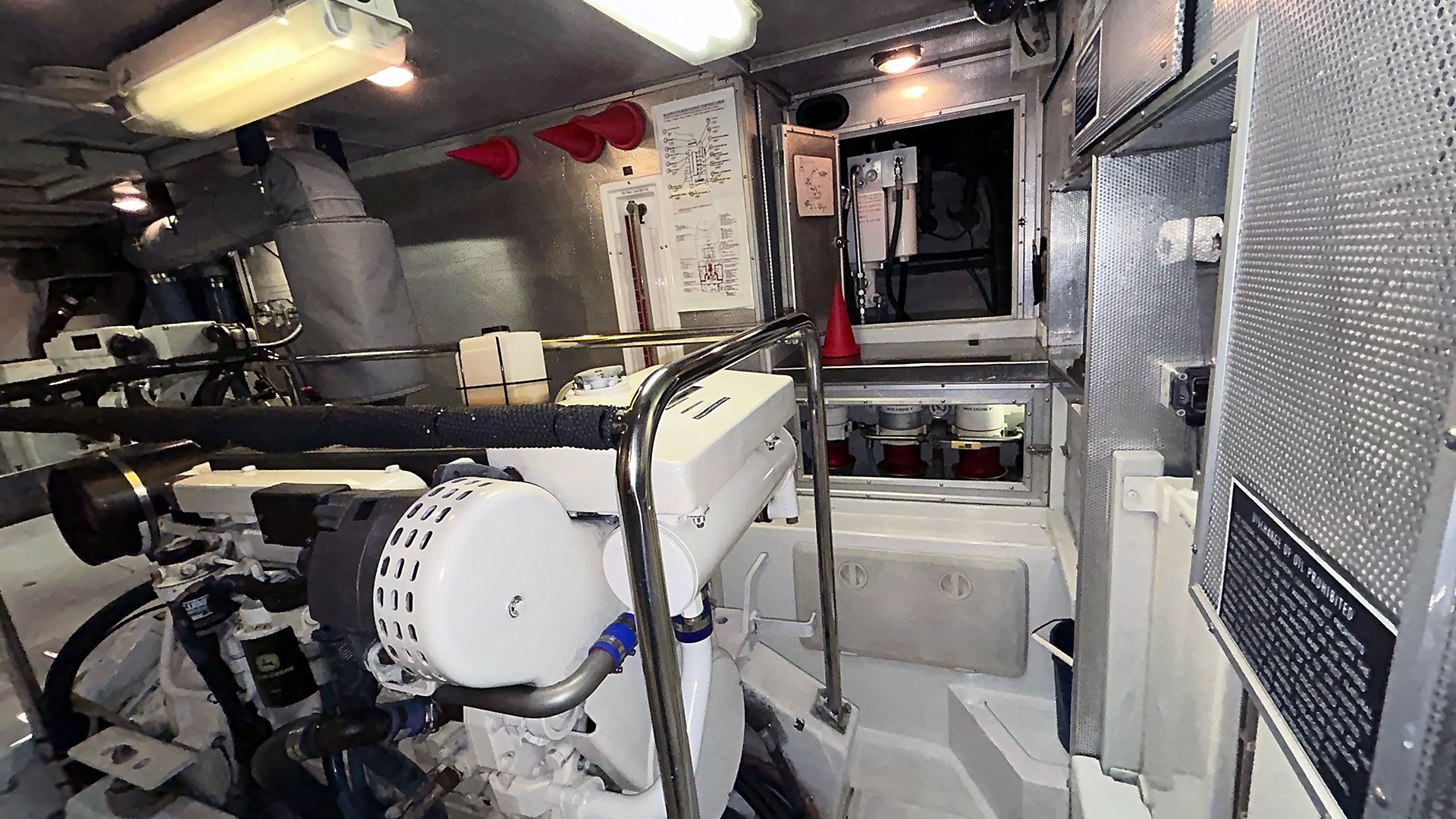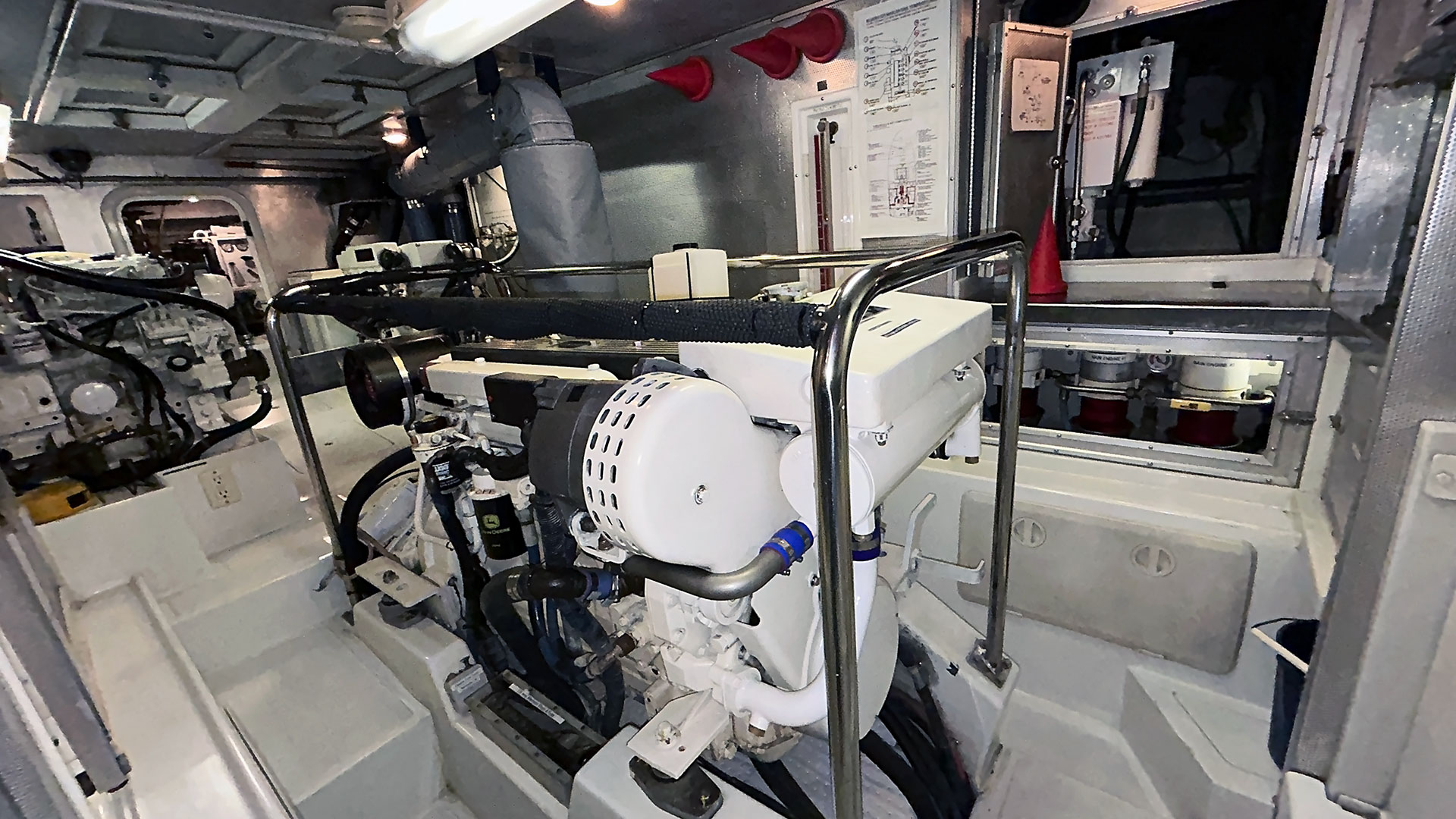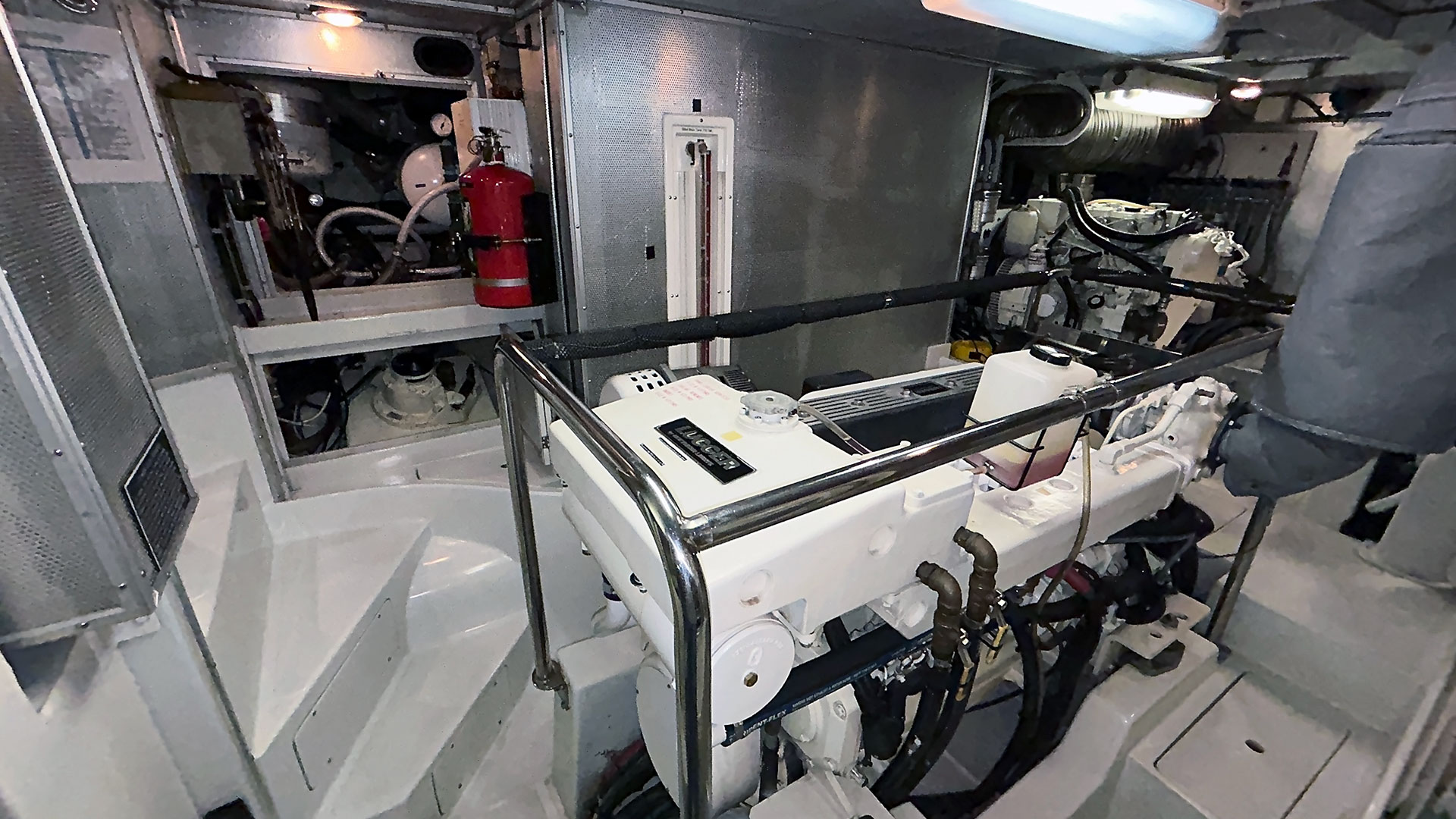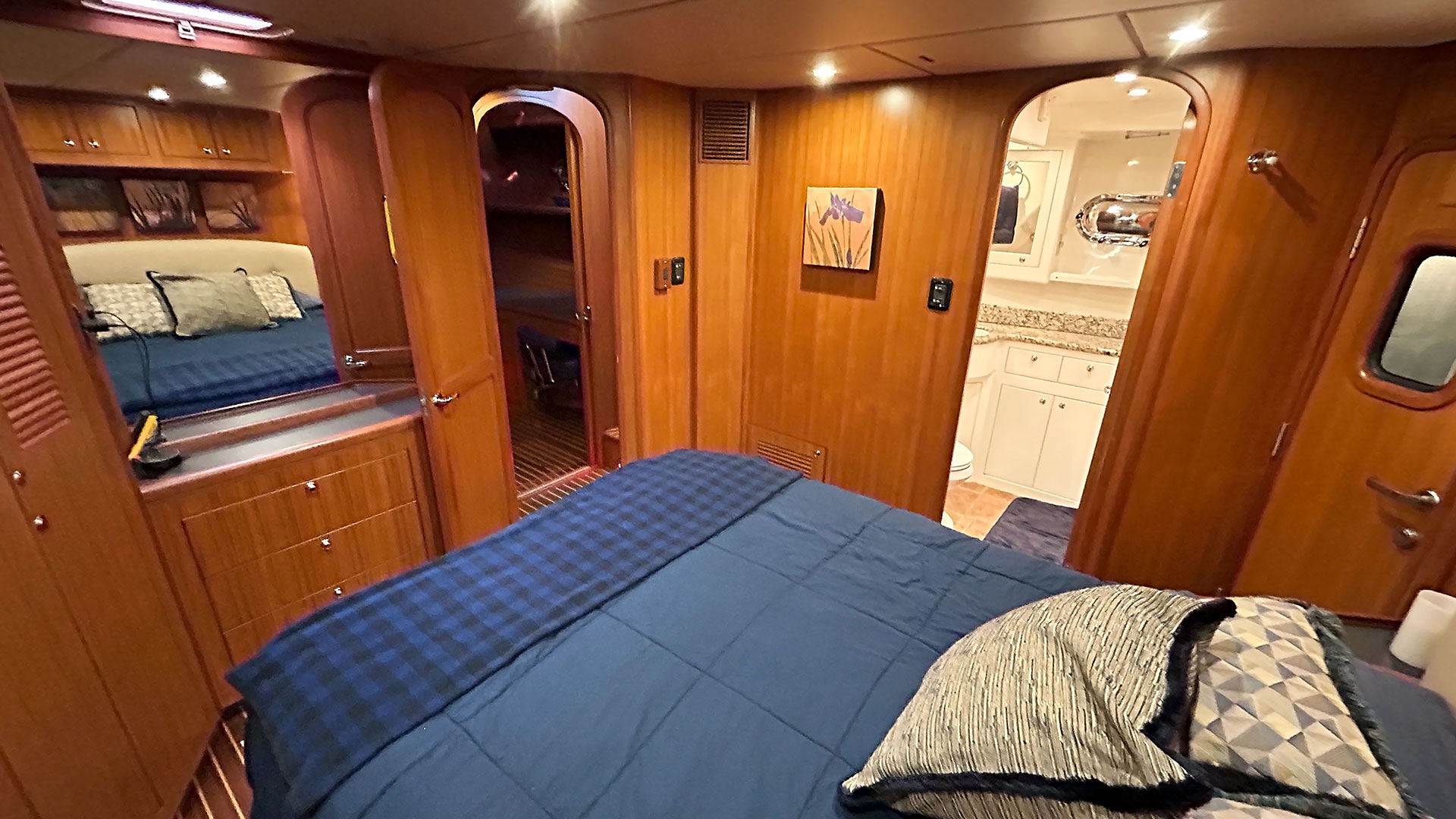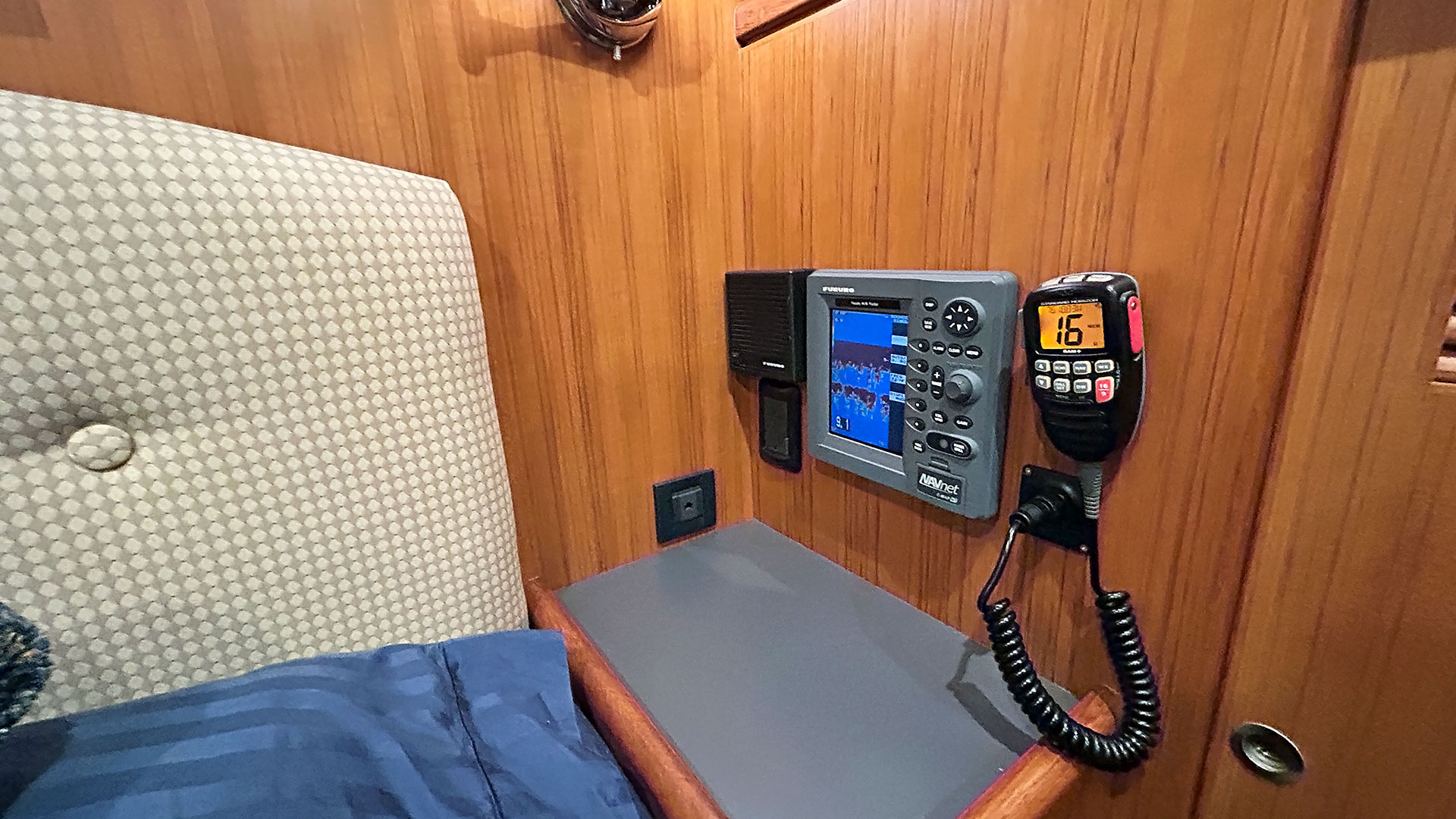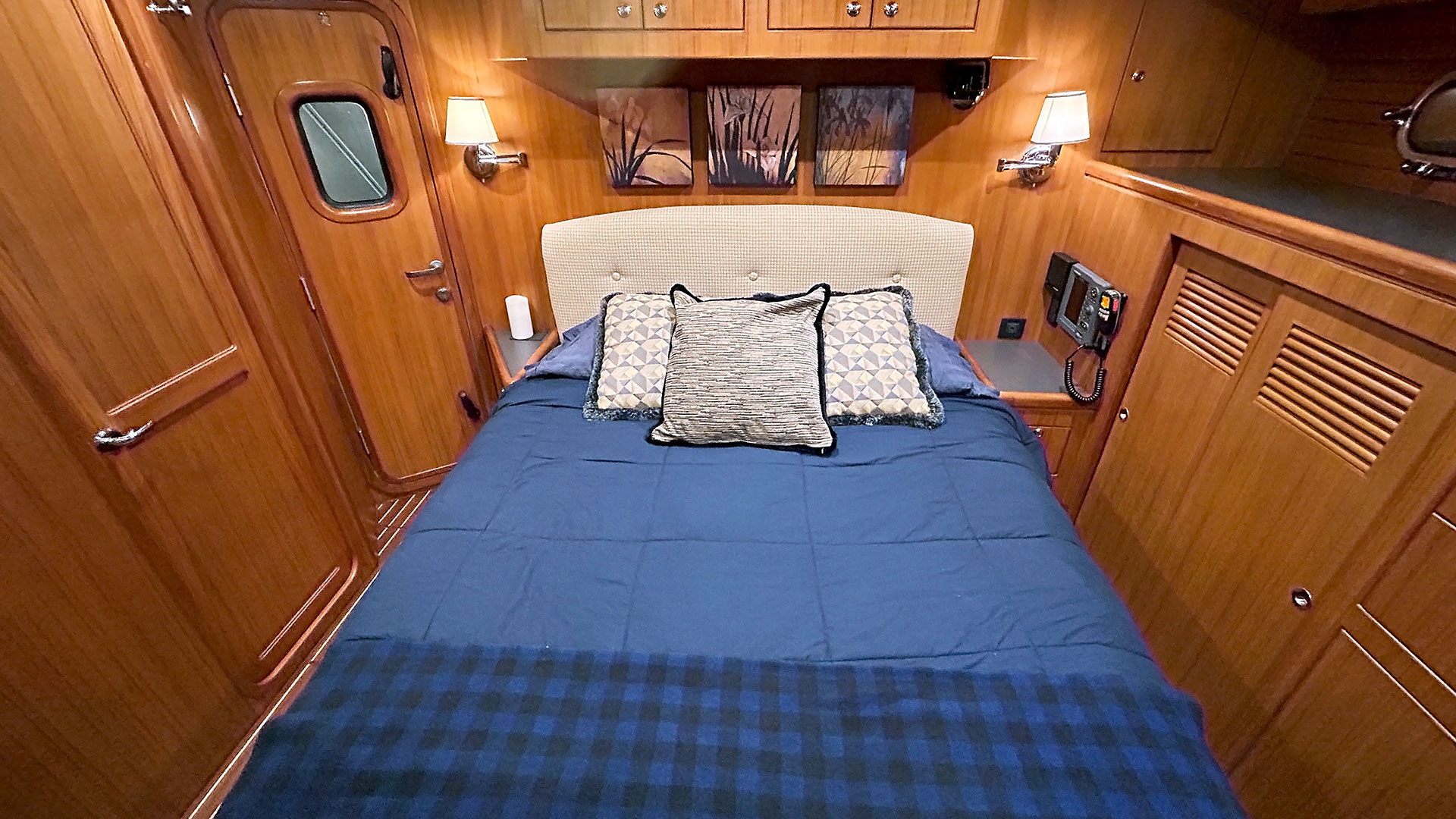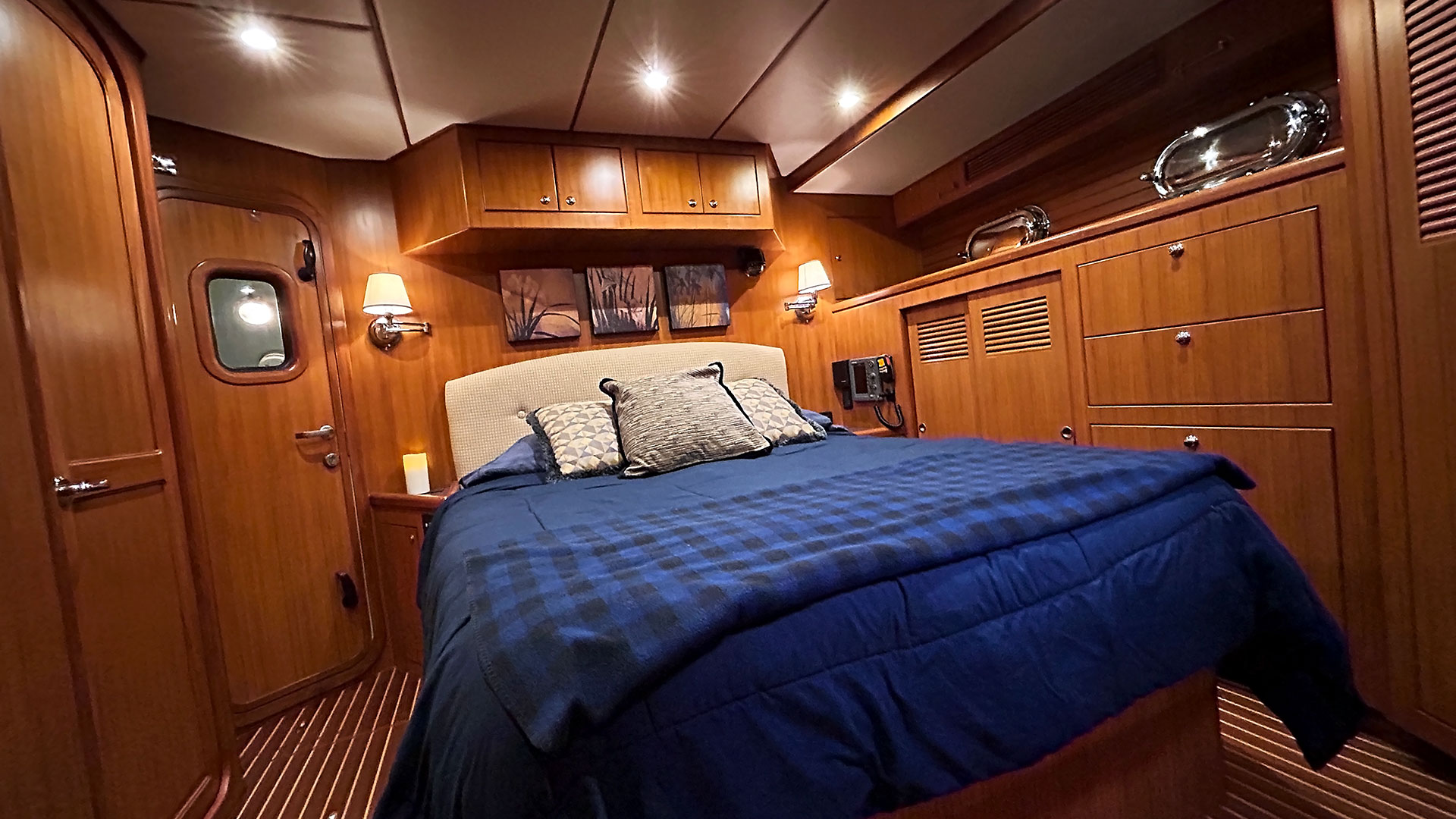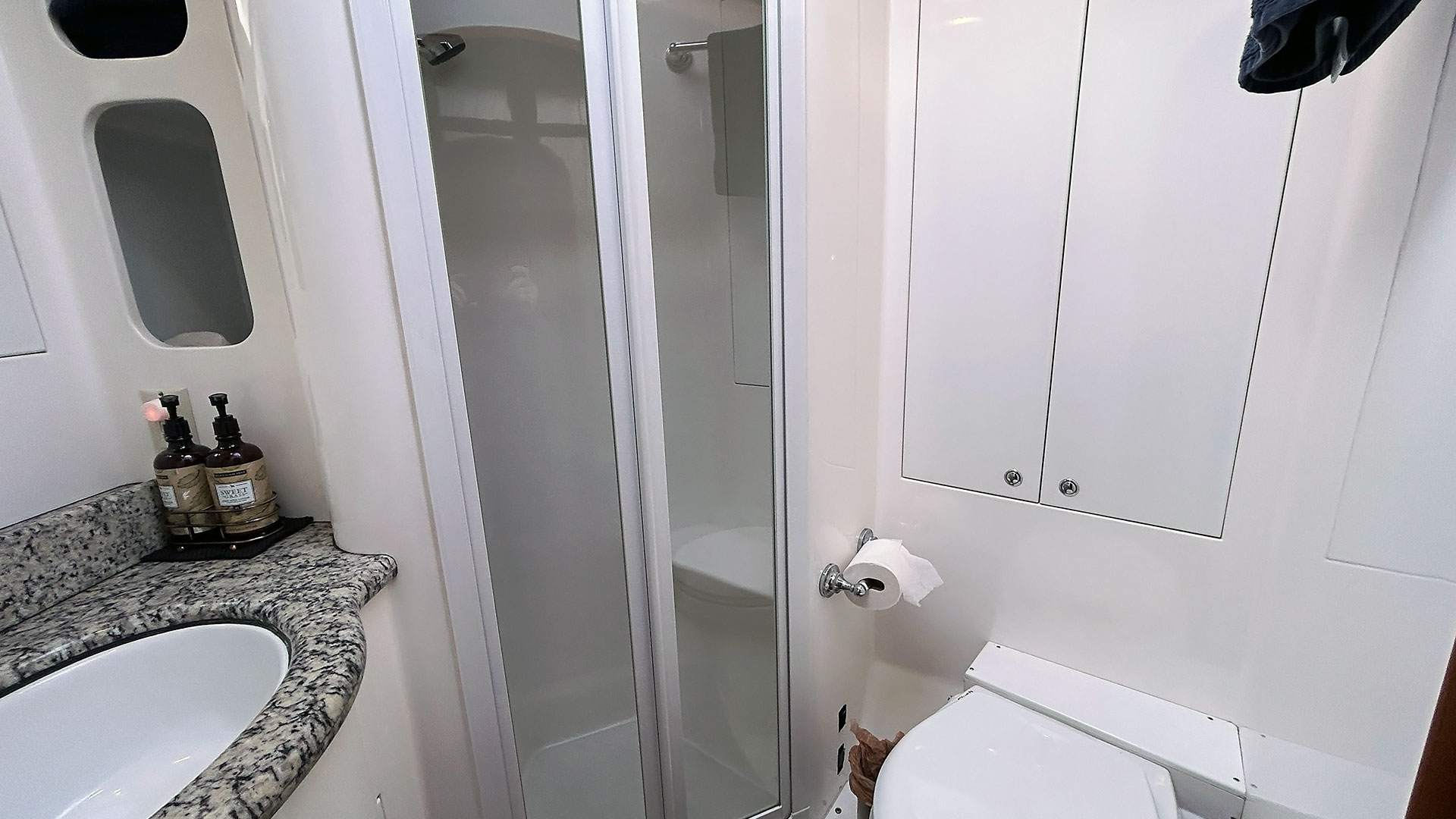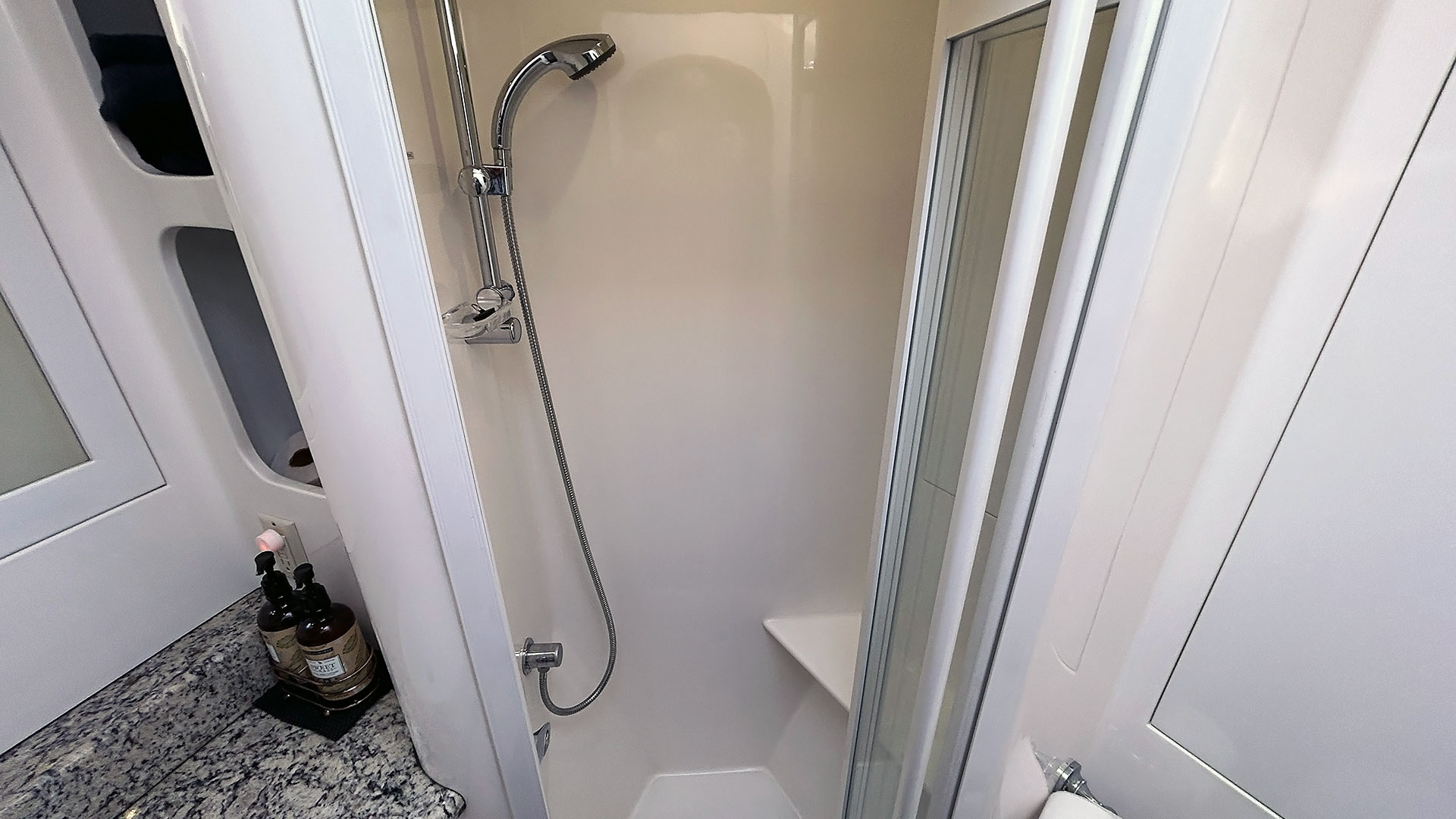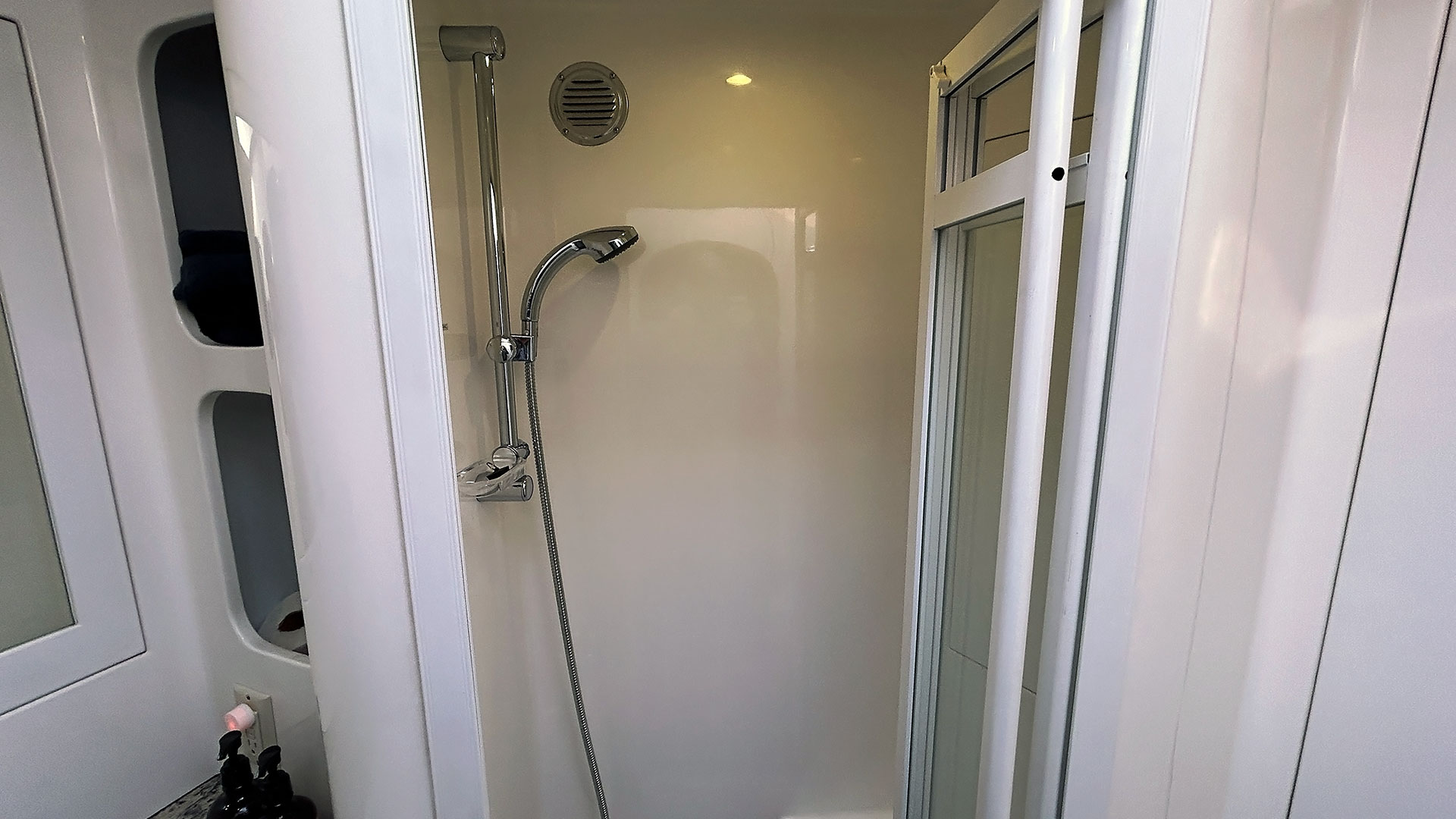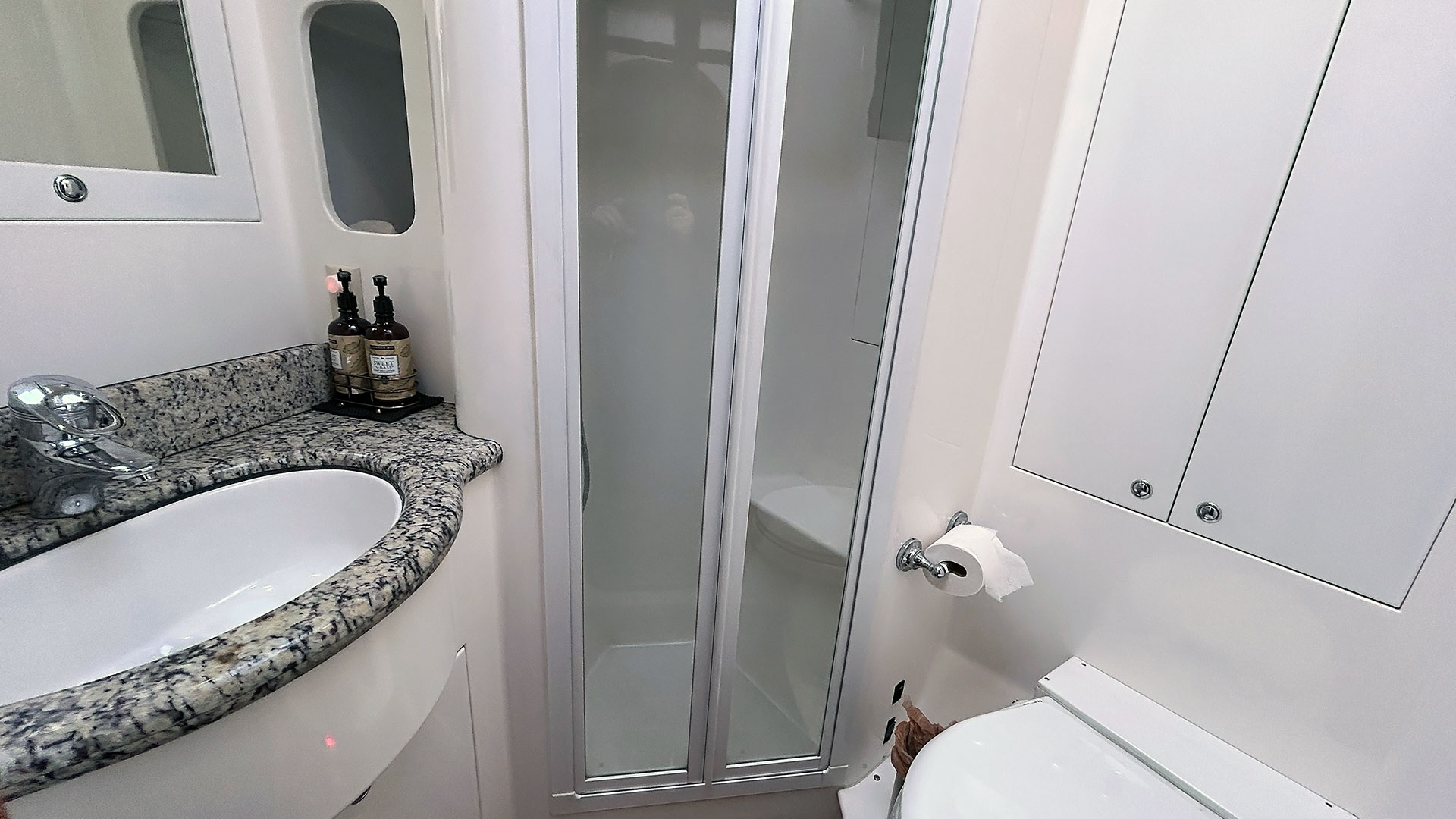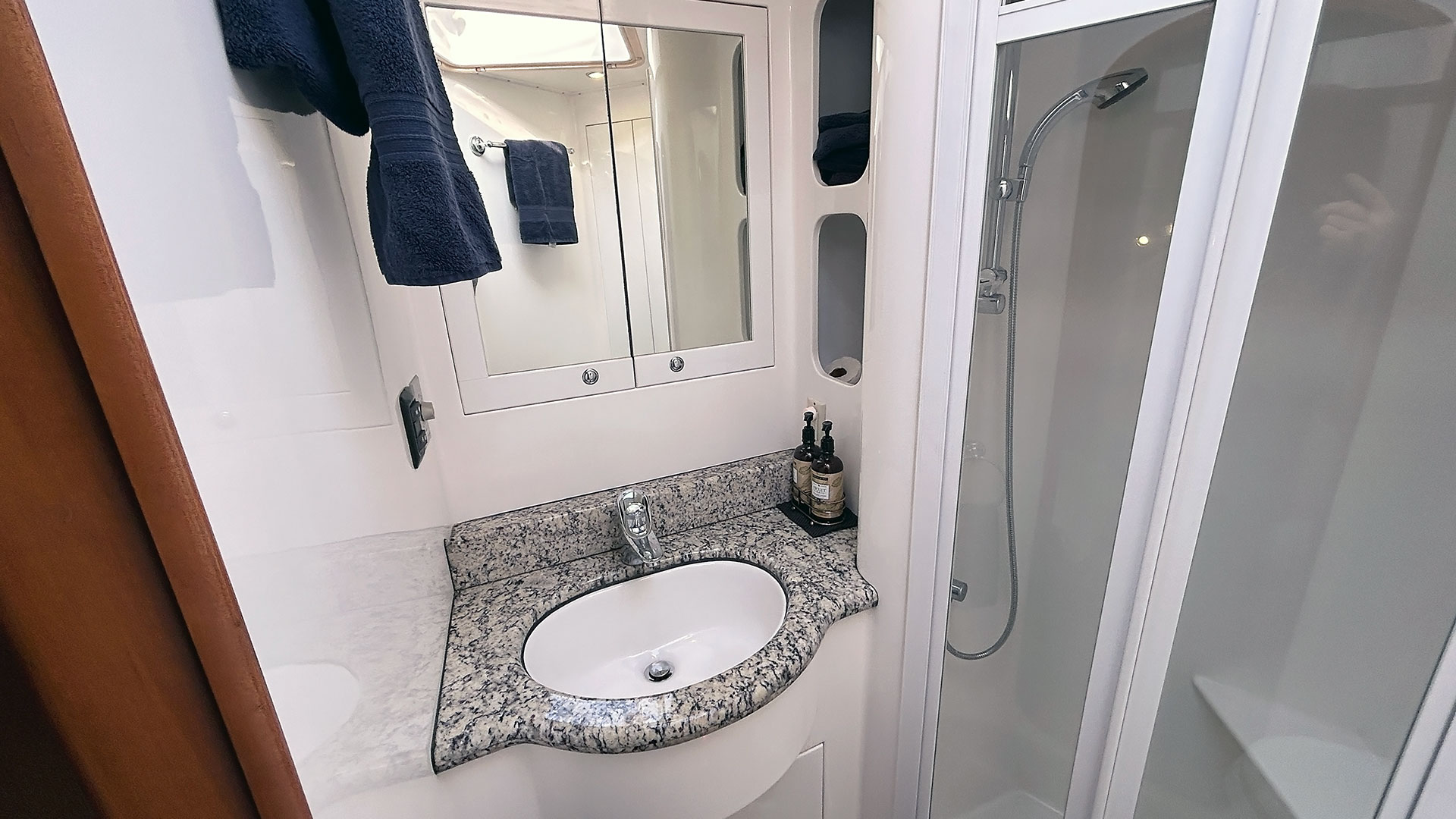 | | |
| --- | --- |
| YACHT NAME: | Bluewater |
| BRAND AND MODEL: | NORDHAVN 47 (non-flybridge flat-top model) |
| TYPE: | Long range passage maker with raised pilothouse |
| LOCATION: | Deltaville, VA |
| MODEL YEAR: | 2005 |
| HULL NUMBER: | 32 |
| HULL COLOR: | Egret White gelcoat by HK Research (custom order) |
| REGISTRY: | USCG documentation number 1176369 – state registry Virginia |
| DESIGNER: | Jeff Leishman |
| BUILDER: | P.A.E./South Coast Marine – Xiamen, China |
| HULL MATERIAL: | Solid Fiberglass |
| DISPLACEMENT: | 100,000 lbs. | 45,359 KG |
| BALLAST: | 6,000 lbs. | 2,700 KG (lead) |
| RANGE: | 3,000 miles @ 7.5 knots |
| SPEED: | Cruise 7.0 knots | top 9.0 knots |
| LOA: | 51′ | 15.55 M |
| LWL: | 47′ 4″ | 14.43 M |
| BEAM: | 16′ 1″ | 4.9 M |
| DRAFT: | 6′ 0″ | 1.83 M |
| D/L: | 450 |
| A/B: | 2.5:1 – for flying bridge model – lower for flat-top model |
| Cp: | Prismatic Coefficient .61 |
| AIR DRAFT: | 31′ 6″ | 9.60 M |
| DECK: | Egret White deck with gray nonskid |
| MAIN ENGINE: | Lugger | 668-T |6 cylinder |174 HP (Main hours: ~ 6461 (January 2023) |
| EXHAUST: | Wet exhaust with two raw water intakes, one to port, one to starboard of keel |
| TRANSMISSION | ZF W220 | 3.96:1 reduction transmission |
| PROPELLER / SHAFT | 2.25″ Aquamet 22 shaft |Upgraded 2.25-inch diameter AQUAMET 22 stainless steel propeller | Spurs line cutter |
| WING ENGINE: | Lugger | 844D.1 40 HP (Wing hours: ~ 110 (January 2023) |
| THRUSTER(S): | Side-Power 24V/10 HP Bow thruster | Side-Power 24V/10 HP Stern thruster |
| STABILIZATION: | NAIAD Model 254 hydraulic stabilizer assemblies with oversize 9 sq. ft. fins | NAIAD DATUM electronic stabilizer control system with autolock |
| ELECTRICAL: | 60 Hertz – US style – 50 Amp with Olsen isolation/conversion transformer | Operated well in Europe for two summers on 230V 50 Hz power and in Bahamas on 120 60 Hz power |
| SHORE POWER: | 50-amp for house and 50-amp for air con, 30-amp house. (Connections at both foredeck and cockpit) | Olsen isolation transformer |
| GENERATOR 1: | Northern Lights 6 kW (25 amps) 240V 60Hz (Generator hours: ~4,882 (January 2023) New Line Engine at 4,811 hours = 71 hours of break in. |
| GENERATOR 2: | Northern Lights 12 kW (50 amps) 240V 60Hz (Generator hours: ~1,583 (January 2023) |
| INVERTER/CHARGER: | Xantrex SW 4024 4,000-Watt inverter / charger | spare Xantrex 4024 onboard |
| CHARGER 1: | Mastervolt Battery Charger Model MASS 24/100 (50/60 Hz) rated at 100 amps |
| CHARGER 2: | Mastervolt Battery Charger Model MASS 24/50 (50/60 Hz) rated at 50 amps |
| BATTERIES: | (6) 8D Lifeline AGM house batteries | (2) 4D Lifeline AGM main engine starting batteries | (2) shared Gp31 Lifeline AGM batteries for wing engine /12kW gen start batteries | (2) Gp31 Lifeline AGM 12V batteries for 6kW genset and electronics. (Electronics battery in pilothouse and normally paralleled with 6kW genset start battery in engine room.) | (2) shared Gp31 Lifeline AGM 12V batteries for anchor windlass and bow thruster | (2) Gp31 Lifeline AGM 12V batteries for stern thruster |
| INTERIOR LIGHTING: | Cantalupi lighting (mostly converted to LED) |
| WATER MAKER: | Village Marine Squirt SPW (600 gallons / day) with remote control in pilothouse |
| CLIMATE CONTROL: | MarineAir air conditioning (5) compressors – reverse cycle heat – 60,000 BTU total | two raw water pumps, one for saloon, galley, and pilothouse; one for staterooms and heads. This system allowed much flexibility using shore power in Europe. |
| MACHINERY EQUIPMENT: | Nordhavn 24V oil change system for all units (main, main gear, wing, 6kW genset, 12 kW genset) | 24 gal. oil storage tank in engine room (12 gallon /12 gallon for new and/or used oil)| Duplex Racor filters with Dent Marine vacuum gauge on main | Racor filters with Dent Marine vacuum gauge on wing, 12kW genset, and 6kW genset | Walbro 1 GPM fuel transfer pump |
| WINDLASS: | Maxwell VWC 3500 24V electric with Lewmar model Auto Anchor AA500C electronic windlass controller, chain counter and pilothouse/cockpit controls |
| GROUND TACKLE: | Rocna 55 KG / 121 lb. | 440′ 3/8″ high test galvanized chain | Secondary Fortress FX 55 anchor stowed in anchor locker with 25′ 3/8″ high test chain and 300′ 3/4″ black nylon Megabraid anchor rode. |
| CRANE:  | Steelhead 1500R hydraulic electric – 1,500-pound lifting capacity |
| TENDER AND OUTBOARD: | Nautica 10-foot fiberglass RIB (2005) | Yamaha 15 HP two-stroke outboard (2005) |
| ELECTRONICS: | Garmin GPSMAP 8617 and Garmin GPSMap 8610 with U.S. and Navionics charts covering  all U.S., Canadian, and Caribbean Maritime waters and XM Weather & Radio | Furuno NavNet 1700C color video plotter with C-Map and NT Max charts-radar-fish finder-depth sounder-weatherfax receiver (3 incl. 1 in owner stateroom) Note: WeatherFax inoperable |Garmin forward looking sonar | Furuno radar 4kW Array | Garmin Fantom Digital Radar | ARPA | WML30 NEMA 0813 Wi-Fi Interface  | Furuno FA-150 Class A AIS  | Nobeltec Class B AIS: Decommissioned  |  Simrad AP26 autopilots (2)  | Simrad FU25 follow-up steering lever for easy fingertip control of rudder from helm seat and cockpit control  | AccuSteer HPU 200 electric-hydraulic autopilot pumps (2)  | Simrad RI34 Mk3 rudder angle indicator  | Simrad RC36 rate compass  | built-in Standard Horizon GX1256S 25W VHF radios (2) with MMSI programmed in |  Mirage Pac 30 VHF 130-watt booster amplifier for emergency use only | Raymarine TriData display with wind speed and direction plus depth and speed | Uniden QT200 depth sounder in aft cockpit control station | Garmin InReach portable chart plotter and  iridium text/SOS | ICOM M802 marine SSB transceiver single sideband radio and Icom AT-140 antenna tuner – professional SSB installation at factory | TV cameras in engine room, lazarette and cockpit with monitor in pilothouse | integrated Furuno intercom-loud hailer-foghorn-listener | Watch Commander watch alarm timer aid for keeping watch standers alert | Glendinning electronic engine/transmission controls (with manual backup) – pilothouse and cockpit stations | Poynting OMNI 400 masthead high-gain cellular antenna | SureCall Fusion2Go 3.0 voice and 4G data cellular signal booster | ACR GlobalFix V4 RLB41 GPIRB | Guest searchlight on top of pilothouse  | Siren Marine 5G cellular alarm system monitor for AC and DC power/voltage, inverter, temperature, fire, intruders, GPS position, and temperature of the two freezers, Starlink internet system, WifiRanger internet system with two cellular modems |
| ENTERTAINMENT: | Samsung 4k smart TV with 32-inch flat screen in saloon on lift | Denon 800H entertainment system for TV, Internet TV/Radio, XM Radio, Bluetooth streaming with identical two-zone speakers in the Salon and Pilot House (Each zone includes 2 KEF 301 hi-end speakers with a REL T/5i hi-end subwoofer) | XM Sirius satellite radio integrated in the Garmin XM Weather – feeding into the Denon entertainment system. Note: JVC stereo, DirecTV, old Bose entertainment system components removed. |
| STATEROOMS | BERTHS: | Owner stateroom aft, sleeps 2 | Guest stateroom forward, sleeps 2 | Pilothouse watch berth, sleeps 1. |
| BEDDING: | Custom HMC mattress in owner stateroom | custom Zeno mattress in guest stateroom. |
| HEADS: | (2) Headhunter Royal Flush Hydro-Vac marine toilets (24V electric, freshwater flush) |
| FRESH WATER:  | (1) Headhunter Xcaliber 24V pumps operated at 65 PSI with a backup Golpump operated at 60 PSI – using an Accumulator tank for consistent pressure. |
| SALT WATER: | (1) Headhunter Xcaliber 24V pump operated at 65 PSI with Accumulator tank for consistent pressure |
| WATERMAKER: | Village Marine Tec Squirt 600 gallons per day watermaker. |
| SHOWERS: | (2) Owner and Guest |
| LAUNDRY: | GE Spacemaker model WSM2400DOWW separate clothes washer and clothes dryer–mechanical timers, which work in both 50 Hz and 60 Hz environments. |
| INTERIOR WOOD: | Teak, semi-gloss satin finish |
| INTERIOR COUNTERS: | Light colored granite countertops. |
| INTERIOR UPHOLSTERY: | Tapioca white Ultrasuede on saloon settee| Black Ultraleather in pilothouse | Navy Blue STIDD Captain's chair in pilot house | Hunter green leather Ekornes chairs (2) and ottomans (2) in saloon. |
| INTERIOR FLOORING: | Teak and spruce hardwood covered by carpets in all except galley and forward head | Galley has vinyl floorcovering | Ceramic flooring in both heads | Owner head flooring covered by carpet. |
| BILGE PUMPS: | (1) Jabsco 24V, (2) 24V electric Rule and (1) Edson manual |
| TANKAGE: (approx.) | |
| FUEL: | Total: 1,495 gallons | 5,659 L |
|   | Port main tank: (fiberglass) 700 gallons | 2,650 L |
|   | Starboard main tank: (fiberglass) 710 gallons | 2,688 L |
|   | Day tank AKA supply tank: (aluminum): 70 gallons | 265 L |
|   | Wing engine tank: (aluminum) 15 gallons | 57 L |
| HOLDING BLACK: | 120 gallons | 454 L (fiberglass) |
| HOLDING GRAY: | 110 gallons | 416 L (fiberglass) |
| FRESH WATER: | 400 gallons | 1514 L (fiberglass) |
| SAFETY: | Switlik four-person self-righting life raft – serviced 7-2021 | SeaFire automatic fire suppression FE-241 in engine room and lazarette | Halogen fire extinguishers throughout | ACR Global4 GPIRB | Smoke detectors in compartments throughout | Propane fume detector in propane locker and galley | MOM Man Overboard Module (boat deck)  | life rings (2)  | lifejackets (6) | hand-held VHF radios (2) |
| PILOT HOUSE: | Stidd helm chair | L-shaped table | L-shaped settee berth | 6 x 3′ pilot berth |custom tan and navy blue wool carpeting over teak and spruce hardwood flooring  | Garmin and Furuno navigation screens with radars, wind, depth, forward sonar, XM weather/radio | Weems & Plath 5-inch chrome bell-striking clock and barometer | oversize 5″ Ritchie Powerdamp compass with red LED night lighting  | "Marker Mate" buoy guide  | resettable bilge pump run counter | VMT water maker remote control panel  | NAIAD DATUM stabilizer control panel | high water alarm panel | Racor water sensor alarm panel | SeaFire engine interrupt/restart system | SeaFire shutdown override | SeaFire 24V alarm panel for automatic fire extinguishers in engine room and lazarette | bilge pump control panels (2) | Siren Marine alarm system | smoke detector inside breaker panel | smoke detector above helm chair | custom bookshelves | custom built-in teak binocular holders (2) | emergency locker | Xantrex TruCharge 20 amp 12V charger for electronics and 6kW genset battery | Group 31 Lifeline AGM battery powering electronics |
| MAIN SALOON: | Open layout with unobstructed eight-foot granite counter and no dry stack brings the saloon and galley together as one room | Tapioca White Ultrasuede settee at teak table to starboard seats 5 for meals | custom portable table top addition allows seating 6 for meals | generous stowage beneath settee |custom tan and navy blue wool carpeting over teak and spruce hardwood flooring | media cabinet with TV lift to starboard | washer-dryer closet to starboard | twin Ekornes chairs in hunter green with matching ottomans to port | factory built-in cabinet between Ekornes chairs | saloon window treatments are pleated cellular blinds and waterfall fabric valances | all saloon windows fitted with solar screen to reduce heat and provide privacy | dimmable overhead lighting | table lamp with shade |
| GALLEY: | Granite counter, stowage cabinets above and below | sliding-door cabinet aft of the galley stove | Frigidaire FGS379 four-burner LP gas range and oven | (3) 20-lb. aluminum propane tanks in overboard vented cockpit locker | 12V timer in galley to record propane usage  | GE Profile Advantium 120 microwave/convection oven | SubZero model 700 TCI refrigerator-freezer with icemaker | SubZero model 249 FFI freezer in forward stairway | Seagull IV X-1B drinking water purification system beneath galley sink | factory-installed electric monitor gauges in galley for AC voltage, 240V load, 120V load | dimmable overhead lighting |
| AFT STAIRS: | Five stairs up to pilot house | steps covered in carpet matching saloon and pilot house | pantry locker to starboard | Two pantry lockers to port and one to starboard |
| FORWARD STAIRS | Nine stairs down to lower level | steps covered in carpet matching saloon and pilot house |bookcase to starboard | charging barn to starboard | SubZero freezer to starboard |
| OWNER STATEROOM: | Queen-sized bed with custom headboard | DC rope light night lighting around bed | custom HMC mattress | drawers beneath bed (8) | hinge-up stowage beneath bed (no ferrous metal to be stowed here because autopilot compasses mounted here) | stowage beneath deck to starboard, port and at foot of bed | 3′ x 4′ mirror on forward bulkhead | small dresser with drawers (3) beneath mirror | 6′ tall hanging locker to port | 4′ tall x 6 1/2′ wide hanging locker to port | built-in bedside tables with stowage to port and starboard of bed | two large lockers with push-lock doors above bed | custom carpeting, tan | bedding: fitted sheets, blankets, bedspread, pillows & pillowcases, plus throw pillows. |
| OWNER HEAD: | Headhunter Royal Flush marine head | granite counters | porcelain lavatory | Grohe fittings at sink and shower | mirrored vanity cabinets | drawers (2) | stowage beneath lavatory | walk-in shower with small stowage locker | large lockers (2) | carpet to match owner stateroom | bath towels | bathroom scales | |
| GUEST STATEROOM: | Offset double bed to port with custom headboard | fold-out/foldaway pipe-berth above bed | drawers (4) beneath bed | desk (approx. 7′ x 3′) with swing-out chair to starboard | large shelves above bed and desk | large lockers with push-lock doors above bed (2) and above desk (2) | custom bookshelves | hanging locker | vertical locker |  custom carpeting, tan | bedding: fitted sheets, blankets, bedspread, pillows & pillowcases, plus throw pillows | |
| GUEST HEAD: | Headhunter Royal Flush marine head | granite counters | porcelain lavatory | Grohe fittings at sink and shower | mirrored vanity cabinets | walk-in shower with stowage locker | vertical locker with push-lock door to starboard | bath towels |
| PORTUGUESE BRIDGE: | Twin aft-facing lockers for lines and deck gear | round opening stainless steel ports for ventilation into guest stateroom | opening ventilation hatch into owner stateroom | opening door in starboard bulwark for access to high docks/piers  | custom Starboard rack and cover for (6) Lexan storm shutters for main saloon port and starboard windows | access to deck fill for fresh water and pump out ports for gray water and black water tanks |
| FOREDECK: | Raised anchor platform with two and guard to keep anchor mud off foredeck | fresh and salt water anchor washdown faucets and deck/anchor washdown hose | oversized manhole hatch access to anchor chain locker | twin bow lockers for, cleaning gear and more  | (2) opening hatches into guest stateroom  | (1) opening hatch into guest head  | Maxwell 3500 24V electric windlass  | chocks for Fortress anchor (removed and stowed)| white life ring with attached ACR SOLAS Firefly Pro "Waterbug" strobe light  |  Dock lines, fenders, large inflatable fenders | (beneath foredeck) divided anchor chain locker with shelves to port and starboard | stainless steel Mantus anchor chain swivel  | nylon snubber line for anchor chain  |  Mantus bridal harness for hurricane chain snubbing | custom stainless steel burgee flagstaff with Sunbrella cover |
| BOAT DECK: | Switlik four-person self-righting life raft – serviced 7-2021 | custom stainless steel mounting rack for life raft | (2) fiberglass dock boxes (6′ x 1.5′ x 1.5′) | Steelhead 1500 lb. capacity davit crane | MOM Man Overboard Module  | custom stainless steel flagstaff for yacht colors | Sunbrella cover for flagstaff/flag | 36″ x 48″ 50-star American flag | flag halyard at starboard spreader  | Steelhead crane | (2) 120 VAC duplex electrical outlets  | stowage for deck gear inside faux stack | 10' Nautica dinghy | Yamaha 15HP Outboard | custom aluminum dinghy chocks | securing straps for dinghy | folding stairs for climbing mast | dinghy cover | winter dinghy cover | bosun's chair | cargo net 8′ x 8′ |
| PHOTO DATE: | Most photos taken January 2023 |
|   | |
Bluewater is a truly exceptional vessel that is in wonderful condition.  She changed hands in 2021 and her new owners took an accomplished work horse and refreshed her with improvements to cosmetics and mechanicals.  Hull 32 in the series she looks like a boat half her age.
Her interior layout features the coveted, two-stateroom, two-head layout.  When it comes to Bluewater, the first word that comes to mind is, 'prepared'. Her systems, and abundant spare parts on board make her a very capable ocean crossing vessel.
The original owners were experienced cruisers who had previously owned trawlers. They studied the Nordhavn line extensively during the NAR Atlantic crossing in 2004.  As part of the rally organizing team, they helped guide the fleet and, in the process, became very familiar with the models by watching them at sea and speaking with the owners out cruising.  They selected the Nordhavn 47 as the ideal size for them and asked for one major concession; they requested a conventional wet exhaust for the Lugger main engine instead of the keel cooled, dry stack configuration that is standard. With many redundant systems and numerous upgrades, Bluewater has thrived offshore, her travels include -Caribbean cruising, an Atlantic crossing and visiting the Mediterranean before settling into a slower pace in the summer waters of Maine, and the Canadian Maritimes.
After 16 years of travel, Bluewater transitioned to the second owners who were thrilled to find such a beautifully outfitted, cruise ready 47.  She changed hands in a private transaction and the current owners immediately took to sea and cruised along the eastern seaboard and over to the Bahamas then back to the Chesapeake where they call home and to finalized plans to cross the Atlantic.
The current sellers (the second owners) have spent the last 20 months making her more reliable for a planned cross-Atlantic trip scheduled spring of 2023.  Unfortunately, personal issues and family matters have changed priorities.  Since they can't take off, they have decided it is best to turn her over to new owners who seek the same type of adventures they had anticipated.
Bluewater shines with a high-end HK Research gel-coat -one of only three [famous] Nordhavns (46 Egret, 47 Bluewater and 52 Dirona) to be molded with this special gel coat.  The luster was enhanced in 2022 using latitude 26 nano ceramic coating.  In 2023, the saloon cushions and upholstery were replaced with tapioca Ultrasuede. The pilothouse upholstery was redone with black ultra-leather and new cushions in 2022. She had ship yard work in 2022 to refresh bottom paint and replace anodes.  While hauled out, a new Aquamet 22 stainless steel shaft (2.5") and Spurs line cutter were installed.  The propellers were treated with Prop Speed at the same time.
Household conveniences include a full-sized Sub-Zero refrigerator with two freezer drawers and an ice maker, a full-size 30-inch propane gas range, a full-size GE Profile microwave, two sinks, a garbage disposal, and a Seagull freshwater filter. The galley is stocked with silverware, China, and cooking tools.  In the saloon and galley, there are dimmable lights.  There is also a second Sub-Zero freezer unit in the stairwell for long passages. Bluewater has a separate GE Spacesaver clothes washer and dryer for laundry, as well as a Village Marine 600 gallon per day water maker that has had new membranes installed in 2022.  Both heads have Headhunter Royal Flush freshwater toilets, which many consider the best marine toilets on the market.
Highlighted machinery includes: the John Deere / Lugger L668T main engine, a 12 kW Northern Lights large generator, a 6 kW Northern Lights small generator along with a Lugger wing engine (get-home propulsion).  For machinery convenience there is an oil change system, with connections to main engine and transmission, wing engine, and both generators as well as an oil transfer pump and two 12-gallon oil lube tanks (for used and new oil).
The pilothouse is the command center with a wealth of electronics and navigation equipment at your fingertips. There are ships controls for: main and wing engines, both generators, windlass (with counter), active fin stabilizers, bow and stern thrusters, etc.). The rolling motion underway is tamed by Naiad hydraulic stabilization with extra-large 9 square foot fins to provide a smooth ride in rough seas.  The pilothouse also has a Stidd helm chair for running and a captain's watch berth for rest.  In 2022 had the headliners were redone in black to eliminate reflections while piloting the boat at night. Dimmable LED lights and red night lights were also installed in the pilothouse.
For safe underway operations, an impressive (and recently optimized) navigation and communications arrangement is aboard including these key items:  Furuno Class A AIS system, two Garmin chart plotters, Garmin forward sonar system, Garmin XM weather system, Garmin Fantom digital radar, wind speed and direction, Furuno depth sounder, Furuno chart plotter, Furuno 4k Array Radar, Raymarine depth sounder, single sideband radio, loud hailer, two VHF radios, closed circuit TV cameras (monitoring the engine room and stern), and a search spotlight. The boat is equipped with a Starlink system and a WIFI Ranger system for internet connectivity, and it has a Garmin inReach handheld navigation unit in the pilothouse for navigation and satellite communication.
Safety is the priority aboard and Bluewater has a 4-person life raft, two automatic fire-suppression systems, one in the engine room and one in the lazarette. There is a large electric bilge pump with a pump start counter in the pilothouse for monitoring, as well as two high water bilge pumps and a manual Edson pump. There is an emergency equipment kit for the boat in the forward head, as well as an extensive first aid kit to handle emergencies that may arise while out at sea.
Bluewater is also equipped with various types of communication and emergency equipment, such as life jackets (sport, inflatable, and coast guard), bosun's chairs, a diving hookah, MOB personal devices, hand-held VHF radios, and marriage saver headsets.
To add additional peace of mind, Bluewater has a Siren Marine 5G remote monitoring system to monitor the sensitive systems on the boat including shore power connectivity, inverter status, battery bank voltages, high water alarms, pilothouse temperature, intrusion detection, and freezer temperatures for both Sub-Zero freezers.
Bluewater is fully loaded with over $100,000 worth of tools and spare parts; she really is prepared self-sufficiency and long distance cruising ocean adventures.
The many redundant systems, comprehensive navigation and communication gear, excellent equipment and systems coupled with numerous conveniences, make her a very special vessel.  She is a proven and well cared for Nordhavn 47 that has been regularly maintained and upgraded.  Bluewater is ready to take you on your next adventure – be it coastal cruising or ocean crossing – she was built to live up to her name.
Listing Broker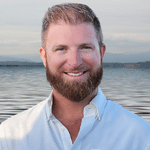 Listing Broker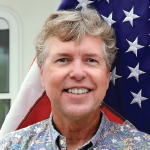 Boarding Bluewater from the swim platform, you enter her cockpit through a transom boarding gate. Bluewater's cockpit features a fresh water and sea water washdown hookup, and a remote docking station. This protected deck has a door opening to the foredeck and wraps around the front of the pilothouse before turning aft for a swift flight of steps up to the spacious boat deck. To starboard, the covered side deck leads forward to a set of steps ascending to the Portuguese bridge.
From the aft cockpit and through a weather tight Dutch door, you find yourself entering a spacious and cozy saloon with galley forward to port. Forward and to starboard, side steps bring you up to her raised pilothouse which includes a Stidd helm chair and watch berth. An impressive array of navigational and communications electronics are smartly laden into Bluewater's helm. Behind the helm chair, an elevated settee and watch berth provide comfortable accommodations for both crew and captain while underway. Starboard of the pilot house, a semi spiral staircase leads down into the forward accommodations. The guest stateroom is forward with a double bed, pipe berth, desk, shower, and head. The owner cabin is aft and features a queen island berth. To starboard, the private owner head is attached and showcases granite counter tops, electric head, and stand-up shower. The door aft in the owner stateroom provides the easiest access to the engine room.
DESCRIPTION:
Cockpit: The cockpit is a versatile dock space that can be used for outdoor lounging, fishing, or docking. You can enter aft from the swim deck or along the starboard side mid lower deck. The swim deck is slightly lower than the cockpits deck to provide easier access in and out of the water. It features a large, hinged swim ladder with two U-rails aft and two L-rails outboard for boarding hand support. The large built in transom door securely divides the swim deck from the cockpit. The cockpit is a long and wide mostly covered overhead outdoor area. With ample room for a couple of lounging chairs and a cocktail table. There is a large hatch access to the lazarette below. The sea water/freshwater cockpit shower is placed smartly for a rinse after a swim. To the starboard side is a covered remote docking station featuring engine, thruster, and rudder controls. The covered starboard side deck transits outside the saloon forward and up to the Portuguese bridge and foredeck and/or allows access into the saloon entry level through her stout Dutch door.
Cockpit docking station with engine, rudder and thruster controls
(2) L-shaped handrails on transom
Sea water / freshwater rinse
(2) propane tanks in locker with propane gas sensing system.
Hawes pipes with cleat horns
Diesel fuel fills and vents
(2) "U" shaped removable stanchions on swim step
Stainless steel swim ladder mounted on swim step
Cockpit transom door
Starboard side boarding door
4 outdoor marine chairs and marine table – stowed
Saloon: The saloon has comfortable bench seating to starboard with a fixed teak table ideal for dining. To port, a pair of Ekornes chairs complete the interior hosting area. An upgraded flat screen television is hidden forward into the starboard settee and raised via an electric motor with the flip of a switch. A separate clothes washer and clothes dryer is concealed behind a louvered door forward to starboard just outboard of the stairway to the pilothouse. The interior has beautifully matched teak joinery surroundings, with teak and spruce floors. For much of Bluewater's life, the hardwood floors have been covered and protected by wool carpet.
For interior climate comfort, Bluewater has five air conditioner/heaters throughout the boat, providing ample cooling in hot climates and heating in cold environments.  All the windows in the saloon and pilothouse are tinted for cruising in warm climates, and there are retractable cloth blinds in the saloon for additional privacy.  In the saloon and galley, there are dimmable lights, and there are reading lights throughout the boat and numerous red night-lights in the pilothouse.
Bluewater has a 2-zone high-fidelity entertainment system controlled by a Denon 800H receiver, with the saloon (zone A) containing a 4k TV (a Samsung 32" Class Q60A Series QLED 4k UHD Smart Tizen TV) in an automatic TV lift and KEF T301 ultra-thin wall mount high-end speakers. There is a REL Acoustics T/5i 8" high-fidelity subwoofer in each zone, and the entertainment system can be controlled by phone, iPad, or remote controls. It includes XM Radio (from the Garmin XM Weather system), Helos internet radio (including Pandora, XM Radio, and many others), Bluetooth streaming from a phone, and a 4k Apple TV.
Custom made Televator with 32" Samsung 4K Smart TV
Teak and spruce floors throughout
Carpet covering on floors and steps (stowed)
(2) Ekornes chairs with Ottomans to port
Settee built in seating on starboard side
Two zone Denon 800H stereo/tv receiver
REL 6-inch high-fidelity subwoofer in each zone
XM Radio
Additional food storage space under settees
Saloon settees covered with Ultraleather
Teak dinette table
Custom window shades
Stainless overhead handrails in the saloon
Whirlpool "Thin Twin" clothes washer and dryer
Dutch door aft
Polished stainless opening ports with screens and stainless privacy and storm shields
Galley: The galley has been laid out for easy meal preparation with granite counters and a double basin stainless steel sink. Appliances include a trash compactor (IN-OP) and Sub-Zero refrigerator with freezer drawers.  There is overhead storage and sliding locker and two door alcove access forward of the stove. Plenty of drawers for glasses, dishes, utensils, and silverware. For preparing meals there is a GE Advantium microwave-convection oven for speedy meals, and a Frigidaire propane fuel four burner cook top and propane oven for more involved meals. Although the trash compactor is IN-OP, both the original owners and current owners have used it as a stowable trash can with little to no additional requirements.
Granite countertops
Galley counter backsplash
Vinyl flooring
Additional galley storage pantry lockers inboard by stairs
Two cabinets are behind the cook top are for large pots storage
Double basin stainless steel sink with tall faucet
Galley sinks have y-valve to discharge to gray water tank, or directly overboard
Subzero #700TC refrigerator with freezer drawers and ice maker
Subzero #249FF extra freezer (companionway stairs)
Frigidaire FGS379 four-burner LP gas range and oven (with pot secure rails and arms)
GE Profile Advantium 120V microwave/convection oven
GE Profile trash compactor with stainless surface (IN-OP)
Xintex FireBoy S-2A propane control and fume detector
Sliding-door cabinet aft of the galley stove
Pilothouse: The raised pilothouse is surrounded by windows for an impressive view of your surroundings. Front and center, a Stidd helm chair provides comfort and easy access to controls while underway. There is an impressive assortment of navigation and communication electronics within reach and controls for the bow and stern thruster, windlass, watermaker, main engine, wing engine and generators. The electrical breaker panel is installed in a convenient island panel with clearly labeled breakers and digital read out displays.  There is seating aft and up high, behind the operations console with a bench seat and teak table for crew and guests. Across the port aft bulkhead is a large single watch berth.  Two Dutch doors open outboard to allow access to the side decks: starboard and forward to the Portuguese bridge deck – aft to port for the boat deck.
Stidd helm chair with Ultraleather
Garmin 17" GPSMap 8617 with maps installed & Navionics maps available via subscription
Garmin 10" GPSMap 8610sv
Lugger main engine display
Double lever Glendinning electrical controls (with manual backup) controls for Lugger main engine and Lugger wing engine
Lugger wing engine display
Side-Power bow and stern thruster joystick controls
Side-Power remote control with lanyard
NAIAD Model 254 hydraulic stabilizer assemblies with oversize 9 sq. ft. fins
NAIAD DATUM electronic stabilizer control system with autolock
Simrad NFU 'joystick" steering control
Destroyer helm wheel
NIAD DATUM stabilizer control panel
Teak table
Hynautic marine hydraulic steering system
Maxwell windlass control
Smoke detector inside breaker panel
Custom bookshelves
(2) Custom built-in teak binocular holders
12 kw Northern Lights generator display
6 kw Northern Lights generator display
Xantrex Trace inverter display
Guest Beamer Search Light Model 326-5
Buell air horn
Ritchie Powerdamp Plus SS-2000 compass with Nordhavn card
High water bilge alarm
Sea Fire fire-suppression alarms – engine room and lazarette
Racor water in fuel alarm
Simrad AP26 autopilots (2 of them)
Furuno NavNet XV2 and Furuno NavNet XV1 (15.6" chart plotter with fish finder)
Raymarine wind display, depth display, and speed display
Furuno 4kW radar
Garmin Phantom Digital radar
Garmin XM Weather/Radio
Garmin forward sonar
Speco mini cameras (engine room and aft deck)
ICOM ICM605 VHF Radio
ICOM ICM506 VHF Radio
ICOM ICM802 hailer
Furuno Class A AIS – full transmit and receive (with silent switch)
Ultra-leather on settee and pilot berth
Black overhead headliners to reduce glare
Dutch doors port and starboard
Air-conditioning control panel
Village Marine watermaker remote
Wet hanging locker
Chart drawers
USB hubs
Garmin InReach Navigation & iridium text/SOS (subscription)
Forward stairs landing: Going down a curved set of teak steps you pass the built-in freezer and then reach the lower-level landing where you can go forward to the guest stateroom or aft to the owner's stateroom.
Storage locker
Subzero stairway freezer
Access for gray water pump outs under steps
Owner's Stateroom: For a quiet place to sleep and relax, the spacious owner's stateroom features a queen-sized fore/aft island berth with comfortable mattress. Being aft it is less prone to motion underway and quieter at anchor. To port there are two hanging lockers and a bank of drawers (with a hinged laundry hamper). There are additional drawers under the bed. The bed lifts on a hinge to reveal a huge space for additional long-term storage. Forward is a dresser with drawers and a ventilation hatch above provides light and ventilation. The owner's stateroom includes a convenient head and shower outboard to starboard and provides immediate access to the engine room aft through a tall commercial door with teak trim and a viewing window.
Queen sized island berth with mattress topper
Bed hinged aft for access to deep storage
Furuno radar and depth sounder repeater above port bed stand
Counter surfaces on bed stands, forward dresser and outboard hanging locker
Hanging lockers
Multiple drawers
Laundry hamper
Overhead opening hatch to Portuguese bridge for light and ventilation
Opening portlights outboard to port
Storage lockers with doors above bed
Door to engine room with teak veneer and viewing window
Head with granite counters and recessed sink with faucet
Headhunter Royal Flush marine head
Stand up shower with built in seat and bifold door
Opening portlights outboard
Tank watch level sensors
Teak and spruce sole in stateroom
Tiles on head floor
Guest Stateroom: The guest accommodations are forward. Sleeping two on the double berth with an extra convenient pipe berth "cot" above to port.  Hanging lockers forward on both sides and a convenient built-in desk to starboard with a swing out chair. Plenty of lockers and storage spaces. The bow section has a private head and shower.
Double wide berth to port
Drawers under bed
Pipe berth cot in concealed shelf to port
Office layout with desk layout with swinging seat, drawers, and bookshelves above counters
Opening portlights aft and outboard
Overhead hatches with screens
Hanging lockers
Storage lockers
Drawers throughout
Bookshelves
Black water pumps under step
Teak and spruce sole in stateroom
Head with granite counters and recessed sink with faucet
Headhunter Royal Flush marine head
Stand up shower with built in seat and bifold door
Tiles on head floor
Grohe fittings at sink and shower
Engine Room: Through the robust door and down a few stairs, you will be impressed as soon as you enter. The engine room has standing headroom forward for easy access and convenience surrounding her trademark Lugger main engine featuring a wet exhaust – eliminating the standard dry stack exhaust which takes away valuable space in the galley/saloon area. The two generators, wing engine and fuel manifolds are logically positioned for access and the engine room has a hinged door access to the lazarette. The Lugger main engine propulsion is cooled by a wet exhaust. The engine is accessible on all four sides for service and inspection.  Forward to port is the fuel valving selection locker with return and transfer manifolds and a large gravity fed aluminum supply tank for the main and generator.  To port the main engine and transfer Racors are cleverly protected with easy viewing. Outboard up forward behind hinged opening lockers on both sides grant access to the active fin stabilizers machinery.  The main fiberglass fuel tanks are outboard and have built-in sight glasses. The aft section of the engine room has the Lugger wing engine to port and Northern Lights generator to starboard. The room is well lit and easy to move around in. You can also enter the engine room aft from the saloon floor or through the door connected to the lazarette.
Lugger L1066T diesel engine 174 HP
Stainless safety rails around engine
Wet exhaust
ZF W220 transmission
Lugger 40HP wing engine with V-drive transmission, own shaft and Gori folding three blade propeller
Northern Lights 12k W generator
Northern Lights 6 kW generator
Custom engineered Delta-T engine room blower installation
NAIAD Model 254 hydraulic stabilizer assemblies with oversize 9 sq. ft. fins
Engine room fire suppression system
Reverso oil change system
Lazarette: Through the large fiberglass cockpit hatch you can climb down a short ladder to enter the lazarette to inspect the steering, water maker, air conditioning, diesel furnace, batteries, select switches, fuses, battery charger and inverter. Both the engine room and the lazarette are protected with built in fire suppression. This area is spacious enough to accommodate a lot of extra supplies and is a convenient storage area.  There is a watertight, dogged door that connects the lazarette with the engine room. For confident course steering, she has been upgraded with two Simrad autopilots connected to separate hydraulic steering pumps and two steering rams for redundancy as well as a large stainless steel emergency tiller, which can be used to turn the rudder by hand while underway if necessary.
MarineAir reverse cycle air conditioning and heat, separate digital controls all staterooms, pilothouse, galley, and saloon 220-V
Side-Power 24-volt stern thruster
Fire suppression system
Stainless stairs from cockpit with teak treads
Mastervolt 100 amp battery charger
Mastervolt 50 amp battery charger
House battery banks
Hydraulic RAM's steering access
Battery banks parallel switch panel
Emergency tiller
Exterior:
On deck she has a tall freeboard on her foredeck with built in deck boxes. Bluewater has 440 feet of 3/8 HT chain connected to its main anchor, a 55 kg Rocna, which is deployed using the Maxwell 3500 windlass. The chain and anchors have been recently galvanized to extend their life and improve appearance.  From the Portuguese bridge there is a side deck to starboard that connects with the cockpit and a wrap around to port up to the boat deck where the tender is stored.  The Nautica dinghy with 15 HP Yamaha outboard is launched by the Steelhead 1500HR davit.  On the boat deck there are two large storage boxes for cleaning supplies and other items.
The cockpit is equipped with a propane locker containing three 5-gallon aluminum propane containers, and there is an electric solenoid control in the galley to turn the propane on and off for safety.
Foredeck: The foredeck, in front of the Portuguese bridge, is all business with a large stainless steel bow pulpit, dual bow rollers for anchors and chain, a Maxwell electric windlass and Freeman hatch to reach the divided chain locker below.  The anchor well is dammed and guttered to keep muddy water from spilling onto the foredeck and, like the chain locker, drains overboard. There are two deck molded fiberglass storage lockers and dorade vents providing fresh air ventilation to each stateroom. Primary shore power connections are concealed behind a hinged door aft to port.
Side power 24-volt bow thruster
Freeman hatch to access chain locker
Outboard shelves in chain locker.
Maxwell VWC 3500 windlass with heavy duty chain stopper and custom cover
Large double bow rollers
Rocna 55 KG / 125 lb. with 440′ 3/8″ G4 high test chain
Fortress FX55 secondary with chain and rode (Mounted on foredeck)
25′ 3/8″ high test chain and 300′ 3/4″ black nylon Megabraid anchor rode.
Mantus Anchor Boat Bridle (with shackles, snubbers, and accessories)
Pilothouse windshields washers/wipers
Bow tow eye ring 12" above water line -allows snubber/rode lower attachment height
Built-in fiberglass foredeck storage lockers for shore power accessories, windlass bar, hoses, etc.
Portuguese Bridge: The Portuguese bridge leads aft on the port side up to the boat deck. There are portlights built into the guest stateroom and storage lockers incorporated forward for easy access of gear stowage.
Storage lockers
Recessed hatch aft for owner's stateroom
Boat Deck:  Bluewater is a non-flybridge model that is able to utilize as much working space as possible aboard the boat deck. The 10' Nautica RIB (Yamaha 15 HP outboard) is raised and lowered with a Steelhead 1500R Hydraulic/electric crane. Two deck boxes provide additional outdoor storage.
10' Nautica Rib dinghy
Yamaha 15 HP outboard
Weaver dinghy support chocks and tie downs
Deck box
Antennas on mast, lightning wand, anchor light, steaming light, flood lights, search light
Pilothouse Roof: Nonskid surface for mounting hardware. Tripod radar mount, two forward tending struts to support the mast.  Two dorade vents and various antenna mounts and airhorns.
PLUMBING SYSTEMS:
Bluewater has a 120-gallon black water tank (with pump-out and discharge), a 110-gallon grey water tank (with pump-out and discharge), and a 400-gallon freshwater tank. There is a Wema water level gauge for the freshwater tank and a Tank Watch 4 level monitoring system for the grey and black water tanks.  All three tank level gauges are in the owners ensuite.
Freshwater wash down spigots in bow, stern, and engine room
Village Marine Watermaker, Squirt 600, 220V with auto back flush
Grohe faucets
Headhunter X-Caliber water pressure system model XR-124
Seaward water heater 11 gallon
110-gallon gray water tank
Galley sink has two-way valve for overboard discharge to avoid sink garbage from contaminating gray water tank
120-gallon black water tank
(2) Headhunter Royal Flush Hydro-Vac marine toilets
Sealand tank watch monitoring system
1,495 gallons of fuel in two fiberglass tanks with sight gauges
Sophisticated gravity feed 70-gallon fuel supply tank with calibration fuel burn gauge and water contamination audible sensor
Dual Racor fuel filters transfer/polishing pump with timer on fuel system
Rule 3700 high water electric pump with audible alarm
Whale Gulper bilge pump
Edson manual bilge pump operable from main saloon model 638AL
ELECTRICAL SYSTEMS:
Electrical components include three house 24-volt battery banks, a stern thruster 24-volt battery bank, a bow thruster 24-volt battery bank, main engine battery bank, two main engine alternators (one is decommissioned), 12 kW generator & wing engine 24-volt battery bank, and a 12-volt 6 kW generator and communications battery bank. It is also equipped with a shore-to-boat Olsen isolation transformer, allowing it to be connected to any American or European power source (240, 120, 220, or 110 – 50 or 60 Hz) and power all 240 and 120 60 Hz systems on board. For further isolation, there is a large Xantrex 4000w inverter used for all 120 VAC power, and automatic charge relays are utilized to ensure the various battery banks are charged while in isolation mode.
(6) 8D Lifeline AGM house batteries
(2) 4D Lifeline AGM main engine starting batteries
(2) shared Gp31 Lifeline AGM batteries for wing engine /12 kW gen start batteries
(2) Gp31 Lifeline AGM 12V batteries for 6kW genset and electronics. (Electronics battery in pilothouse and normally paralleled with 6kW genset start battery in engine room.)
(2) shared Gp31 Lifeline AGM 12V batteries for anchor windlass and bow thruster
(2) Gp31 Lifeline AGM 12V batteries for stern thruster
12 kW Northern Lights generator
6 kW Northern Lights generator
50 and 30-amp shore power inlets fore and aft
Two (2) 50-amp shore cords
4,000-watt Mastervolt Trace inverter/charger with remote panel for inverter charger
Inverter bypass switch for use if inverter should fail
Battery bank monitoring
Exterior connection inlet for TV/ cable/phone
Leech-Neville High Capacity 175 amps engine belt driven alternator
Olsun isolation transformer
Olsun balancing transformer
Lightning ground protection system
12 V outlets in pilothouse and flybridge
Bluewater Improvements (Fall 2021-Present)
EQUIPMENT
Backup Fresh Water Pump
Stern Thruster Automatic Main Switch – In progress
Engine Water Pump in Inventory
12kW Starter in Inventory
Seaward Marine Water Heater -11 Gallon- Rear Heat Exchanger 240V in Inventory:
6kW Northern Lights Generator with engine mounts
21/16" 18-32V Voltmeter on Main Engine Panel
Exhaust Hoses for 6kW, 12kW, and Wing Engine
Fuel Fill Hoses on Port and Starboard
Engine Coolant Hoses between Main Engine and Water Heater
Wing Engine Sea Water Pump:
Edson 30 GPM Manual Bilge Pump Aluminum
Upgraded 2.25-inch diameter AQUAMET 22 stainless steel propellers shaft
Tapered transmission to main shaft Coupler
Main shaft Cutlass Bearing
Rubber hose for shaft packing tunnel
3-mile LED Navigation Lights (Port Red, starboard Green, Mast, and Stern Light)
LED Anchor Light
Three Groco Seacocks
Lugger Heat Exchanger for Main Engine
Spectra Line in the Davit
Davit overhaul
Side Power Dual Joystick Thruster Control Panel in Pilot House
Three water maker Membranes
Garmin Forward Sonar PS51-TH Transducer
MSR Head Hydraulic Solenoid
5G Siren Marine System with added sensors (Freezer and Inverter)
Dinghy Engine Carburetor
12V battery bank
HARDWARE, TOOLS, ACCESSORIES
Dinghy Lifting SS Sling/Bridle
Extra heavy duty Manus Anchor Boat Bridle
Mooring Snap Shackle ⅝", Snubber Pendant 8mm, S3 Mantus Swivel, Large
Mantus Bridle Universal ⅜" Chain Hook, and Wet Storage Bag
Pilot House Counter Tray with cordless iPhone Charger
Galley Faucet (extension and sprayer)
 ELECTRONICS
A Garmin Glo Bluetooth GPS receiver was added to the PH dash to supply GPS
via Bluetooth to multiple devices.
Furuno NavNets. The Starboard NavNet was upgraded to a like- VX2 Furuno
NavNet which enables AIS and NTMax Charts.
Replaced 1 Furuno NavNet 2kW radar system with a digital Garmin GMR
Fantom 18x Radar with a Garmin Radar Dome (in place of the old Furuno Dome).
Replaced Furuno GP-32 GPS receiver unit on the PH dash with the 10" GPSMap
8610sv (Garmin System).
Replaced the 17" monitor on the PH dash (that was connected to the Coastal
Explorer laptop) with a 17" GPSMap 8617 (Garmin System).
Added a two card SD card reader located on the Starboard side (in stairwell) to
receive navigation data and store local routes for the Garmin System.
Replaced Coastal Explorer Laptop (Serially wired) with WML30 NMEA0813
data bus WIFI interface to be utilized by a device of your choosing utilizing a
navigation app that transmits navigation data (such as Coastal Explorer).
Garmin Panoptix PS51-TH 400' Forward Looking Sonar which
is displayed using the Garmin Monitors. Also, replaced the Simrad S-12 digital depth
sounder with a M78713-PZ (P19) Lexan low profile Thru-Hull transducer connected to a Raymarine i50 Depth display.
Satellite Handheld Device. Replaced iridium phone with a Garmin InReach.
XM Radio and Weather. Added a GSM54 antenna to receive radio and weather from an
XM satellite. This feature is accessed using the Garmin displays and Stereo System.
(Removed an old Panasonic radio unit.)
 INTERNET
Added Starlink (satellite internet) by replacing TV antenna with the Starlink dish
utilizing the existing dome.
Added Wi-Fi Ranger antenna (cell service internet).
Added a panel on the PH ceiling dashboard for flipping a switch to choose either
Starlink or Wi-Fi Ranger.
Anemometer and Wind Direction. A Simrad IS-12 wind instrument was replaced with a
digital anemometer and Raymarine display. (The prior instrument was analog so
could not be shared on the data bus.) The anemometer shares data on the
NMEA2000 data bus.
A Simrad IS-12 display was replaced by a Raymarine speed gauge.
Upgraded old TV monitor on PH dashboard to a monitor with a high fidelity
screen and dimming capability to show split quadrants for the four cameras.
TV and Stereo System
Replaced old TV with a Samsung 32" 4K TV (sized to fit raised cabinet). This smart
internet streaming TV replaced the 2005 DirectTV system. This 4K TV connects directly
to the WIFI. The current owners use it connected to a 4K Apple TV.
Replaced a legacy Bose system with a Denon 800H stereo/tv receiver which powers two
speaker zones in the boat: 1) Zone A – Saloon and 2) Zone B – Pilothouse. Each zone has
the following components: Two KEF high-end, high fidelity ultra-thin wall speakers and a
REL high-end 6" subwoofer. The stereo has internet and radio capabilities. It can
handle multiple TV sources in 4K and can be controlled with an iPhone or iPad along
with controlling via a traditional remote control. There are 4 sources used for streaming
audio: 1) Helios Internet Audio Streaming App (includes Pandora, XM internet, etc.), 2)
Smart Phone or iPad connected via Bluetooth, 3) Apple TV unit, and 4) Garmin XM radio
system on the Garmin Chart Displays. 
SAFETY
Two 275N Ocean BackTow Lifejackets
Two rescueME AIS MOB1
Two RRK Race Knives
Two Triple Hook Safety Tethers
Four 275N ProSensor Re-arming Kits
MSR Fire Extinguisher
GSR Fire Extinguisher
Three Wireless EarTec Headphones with three Rechargeable batteries
Exclusions: Potential purchasers should assume that items on the vessel at the time of viewing, but not specifically listed on this sheet, are not included with the sale of the yacht. These specifications are believed to be true and correct but cannot be guaranteed. Items excluded include, but are not limited to Paintings, artwork, tool, food, handheld nav gear and binoculars. Owner's personal effects and clothing will be removed prior to closing.
Disclaimer: Jeff Merrill Yacht Sales, Inc. presents the details of this vessel in good faith but cannot guarantee or warrant the accuracy of this information nor guarantee or warrant the condition of the vessel. Buyers should instruct their agents and their surveyors to investigate all details the buyers desire validated. This vessel is offered subject to prior sale, price change, or withdrawal without notice.
Broker comments: 
Versatility, comfort, and long-range stamina are what make a Nordhavn 47 such a profound trawler yacht. Beautifully finished inside and out she is a treasure afloat, equally at ease anchored in some shallows as she is capable and ready to take off on a long-distance, ocean-crossing adventure. Time and time again, Nordhavn 47's have been hand selected as the vessel of choice to take their crew hundreds of thousands of miles offshore, crossing the Atlantic and Pacific oceans, and getting back home safely.  One of the 47's biggest advantages are their ideal size that provides generous accommodations, extensive storage, access to more marinas and impressive range with a comfortable ride.  The Nordhavn 47 is a vessel two people can handle as owner operators, eagerly maintain, and continuously enjoy.
Bluewater is being sold ready to cruise. Her owners have lovingly cared for her, updated her, and refit her with the intention of international travel. Unfortunately plans change as they do, and their attention has had to be placed elsewhere.
Bluewater is considered a late model N47. This means that numerous factory improvements were made towards these later hulls such as an opening hatch in the owner stateroom, full size watch berth in the pilothouse, and 24V electrical.  Bluewater also has Side-Power electric bow and stern thrusters to allow her operator superior control in most docking situations.
Bluewater has a heritage of long-distance cruising and loving care. Recent improvements include updated soft goods, updated navigational and communication equipment, as well as a modernized sound system. Bluewater's specialized systems allow comfortable on-board experiences both at the dock, and away.
 It is difficult to summarize in a written preview everything you want to know about Bluewater.   The more you learn, the clearer you will see she has benefited from regular upgrades and continual improvements to continue her active cruising travel plans. To learn more please get in touch to schedule an in-person visit so you can come aboard and see for yourself.
Brokerage: JMYS is a US based (licensed and bonded yacht brokerage in California, Florida and Washington) with an international emphasis specializing in ocean capable trawlers and recreational tugs. Our brokers are experienced boaters, most are trawler owner/operators with thousands of hours and miles at sea.  The team at JMYS has extensive trawler and motor yacht product knowledge and our skills are available for coaching after the sale has concluded.
Co-Brokerage: Fellow yacht broker association members: This listing is available for co-brokerage and JMYS is a 50/50 house. Courtesy showings are available by appointment. Florida listings subject to appropriate broker licensing required by law.