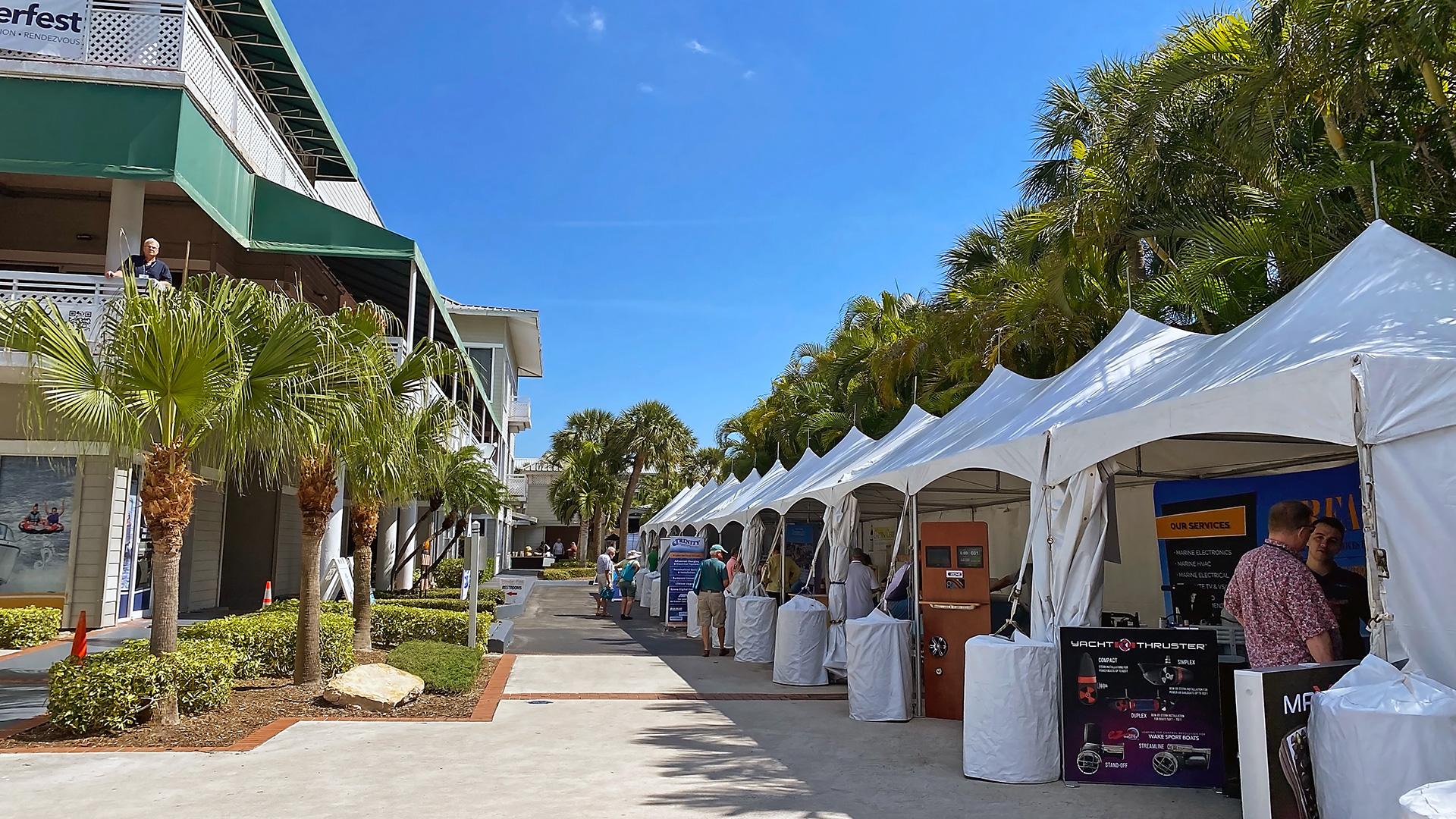 Is there any better destination for the first Trawlerfest of the year? With attendees flying in from all over the country to get their trawler fix, the welcoming Florida weather is an added bonus for those flying away from the snow! The Hutchinson Island Marriott is a fantastic getaway location on the water, with all boats and seminars right on site within walking distance. We were thrilled to be back with the Passagemaker crew and happy to have our own full team on deck – Jeff Merrill and his wife Pam, marketing coordinator Katy Boyle, special projects Elle Conwell, and trawler specialist brokers Mark Pittman and John Hoffman.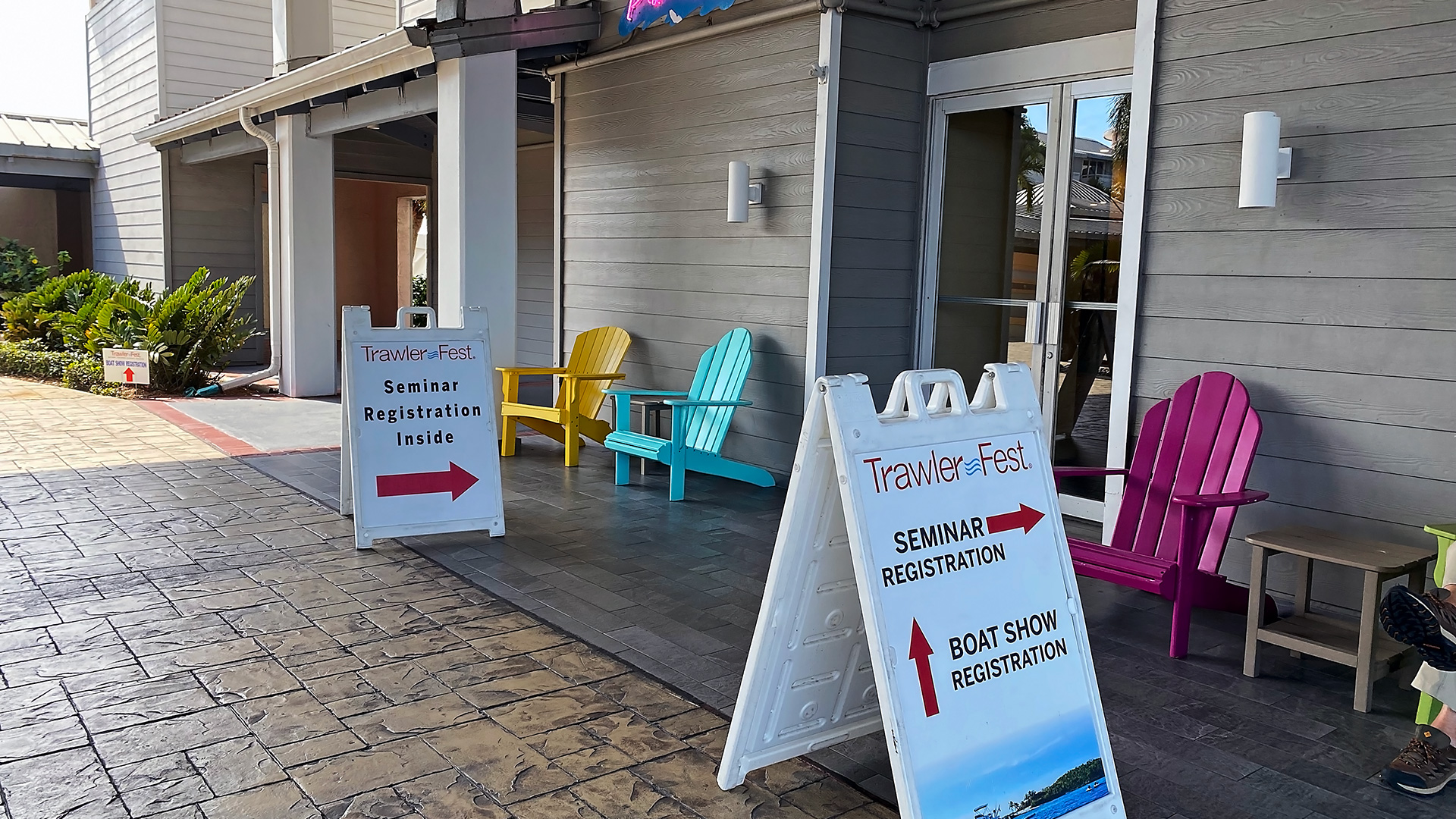 On Tuesday, the first day of Trawlerfest, Jeff presented Heading Offshore to a group of eager trawler scholars who spent two hours learning some of the essentials needed to prepare for cruising offshore on a trawler. Voyaging Under Power is a book that ramped up the Trawler Lifestyle. We give away a first edition of this book each Trawlerfest to a seminar attendee and encourage those interested in learning about the history of trawlers to start here! Congratulations to our Trawlerfest Stuart winner!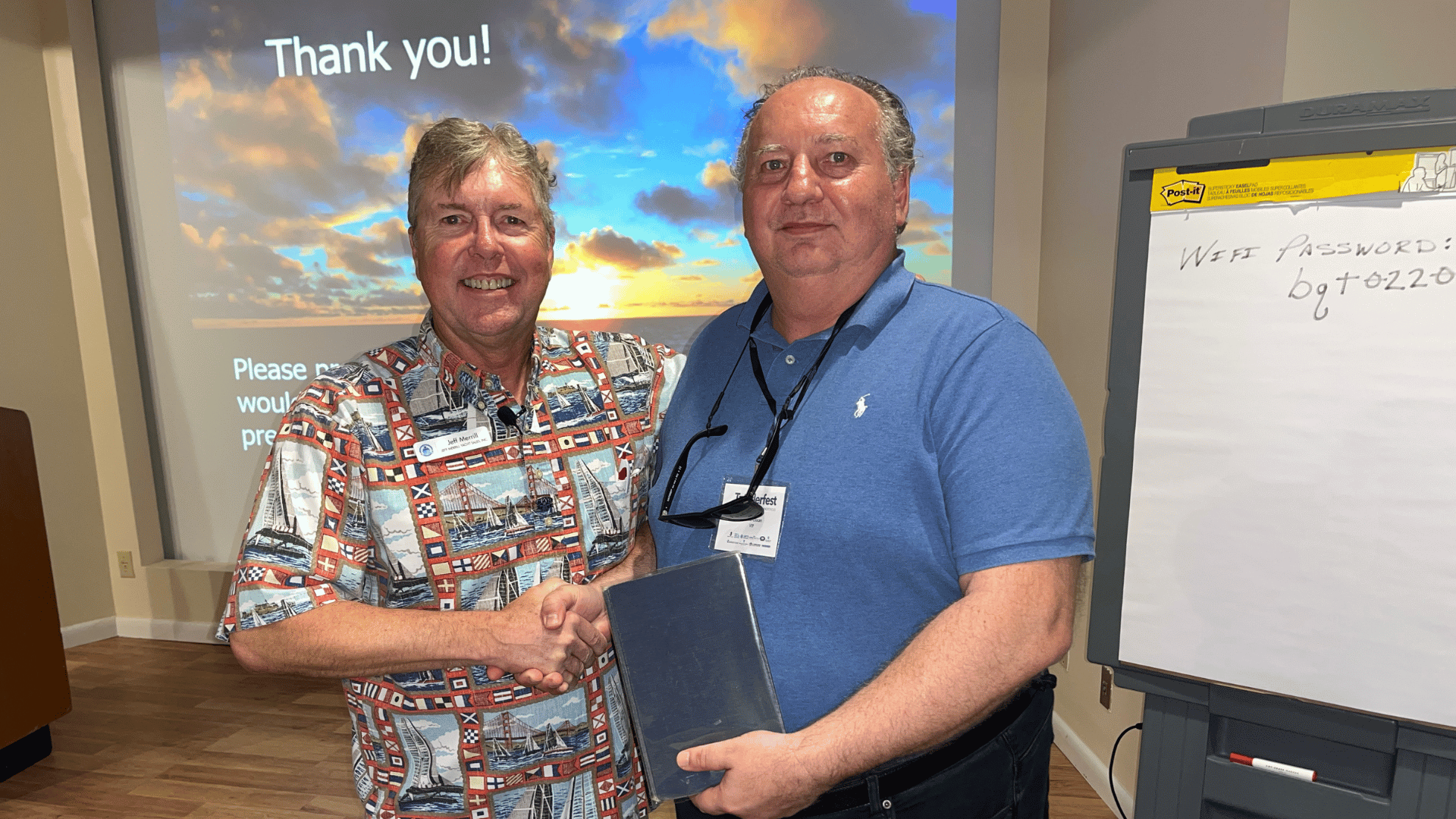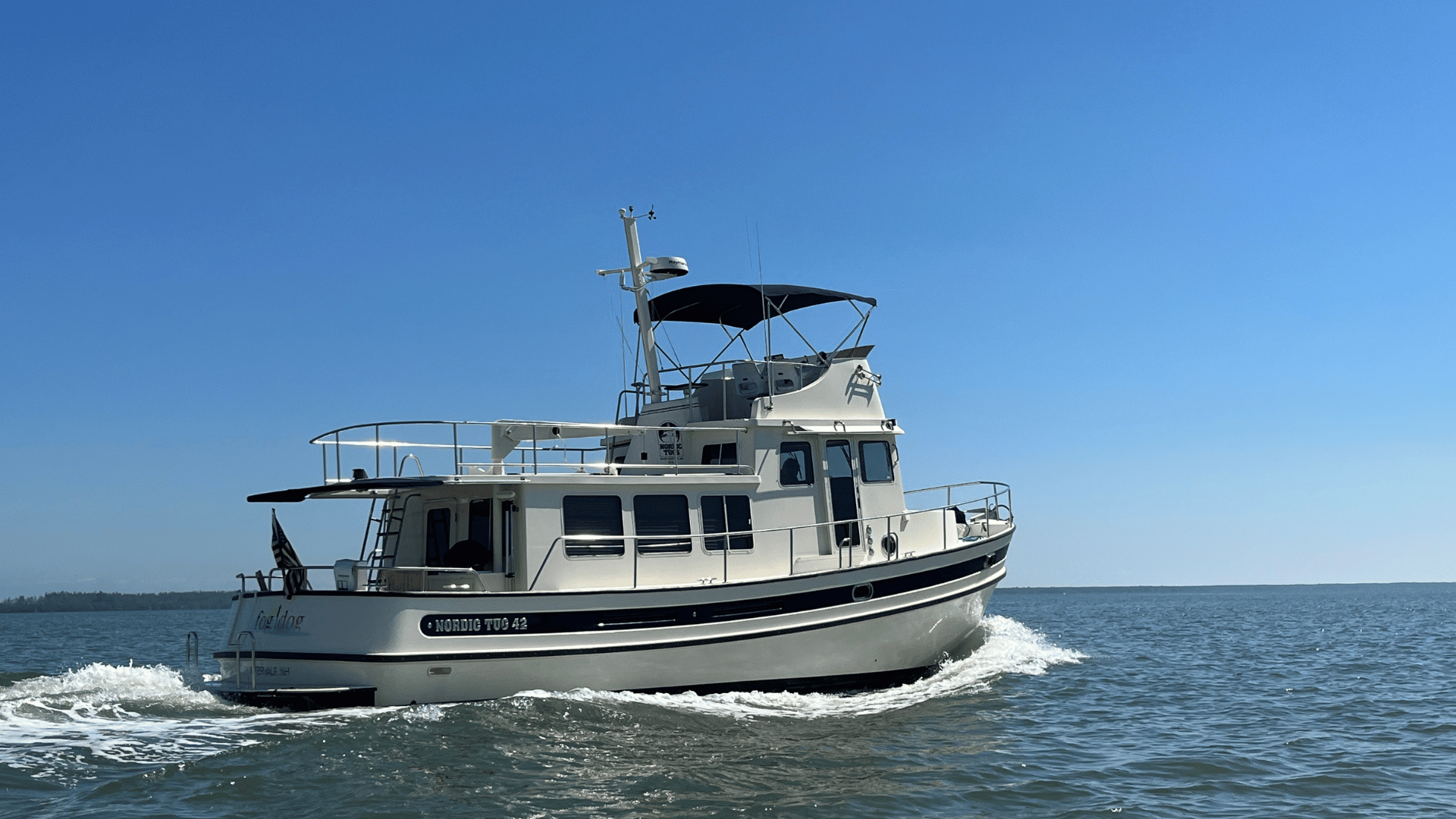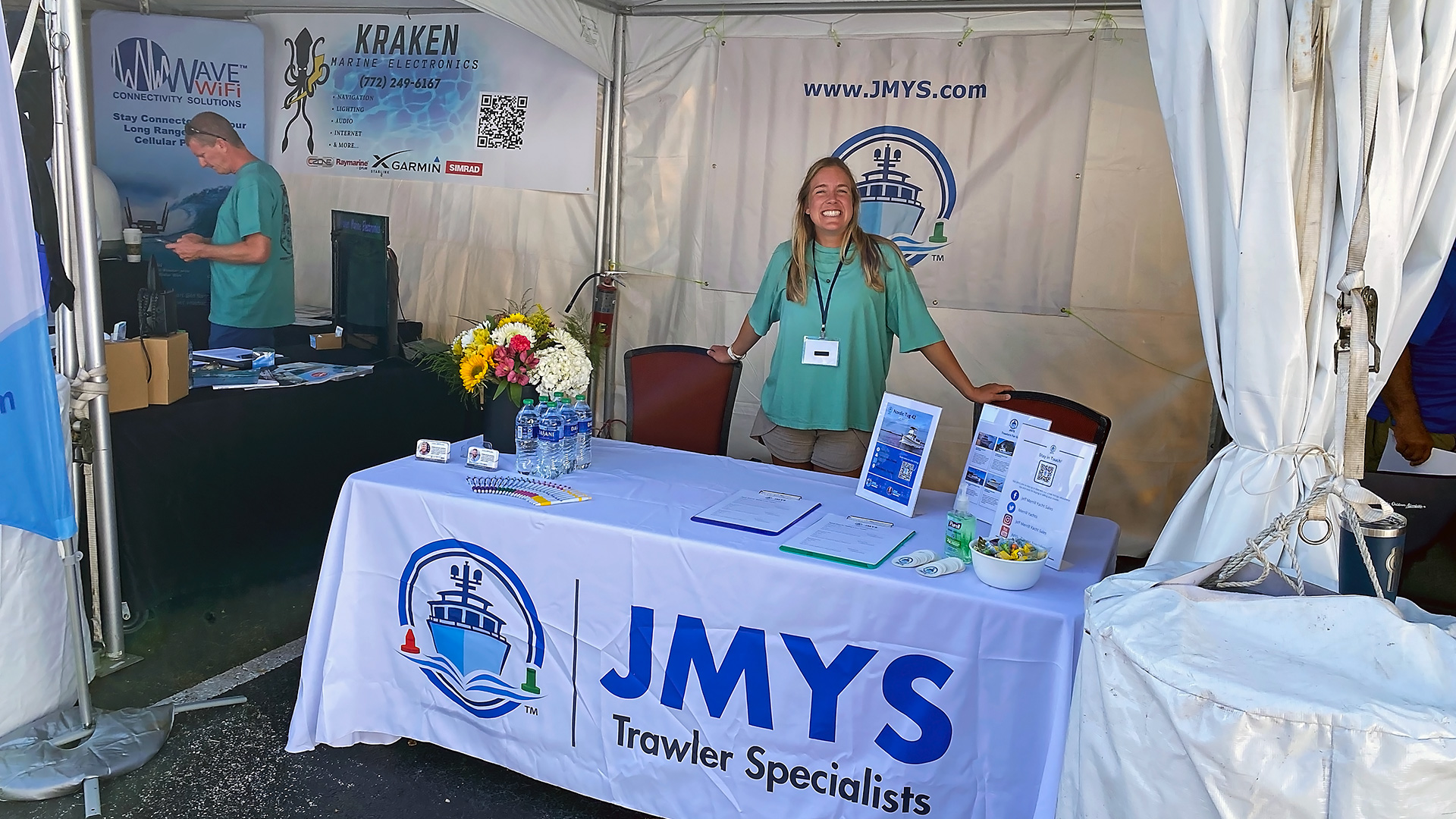 On Wednesday, March 1, Jeff and JMYS broker Mark Pittman helped cruise the Nordic Tug 42 Fog Dog from her home in Vero Beach to the show in Stuart, where she would be on display for the next 3 days. Along the way, they were able to film a Talk Through Tour and got some great underway shots of Fog Dog tugging along!
Meanwhile, the girls of JMYS: Pam Merrill, Elle Conwell, and Katy Boyle, set up the JMYS booth with all the supplies needed for the next few days.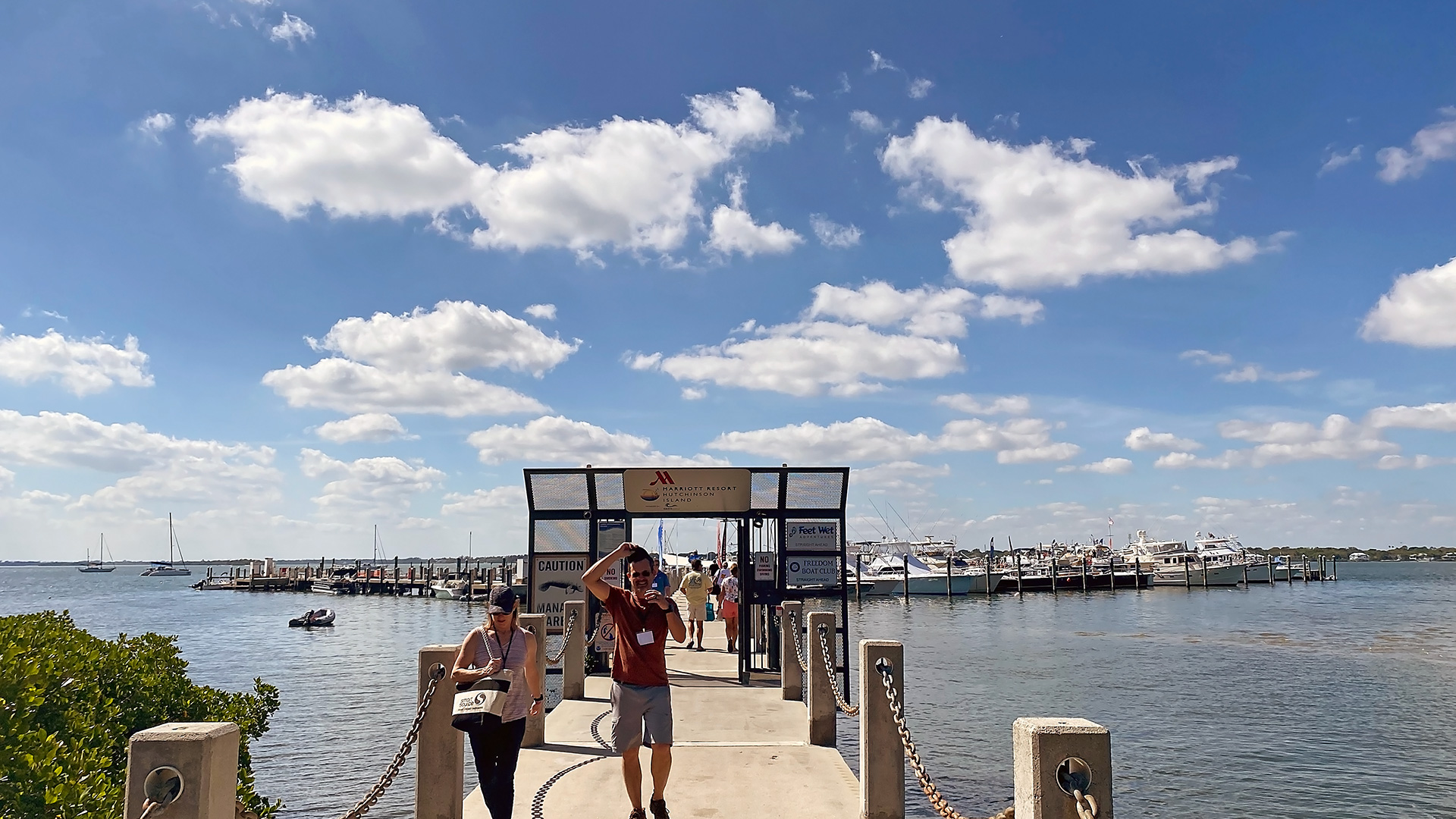 Thursday, March 2nd was the first day of the in-water boat show! Attendees loved the short scenic walk to the docks, stopping to take photos and watch herons, cranes and osprey's hunting in the sand bars along the way, and keeping their eyes peeled for manatees. The water was beautiful, and the air temperature was a comfortable 85 degrees, thanks to a steady breeze that kept the humidity at bay.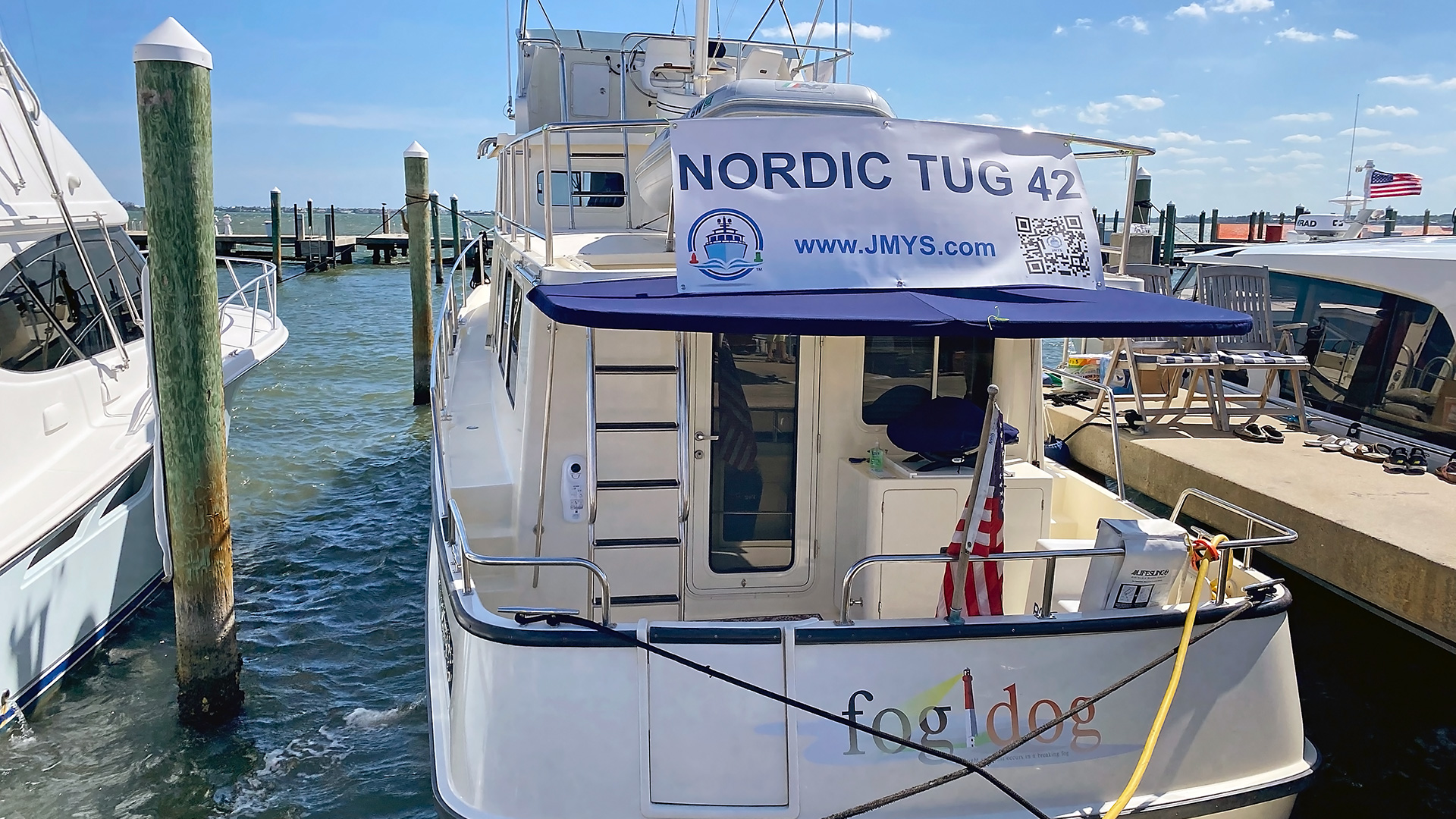 Fog Dog was a busy destination down on the docks, staffed with Katy Boyle on the dock and Elle Conwell in the cockpit as the welcoming committee/shoe security, both directing people inside to broker Mark Pittman, who was available to get into the details and field questions. Many attendees commented that they had never been aboard a Nordic Tug before and loved the quality of the interior wood, open galley/saloon area, and the natural light that poured in from the pilothouse above. The stunning views from the flybridge allowed them to check out all the boats in the show from a bird's eye view!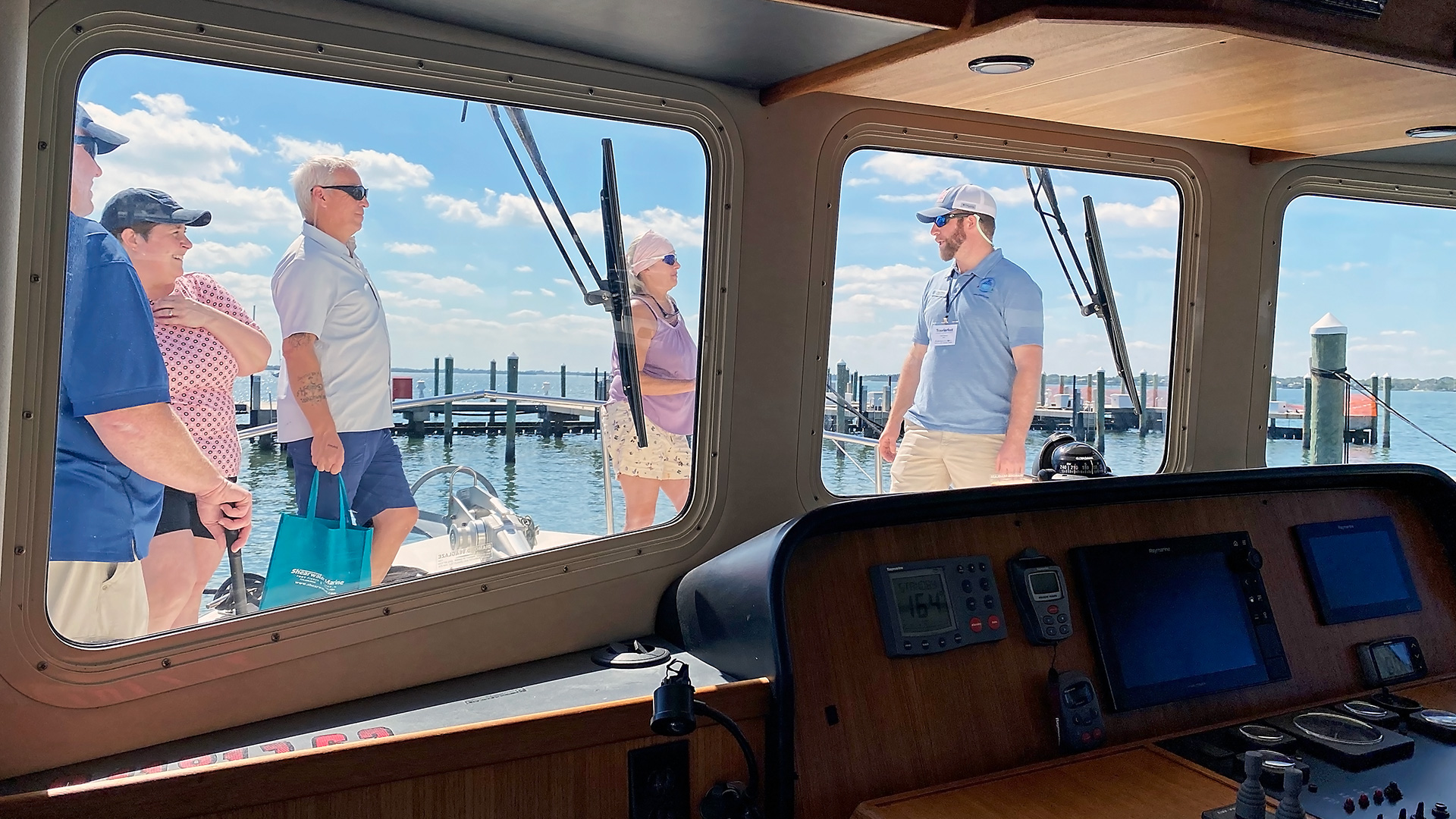 The in-water boat show had a fun variety of boats: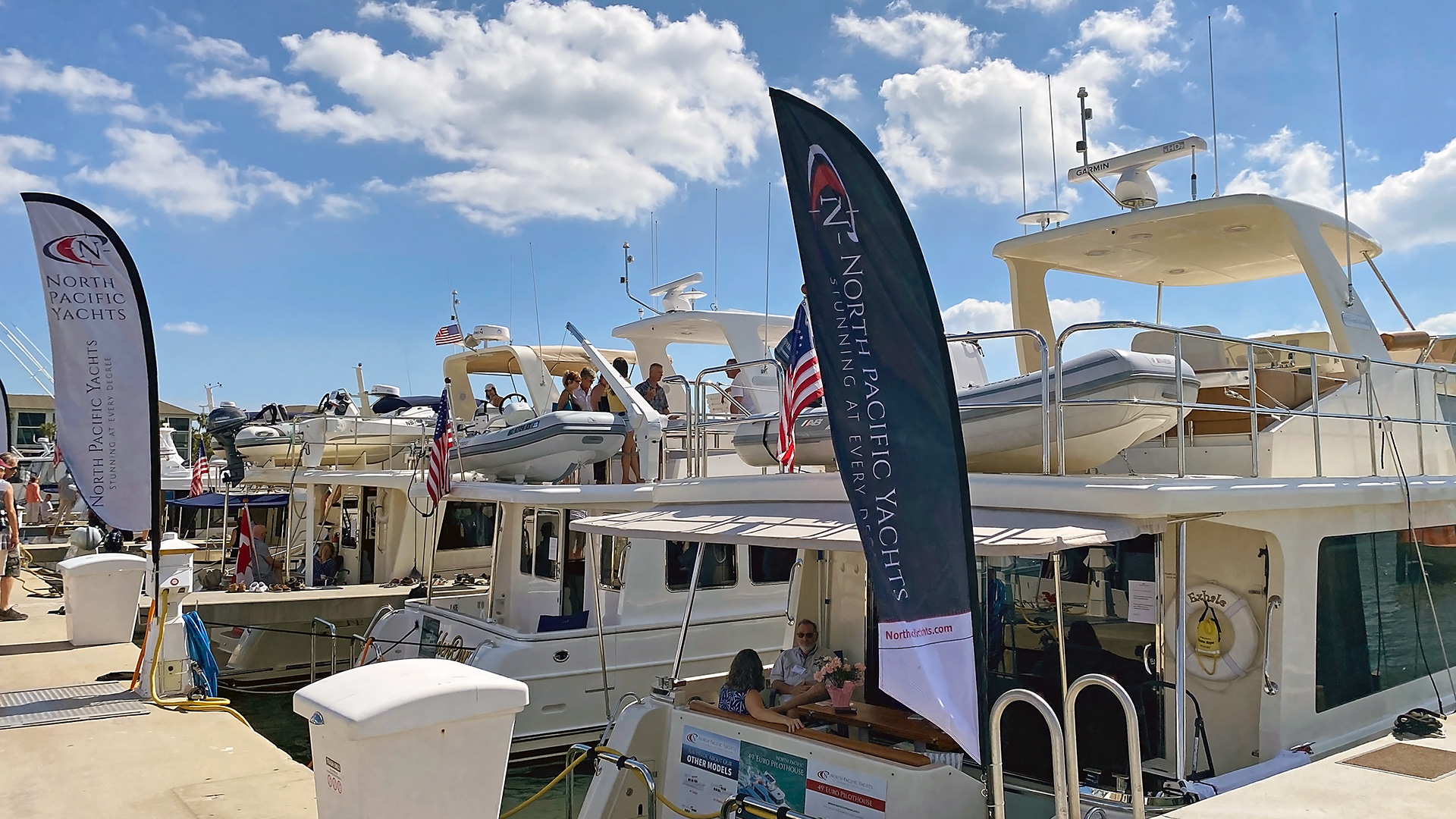 Burr Yacht Sales – Fleming 65
Denison – Beneteau Swift Trawler 41
Kadey-Krogen – Kadey Krogen 50
Manatee Pocket Yacht – 48 Californian
North Pacific Yachts – 43, 45, 49
Pocket Yacht – Ranger Tug R-27, R-31, R-31 #2, R-43
Seattle Yachts – Nordic Tug 42
United Yacht Sales – Menorquin 120
Yacht Sales International – Greenline 40 Hybrid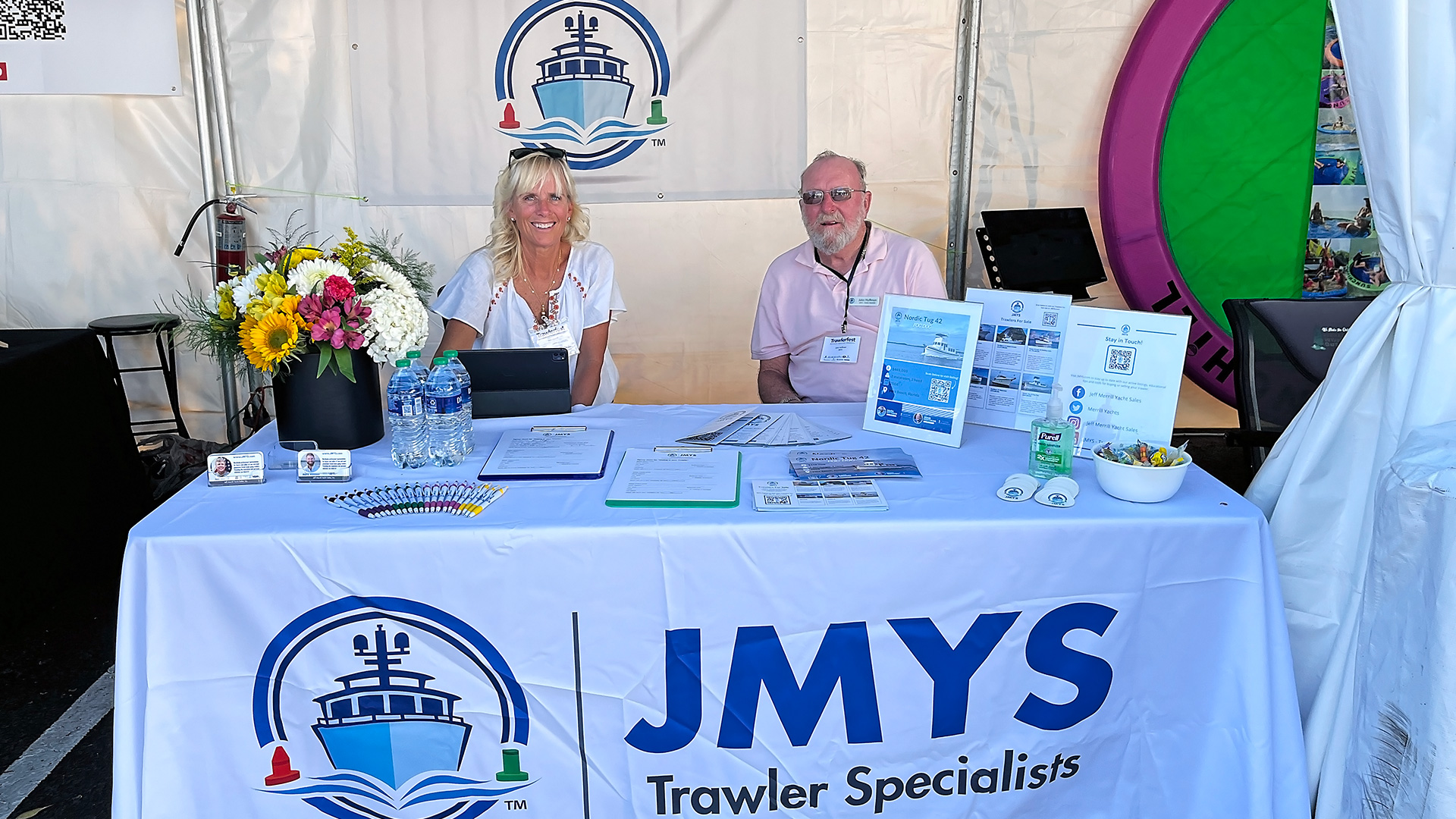 Pam Merrill and Broker John Hoffman held down the fort at the booth, greeting friendly faces and getting contact information from those interested in learning more about JMYS! A variety of people came by the booth –  many came to the show just to see Fog Dog, many without a broker came by to meet the JMYS team.  Many commented about how the JMYS You Tube videos and our website content have inspired them to head out cruising and wanted to meet the team that has created the JMYS following.   Jeff has been active in the trawler world for over twenty-five years and has formed many enduring friendships.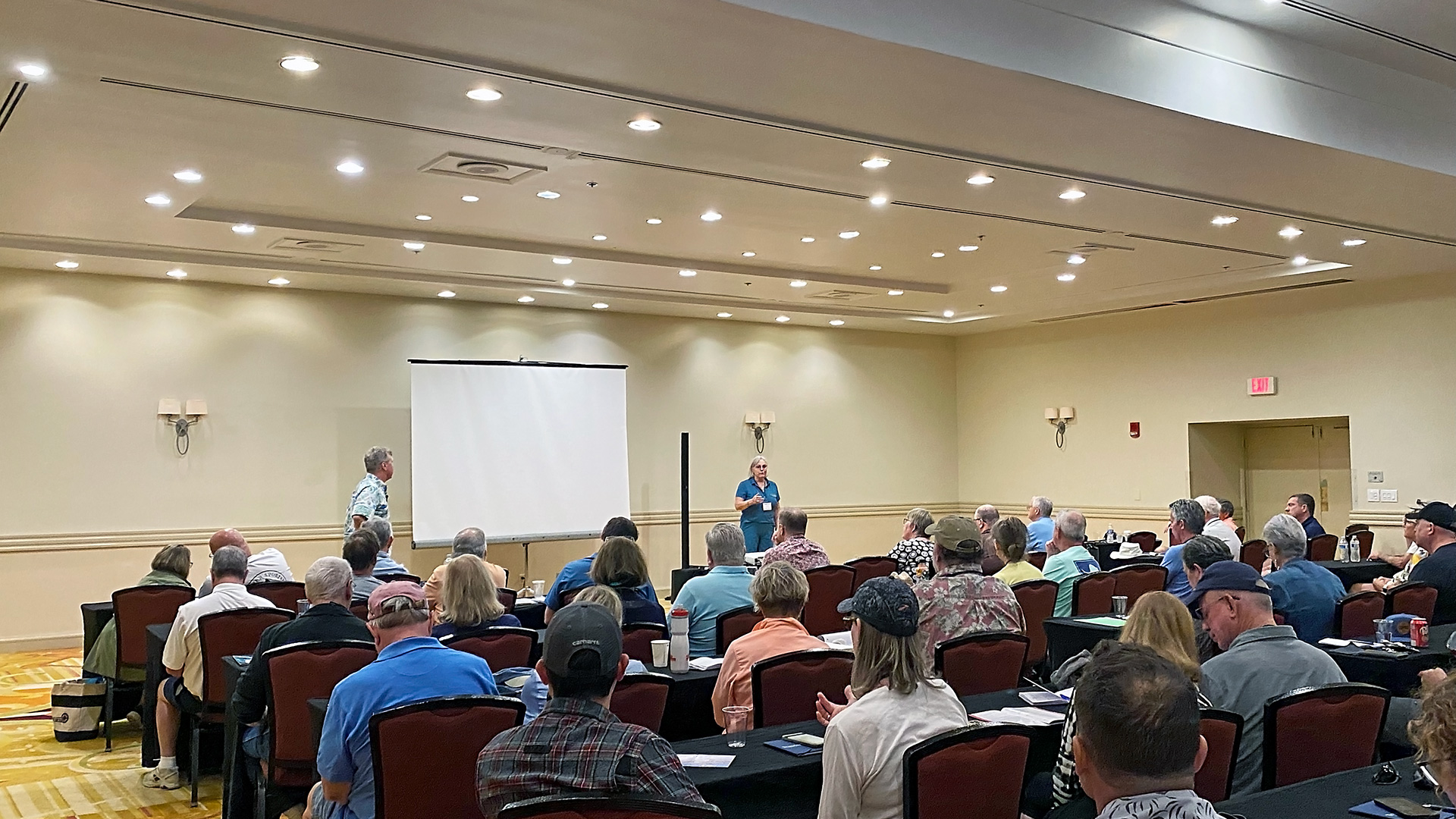 Jeff was busy moderating Trawler Buying Tips, a packed room with some even standing in the back! Attendees were busy taking notes and asking questions as they listened to Steve Zimmerman discuss which hull form is best for your cruising needs, Maritime attorney Matthew Miller shared legal insights to boat buying, CPYB JP Skov discussed the importance of choosing a qualified broker, Cindy Lewis from Sterling Associates on financing, and Arthur Buhr from Total Dollar Insurance helped attendees understand the current insurance market.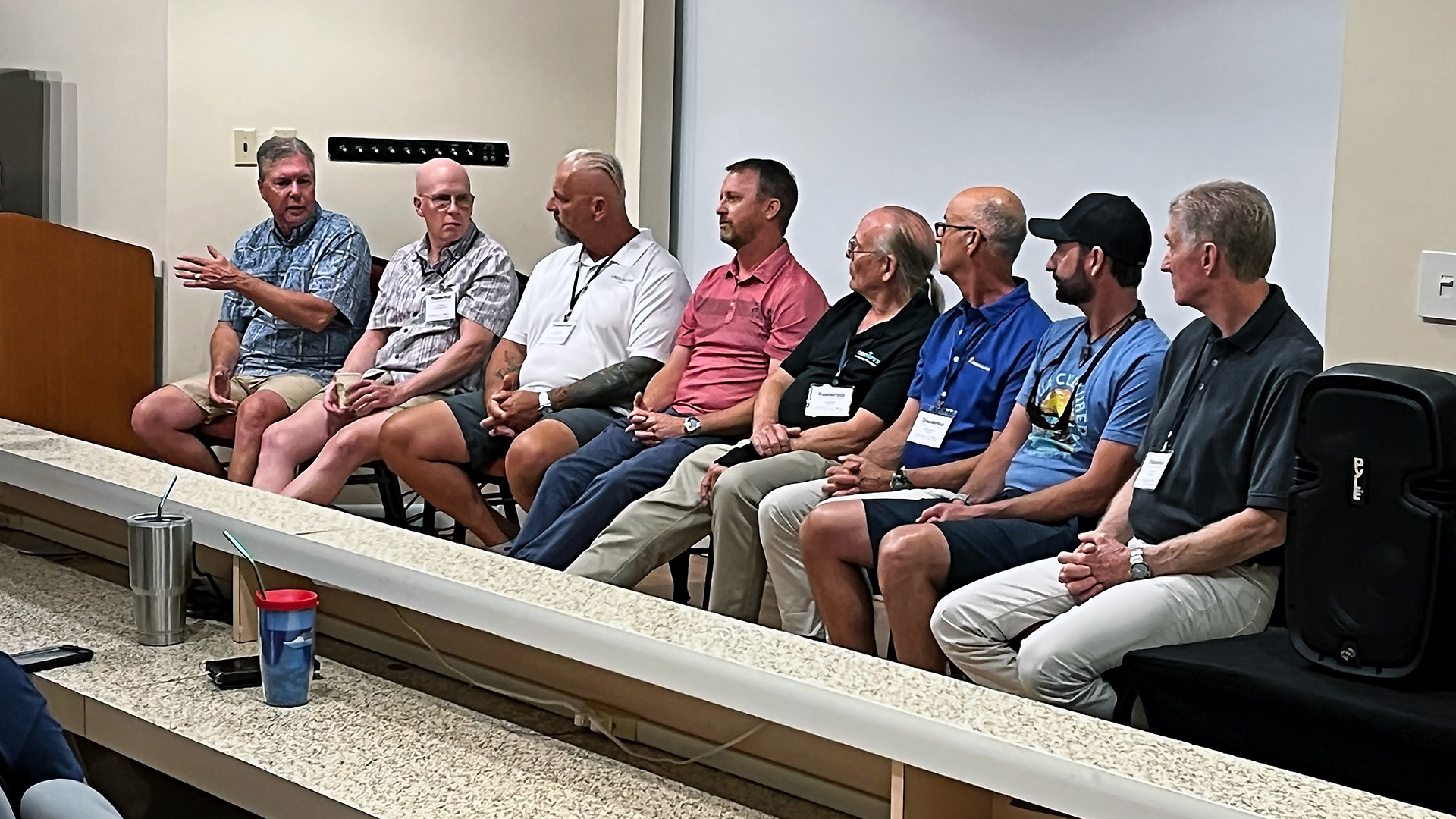 On Friday, March 3, Jeff moderated Ask The Experts: A Town Hall Meeting that included a panel of veteran cruisers and industry veterans including Steve Zimmerman, Bob Arrington, Matt Miller, Udo Willerson, Buddy Morgan, Bill Nieman and Butch Ringelspaugh who all shared their expertise, experience and opinions on a wide range of topics. This is a wide-open Q and A that often surfaces some funny stories and priceless information.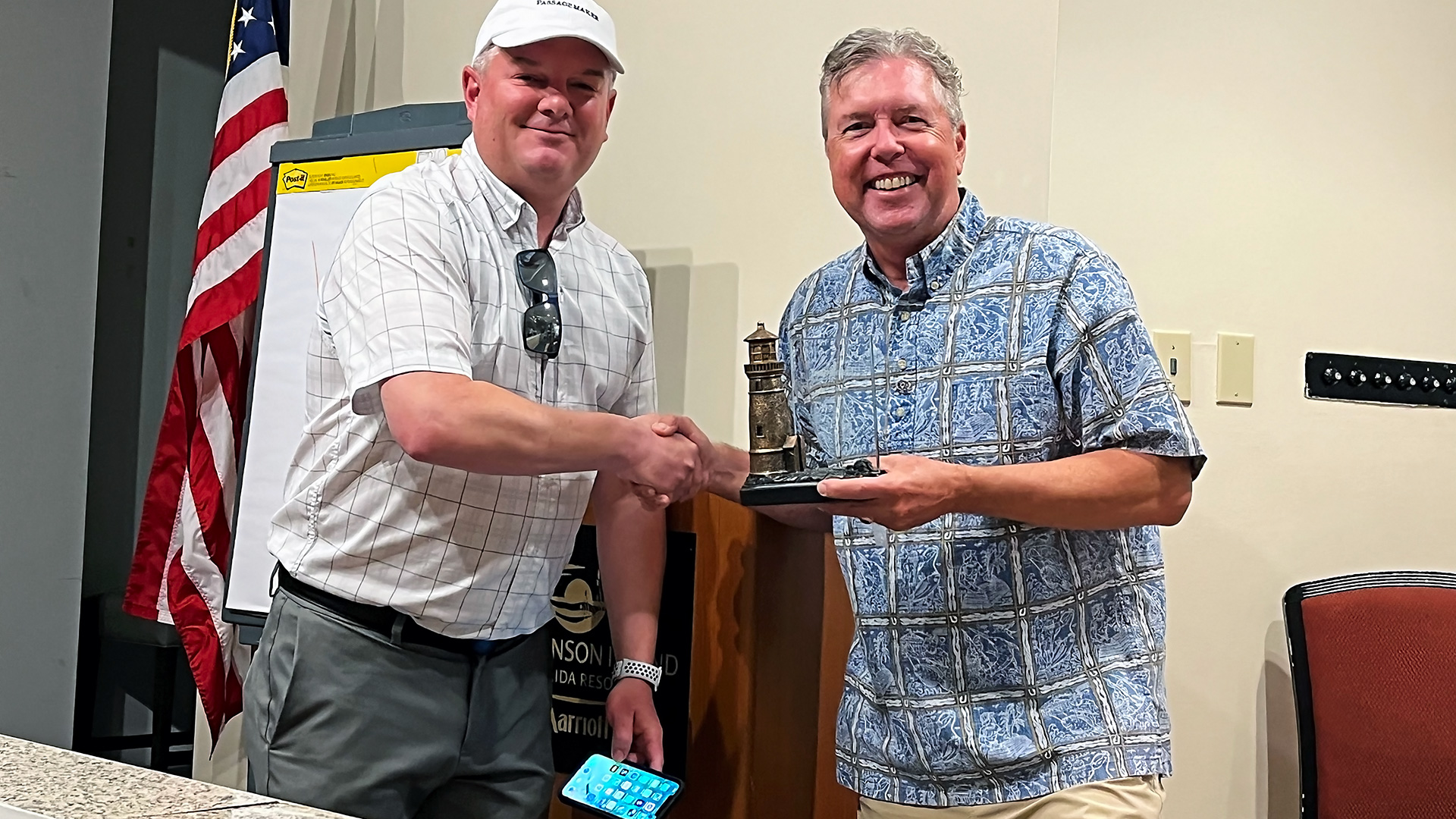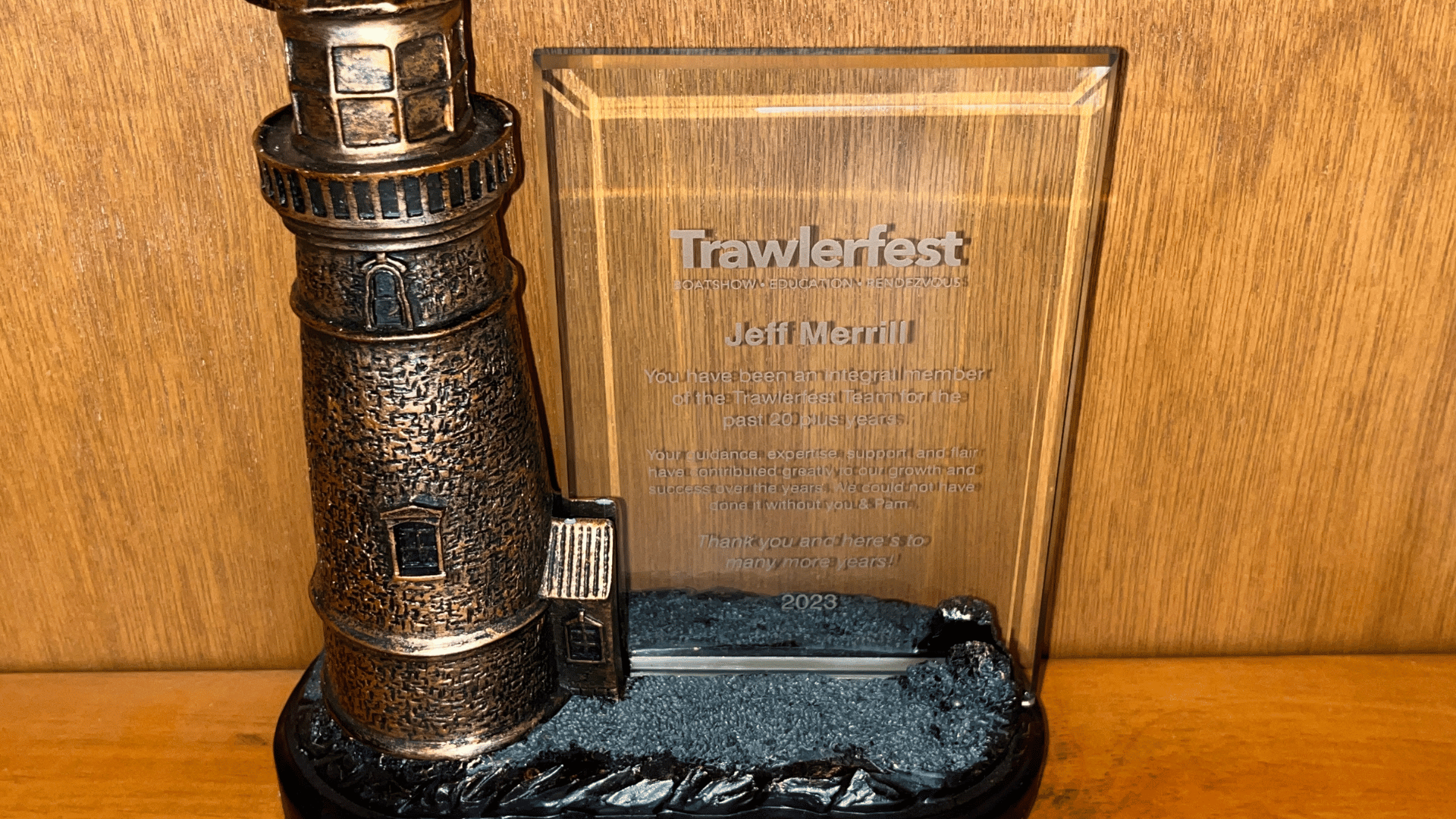 At the end of the panel, Jeff was presented the Trawlerfest Ambassador Award by Passagemaker event staff Ryan Davidson, thanking him for his large role as a Trawlerfest contributor and presenter for over 20 years! Here is what Ryan had to say:
"Jeff Merrill has been a big part of Trawlerfest for us, going on over two decades. He's been with us to so many different shows, and he is an ambassador for us as a whole. He has traveled across the country countless times to present engaging, thorough, fun and very educational topics to our eager-to-learn attendees. His passion for the industry, educating boaters, whether they're new or long time, has been unparalleled to our cruising community. Jeff is always creating new topics for seminars, sharing his personal experiences, whether they're good or bad, and always enhancing our attendees experiences through every one of our Trawlerfests. His support and contributions to Trawlerfests growth over the years has truly been exceptional and without Jeff I'm not sure exactly where we'd all be as a whole. So from myself and the entire Trawlerfest team, I would like to award Jeff a trophy for being an ambassador for Trawlerfest."
The last day of Trawlerfest brought another busy wave of people aboard Fog Dog and in Jeff's morning seminar, Dial-In Your Trawler.  At the end of the presentation there was a rousing round of applause and people filtered up to say hello to Jeff and thank him for sharing so many ideas that they could immediately implement.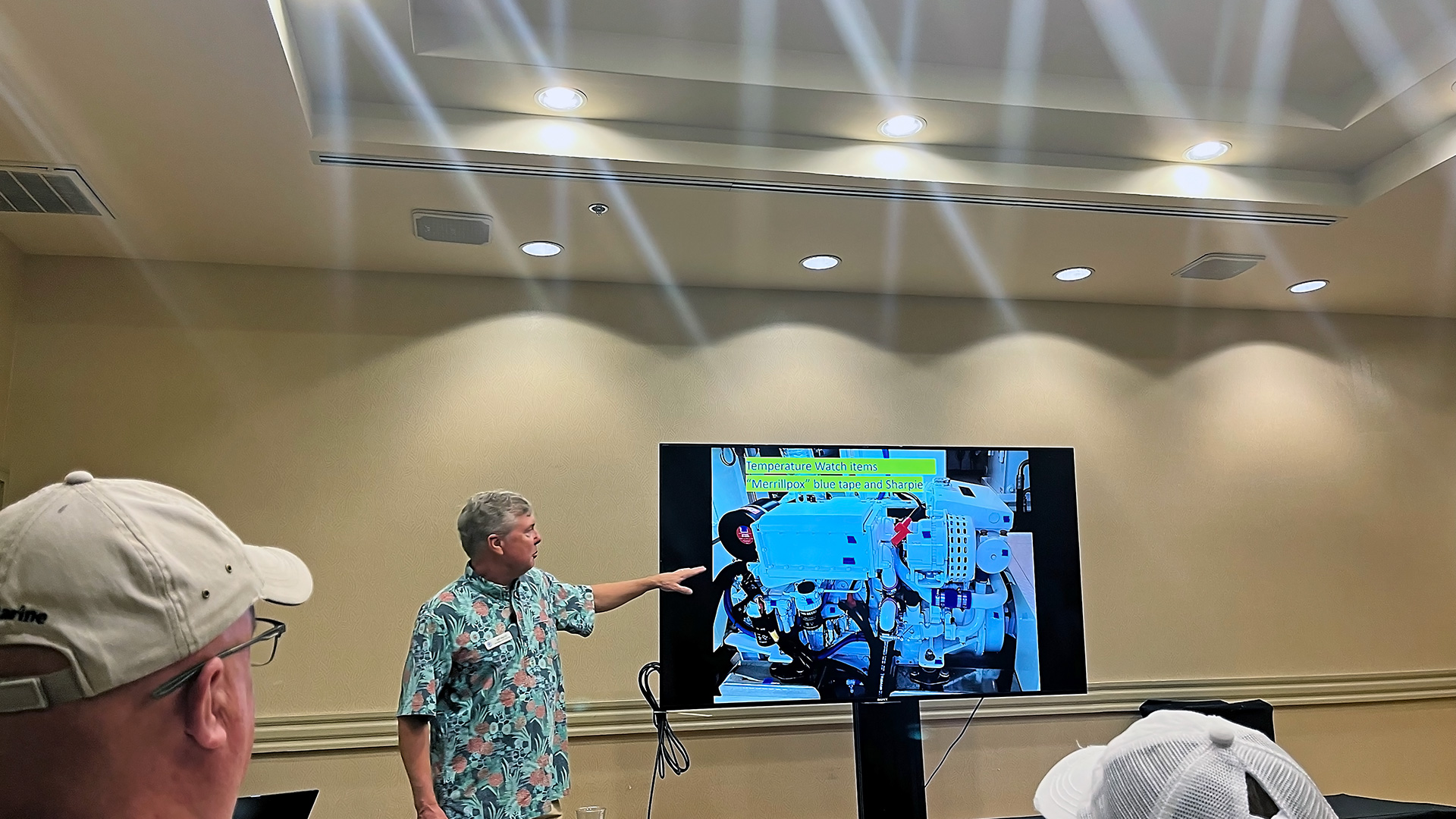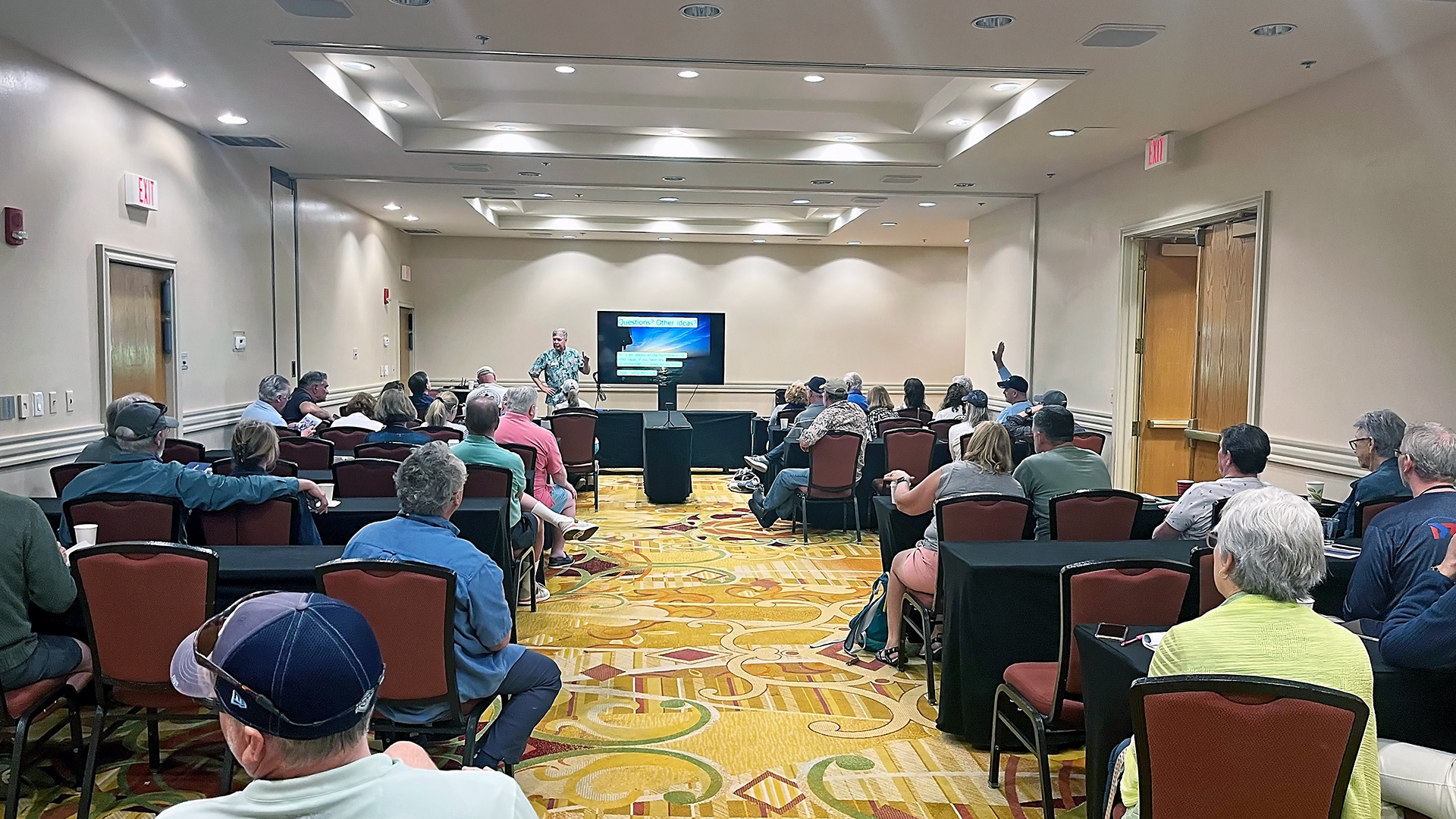 A pleasant attendee from Alaska named Susan mentioned to the JMYS team that Trawlerfest was such a great event with so many different types of people – but all here for a shared reason.
Trawlerfest is organized by the team at Passagemaker Magazine, the leading publication for trawler enthusiasts. Julie Jarvie, Donna Ascheim and Ryan Davidson (along with their extended crew) from Passagemaker provided excellent help and coordination for the show and as always, we thank them for their dedication to a smooth and enjoyable event!
The next Trawlerfest is scheduled to take place in Anacortes, WA on May 18th-20th. Tickets are now available:
https://anacortesboatandyachtshow.com
If you attended one of Jeff's seminars, the PowerPoints in PDF and handouts in Word and Excel are available for download below.
Dialing In Your Trawler:
Offshore Cruising:
Trawler Buying Tips: