With 2014 in our wake and the balance of 2015 on the horizon, I wanted to write a short note to thank all of you who helped me this year with the launch of Jeff Merrill Yacht Sales, Inc.
It has been an extremely exciting ride from last January when I tacked away from 14 years at Nordhavn to venture out on my own, but with the benefit now of a few months underway I know it was the best thing I've ever done, my sails are full and I'm on a lift!
I was able to coordinate a few trawler transactions and break even on my start up costs by the end of July – a pretty short time to become financially stable as an independent yacht broker.

Jeff Merrill
Trawler Specialist
Worldwide professional representation for buyers and sellers of new and used premium brand ocean going trawlers. Providing the experience and personal attention you deserve!
Phone: +1 949.355.4950
Email: Jeff.Merrill@JMYS.com
Website: www.JMYS.com
In between making calls, sending emails and catching planes, I labored with developing my website, the most important business tool in the "modern" world. Thanks to one very loyal client (and like all of you a good friend) I was able to change my domain from www.jeffmerrillyachtsales.com to www.JMYS.com – much easier to remember and search for.
The soft launch of the website was in May to coincide with the Anacortes TrawlerFest, and the "real" launch was at the end of September to tie in with the Baltimore TrawlerFest. I've now had a few weeks to debug and get settled and am always in the process of collecting more information to post online.
During this first year I've stepped away from the quarterly emails I normally sent in order to focus on building up my brokerage.  I still believe phone calls and in person visits are the best ways to maintain relationships and keep in touch, but emails are pretty convenient and can cover a lot of water.  Now that I am finally catching up and essentially trimming the sails of my business (as opposed to building the boat from scratch!), I hope to get back into a more regular email blast routine.
I intend to send out a mass email to my entire data base once the New Year arrives, but this email is only going to a small group of friends who have been with me from the start and have not only been instrumental, but inspirational in helping me launch my new venture and get a clear lane off the starting line.
THANK YOU for your confidence and support, it's like a huge gust of wind and it has my momentum accelerating!
Here's to a great 2015 for all of us and I look forward to seeing you soon!
Cheers,
Jeff
949.355.4950
Jeff.Merrill@JMYS.com
www.JMYS.com
South By West
South By West completed a wonderful cruise to the Bahamas from her Florida base and after seven years of great times aboard her owners (second owners) now have their sights set on a larger boat. This truly was a watershed hull in the production series as the original owner pushed for major upgrades and improvements with their salesman, Ray Danet, an expert cruiser himself, who was the Florida sales manager for PAE at the time. Trips to the yard in Xiamen, China helped to complete the ideal cruiser which was delivered in 2006. Due to changing circumstances, the original owner only used the boat for 260 hours before she changed hands in 2007. Her current owners are experienced boaters who knew South By West was something special when they purchased her and have actively traveled 20,000 miles while maintaining her in perfect condition. They have explored from Martha's Vineyard to Conception Island, via Baltimore, the Chesapeake Bay, Charleston, Dry Tortugas, Bahamas and more…
| | |
| --- | --- |
| MODEL: | NORDHAVN 55 |
| TYPE: | Long range passage maker with flybridge |
| | $1,425,000.00 |
| LOCATION: | Stuart, FL |
| YEAR: | 2005 |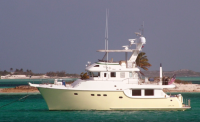 Arcadia II
The Nordhavn 47 design is handsome, roomy, practical and efficient. It is known in the offshore cruising community as an ideal family cruiser. Her quiet ride and exceptional passage making attributes are embodied in her safe and efficient offshore layout and generous engine room.
Arcadia II is a superb example of a beautifully maintained Nordhavn 47 that has been actively cruised by knowledgeable owners. She features the three stateroom layout with two separate staterooms forward, providing great accommodation flexibility for family and crew aboard. A 2003 model year build, she was one of the few 47's built in the South Coast Taiwan yard, where the Nordhavn reputation for craftsmanship and reliability started. Arcadia II has provided her owners thousands of miles of comfortable and reliable cruising from Alaska to the Caribbean and back. She is fully equipped with all the equipment to cross any ocean and is ready to take the new owner anywhere imagination leads.
| | |
| --- | --- |
| MODEL: | NORDHAVN 47 |
| TYPE: | Long range passage maker with raised pilothouse |
| | $685,000.00 |
| LOCATION: | Pacific Northwest |
| YEAR: | 2003 |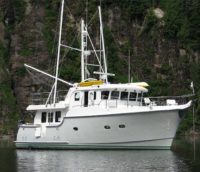 January 22 – 25, 2015
TrawlerFest Riviera Beach, FL
PassageMaker magazine sponsors a series of TrawlerFest events around the country and the first one is later this month in Florida. JMYS will attend and have on display the gorgeous Nordhavn 55, South By West – please come by to see her. Jeff will be presenting two talks – Pride of Ownership, Don't be afraid of the Dark, and also joining the Cruisers Panel. Looking forward to seeing you there!
February 12 – 16, 2015
Miami International Boat Show
The Miami International Boat Show is one of the best events of the year to see trawlers. Jeff will be on hand meeting with clients to tour boats. If you plan to attend and would like to meet with Jeff for some one-on-one meetings and showings, please call him in advance to set up an appointment, thanks!
d
d
Want to learn more about trawlers?
The Trawler Lifestyle
Jeff Merrill Yacht Sales, Inc.
3010 Old Ranch Pkwy | Suite 440 | Seal Beach, CA 90740