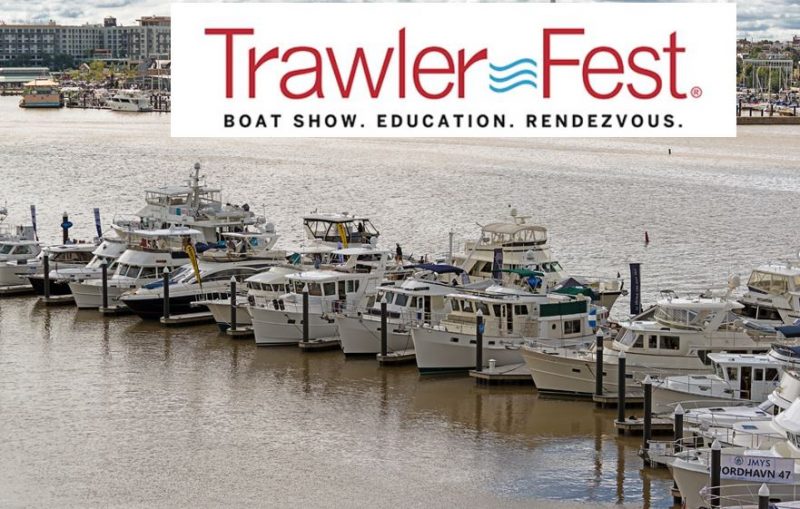 TrawlerFest moved back to the Baltimore Inner Harbor (Harbor East Marina) after several years away and the location, timing and participation was a big hit all-across the board. We had a little bit of rain showers, but for the most part the weather was ideal, and it felt like one more weekend of summer.
PassageMaker magazine has kept the TrawlerFest events both familiar and innovative by mixing up the locations, the seminar content and there is always a diverse blend of trawlers available to inspect. By hosting this event in three diverse geographic regions across the country and during different times of the year, there is usually one location that is the best and most convenient for travelers to attend.
Baltimore was the last event of 2018 and three more are being planned for 2019 (FL, WA and MD). We will keep you posted when we learn more details, but the first one has been announced to be in Stuart, FL March 5 – 9, with the boat show portion running 7th – 9th.
It is equally fun seeing familiar trawlerites faces and meeting new people – this is a great opportunity to spend quality time with people whom you have been emailing and calling. The JMYS team arrived in full force. On the sales side we had Jeff and Pam Merrill, Christopher and Alexandra Bruce along with Rob Piwowarczyk. Don Allen and Claudia Ortali from the JMYS technology side were also on hand. Jeff and Christopher were primarily on board to show off NaviGator. Rob who is also a licensed yacht broker helped out on the 47 as well as working in the tents to promote his new venture "The Trawler Experience". Don and Claudia shared a booth with Rob to announce their new web-based business, "Acquaholics". You can read more about both of these businesses below. We all got together after hours to enjoy each other's company.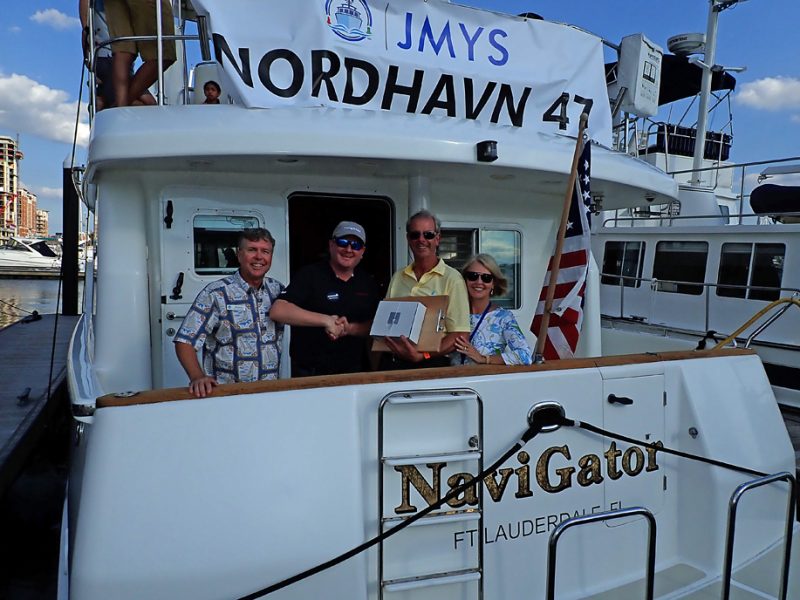 For Baltimore, we were fortunate to have the stunning Nordhavn 47 NaviGator on display and she kept us very busy. Jeff's experience with shows is that the "free range" approach of letting people wander around the boat is not nearly as satisfying or productive as providing escorted tours. Rob, Christopher and Jeff shared duty as tour guides pointing out the important details of NaviGator. The owners, Mike and Patsy Hill were also aboard and pitched in. At the end of the event we received a surprise visit from Ryan Davidson of PassageMaker to present the People's Choice Award as the most popular trawler in the show. This is not the first time a Nordhavn has won, but we were the only Nordhavn in the show and the brand is a magnet so thank you PAE for building such a great design. But the real credit goes to Mike and Patsy. Not many 13-year-old boats would stand tall with such an excellent assortment of trawlers – truly there is probably no better endorsement for how the Hill's have cared for NaviGator than the vote of the unbiased trawler aficionados at the show. Here is the link for the "People's Choice Award Winner" article on JMYS.com. https://jmys.com/peoples-choice-award-winner/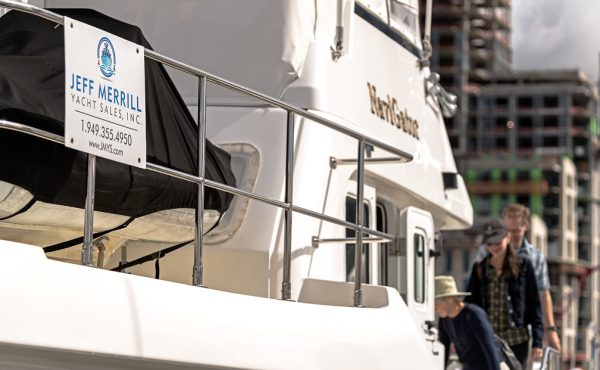 It doesn't seem that long ago that Jeff was helping Mike and Patsy plan their new build. The layout choices and equipment selections they made over a dozen years ago have stood the test of time. NaviGator has a lot to take in and is highly upgraded. Patsy has done an amazing job creating a warm and pleasing décor throughout. Guests marveled at significant upgrades like the flat screen television lift in the salon (tuned in to college football on Saturday) and the Viking propane stove and oven in the galley. A broad assortment of navigation and communication displays was lit up in the pilothouse and the stateroom accommodations below decks all boast granite counters that provide a very rich and polished finish. The tour groups were often stuck in the engine room (one guest wanted to come down to have lunch – it is that clean) and on deck access on the mostly sunny days was easy to tour winding up with the best view of the show from the flybridge. For more details about NaviGator, please visit www.Nordhavn47ForSale.com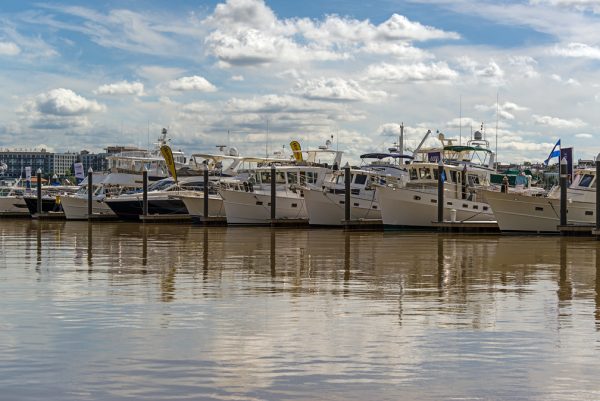 The down side of giving non-stop tours was that our team did not get much of an opportunity to see the other trawlers on display and some of the real cool boats we missed out on that also had long lines were: Grand Banks 60, Kadey-Krogen 50, Northern Marine 57, Henriques 52, North Pacific 49 and Hylas 44 and many others. (See below for an inventory summary of trawlers that were on display).
The JMYS team met a lot of great people at the event. This is particularly encouraging for our segment of the cruising market that is all about trawlers as there are people who are just finding out about the trawler lifestyle and others who have been doing their home work for years and are now getting closer to the reality of boat ownership. With the healthy economy (a record high for the Dow Jones stock market average was set in the early days of October shortly after the event) there are a lot of people who have realized that cruising on the water and operating your own boat (whether it is a Great Loop adventure or an overseas expedition) is a fantastic way to enjoy your golden years.
As the inventory of good and available used boats is diminishing, the boat builders are seeing a boom in new construction which is good for everyone. Brokers and sellers are seeing (and have been for the last 24 months) a true sellers-market where discounting is not as deep, and boats are changing hands in a shorter time frame. Nothing lasts forever, but as I've told many people recently, these are "the good old days and I hope they do stick around for another couple of decades!"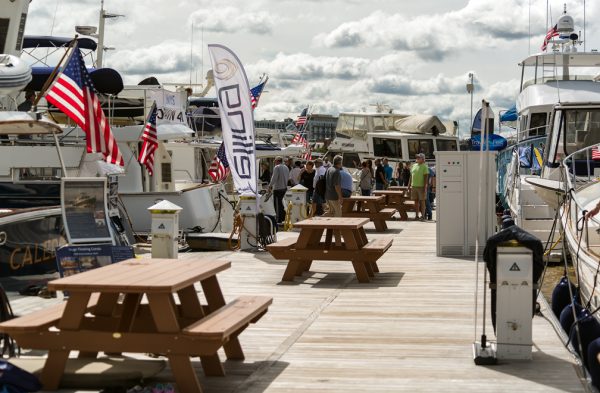 The docks are clean and wide, stable and can accommodate a large influx. We arrived early for set up on NaviGator and after tying up and having the cleaners on board (Thanks Tom!) we hung up our signs and then got organized for the show. The "Boat Show" portion runs Thursday, Friday and Saturday and is normally the case, the weekdays were not as crowded, and we were able to spend more time with people. Saturday was a mob scene, but it was a lot of fun and when 5 O'clock arrived -somewhere was now / here – and we toasted a busy week.
The Cruisers Roundtable was held on Friday afternoon and includes an experienced panel of veteran cruisers. Jeff again resumed his role as moderator and encouraged the audience to ask questions and seek advice. The panel as seated from left to right is: Jeff Merrill, Dylan Bailey, John Clayman, Bruce Kessler, Steve Zimmerman, Eric Kunz and Chris Parker. There were some lively discussions as always with good input from Eric on what is happening in navigation, Chris on the weather and Dylan on what surveyors see. Jeff, John and Steve talked about boat design and brokerage and Bruce tied it all together with some stories from thousands of miles at sea. Also in the room were PassageMakers' Jonathan Cooper, Andy Howe and Peter Swanson who provided additional insights. This is a fun regular TrawlerFest featured event and since it is unscripted it can get quite entertaining.
Saturday was a big day in the classroom for JMYS. Jeff had a morning session to present "Dialing-In-Your-Trawler" which is always a fun seminar filled with dozens of ideas that can improve any trawler.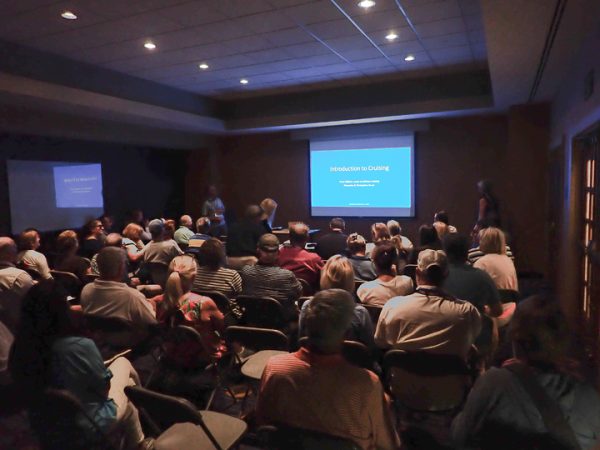 Jeff had to wrap up in time and turn over the classroom to Christopher and Alexandra who shared "Cruisers Perspectives". Hands down, this was the most popular seminar of the entire TrawlerFest with every seat filled and standing room only in the back. Very gratifying for the Bruce's to share how they got started and fell in love with the lifestyle – and very encouraging for a lot of the people in the audience who have been wondering if this is something they can do (the answer is YES!).
The last seminar of the day is a long 3-hour session that Jeff ran called "Offshore Essentials". This course is for more experienced cruisers who are ready to travel non-stop for days and want to learn more about engine room checks, standing watch, preparing crew, operating navigation equipment, etc.
The PowerPoint presentations for all three talks (including handouts from Jeff's courses) are posted below and will be available for a limited time so feel free to download and review if you were in class or to check them out if you are interested in seeing what you missed.
Details for the upcoming Stuart, Florida TrawlerFest will be published on this web link:
For those students who attended Jeff's talks and/or Christopher and Alexandra's seminar in Baltimore you are invited to review the presentations and handouts posted here for a limited time. These resources will be online for downloading until the end of November and then be removed. Please review them while they are "live".
Reminder: In addition to our trawlers for sale listings, JMYS also has a series TrawlerSkills videos for you to view on our YouTube channel. Topics include our "Physics of Docking" series as well as many owner operator hands-on learning techniques. You can subscribe to our expanding YouTube Channel to get notifications when new videos are posted, and you can all sign up for the JMYS email newsletter list to receive announcements and keep informed about trawler events and activities.
Thanks to everyone who stopped by or attended our seminars in Baltimore, we hope to keep in touch!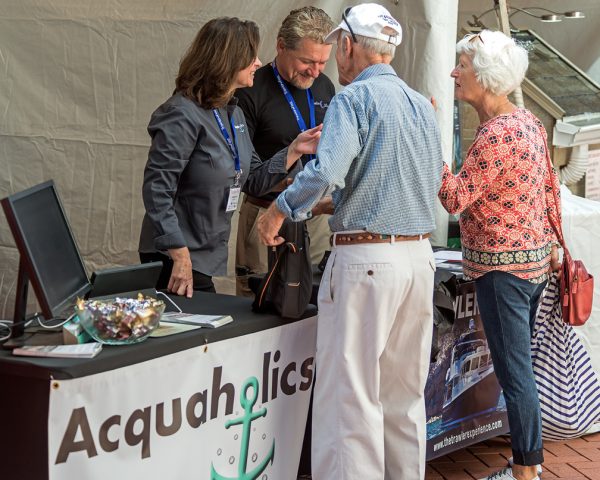 About Acquaholics: Baltimore TrawlerFest was the initial showcase to share the recently launched website (www.acquaholics.com) and they received positive feedback from guests and yacht owners. The news generated a lot of excitement as various yacht owners felt new revenue opportunities were available to them and for guests the opportunity to experience something different and unique. The website is free to use for all yacht owners and guests. The site provides yacht owners with the ability to list their yacht for sleep aboard and/or invite passengers and/or crew on a journey.
Some of the features include:
Providing guests with the ability to sleep aboard while docked, moored, on the hook (You also have the option to indicate if they are able to charter).
Providing guests or crew with the ability to join you on a journey.

Indicate purpose of the journey: pleasure, exploration, repositioning, research or education/training.
Identify roles needed. E.g. Captain, Chef, Deckhand, Diver, Videographer, Watch Stander, etc. or simply a passenger with no experience.
Specify fee (or if they pay for e.g. Food/Fuel in lieu of a fee) or compensation provided if you are recruiting crew or free if that is your preference.

Guests have the ability to filter their search using the extensive search filters provided such as pets onboard, boat name, boat type and over 100 amenities, etc.
You can contact Acquaholics at info@acquaholics.com. Feel free to reach out with any questions, feedback or partnering opportunities.
About The Trawler Experience.
Rob Piwowarczyk, owner of Bella Luna Charter out of Southern California introduced their new educational charter – The Trawler Experience, geared towards first time trawler buyers.
These one day or overnight charters offer future trawler owners the opportunity to – "Try it before you buy it". Guests are able to get real life, hands on experience onboard a Selene 55 Ocean Trawler. Rob and his wife Deanna are live aboard trawler owners that love the trawler cruising lifestyle and want to share their trawler owner experience with future trawler owners and help them make a better buying decision.
For more information you can visit their website – www.thetrawlerexperience.com
Below is an alphabetical summary list of the new and used trawlers that were on display.
Aquila 36′
Aquila 44′
Back Cove 37′
Beneteau 26′
Beneteau Swift Trawler 30', 44′
Coastal Craft 45′
Cutwater 28′
Elling E4 49′
Endeavor Cat 44′
Fleming 55′
Grand Banks 42′, 43', 46'
Grand Banks 60′ Sky Lounge
Greenline 39′ Hybrid
Hatteras 57′
Helmsman Trawler 38′
Henriques 52′
Hylas Yachts 44′
Krogen 44′ AE
Krogen 48′ North Sea
Krogen 50' Open
Krogen Express 52′
Minorca Islander 42′
Nordhavn 47′
Nordic Tug 42′
North Pacific 49′
Northern Marine 57′
Ranger Tug 27′, 31'
Sabre 42′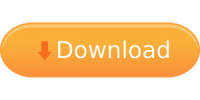 If you would like to see the handouts please email Jeff Merrill at Jeff@JMYS.com