May is a great time to visit the Pacific Northwest, the rainy season is mostly over and the evergreen state lives up to her name.  PassageMaker magazine has hosted the TrawlerFest for many years each spring and Bremerton is a new venue.  Previous events have been held in Poulsbo and Anacortes, two ideal seaside towns to support an event of this scope.  I was curious how Bremerton, as a new location, would work out, and it exceeded my expectations and is a fantastic place to hold TrawlerFest.
Located a stone's throw from the ferry stop at Bremerton, the PMM staff found a wonderfully convenient set up. The host hotel, Hampton Inn and Suites, is 100 yards across the court yard to the Kitsap Conference Center (the convention center where the seminars were held) and then down a flight of steps to the Bremerton Marina docks.  Access to the boats on display was through the vendor tents.  I don't recall attending a TrawlerFest (and I have been to dozens over 17 years) that has such a seamless layout making it easy for attendees and exhibitors alike to get down to business.
Before the boat show portion there was a series of VIP seminars including two that I sat in by Stan and Valerie Creighton, who own an FPB 64 and are building a new FPB 70.  There two outstanding talks were; "How We Went from Knowing Almost Nothing to World Cruising" – and – "Provisioning 202".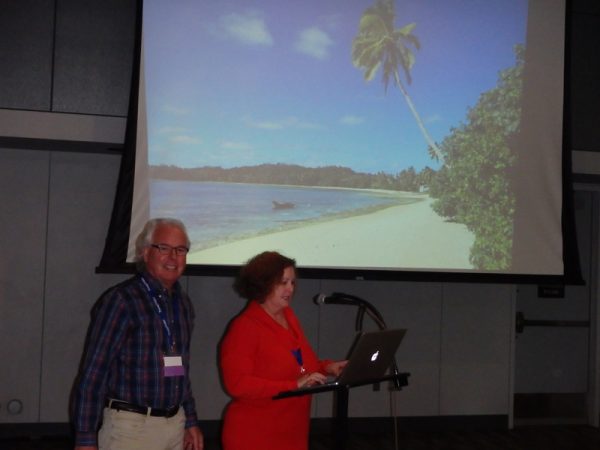 Stan and Valerie owned a Selene 53 which they purchased for adventure after retirement and loved the trawler cruising lifestyle so much that they upgraded to the ultimate long-range trawler, an FPB. Both seminars were well attended and contained a wealth of important information and practical advice.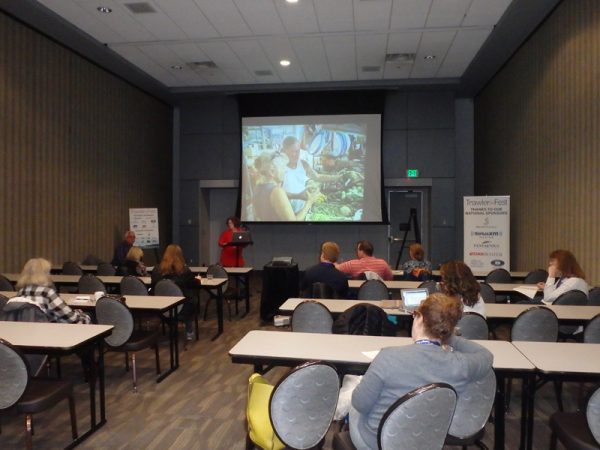 I was invited to present two seminars and also served as moderator for the Cruisers round table.
Thursday, I spoke to a packed classroom with the latest, updated, "Dialing-In-Your- Trawler" a very popular course which shares dozens of helpful hints and tips to help boaters with all types of trawlers improve their trawlers.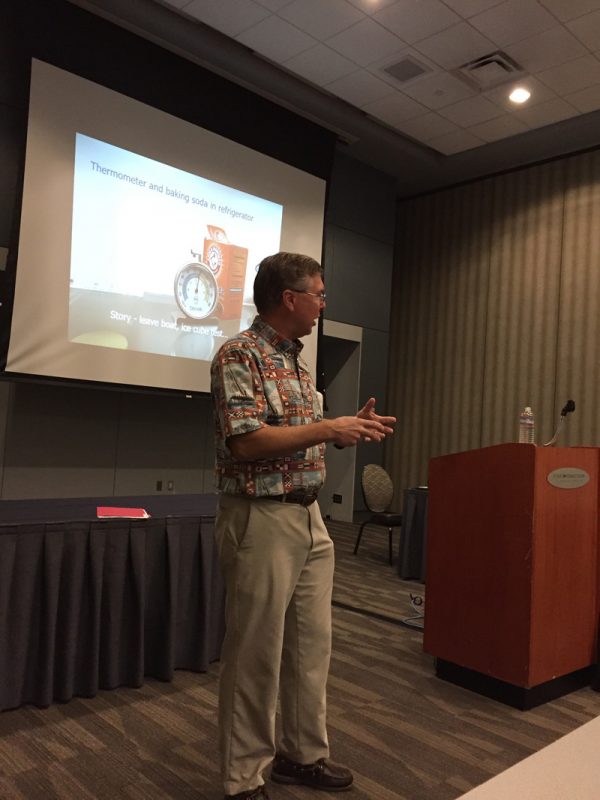 Friday and Saturday, I presented my new course, "Principles of Passagemaking", which went into a detailed overview of navigating offshore including what you do while standing watch, conducting and engine room check and much more.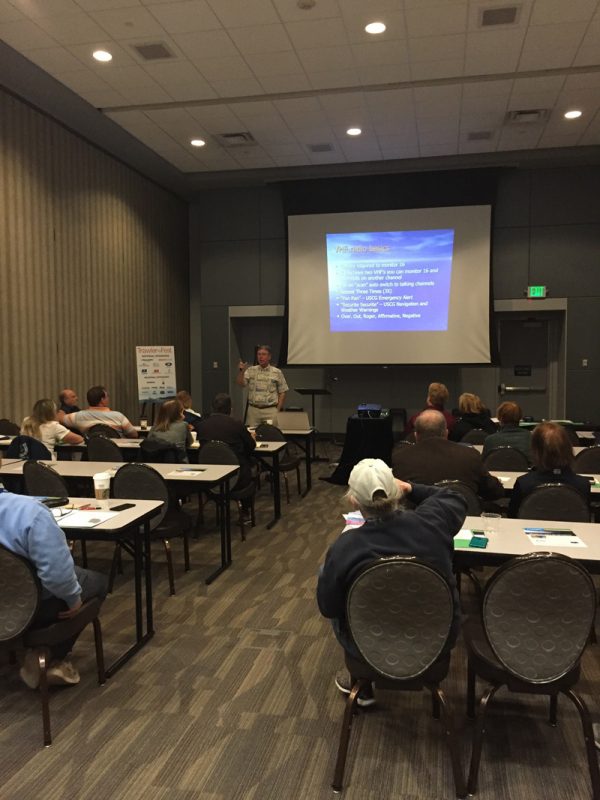 Friday afternoon we held the "Cruisers Roundtable".  PMM's Peter Swanson had to leave early and asked me to be the moderator. It was informative and fun with a great panel (Bruce Kessler, Steve Zimmerman, John Clayman, Robert Reeder, Dylan Bailey, Mark Bunzel, Devin Zwick, Ken Fickett and Jeff Merrill) propelled by excellent questions from the audience.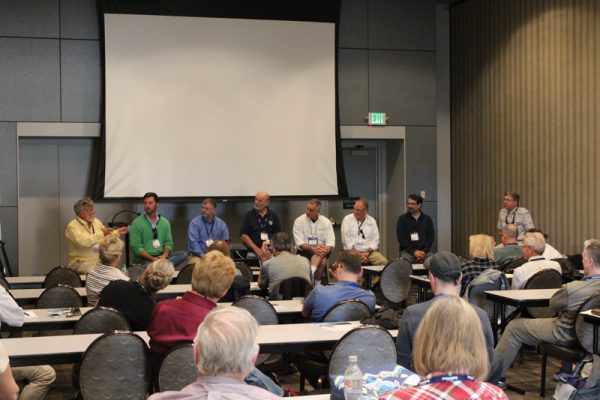 The classroom/learning aspect of TrawlerFest is always one of the highlights. PMM does a marvelous job of mixing things up so that there is something for everyone.
The tents above the dock were filled with vendors; everything from water makers to marinas to insurance and finance, it was a welcome collection of interesting products and services.
The trawlers lined up in slips and on display were diverse in size, age and condition and the dock space was sold out with a waiting list of other hopeful participating boats.
Bremerton has a nice downtown area for walking around, it is a fun community with a lot going for it and a lot going on.
My wife Pam, and daughter Elle joined me this year and after landing in Seattle we drove around through picturesque Gig Harbor to reach Bremerton and stayed put throughout the event.  Saturday my longtime friend, Dennis Lawrence, from Kadey-Krogen invited us to cruise back to Seattle on the Krogen 48 Eventide.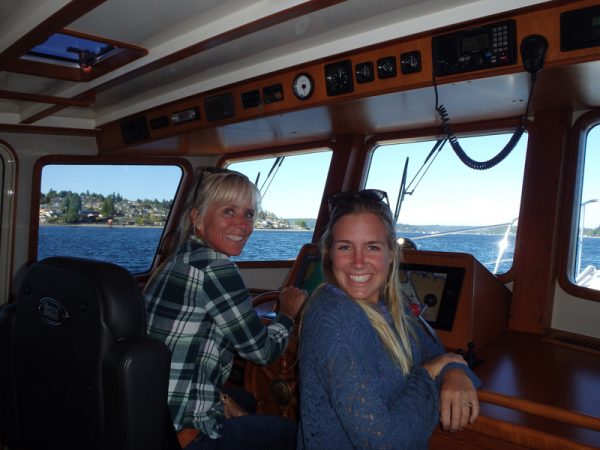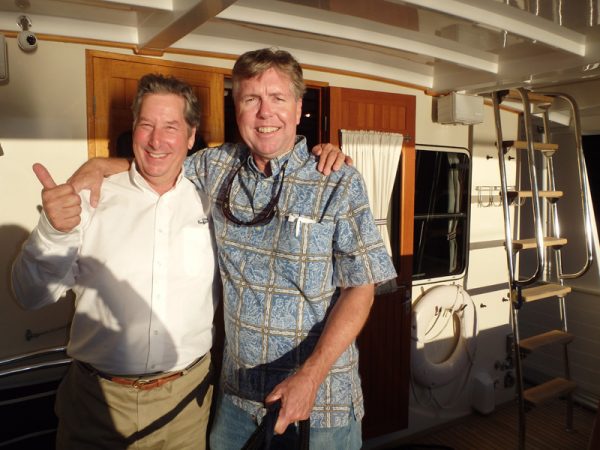 Pam and Elle had fun driving the boat and it was beautiful being out on the water taking in a gorgeous spring evening.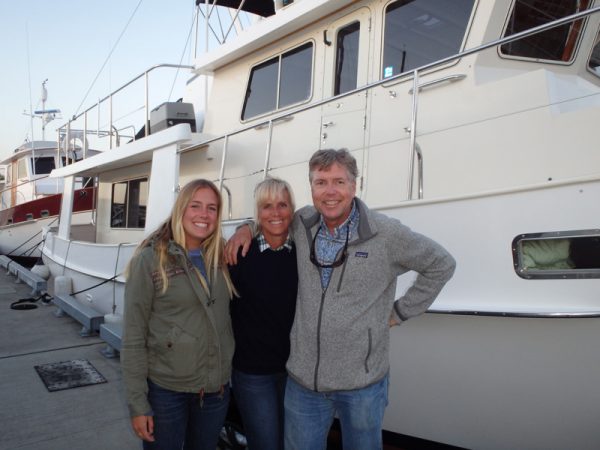 On the Sunday after the event closed, we drove up to Port Townsend.  I marveled as the Kadey Krogen 44 that had been on display during the show cruised into the marina on their way north up to Alaska.  This eastern side of the Puget Sound has a lot of great seaport towns and scenic places to visit.
Attendees of my courses can download all of the handouts from the classes below (note: these will be removed from the website soon, so please download quickly).  I have also posted the PowerPoint talk from Dialing in your Trawler (a refresher with new updates if you have previously attended).
My favorite course was the new one, a two-day four-hours each session class, Principles of Passagemaking, which went into great detail about cruising offshore.  This talk is not available for download, but is being refined again and condensed to become a one-day four-hour seminar at the Bay Bridge, MD TrawlerFest in September.
Please also enjoy our Bremerton TrawlerFest photo gallery of the boats on display and people who were around as well as other interesting sights from the event.
The next TrawlerFest will be on the east coast at the Bay Bridge, MD venue – near Baltimore and across the bridge from Annapolis.   I'll be doing more seminars, joining in on the town hall and will have the Nordhavn 55 Terrapin on display.  Registration is now open for Bay Bridge, you can click on the link below for more details. See you there!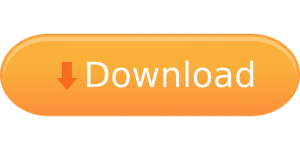 The time sensitive information has been removed, but may still be available. Please sign up for the JMYS newsletter to inquire. Or, put "TrawlerFest – Bremerton, WA 2017" in the subject line of your email to Jeff@JMYS.com.