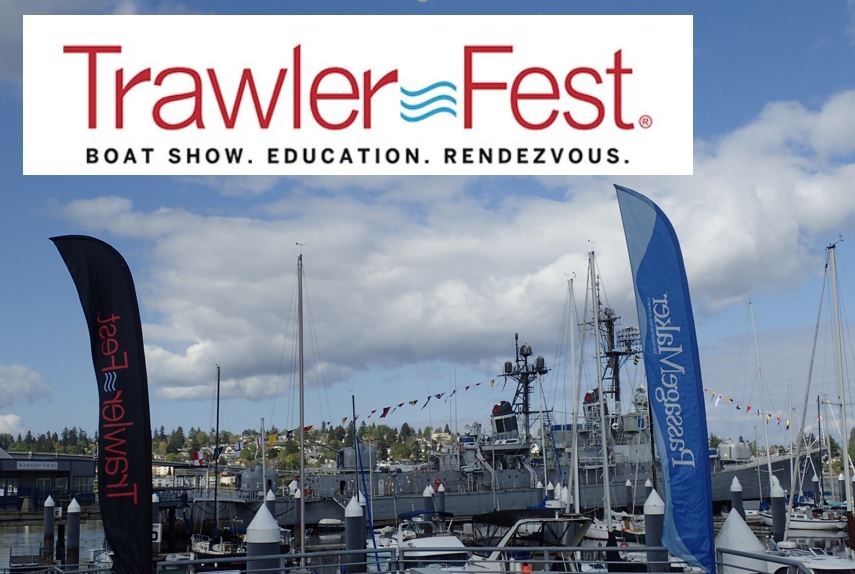 The Pacific Northwest is one of the best places in the world to operate a trawler.  The cruising grounds are so vast and so beautiful that you could easily spend a lifetime exploring and always find a new cove or secluded anchorage to enjoy.  If you don't own a trawler here, you can choose from several companies who offer charter services.
PassageMaker magazines annual Northwest TrawlerFest is an evergreen event that showcases much of what makes this region so attractive to trawlerites.  This spring boat show / product and service display / seminar event has always been popular and draws a large flotilla of boats and enthusiasts.  Many people mark it on their calendar year after year and this year we also saw a lot of new faces and met both locals and out-of-towners all of whom will most likely return.
For the second year in a row the host town was Bremerton, WA.  The Bremerton Marina is adjacent to the ferry terminal and the Hampton Inn serves as a convenient home for most of the exhibitors and visitors. Bremerton is a casual seaside town with plenty of stores and restaurants to keep visitors entertained and satiated.
The 2018 NW TrawlerFest was highlighted by exceptional sunshine (always a plus when you have to wear your shades to walk outdoors) and reasonably comfortable temperatures.  In the water, over 30 different types of trawlers were tied up along the dock display: from outboard fast runabouts to large ocean crossing cruisers.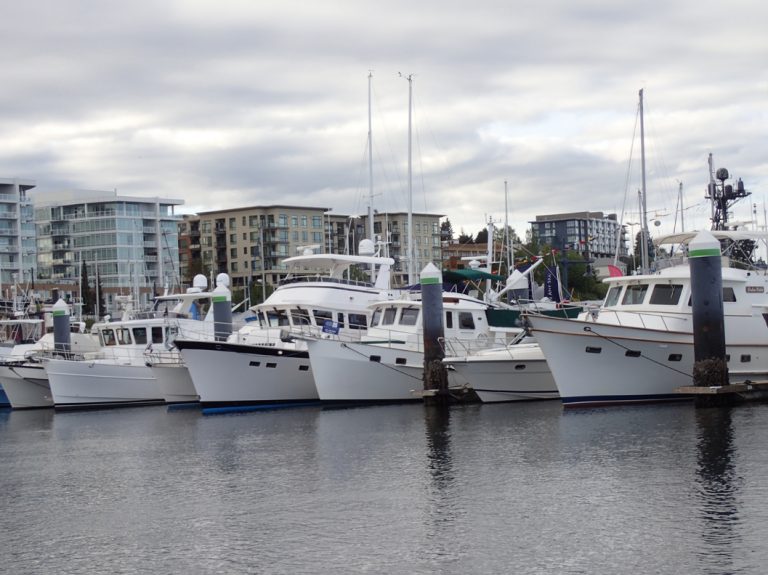 The trawler market remains strong with more buyers than trawlers available for sale and this has helped boat builders improve their backlog for those buyers patient enough to wait to commission a new trawler.  The trawler boat building industry continues to strengthen, and the tide of momentum is surging with more new models announced and more production slots filled.
The Kitsap Convention center is across the plaza from the Hampton Inn and served as the gathering place for all of the classroom seminars.  The walk to the docks was fronted by vendor tents showcasing various products and services while also allowing several builders to show off models and drawings of new trawlers that are being developed.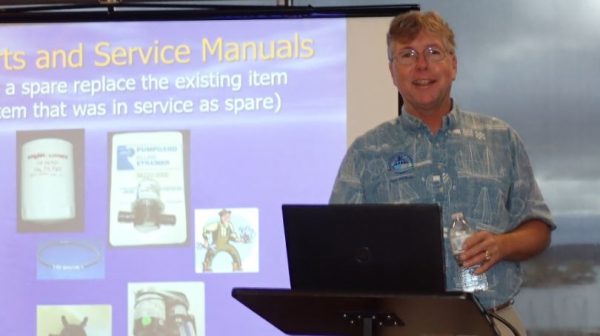 Jeff Merrill flew up to meet with clients and also presented his two most popular courses: Dialing-In-Your-Trawler on Thursday and Offshore Essentials on Friday.  Many of the same people attended both classes, filling the rooms and listening intently as Jeff used his animated style to keep things lively and informative.  Jeff's mentor, Bruce Kessler, sat in on both talks and added additional words of wisdom, thank you Bruce! The entire slate of seminars covered an assortment of interesting topics and it was often difficult for attendees to decide which class to sit in on when there were great choices offered simultaneously.

The Cruisers Roundtable featured an all-star cast of trawler veterans.  Jeff again resumed his role as moderator for the panel and helped keep the audience engaged as they listened to strong opinions and sage advice from those seated up front: Dylan Bailey, Eric Kunz, Pat Raines, Bruce Kessler, John Clayman, Stan Creighton and Dennis Fox formed the brain trust an impressive collection of "salty cruisers" who have been there, done that and still enjoy it.  This is a town-hall format that relies on audience participation.  Inquiries ranged from stabilization choices, to surveyor roles, navigation and weather questions, how many engine hours are acceptable as well as favorite places to cruise.  PassageMakers' Peter Swanson thoughtfully interrupted to stir things up when needed, and the crowd in attendance had all of their questions responded to with thoughtful insights.
Overall attendance was down this year.  Most likely because it was the Opening weekend for the Puget Sound boating season and with such lovely weather many trawler aficionados probably skipped the event to instead head out and enjoy time on their own boats doing some local cruising.  With the formal commencement of the spring/summer season, many trawler owners are now underway or finalizing their plans to head north to prowl the magic that awaits in the San Juan's, Canadian coast, Inside Passage and Alaska.
It was fun to walk the docks in between sessions and hop on board the wide variety of trawlers – new and old, big and large – from day cruisers to ocean crossers there was an interesting assortment of choices to see; Seahorse, Hampton, DeFever, Grand Banks, Fairway, Beneteau, Jeanneau, Cutwater, Ranger Tugs, North Pacific, Linssen, Nimbus, Devlin, Helmsman, Sunnfjord, Monte Carlo, Nordic Tug Selene, Ocean Alexander, Kadey-Krogen and the big daddy -a Nolan 92' steel trawler. A photo gallery showcasing the event is posted below.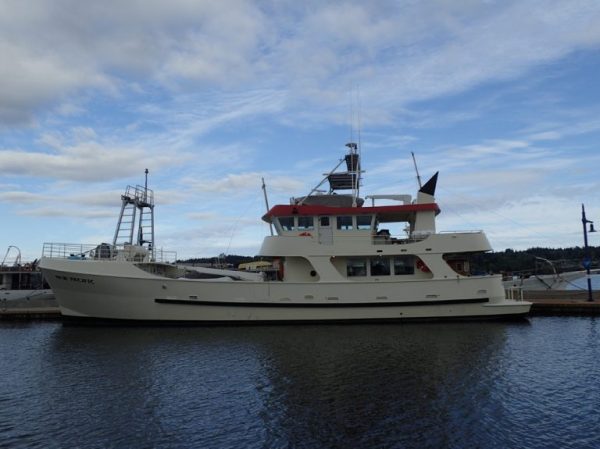 The final TrawlerFest for 2018 will be held September 25 – 29 in Baltimore, Maryland.  Seminars have already been announced and the JMYS team will be attending. Too early to know if we will have a trawler for sale on display, but we know that Jeff and Christopher Bruce are both going to be presenting. We welcome you to join us and look forward to hearing about what you did on your summer vacation.
Details for the Baltimore TrawlerFest are published on this web link:
https://www.passagemaker.com/trawlerfest/trawlerfest-baltimore-2018
For those students who attended Jeff's talks in Bremerton you are invited to review the presentations and handouts posted here for a limited time.  These resources will be online for downloading until the end of May and then be removed.  Please review them while they are "live".  Thanks to all everyone we met in Bremerton, hope we can keep in touch!
Reminder: In addition to our trawlers for sale listings, JMYS now has TrawlerSkills videos for you to view on our YouTube channel.  Our first two offerings discuss docking and running a windlass.  If you would like, please sign up on our email newsletter list to receive announcements and keep informed about events, listings and videos.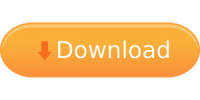 If you would like to see the handouts please email Jeff Merrill at Jeff@JMYS.com