If the first TrawlerFest of 2017 is any indication, we are all in for a spectacular ride (planning at high speeds vs. plodding at full displacement).  The attendance was fantastic, trawler owners and buyers traveled from all over the US and internationally to attend this remarkable event.  Sunny days with a few scattered showers set a warm and friendly tone. The Hutchinson Island Marriott is a true destination resort with pool, golf course and marina facilities.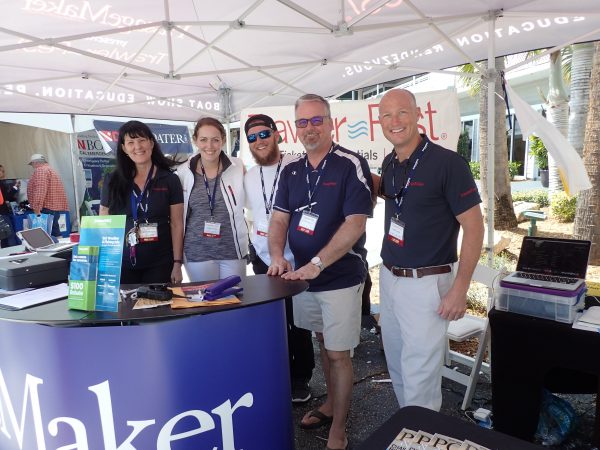 The PassageMaker magazine team was superbly organized. The ticket lines checked people in swiftly and every land tent exhibitor we spoke with enjoyed a steady flow of trawler aficionados.

Jeff gave two presentations, "Dialing in your Trawler" on Friday and "Underway" on Saturday. The seminar audiences asked great questions and their enthusiasm boiled over through the Q and A at the end with multiple private conversations.  There appears to be a lot of new faces in the market, interested to learn more about the joys of the trawler lifestyle and ready to go cruising on a boat of their own.

Seminars were packed, it's been awhile since we've seen every seat filled with standing room only in the back of the class room.  A great assortment of vendor tents created a natural channel to guide the crowd down to the dock where over 40 trawlers of all sizes on display.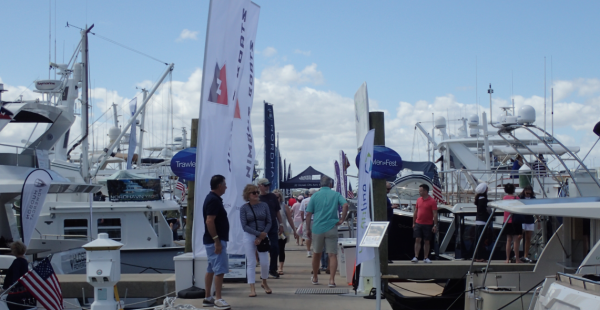 The fixed concrete docks in the marina are sturdy and secure, but boarding some boats at low tide was a little tricky – something that can hopefully be addressed and improved for next time.  We like that PassageMaker moves the venues around to keep things fresh – over ten years ago, Hutchinson Island was the site for TrawlerFest and since then it has been moved to Fort Lauderdale and Riviera Beach – hey, anytime you can hang out in a Florida marina and hop aboard trawlers it's not a bad place to be.
Jeff had several client appointments and was able to tour most of the trawlers on display.  The brokers with boats for sale were welcoming and friendly – just about everyone we spoke with is extremely busy – buyers are shopping and trawler are selling.  The market activity is as strong as we have seen it since the pre-recession days.
Ray Danet also was around and did several walk throughs on trawlers with our clients.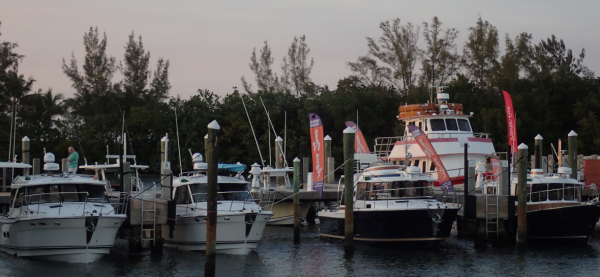 Whatever the reason, pent up demand, timing in life or the "Trump Bump" it is obvious that a new group of trawler owners has arrived on the scene, excited and eager to join in on the fun and start their own adventures.
Many of the participants in Jeff's two courses asked for electronic copies of the PowerPoint presentations and handouts, a sure sign that more and more people are doing their homework and getting prepared before making a trawler their home on the water.
The next TrawlerFest event will be in the Pacific Northwest at a new venue, in Bremerton, WA. The dates are May 16 – 20, 2017.  JMYS is hoping to have a trawler or two on display and Jeff has been asked to conduct a new two-day course, "Principles of Passagemaking" as well as his ever popular "Dialing in your Trawler" class.  Registration is now open.  For event details please click on this link:
http://www.passagemaker.com/events/trawlerfest-bremerton-wa-2017/
We look forward to seeing you there.
For those people who attended the Stuart classes, we decided it would be easier to post the PowerPoints and handouts on JMYS.com so the course information is available to download below.
The time sensitive information has been removed, but may still be available. Please sign up for the JMYS newsletter to inquire. Or, put "TrawlerFest Stuart 2017" in the subject line of your email to Jeff@JMYS.com.