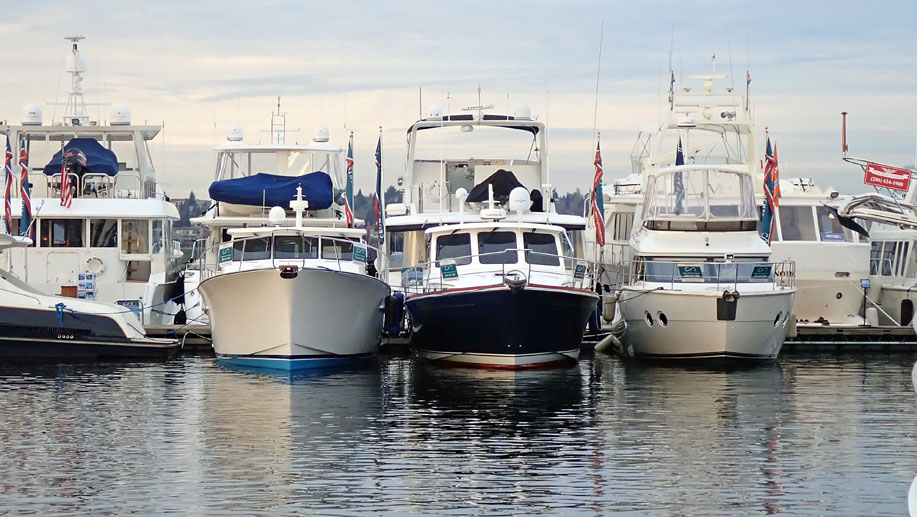 Sunshine in Seattle, you never take it for granted, and surely enjoy it when it happens.  For over twenty years Jeff has been flying in to town to visit trawlers and quite often spends time attending LUBAS the (Lake Union Boats Afloat Show).  For January 2019 It was chilly and crisp, but the warmth of the people who work in the trawler world we live in reminded us of why this area has such a rich boating legacy and why so many people choose to cruise in the Pacific Northwest.
Of course, it's not the real Seattle without some rain which did sprinkle the boats on the last Saturday of the show, but this did not dampen the enthusiasm of the exhibitors or the boating public.  No show on February 3, the final Sunday, a good move so that exhibitors the and public could stay home and watch the Super Bowl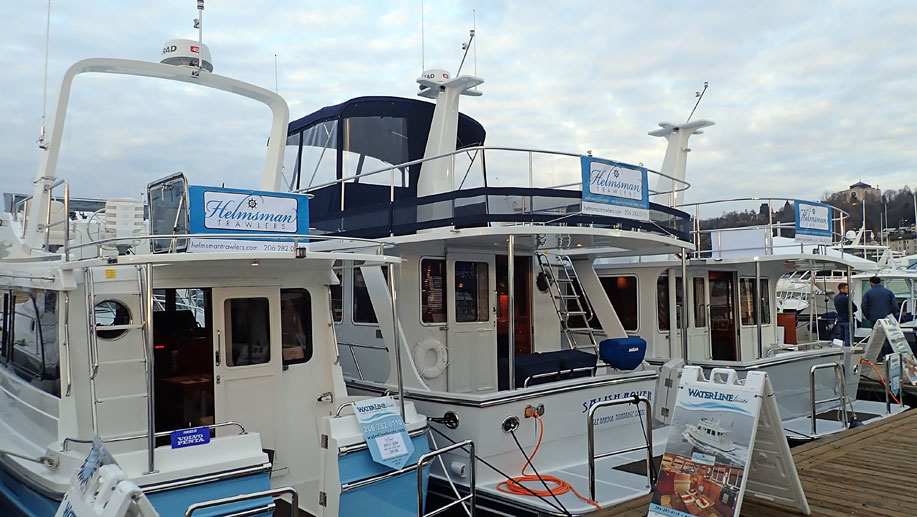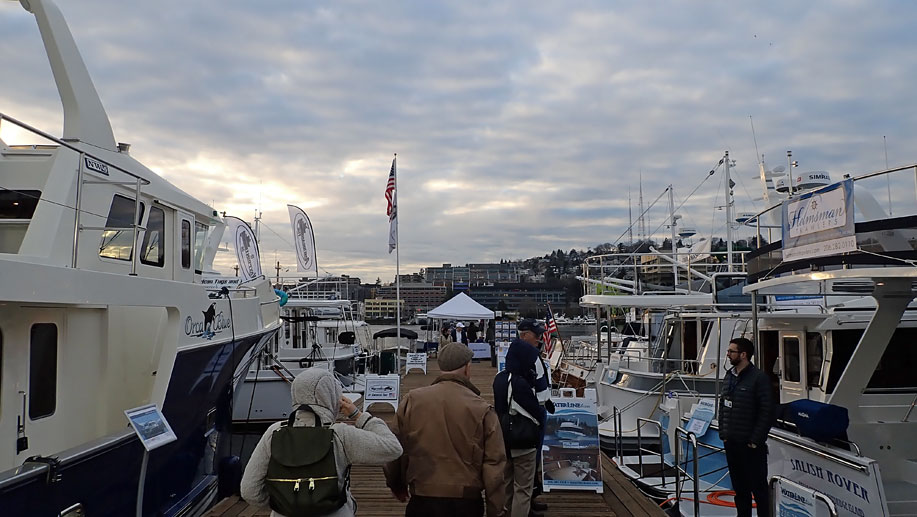 Pam and Jeff flew up midweek on Wednesday, skipping the first weekend.  A late morning arrival gave them a chance to grab lunch at Duke's Chowder House with a client, then preview the show with other clients whom we finally met in person after previously only meeting through emails and phone calls.   The very civilized 5pm show end time provided a chance to enjoy a first night dinner with Nordhavn owner friends; Kevin and Alison plus Jeff and Shannon accelerated by the attendance of our dear friend diesel engine maestro, Lugger Bob Senter, who was in town to conduct training classes at Alaska Diesel Electric in Ballard.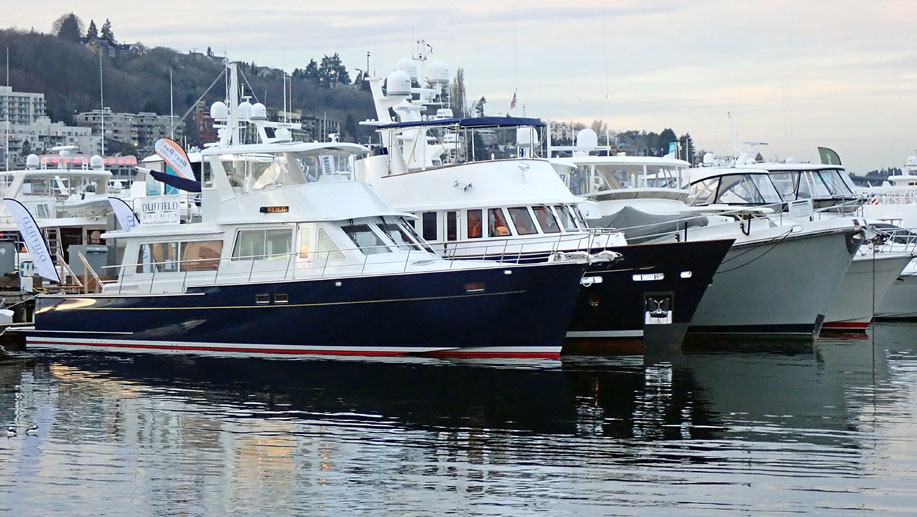 Thursday was our first full day client meeting. We met by the plaza fountain after the gates opened and boarded several trawlers on display, all the while talking, pointing and discussing the pro's and con's -from engine rooms to flying bridges and getting them acclimated to a variety of choices and selections available in the current market.  Fun day, over too soon.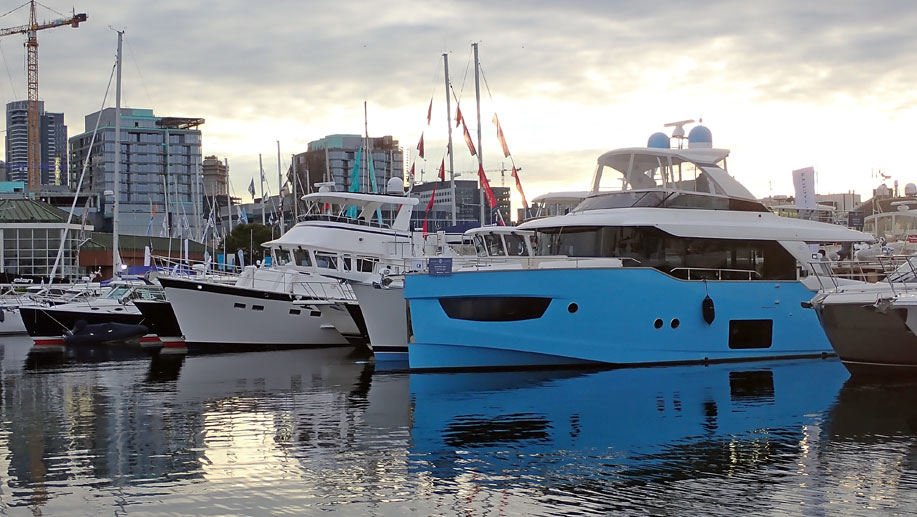 Friday, we picked up another pair of clients at their hotel in town and took off north on a road trip. The four of us drove up to Anacortes to see some trawlers (in the water and on the hard) and then beelined back to Seattle where our friends at Kadey Krogen had four "off campus" trawlers that we made arrangements to board.  All were moored at beautiful SBMC – Salmon Bay Marine Center – a favorite stop of ours and for many cruisers in the know.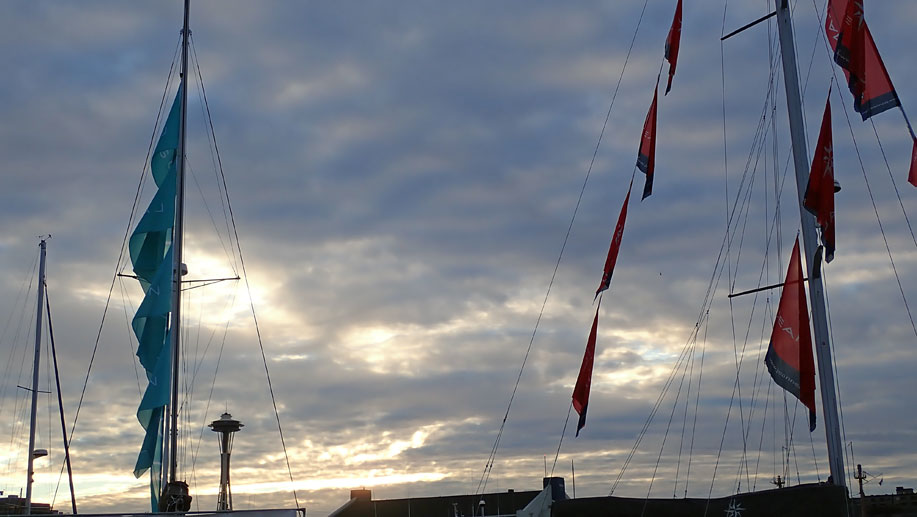 Saturday was open, giving Jeff a chance to stop by and speak with many broker and vendor friends.  The last day of the show, a chance to gauge the success of the event, to get a flavor for the local market and a last chance to tour a couple of the trawlers that we didn't get a chance to see earlier. We did not venture over to the indoor show, but heard from several friends that it was well attended and there was a lot to take in.
Sunday was time to sleep in, catch up on emails, make a few calls and heading out of town we drove by the Bell Harbor Marina to scout it out*.  As we boarded our flight home to California, we witnessed a snow flurry outside – time to head back south!  (Just in time, that was the beginning of a rare winter snow blanketing that was extremely disruptive to the entire neighborhood).
This may be one of the last LUBAS events. The Seattle construction boom has extended up to the shores of south Lake Union and the dock infrastructure is due to be renewed.  It's a great venue, but time ticks on and change is inevitable.  The Northwest Yacht Brokers Association (hosts of the show) are already looking into future locations (Everett is a likely choice) so we will all have to wait and see.
The Seattle Boat Show (we still call it LUBAS) is held in January and September and for trawler buyers is, in our opinion, the best "show" on the left coast, rivaled only by TrawlerFest which is the best trawler "event" in the west.   We look forward to our next adventures in the Seattle area which will definitely include coming back up for the Seattle TrawlerFest* in April – see you there!
Details for the Seattle TrawlerFest are here: www.TrawlerFest.com