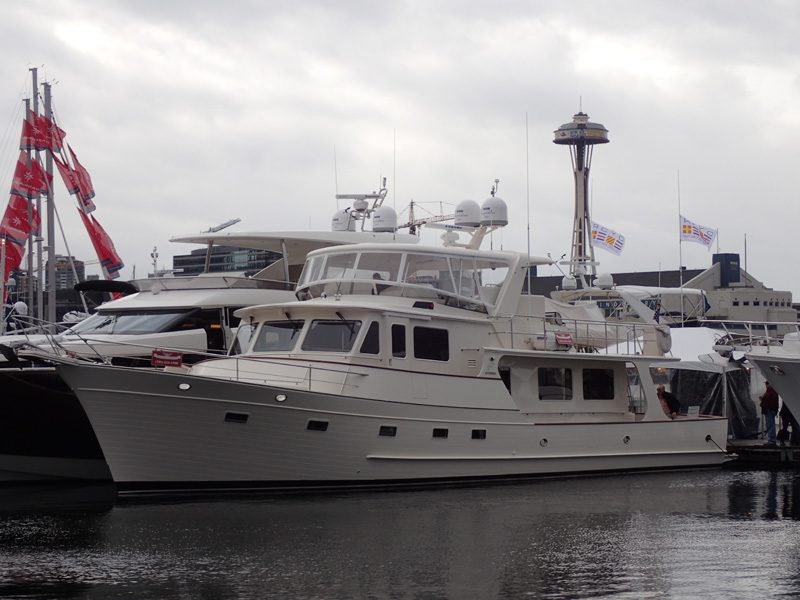 I love Seattle, I don't mind the wet and the cold, it's part of what makes this a great place to visit and I'm lucky enough to be in the Pacific northwest several times each year. My wife Pam flew up with me so we could meet with new clients and see old friends.
The first weekend is always exciting.  It's one of the first shows of the year and the new year buzz and enthusiasm is still in the air.  Lake Union affords an excellent opportunity to see a wide variety of trawlers.  Last December I made arrangements well in advance to meet with two different trawler buying couples who asked me to be their trawler tour guide as they continued their searches in earnest. I've certainly paid my dues sitting on boats at shows and greeting hundreds of enthusiasts, I still love that, but it is in some ways more productive to spend one-on-one time with clients talking and studying the hundreds of options where we can interchange in real time: Do you need a flybridge? Widebody vs. double walk around side decks around the saloon? Single engine vs. Twin? Galley up or down? Master forward or amidships? Etc.
After lunch with a couple from Oregon who came up for the show (they already own a trawler) I spent Friday afternoon with the first couple, from the SF Bay area. We toured several trawlers at the show including some that we knew weren't on their "list".  Seeing trawlers in person helps you focus on what is important and develop your own preferences.  You can really only do this properly by stepping aboard different brands, sizes and layouts to see how they feel.   How are the sight lines?  Is there enough room to spend extended time aboard?  Too many stairs? How many cabins and heads do you really need?  There are a plenty of non-trawler power boats that are easy to walk past at the show. I also find it very satisfying to say hello to many fellow brokers whom I have known for decades and to see what is listed for sale in the current local market since inventory is always changing.
The in-water show at Lake Union ends at 5:00pm, very civilized. After touring eight trawlers we met up again with the other couple from lunch to have a total of six for dinner.  Russ and Missie are a fun pair from Oregon who let me help them purchase a Selene 53 last year and it was interesting to see the role reversal as they have evolved into the "crafty veterans" when not too many months ago they were on the other side of the table.  Their Selene 53 has been vastly improved, interesting to talk about the projects they have completed on their punch list from purchasing and after some light cruising during their first few months of ownership they are jumping into 2018 with bigger plans for adventures starting this spring.  The dialog between trawler owners and trawler owners-to-be is fascinating and there is always an interesting new twist or unique new issue to consider, part of the enjoyment I get from my job is always learning.
On Saturday we took a road trip to Anacortes (skipping the show) to look at more trawlers. On the way we stopped by one brokerage on Lake Union to see a trawler and then took and impromptu detour over to the Shilshole Bay marina to see the Nordhavn 55 Red Rover which I had privately brokered two years ago to the current owners, who have become very close friends.  Kevin and Alison hosted an Open House for the Nordhavn Dreamers from 8:30 am – 10:30 am and just blogged about it here https://comeonrover.com/ . They have a fun and informative blog worth bookmarking and frequenting. The Nordhavn 55 is one of my favorite designs and Red Rover is an excellent example that shows how a well looked after trawler continues to impress and attract admirers.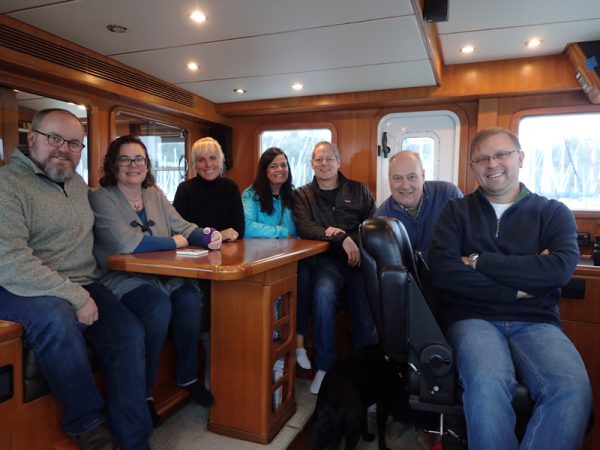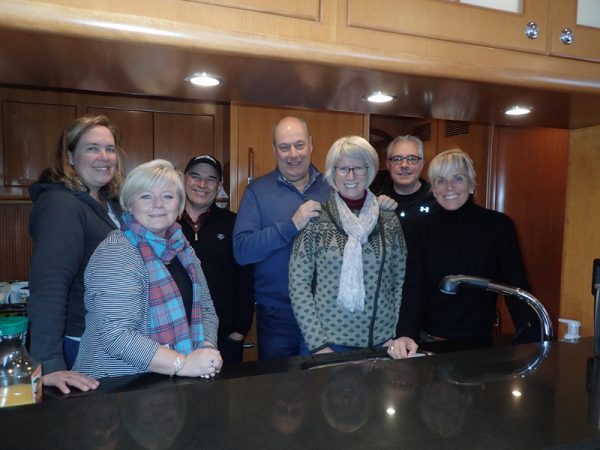 The drive north to Anacortes (over 100 miles each way) enabled us to talk in detail and as we reviewed what we had seen, it made it easier for them to start narrowing things down. We arrived at noon, just in time to meet the former owners of a Nordhavn 35 that I had sold 15 years ago for lunch at Anthony's. They are done boating now, but having spent decades cruising south east Alaska. They shared experiences and highlighted personal stories from their years of trawlering. Their very fulfilling on-the-water life was inspiring and helped my new clients further confirm that the trawler lifestyle is how they want to enjoy the next few years of their lives.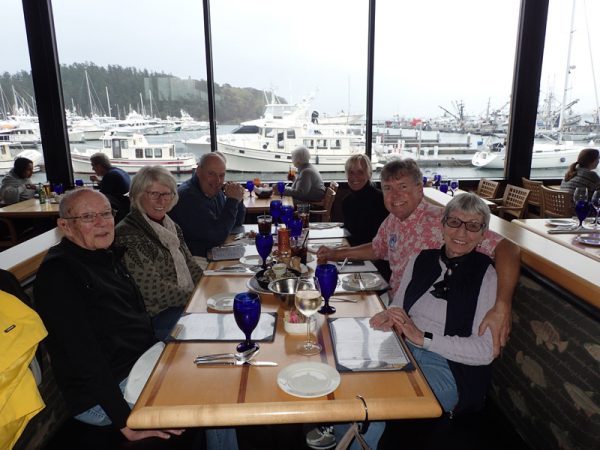 The marinas in Anacortes are packed with trawlers. The docks are open to public access and after our crash course in boat touring aboard the trawlers we had made appointments to visit, we spent a couple of hours "window shopping" by walking the docks.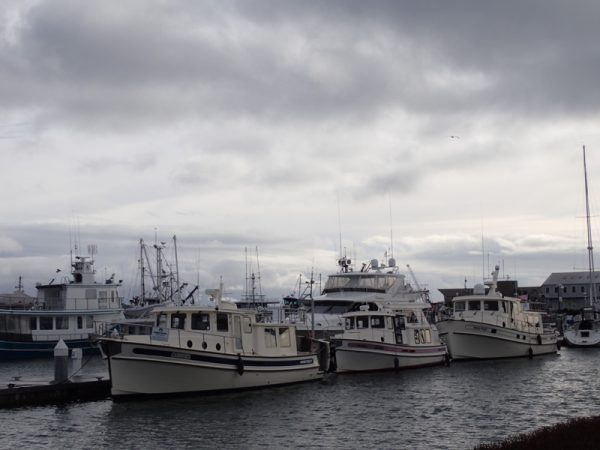 On Sunday I met with couple number two, who live in Alaska. Last week I had met with them in Southern California to look at my DeFever 52 Euro listing – Dulce Vida – which became the standard bearer to compare all other boats with.  We walked around the Lake Union show for a couple of hours and then did a road trip up to Bellingham to inspect a DeFever 49 listed for sale.  Again, the driving time gave us the uninterrupted opportunity to compare and contrast as we can now more clearly define what is going to be the best fit for them.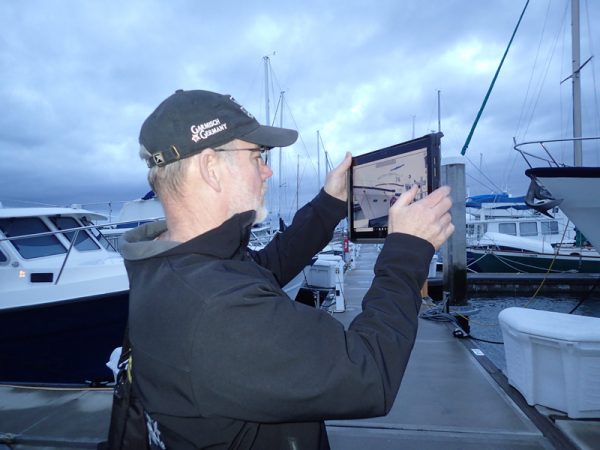 For both couples I had my camera out and took a few hundred photos which I transferred to flash drives so they could each take a souvenir home and review at their leisure.  Monday was my travel day home so I didn't schedule any client visits and instead, went back to the boat show on my own. The weekdays are very sparsely attended and allow me to go back to visit with many of the brokers that I was only able to exchange hello's with over the weekend. One boat that I had not been on was the Nordhavn 63 and to my pleasant surprise I got to spend a few minutes with some former colleagues who were able to report that PAE is booming.  So happy that the team at Nordhavn are selling lots of new boats.
By early afternoon it was time to pack up and get to SeaTac for the flight home. The LUBAS show runs until next Saturday and is over so that it does not conflict with the Super Bowl.  If you are on the U.S. West coast the Lake Union Boats Afloat Show is fantastic, it is not as trawler oriented as a TrawlerFest, but in my opinion, it is the next best event to attend.  This event is hosted by the Northwest Yacht Brokers Association (JMYS is a member) who do an extraordinary job of organizing, gathering a great assortment of boats and attracting large, qualified crowds.  If you have ever wanted an excuse to travel to Seattle which has so much to offer, please consider the two Lake Union Boats Afloat shows – the January just completed and this coming September after the trawler cruising season is over.