The Nordhavn 55 South By West will be our featured display boat at the upcoming Riviera Beach, FL TrawlerFest. South By West is a knock out with a beautiful cherry interior and decked out with the upgraded hydraulics package. For a sneak peak preview, please watch the video and view the write up on our website.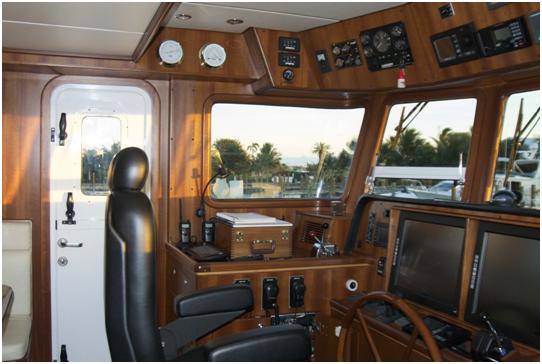 Details are – January 22 – 25th from 10am to 5pm (Thursday through Sunday).
The venue is:
Riviera Beach Marina
200 East 13th Street,
Riviera Beach, FL 33404
Jeff will continue his regular participation as a presenter at Trawler Fest by giving two weekend talks and sitting in on a Saturday afternoon panel. Here is that schedule:
Saturday, January 24, 8:30am – 10:30am
Topic: NIGHT RUNNING: DON'T BE AFRAID OF THE DARK
$50.00 ($60.00 on-site)
Presented by: Jeff Merrill
With more than 14,000 miles at sea on trawlers, Jeff Merrill has run nonstop for days on end, transitioning from dusk to night to dawn. His seminar will shed some light on what you can do to become more comfortable when it is your time to stand watch or do an engine room check at sea in the night. We will review engine room checks, standing watch, watch schedules and basic navigation and electronics monitoring and how these chores are carried out during the night. This seminar will include time to swap some sea stories and some helpful handouts will be provided.
Saturday, January 24, 3:30pm – 5:30pm
Topic: CRUISERS' PERSPECTIVES: AUDIENCE Q&A AND SEA STORIES
$50.00 ($60.00 on-site)
Presented by: Bruce Kessler, Milt Baker, Peter Swanson, Jeff Merrill, Steve Zimmerman and more!
TrawlerFest's only afternoon seminar during the boat show will be a town-hall event. In it, our panel of veteran cruisers will field audience questions on a wide-range of topics, sea stories resulting. Circumnavigator Bruce Kessler can discuss what it's like to spend months and months treading blue water. Milt Baker, owner of a Nordhavn 47 and an American Tug (and a blue water veteran himself), has a unique perspective on the advantages of full- versus semi-displacement. PassageMaker Editor Peter Swanson cruised the Caribbean on financial fumes and has delivered boats on both coasts. Veteran broker Jeff Merrill can advise on how to choose the right boat. And Steve Zimmerman can discuss repairs and boatyards from the point of view of both a cruiser and boatyard owner.
Sunday, January 25, 10:45am – 12:45pm
Topic: PRIDE OF OWNERSHIP: FOR ITS OWN SAKE (AND RESALE!)
$50.00 ($60.00 on-site)
Presented by: Jeff Merrill
Jeff Merrill has been selling cruising sailboats and trawlers for more than 20 years and has discovered some of the secrets diligent trawler owners use to reflect great care and attention. Whether your boat is new to you or you have enjoyed her for years there are common secrets and tips to successful trawler maintenance and organization that will be shared by viewing photos and through descriptions of real-life examples.  Learn what you can do to keep your trawler ship shape and show pride of ownership. This seminar will include a tip sharing session and helpful handouts.
TrawlerFest is a low key event with many vendors in booths, lots of boats to see and informative seminars. If you have not been before I encourage you to come as this is a great way to experience the trawler lifestyle. If you have attended, you know the classes fill up fast and it's best to plan ahead.
There is a general admission charge and a separate fee for seminars.
For full details on this event please go to PassageMaker's TrawlerFest link here:

Thanks, we invite you to come and chat with us aboard South By West and look forward to seeing you at the TrawlerFest!