The JMYS team will be on hand and proudly presenting the magnificent Nordhavn 55, Terrapin, at the last TrawlerFest for 2017.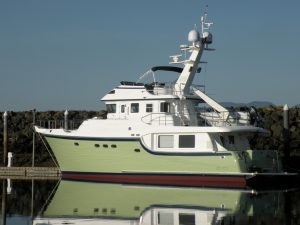 It's not too late to make travel arrangements and sign up. This is a trawler intensive event you really should try to attend.  We are thrilled to be exhibiting Terrapin and to be participating in the seminars.
Over 40 trawlers of various sizes will be in their slips occupying the Bay Bridge marina in Stevensville, MD.  This is a very boater friendly venue right over the bridge from Annapolis.  This location has proper rooms for the seminars and a great selection of on land vendor exhibitors outside in tents.  The educational aspect of attending cannot be overstated, there is going to be something for all levels of experience. For more information please type "TrawlerFest Bay Bridge 2017" into your browser and all of the details will be at your fingertips.
We will have three JMYS sales professionals on hand; Donald Allen, Christopher Bruce and Jeff Merrill.
The owners of Terrapin (a new JMYS listing) are coming south from Philadelphia and will continue on to Florida to wrap up their summer/fall cruising season after TrawlerFest.  Time is limited to see Terrapin in the mid-Atlantic, if you can't make it to the event to get aboard, please let us know and we will try to accommodate a private showing.
Terrapin is hull 26 of the Nordhavn 55 series.  She is a 2007 model year vessel and will be a guaranteed crowd-pleasing attraction. She has a gorgeous green paint and is one of the rare Nordhavns that features a traditional Herreshoff interior in the staterooms.   Priced to sell, Terrapin, is raring to go and will no doubt have many pairs of boat shoes lined up at the dock representing the visitors aboard.  For a sneak preview with detailed specifications and photos click on the 'Boats for Sale' link on JMYS.com and take a peek.
Christopher Bruce and his wife Alexandra are arriving by boat, their Kadey-Krogen 44 – Sweet Ride.  They have enjoyed summer cruising in New England and are southbound liveaboards.   Christopher knows all about buying a trawler and cruising extensively (including 2 seasons in the Bahamas) so please come by Terrapin to say hello and welcome him to the team.
Don Allen and his wife, Claudia, will also be attending TrawlerFest and eager to meet with fellow trawler aficionados to talk in detail about this fantastic lifestyle.  Don has in depth knowledge of the trawler market – tracking what is selling, what prices trawlers are selling for and can conduct a comprehensive comparison spread sheet to help you evaluate your choices.
Jeff and his wife Pam will be arriving early to help with move in and to shoot a video of Terrapin before the event starts and has already confirmed several appointments with clients and doesn't want to miss anyone so please stop by.
Jeff is going to be presenting two different seminars so will be in the class room when he's not walking the docks or giving tours on Terrapin.
Jeff's seminar schedule is:
Friday September 29:  8:30am – 10:30am Dialing in your Trawler
Friday afternoon from 2:00pm – 4:00pm as a panelist in the Cruisers Perspectives "a Town Hall meeting" hosted by legendary circumnavigator, Bruce Kessler.
Saturday September 30: 1:00pm – 4:00pm Offshore Essentials.
Detailed descriptions for these seminars and more can be found on the TrawlerFest website.  All seminars require registration which you can do online in advance, or at the registration tent when you arrive. You will also need a pass to get on the docks.
For a discount, enter promo code 15OFF for $15 off all seminars at checkout.
Fall in Maryland is a great time of year.  If the weather holds it will be another spectacular event.
If you know you can make it, please give one of us a call so we can be sure to spend some time with you in person to catch up on your latest thinking and ambitions.
Hope to see you soon at the Bay Bridge TrawlerFest!