Stuart TrawlerFest announcement JMYS.com

The first TrawlerFest of the year arrives in Stuart, FL next month, it's almost as good as summer arriving early.  Time for you to make travel plans and confirm your reservations.
All of us at JMYS love being involved with TrawlerFest. They only happen three times a year, infrequent enough to make them that much more special.  For 2019 the locations will be Stuart, Florida – Seattle, Washington – and – Baltimore, Maryland.
Stuart, FL is a trawler mecca.  Kadey-Krogen, Grand Banks and Palm Beach Yachts are all anchor tenants with anchor presence in town.  On any given day, in any of several local area marinas you can walk the docks to see a wide selection of trawlers.
Many snowbirds have already arrived south for the winter and are gearing up to head over to the Bahamas.  Just as many trawler owners are also making plans for spring cruising up and down the eastern seaboard.
TrawlerFest is a multi-brand reunion with an always changing mix of brands and sizes to help make it easy for everyone to find something they can get excited about.  The early word is that there are over 40 trawlers signed up for display (this is always subject to change, but an encouraging turn out).  The usual complement of vendors in the tents and educational seminars – in the classroom and on the docks – round out this celebration into a fabulous trawler experience.
Discount codes:
JMYS save $5 on one-day general admission
JMYS15 save $15 on any one seminar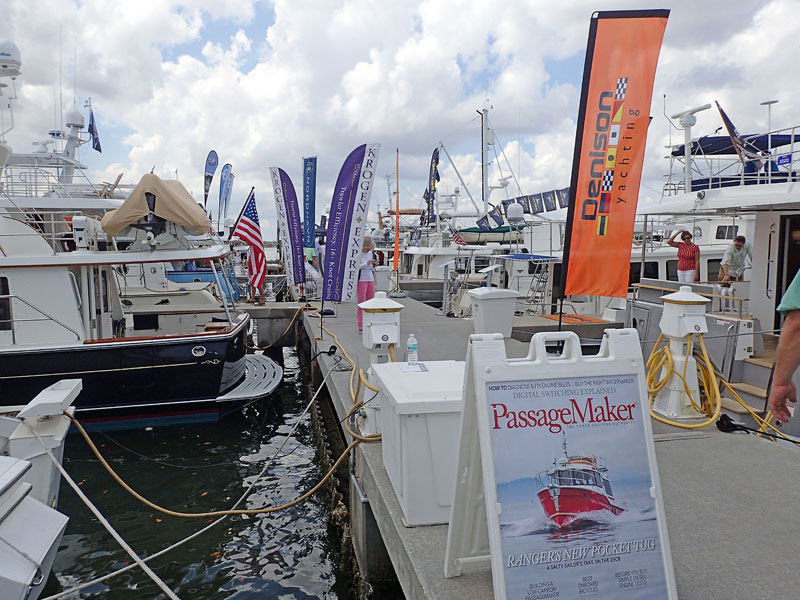 JMYS will be there in full force and we are proud to present the extraordinary Nordhavn 47 NaviGator on display. She will sail up from her home slip in Fort Lauderdale and is sure to be one of the most popular boats in the show.  To preview NaviGator please click on this link: http://nordhavn47forsale.com/
We will be on the docks and in the classroom. We also have some trawlers nearby that we would like to show you by appointment, so please get in touch.
General admission is included for the day of the boat show with all seminar purchases.
We enjoy sharing what we have learned through the seminar series.  Detailed course descriptions and times are provided below, here's a quick JMYS update:
Christopher and Alexandra will be on hand to give tours of NaviGator and will also be involved in the classroom presentations. Alexandra is a panelist joining the "Women's Roundtable" discussion on Wednesday morning and on Thursday Alexandra and Christopher will be explaining how they got bit by the bug, bought a Krogen 44 and took off cruising. That class is called "Cambridge, Mass. To Cambridge Cay" and is educational, informative and entertaining.
Jeff Merrill will be sharing "Offshore Essentials" on Wednesday and once again presenting his most popular talk, "Dial in your trawler" on Friday.  Both of Jeff's seminars have been updated with new material.  Jeff is also going to be the moderator for the "Cruiser's Perspectives" a town hall meeting that comprises a who's who of trawler veterans and is always entertaining and inciteful.
Thanks, we look forward to seeing you soon!
Here are some of the basics from the Trawler Fest website.  (www.TrawlerFest.com)

IN-WATER BOAT SHOW:
THURSDAY, MARCH 7 – SATURDAY, MARCH 9, 2019
Show open 10 a.m. – 5 p.m. Thursday, Friday & Saturday.
TICKETS: General Admission is $15 in advance, $18 onsite. Seminar tickets include General Admission to the boat show on the day of the seminar
FREE ONSITE PARKING
LOCATION:
HUTCHINSON ISLAND MARRIOTT BEACH RESORT & MARINA
555 NE Ocean Blvd, Stuart, FL 34996
QUESTIONS? Contact the organizers via email: trawlerfest@passagemaker.com or phone (954) 761-8777
SEMINARS:
All seminars will be held onsite at the Riverside Conference Center. Seminar registration will be on the 2nd floor with the seminar rooms. Free onsite parking available. Here below are the Seminars JMYS will be involved with.
WEDNESDAY, MARCH 6
Women's Roundtable: A Judgment-Free Q&A
With a panel of veteran women cruisers, taking questions from all-female audience
8:30-10:30 a.m $65
Besides the obvious, that Alyse Caldwell, Becky Fickett, Alexandra Bruce & Kim Kalisik are all female, there is more to it. All have cruised but with distinctly different experiences. This seminar is for women who think they may want to go cruising or who have only recently entered into the cruising lifestyle and have a wide range of questions best answered by other women, and, alas, without any men in the room.
Offshore Essentials
With Jeff Merrill, CPYB
1-4 p.m. $130
"Offshore Essentials" was developed to review the necessary preparations required for trawler owners (and want-to-be owners) interested in transiting between sea ports for extended trips including overnight passages. This course is designed to be both an introduction and a refresher for owner operators and their crew. You will be reviewing important knowledge and fundamental skills needed to understand what to expect and how be organized in order to ensure a safe trip. Jeff Merrill is an active yacht broker who has logged nearly 20,000 miles offshore on trawlers and has spent the majority of that time training with clients on systems and teaching them how to manage and run their boats safely offshore. Merrill will touch on key topics such as safety, weather, pre-departure preparation, captain responsibilities, crew orientation, watch standing, engine-room checks, pilothouse navigation/electronics operations, and more. This talk will also include examples of important checklists Merrill has created and refined over many years of traveling out of sight of land. Certificate of completion.
FRIDAY, MARCH 8
Dial In Your Trawler
With Jeff Merrill, CPYB
1:30-3:30 p.m. $65
There are hundreds of great ideas and best practices that many knowledgeable trawler owners are using to better monitor their vessels and improve their understanding of equipment and systems. Veteran yacht broker Jeff Merrill has compiled a massive collection of simple and effective techniques and procedures that you can immediately put into action on your own trawler. This talk shares an organized collection of hundreds of photos. Jeff has updated this presentation to illustrate many new trawler tips taken from a wide variety of trawlers. Solutions including many clever reminders will help you take much of the guesswork out of tracking various systems and equipment on board your trawler. Little details like reference marks for needles on analog gauges, "To" and "From" labels on fuel manifolds, anchor chain marking, galley suggestions and many other common-sense concepts make this an engaging and informative seminar that has inspired several topic specific Dial-in-your-trawler magazine articles. Merrill will also discuss an assortment of products that you should consider using on your trawler that will not only make your life more enjoyable aboard but may also favorably influence your eventual resale value.
Cruisers Perspectives: A Town Hall Meeting
With Bruce Kessler, Steve Zimmerman, Andrea Gaines, Eric Kunz, Chris Parker, John Clayman, Ken Fickett and Dylan Bailey. Moderated by Jeff Merrill, CPYB.
3:45-5:30 p.m. $65.
In this "town hall" event, our panel of veteran cruisers will field audience questions on a wide-range of topics, sea stories always resulting. Circumnavigator Bruce Kessler can discuss what it's like to spend months and months treading blue water. Capt. Andrea Gaines has a lifetime of boating experience in which she has accumulated tens of thousands of nautical miles in fair and foul weather. Jeff Merrill, the moderator, is a yacht broker, author and trawler specialist with thousands of cruising miles with clients. Surveyor Dylan Bailey is a veteran cruiser who learned to build boats with his father. Ken Fickett has been building boats since the 1970s and been all over the place in them. John Clayman is a prominent East Coast yacht broker, cruiser, racer and all around boat guy. Steve Zimmerman can discuss repairs and boatyards from the point of view of both a cruiser and boatyard owner. The seminar adjourns to the cocktail party immediately following.
SATURDAY MARCH 9
Cambridge, Mass. To Cambridge Cay
With Christopher and Alexandra Bruce
10:45 a.m.-12:30 p.m. $65
In 2015 Alexandra & Christopher Bruce set along a path that took them from full time careers in the New Hampshire/Boston area to full time cruising. They are currently living and cruising full-time on their Kadey Krogen 44AE they purchased in 2015. Searching for the right boat took some time but they found their ideal boat and moved aboard with Mr. Anderson the cat and set out for an adventure. Once the boat was delivered the learning began. Learning maintenance, docking, anchoring, marine weather forecast, navigation, and living aboard a home that moves all the time, was challenging but so rewarding. Some of the lessons were learned the hard way and those you don't forget so easily, such as entering an inlet with current opposed to the wind. Others you gently stumble upon like the quiet secluded coves in Maine. We are having the time of our life and see no end in sight, only new horizons to explore.
Topics covered include: finding a boat, managing work and cruising, heading south, weather, New York City, overnight runs, the Intracoastal Waterway, inlets, hauling out, provisioning, cruising the Bahamas and cruising Maine.