Marina Recreation Association's 44th Annual Educational Conference and Trade Show – October 26 – 28, 2015 – The Fess Parker – A Doubletree Hotel by Hilton Santa Barbara, CA. The Theme for the 2015 conference was "Mission Possible".

The Marina Recreation Association is an organization dedicated to making boaters experiences at marinas and resorts the best they can be. There is an annual fall membership conference attended by hundreds of marina principals from all over the California and the west coast including Canada and this year the location selected was Santa Barbara, CA.   Marina owners and top staff were in attendance representing facilities across the spectrum including rivers, lakes and ocean harbors.
Jeff Merrill, as president of the CYBA (California Yacht Brokers Association), was invited to address the MRA members in a co-presentation with Dave Geoffroy, Vice President NMMA West (National Marine Manufacturers Association). They were introduced by MRA Vice President, Mark Sandoval.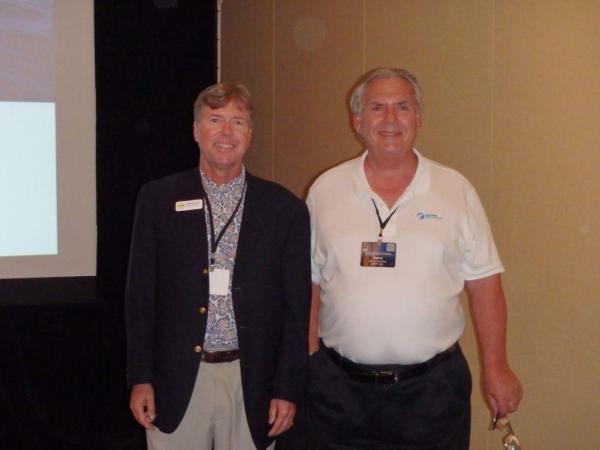 Their topic was titled, "The New Urban Boater" – and these two industry veterans spent a full hour long session reviewing who today's new marina customer is, what they want and how marinas can attract and cater to modern boaters. As the pleasure boating lifestyle becomes more accessible to sailors and power boaters of all ages and experience levels, the need for a better understanding of who a marina must cater to (and how best to do it) is clearly a priority.   The class participated by filling out a questionnaire to rank perceived priorities from boaters and a survey for marina owners to ask about websites, who their customers are and services they offer with the results quickly tabulated and incorporated into the discussion.
The inescapable internet world of smart phones and tablets makes it crucial for marina's to develop a mobile friendly internet presence and to create a tech savvy appeal to boaters. In this discussion Jeff and Dave spoke in very specific terms about what boaters are expecting and what marinas need to do to deliver the type of experience that will generate positive reviews and referrals as well as repeat business.
The New Urban Boater's (NUB's) are used to instant gratification and want to enjoy their precious family time in a fun, friendly and safe environment. Topics covered how the UBER / Amazon Prime approach has become more expected and that luxuries like WiFi in the marina are just as important as clean restrooms, laundry facilities and dock carts in good working order. One very popular new networking website Jeff recommended the group to check into is www.activecaptain.com . Marina owners were advised to become better acquainted with the social aspect of user generated content (crowd sourcing) information that is available online and how important a strong website and solid internet presence is to both permanent marina tenants and transient boaters alike.
The talk was very popular and well attended by over sixty people and generated a lot of good points for marina retailers to consider. In addition to this and several other timely seminars there are round table meetings and a huge room with vendors of floating docks, shore power towers and a wide assortment of marina related accessories and equipment. The MRA is a great organization and the conference was well attended. Next year's dates are set, October 24 – 26 and the venue will be San Diego, CA.
Here is the talk summary as presented in the MRA conference website, www.marina.org


As the baby boomers get older and either change their boating practices, or get out of boating altogether, there is a new culture of boater emerging – "the new urban boater." Many in this group seem to be very fast-paced, relatively well-to-do, and somewhat impatient. In addition, it looks as if we are emerging on a new baby boom, as the New Millennials start families. All of this portends to a dynamic that marina and lake resort operators must understand, and be prepared to meet the needs and wants of this new urban boater. Dave Geoffroy of the National Marine Manufacturers Association and Jeff Merrill of the California Yacht Brokers Association team up to present us with their views of this new urban boater, and what we should be prepared to do in order to capitalize on this new boating culture in our marine operations.
Jeff Merrill, President, California Yacht Brokers Association
Dave Geoffroy, Vice President, National Marine Manufacturers Association West