PassageMaker magazine TrawlerFest in Stuart, FL Feb 28 – March 4, 2017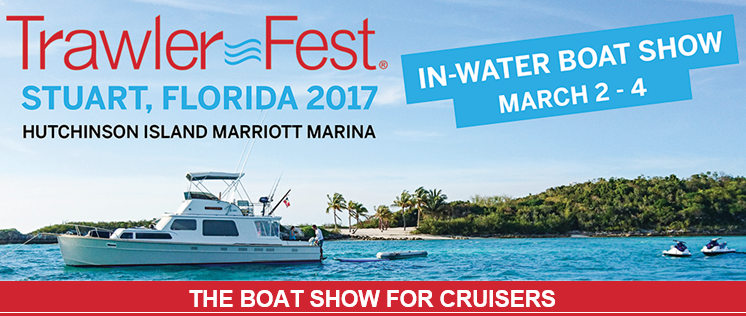 TrawlerFest is moving their Florida venue to Hutchinson Island Marina in Stuart, FL.  There will be an impressive selection of new and used trawlers on display during the boat show.
The TrawlerFest series highlights education and there is always a wide variety of seminars taught by industry professionals.  Jeff Merrill will be at the event all days and is participating in the cruisers round table as well as teaching two separate courses.
SEMINARS: TUESDAY, FEB. 28 – SATURDAY, MARCH 4, 2017
IN-WATER BOAT SHOW: THURSDAY, MARCH 2 – SATURDAY, MARCH 4, 2017
Show open 10 a.m. – 5 p.m. daily
TICKETS: General Admission is $15 in advance, $18 onsite
Here is a link to find out about show hours, local hotels, etc.
https://www.passagemaker.com/trawlerfest/trawlerfest-stuart-fl-2017
Jeff Merrill and Ray Danet will be walking the docks, please flag us down or give us a call if you would like to meet up and spend some time in person.
Jeff cell: 949.355.4950
Ray cell: 772.220.6823
Our Nordhavn 57 listing, Diversion, will not be at the show, but we can make arrangements to get you on board if you would like to take a closer look.

The following are descriptions of the seminars Jeff will be presenting.
FRIDAY
Dial-In Your Trawler, With Jeff Merrill Friday, March 3, 10:45 a.m. – 12:30 p.m. Over the years and through his experiences on hundreds of trawlers, yacht broker Jeff Merrill has amassed a collection of "good ideas" and "best practices" that trawler owners are using to better monitor their vessels. These simple and effective techniques apply to most power cruising boats. Tricks of the trade and helpful reminders will help take some of the guesswork out of tracking various systems and equipment on board your trawler. Little details like reference marks for needles on analog gauges, a dry-erase board in your engine room, anchor chain marking and many other common-sense tips make this an engaging and informative seminar that you won't want to miss. Merrill will share photos of these ideas and also discuss an assortment of products that you should consider using on your trawler that will not only make your life more enjoyable, but may also favorably affect your eventual resale value.
Cruisers Roundtable, With Bruce Kessler, Andrea Gaines, Jeff Merrill, Dylan Bailey, John Clayman, Rudy Sechez and Steve Zimmerman
Friday, March 3, 2-4 p.m.
In this "town hall" event, Our panel of veteran cruisers will field audience questions on a wide-range of topics, sea stories always resulting. Circumnavigator Bruce Kessler can discuss what it's like to spend months and months treading blue water. Andrea Gaines has a lifetime of boating experience in which she has accumulated tens of thousands of nautical miles in fair and foul weather. Jeff Merrill is a yacht broker, author and trawler specialist with thousands of cruising miles with clients. Surveyor Dylan Bailey is a veteran cruiser who learned to build boats with his father. John Clayman is a prominent East Coast yacht broker, cruiser, racer and all around boat guy. Rudy Sechez and his wife built their own "sail assisted trawler" and have been living aboard simply and economically ever since. Steve Zimmerman can discuss repairs and boatyards from the point of view of both a cruiser and boatyard owner.  Peter Swanson, who cruised down-island on a shoestring, will moderate.
SATURDAY
Under Way, With Jeff Merrill Saturday, March 4, 2 p.m. – 4 p.m.
If you have never travelled offshore on a trawler and would like to know what to expect, or just want a refresher to remind you what it is like, this seminar will help paint the picture. Most trawler owner/operators enjoy cruising between ports and develop their own routines.  When you are always on the same boat it's harder to pick up new techniques.  There is always a new lesson to be learned and tips to share. Jeff Merrill is a well-known yacht broker specializing in trawlers who spends time training with his customers after the purchase and, as a result, has amassed an informative and entertaining collection of photos, ideas and stories to share. Being on the move safely and comfortably helps insure we all have a great experience on the water. Merrill will touch on weather, navigation, pilothouse operations, engine room checks and more.